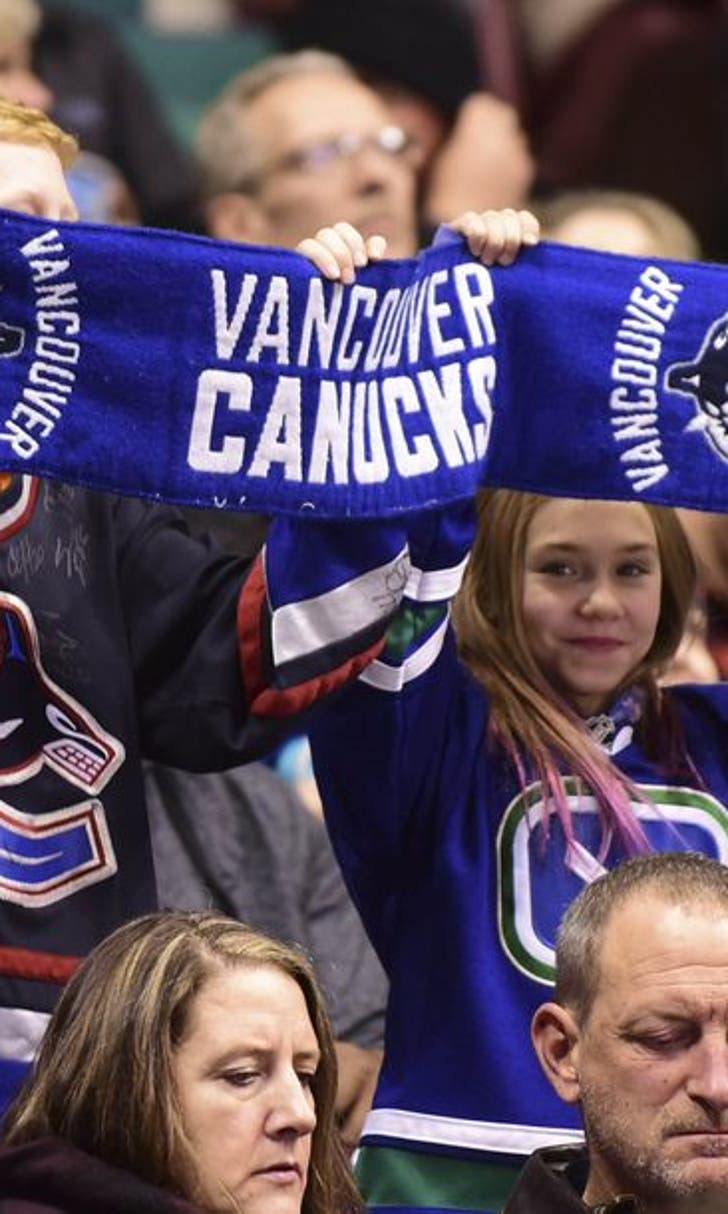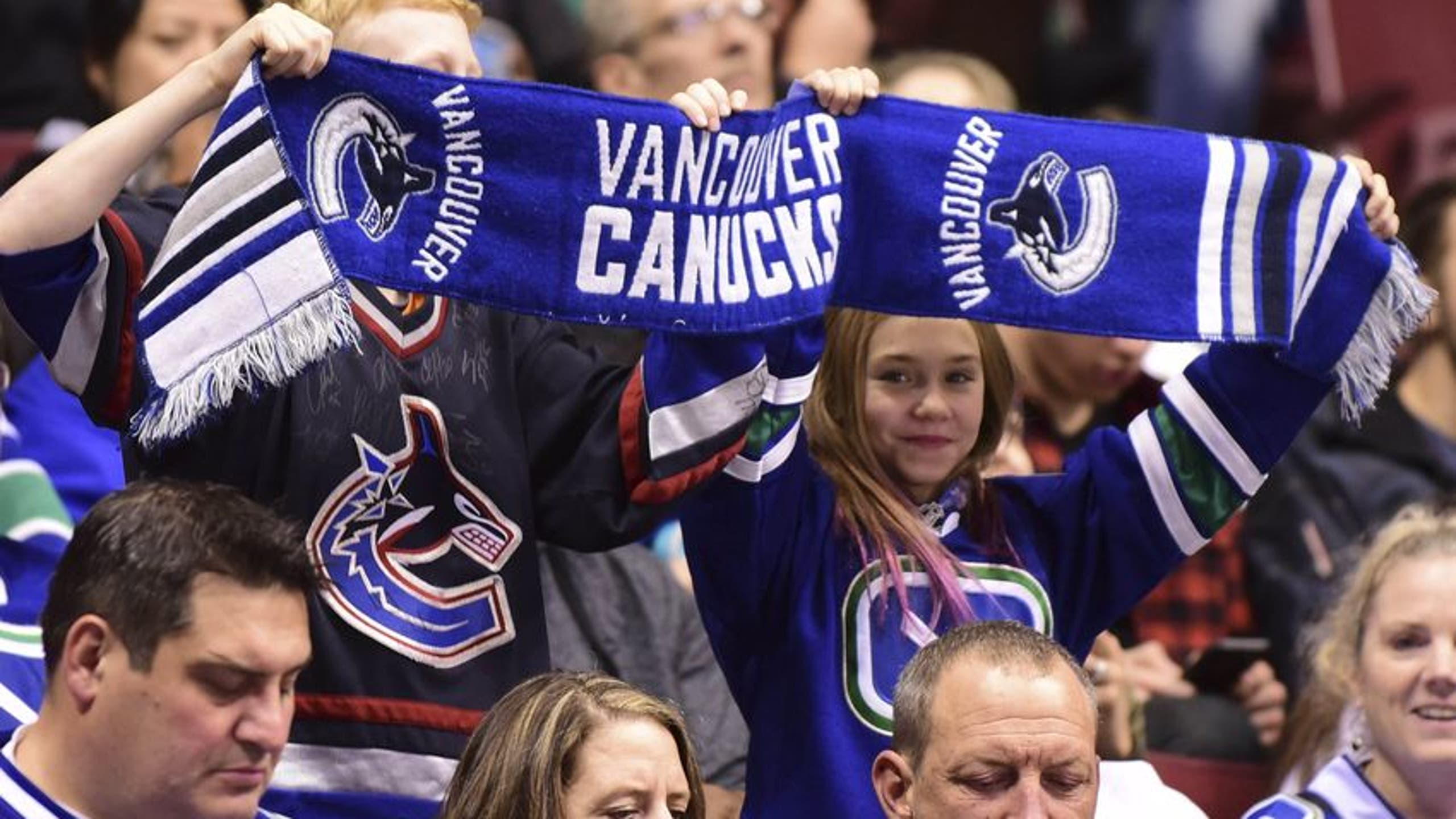 Vancouver Canucks Christmas: 5 Last-Minute Gift Ideas
BY Fansided and Janik Beichler/FanSided via The Canuck Way • December 22, 2016
Nov 19, 2016; Vancouver, British Columbia, CAN; Vancouver Canucks fans hold up a banner during the first period against the Chicago Blackhawks at Rogers Arena. Mandatory Credit: Anne-Marie Sorvin-USA TODAY Sports
A Vancouver Canucks win on Dec 23 against the Calgary Flames would be great, but we all know that isn't all you want for Christmas.
As a kid, you know exactly how many more times you have to sleep before you get to run to the Christmas tree and open your presents. As an adult, you may find yourself being stressed about too much other stuff, totally forgetting what's really important. A little heads up: you only have three days left to buy presents for all the special people in your life. But worry not, if those special people are Vancouver Canucks fans, there's still a chance.
Before I dive into this, let me tell you one thing: there are last-minute Christmas presents that are just as good as ones that were planned ahead of time. However, there are even more that just scream "zero effort".
While pretty much everything Canucks can be exciting, not everything works well as a last-minute Christmas gift. At least if you really care about the person you are giving it to.
So, don't just go to the team store and buy a random piece of merchandise, like coasters or pins. There are far better things available.
How about these five ideas? 1. Canucks Mug
You may argue a mug is a low-effort kind of Christmas gift, but I strongly disagree. There is stuff nobody really needs — my favourite example is coaster sets. I have never used coasters at home, but I own a ton thanks to people who simply didn't have a better idea.
More from The Canuck Way
But, a mug is different, believe it or not.
Whether you are looking for a present for a coffee, tea or hot chocolate person, they will need mugs. And, honestly, can you ever have enough of them?
Mugs are a great option if you are looking for a gift that is somewhat cheap but will still be much appreciated and definitely used. Thankfully, the Canucks have many, many options available at the team store and online, starting at $16.95.
Get it here!
Price: $16.95+
2. Ugly Canucks Christmas Sweater
What would Christmas be without Christmas sweaters? More specifically, what would Christmas be without ugly Christmas sweaters?
The NHL offers ugly Christmas sweaters of all 30 teams in men's and women's versions. They are rather pricey for something you'll probably wear no more than three times a year, but they are also a classic everyone should own.
Unfortunately, they are almost sold out online and only available in small women's or large men's sizes. I hope you're lucky and those are exactly what you need.
So, what are you waiting for? Go get one!
Get it for men here!
Get it for women here!
Price: $93.95
Jan 1, 2016; Foxborough, MA, USA; Henry Brislin of North Attleboro shoots the puck while tailgating outside of Gillette Stadium before the Winter Classic hockey game between Montreal Canadiens and the Boston Bruins. Mandatory Credit: Greg M. Cooper-USA TODAY Sports
3. Canucks BBQ Set
What is the first thing that comes to your mind when you start thinking about Christmas? Is it a wonderful barbecue? Unless you live close to the equator or in the Southern Hemisphere, the answer to that question is probably 'no.'
Yet, the Canucks BBQ set is an ideal Christmas gift. If you are Canadian, you'll probably be thinking something along the lines of 'who cares about snow, let's barbecue, eh?'. And even if you aren't, spring will come soon enough.
Want your voice heard? Join the The Canuck Way team!
The three-piece Canucks BBQ set is perfect for whoever is responsible dinner at your next party.
You can obviously use it for tailgating parties as well, but since those are more of an NFL thing, you might not get the chance to. Then again, using Canucks barbecue utensils at a Seahawks game would be sweet as well.
Get it here!
Price: $67.95
Nov 21, 2015; Vancouver, British Columbia, CAN; Vancouver Canucks defenseman Alexander Edler (23) and forward Daniel Sedin (22) celebrate a third period goal by Sedin in the third period against the Chicago Blackhawks at Rogers Arena. Vancouver won 6-3. Mandatory Credit: Bob Frid-USA TODAY Sports
4. Canucks Sweater (not an ugly Christmas one this time)
NHL sweaters are expensive, sure. However, NHL teams like to keep things traditional and don't change them up very often. A classic blue-and-green Canucks sweater always works, whether it has a name on the back or not.
If you are someone who kind of wants a name on the back but doesn't because the player could be traded any day, consider a retro sweater. The flying skate had a revival party last season and its popularity is probably higher than ever. A flying skate jersey with No. 10 and Bure on the back is simply great.
Consider that Henrik or Daniel Sedin on a current sweater work just as well as the flying skate and Pavel Bure. The twins may retire soon and could even be traded, but they are Vancouver Canucks legends and always will be.
Get it here!
Price: $228.95
Dec 20, 2016; Vancouver, British Columbia, CAN; Vancouver Canucks fans celebrate a goal against the Winnipeg Jets during the third period at Rogers Arena. The Vancouver Canucks won 4-1. Mandatory Credit: Anne-Marie Sorvin-USA TODAY Sports
5. Game Tickets
Game tickets as a Christmas gift are great for two reasons. One, although tickets can be cheaper than, say, a jersey, they always seem more special, as they are an experience with you. Two, you don't actually need to physically hold the tickets in your hands to give them away. Just write "A Canucks game with me" or "Two tickets to a Canucks game" on a nice piece of paper and you're good to go.
The downside here is that you are likely to see a disappointing loss this season. Then again, tickets can be purchased cheaper than ever, if you get them from StubHub.
Vancouver has several interesting home games coming up next month, including divisional match-ups against the Arizona Coyotes (Jan 4) and Calgary Flames (Jan 6).
If you want to spice things up, take your friend, wife, husband, kid, or whoever else is receiving the tickets, to a road game. Nothing's more fun than repping Canucks colours on the road!
Get it here!
Price: Varies
---
---