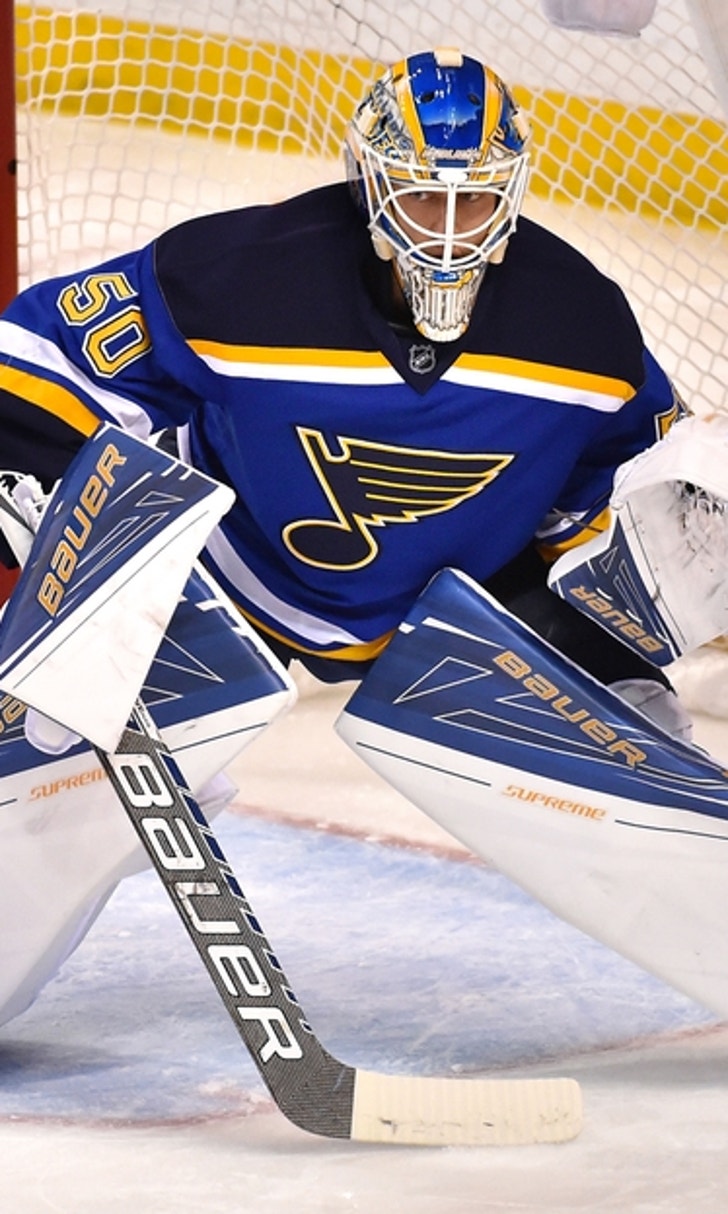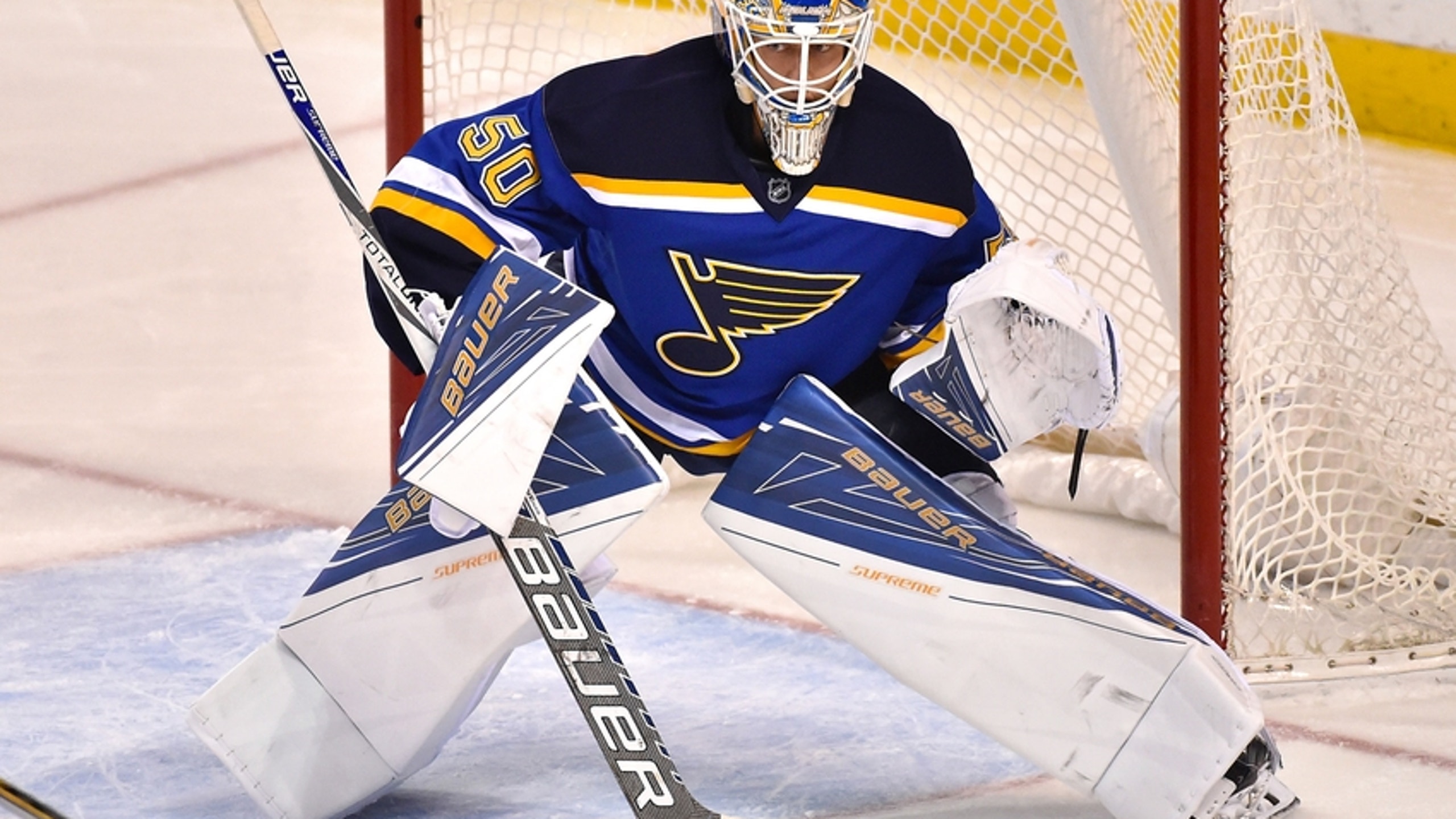 St. Louis Blues: The Third Day Of Bluesmas
BY Fansided and Todd Panula/FanSided via Bleedin' Blue • December 16, 2016
Chugging right along with our 12 Days of Bluesmas, we come to day three. This stuff is flying by almost as quickly as the holiday season. Where does the time go?
On the third day of Bluesmas, the blue note gave to me, three minor league goalies. I tried to work in the French part, but other than David Perron it just wasn't going to work.
But it kind of does. Hens lay eggs. That's a good thing. We want our goaltenders to lay eggs too…as in shutouts. See what I did there?
Anyway, the Blues are flush with goaltending in the minor leagues at the moment. Unfortunately, that won't last long as their contracts are coming up as quickly as the holiday season is flying by us.
Ville Husso is locked up for a couple more seasons. He just signed a three-year entry deal in May.
Jordan Binnington and Pheonix Copley are battling it out to stay within the organization. It is extremely unliekly they both stay as it seems unimaginable the Blues would not want Husso on their AHL affiliate next season.
So, how do you decide which goaltender might hold the fate of your organization in the future? All three have people backing them to be either the starter for the Blues or, at the very least, the backup in the future.
The problem becomes goaltending is impossible to predict. Perhaps even more than scorers, it is difficult to project how a goaltender will do at each progressing level.
Sure, you can look at their stats and their work ethic and mental strength. All are incredibly important aspects of the position.
There is always a key difference that just isn't measurable. Sometimes guys just falter more under the bright lights than they do in the smaller arenas where guys aren't as fast, aren't shooting as hard and the pressure from the crowd is not as great.
Binnington seems to have the inside track on at least a backup position. He stuck around with the Blues during the last couple preseasons longer than any of the others.
He is also getting more of the games with the Chicago Wolves right now. It's not a great margin, but five more games a quarter of the way through the season is enough to sense he has a slight edge.
Copley has the better numbers though. Through ten games he has a lower goals against average(2.28 compared to 2.86) and a better save percentage (.917 to .906).
Those may not seem like huge gaps, but Jake Allen's save percentage was at .906 earlier in the week and was in the bottom half of the league. Every percentage point makes a difference at the higher levels.
Last, but not least is Husso. He has been anointed by many fans as the goaltender of the future and he may well be.
For right now, he is struggling a little bit. Some, or maybe a lot depending on your personal view point, can be chalked up to his team.
He is playing for a middle of the road ECHL team in the Missouri Mavericks. You're not going to get the best defensive support there, so his time is mainly to get him accustomed to the North American style.
Still, his numbers are not the best at the moment. In ten games played he has a goals against of 3.97 and a save percentage of .898.
The kid is only 21 and has plenty of time with guys in line ahead of him. Still, as talented as he is, his numbers have fluctuated greatly, so it is hard to get a true read on him outside of the eye test, which is also vague at best.
For now, there is no great pressure on these guys to make their mark yet. Like it or not, Allen is the goaltender of the present and future until something drastic changes.
Carter Hutton is signed for another season after this one, so unless he became trade bait, the Blues are not in great need of a backup goaltender to emerge through their system either.
Husso will be playing in the AHL next season and that will hopefully be a much better barometer of his talents at this level. Personally, I like Copley a little bit better but I don't think the organization seems to think that way.
It really is six in one and a half dozen in the other. Neither Copley or Binnington seem to be the type that will be franchise goaltenders. Neither of them are old, but usually you can see the potential to be a franchise goalie by now.
Maybe that will be proven wrong. Maybe one of them just has it click and they come out of nowhere like Martin Jones did.
For now, the Blues are content to wait and have the scouts watch. There's nothing wrong with having three goaltenders as long as you pick the right one eventually and they can lay some eggs to return to that earlier theme.
More from Bleedin' Blue
This article originally appeared on
---
---