Buffalo Sabres
Buffalo Sabres
Sabres begin schedule crunch against Flames
Published
Oct. 30, 2018 1:01 a.m. ET
The Buffalo Sabres begin a busy part of their schedule Tuesday night when they are home to the Calgary Flames.
The Sabres, who lost 5-4 overtime to the Blue Jackets in Columbus on Saturday, will follow the game against the Flames with a home-and-home set Thursday and Saturday against the Ottawa Senators before visiting the New York Rangers.
The Sabres (6-4-1) will be facing a team that will be playing its second game in two nights after defeating the Maple Leafs 3-1 in Toronto on Monday night with a well-structured, tight effort.
The Flames (6-5-1) were coming off a 4-3 overtime loss to the Washington Capitals at home on Saturday, a game that coach Bill Peters felt was encouraging after the humiliation of a 9-1 loss to the Pittsburgh Penguins on Thursday. Peters was not disappointed Monday.
"We're taking some steps," coach Bill Peters said. "We're learning how to play hard for each other, learning how to manage the puck and taking some risk out of our game. If we can continue to do that, we can have a good team by the time it's all said and done. We're going in the right direction, but there is still work to be done."
All the scoring took place in the third period Monday with the Flames breaking through with two goals 55 seconds apart by Sean Monahan and Elias Lindholm.
Sabres coach Phil Housley took encouragement in the way his team overcame a two-goal deficit.
"We can take forward here being on the road, being down two against a good hockey team, we found a way to earn a point," Housley said. "We'll learn from the mistakes we made but we have to take credit where it's due. We did a terrific job battling on the road to get a point."
On the other hand, Housley feels the Sabres must tighten their game. Backup goaltender Linus Ullmark faced 37 shots in the game against Columbus, his third start of the season, as well as some odd-man rushes.
"Linus made some big saves during the game," Housley said. "He saw too many Grade-A chances and situations we need to clean up. We were way too loose. We're not going to win a lot of hockey games playing like that and we know that."
Ullmark is 2-0-1 with a 2.00 goals-against average and a .935 save percentage and he figures to see more action during the busy stretch. Starting goaltender Carter Hutton played all four games on a recent homestand. He is 4-4, 3.07 GAA and a .905 save percentage.
"I feel good. I'm really happy every time I get the chance to go in there and play," Ullmark said. "Whenever I get the chance, I want to seize the moment, do what I do best and just go out there and enjoy it."
"He's been very square to the puck," Housley said. "He's not fighting things. He's letting the puck hit him and he's been really good challenging. When the moment is there, he'll get out and challenge the shooters. All of those things, and his puck-handling ability have helped our defense out."
Sabres defenseman Jake McCabe did not practice Monday and is listed as day-to-day with an upper-body injury, Housley said. He missed time in the second period Saturday but played in the third period.
The Flames will be visiting Buffalo in a good frame of mind.
"I thought we worked hard," Monahan said. "We had a good start to the game, which we haven't had in some of the past few. I think we stepped it up. Tonight, was a big win and we've got to keep it rolling."
Flames goaltender Mike Smith stopped 24 shots.
"We just played together as a team," Smith said. " We have a standard now that we've set, and hopefully we can continue that."
---
---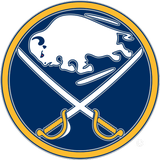 Get more from Buffalo Sabres
Follow your favorites to get information about games, news and more
---