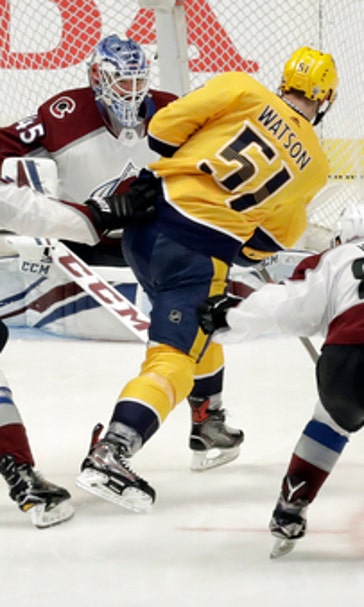 Predators beat Avalanche 5-4 to take 2-0 series lead
April 15, 2018
BOSTON (AP) David Pastrnak had a hat trick and three assists to help Boston blow out the Toronto Maple Leafs for the second straight game, leading the Bruins to a 7-3 victory Saturday night and a 2-0 lead in the best-of-seven Eastern Conference playoff series.
Pastrnak shattered his previous career high of four points, scoring his third goal with 1:36 left to bring two trash cans full of caps and winter hats fluttering down to the ice. Brad Marchand and Patrice Bergeron each had four assists, and Torey Krug had three.
Tuukka Rask stopped 30 shots for Boston, and David Krejci, Rick Nash, Jake DeBrusk and Kevan Miller also scored.
Two nights after Frederik Andersen allowed five goals in the series opener, he gave up three more on five shots in the first 12:13 before he was replaced by backup Curtis McElhinney. The Bruins added another power-play goal - their second of the night and fifth of the series - to make it 4-0 after one.
Mitch Marner, Tyler Bozak and James Van Riemsdyk scored for the Maple Leafs, who never got closer than three goals down after that. McElhinney stopped 19 of the 23 shots he faced.
The series moves to Toronto for Games 3 and 4 on Monday and Thursday. Game 5 would be back in Boston on Saturday, if necessary.
NASHVILLE, Tenn. (AP) - Ryan Hartman's empty-net goal with 1:09 left wound up the winner as Nashville held off Colorado for a 2-0 lead in the first-round Western Conference series.
After Hartman gave the Predators a 5-3 lead, Alexander Kerfoot pulled Colorado to 5-4 with 35.8 seconds left. But the Avalanche couldn't get another puck past goalie Pekka Rinne.
The Presidents' Trophy winners started slowly, giving up a goal on Colorado's first shot for a second straight game. Yet the Predators rallied again to take their first 2-0 lead when starting a best-of-seven series in their own building.
Kevin Fiala had a goal and an assist, and Viktor Arvidsson, Ryan Johansen and Austin Watson scored a goal apiece. P.K. Subban and Mattias Ekholm each had two assists for Nashville, which has won 12 straight over the Avalanche. Rinne made 26 saves. Nathan MacKinnon had a goal and an assist, and Gabriel Bourque and Gabriel Landeskog each added a goal for Colorado.
Game 3 is Monday night in Denver.
TAMPA, Fla. (AP) - Alex Killorn scored twice during a four-goal second period, helping Tampa Bay beat New Jersey for a 2-0 lead in the Eastern Conference series.
The Lightning scored three times in a 2:47 span in the second period, and the reeling Devils pulled goalie Keith Kinkaid after Killorn's third goal in two games made it 5-1 with 6:48 remaining in the period. Kinkaid, whose stellar play since January helped New Jersey finish strong and claim its first playoff berth since 2012, yielded five goals on 15 shots.
Nikita Kucherov, Brayden Point and Tyler Johnson also scored for Tampa Bay, which is up 2-0 in the series after going 0-2-1 against the Devils during the regular season.
Andrei Vasilevskiy stopped 41 shots, limiting the Devils to rookie Nico Hischier's unassisted goal in the opening period, Sami Vatanen's sixth career playoff goal late in the second, Blake Coleman's third-period tally that trimmed Tampa Bay's lead to 5-3 with eight minutes left.
Game 3 is Monday night in Newark, New Jersey.
ANAHEIM, Calif. (AP) - Logan Couture had a goal and an assist, Martin Jones made 28 saves and San Jose excelled on the road again, beating Anaheim to take a 2-0 lead in their first-round playoff series.
Marcus Sorensen and Tomas Hertl also scored for the Sharks, who gave another disciplined, organized performance while moving halfway to their first playoff series victory since their Stanley Cup Final run in 2016. The Sharks also are halfway to their first playoff series victory over Anaheim, their longtime downstate rivals.
Hampus Lindholm had a goal and an assist for the Ducks, who are leaving Honda Center with an 0-2 series deficit for the third time in their last five playoff series.
Jakob Silfverberg scored in the opening minute and John Gibson stopped 32 shots as Anaheim dropped to 3-6 in its last nine home playoff games overall.
Game 3 is Monday night in San Jose.
---
---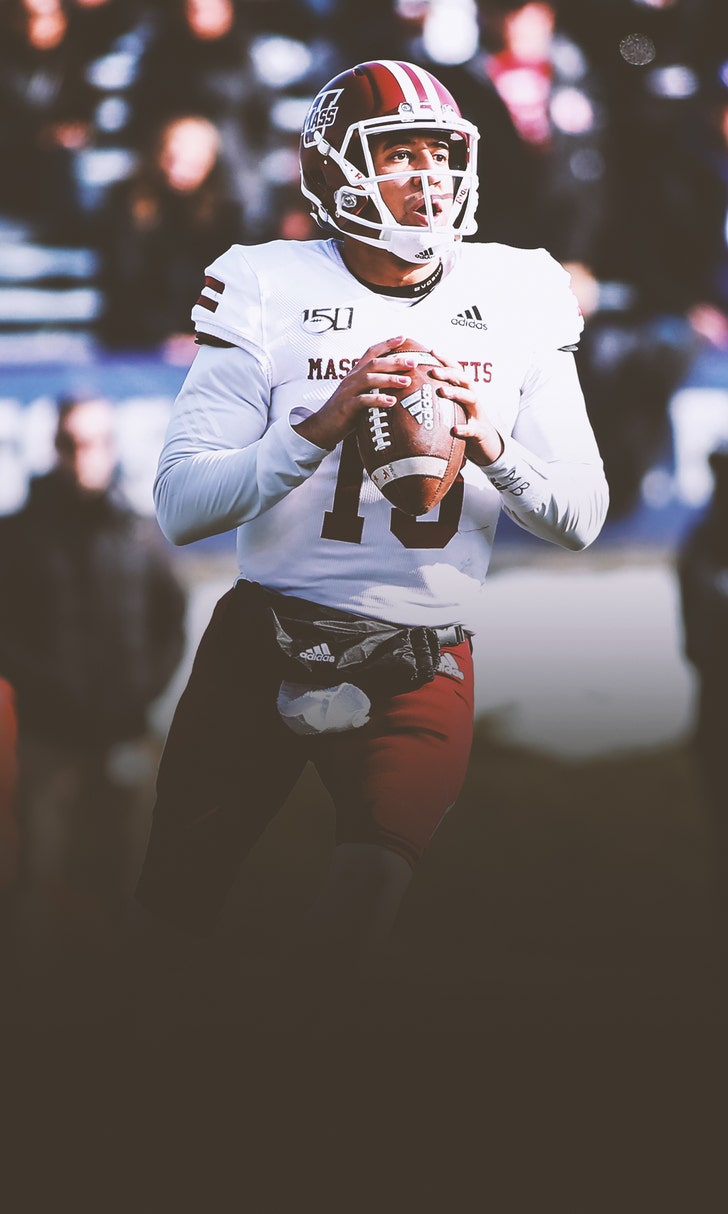 UMass Cancels Fall Football