Curtis McElhinney
Curtis McElhinney
Blue Jackets-Stars Preview
Published
Dec. 15, 2015 12:16 a.m. ET

The fact that the league-leading Dallas Stars have yet to lose back-to-back games bodes well given they're coming off their first shutout of the season.
The Stars will try to re-invigorate their struggling power play Tuesday night against a Columbus Blue Jackets team mired in the NHL cellar and trying to end its latest slide.
Dallas (22-6-2) has piled up the most points in the league behind its highest-scoring offense at 3.37 goals per game. The Stars, though, came up empty on all 26 shots and were again held in check on the power play in a 3-0 loss at St. Louis on Saturday.
They followed each of their previous seven losses with a win - six in regulation - but have dropped four straight at home against Columbus while being outscored 14-5.
"We talk all the time about that we don't lose two in a row," defenseman Alex Goligoski told the team's official website. "(Coach Lindy Ruff) is always saying that. When we have had tough games, or we have had losses, we've come back hungry, and we have been able to avoid losing two."
A resurgence on the power play could be vital to avoiding another defeat. The unit is among the NHL's best with a 22.9 conversion rate, but it's gone 0 for 10 in the last two games after an 0-for-4 effort against the Blues and is 2 for 24 over the last seven.
"We were doing a really good job early in the year of getting pucks around the paint and getting more opportunities," Ruff said. "When a team is staying inside, you've got to find lanes to get it there.
"There's no secret. Get pucks to the net. You get a lane, get it there and try to take the goalie's eyes away. We haven't done a very good job of that."
That's a familiar feeling for Blue Jackets coach John Tortorella, whose club is tied with Toronto for the fewest points in the league. They've also lost four in a row for the first time since opening the season with eight straight losses, the last of which was Tortorella's first game after replacing the fired Todd Richards.
All seven of Columbus' losses over the last eight games (1-4-3) have come by two goals or fewer, including Monday's 2-1 defeat against Tampa Bay.
"There's no sense in being negative about it, there's no sense in beating up the team," Tortorella said. "There were some good things done. We just have to try and get better, try to handle those situations better."
The current skid coincides with a lower-body injury to Sergei Bobrovsky, who's expected to miss two more weeks. Curtis McElhinney has made two starts and gone 0-1-2 with a 4.58 goals-against average since replacing the 2013 Vezina Trophy winner.
McElhinney should be back in net after Joonas Korpisalo made 27 saves in his NHL debut Monday. He has a 1.48 GAA while winning his last two meetings with Dallas, though the most recent came with Anaheim on March 29, 2010.
He'll also try to stifle Jamie Benn and Tyler Seguin, who return to Dallas looking to extend seven-game point streaks there after they were a combined minus-4 on Saturday.
Benn, the league leader with 20 goals, has nine to go along with six assists during his streak, while Seguin has 12 points.
Benn has 13 points in his last 11 matchups with Columbus and Seguin has four in his past three, including a hat trick in a 4-2 road win Oct. 14, 2014.
They were both held without a point in the Jackets' 4-2 win at Dallas on Jan. 6.
---
---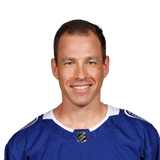 Get more from Curtis McElhinney
Follow your favorites to get information about games, news and more
---