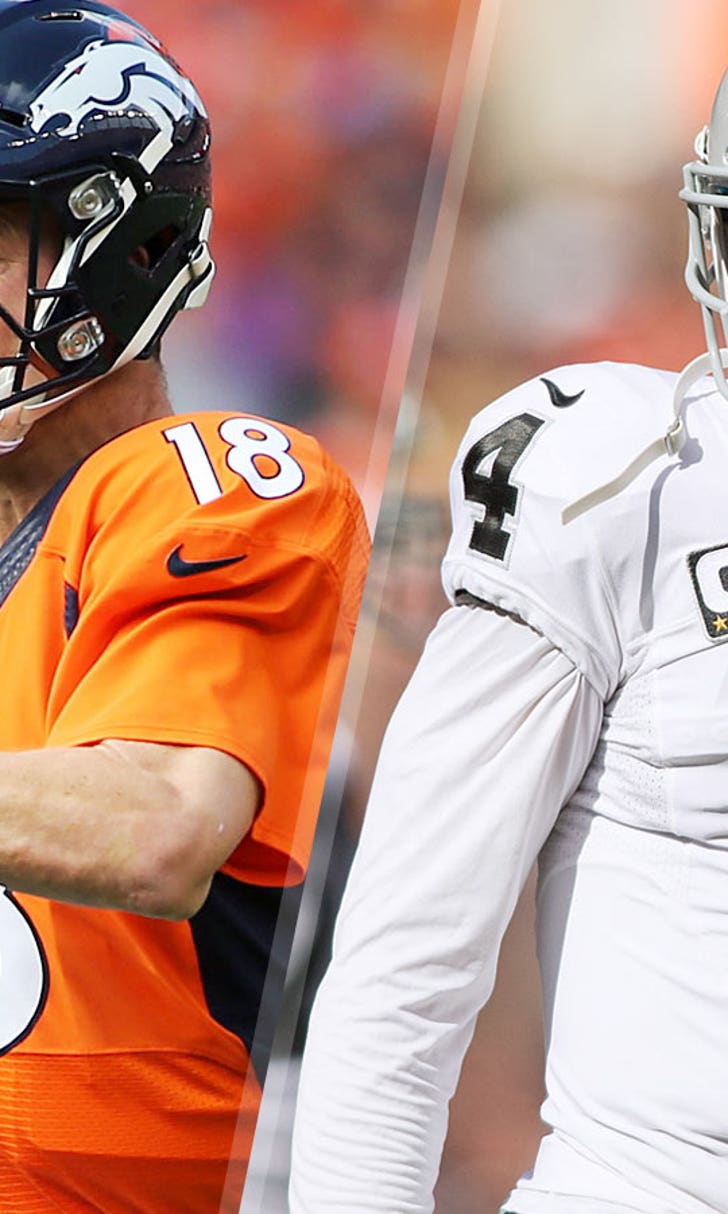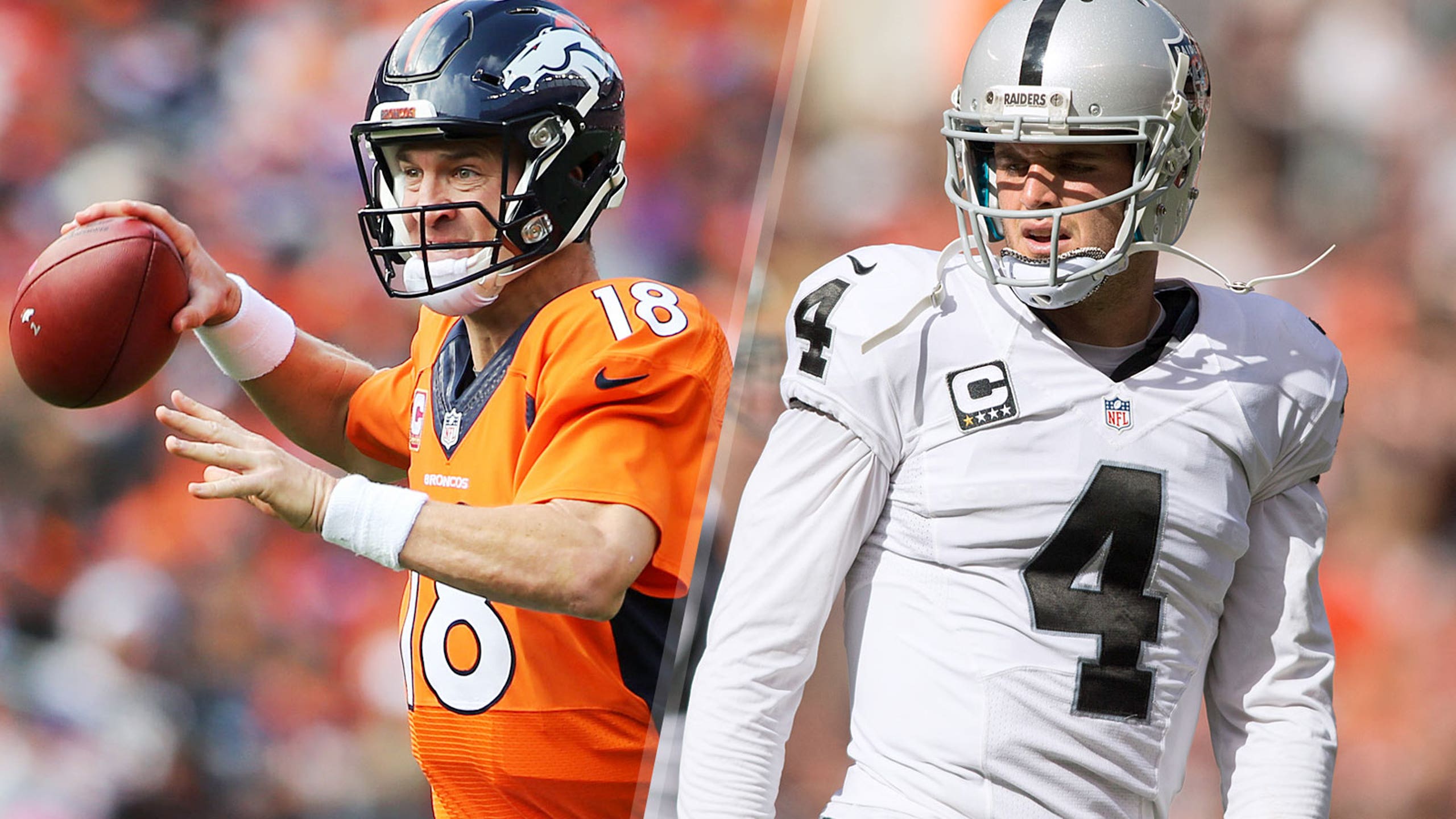 Six Points: Broncos vs. Raiders
BY foxsports • October 9, 2015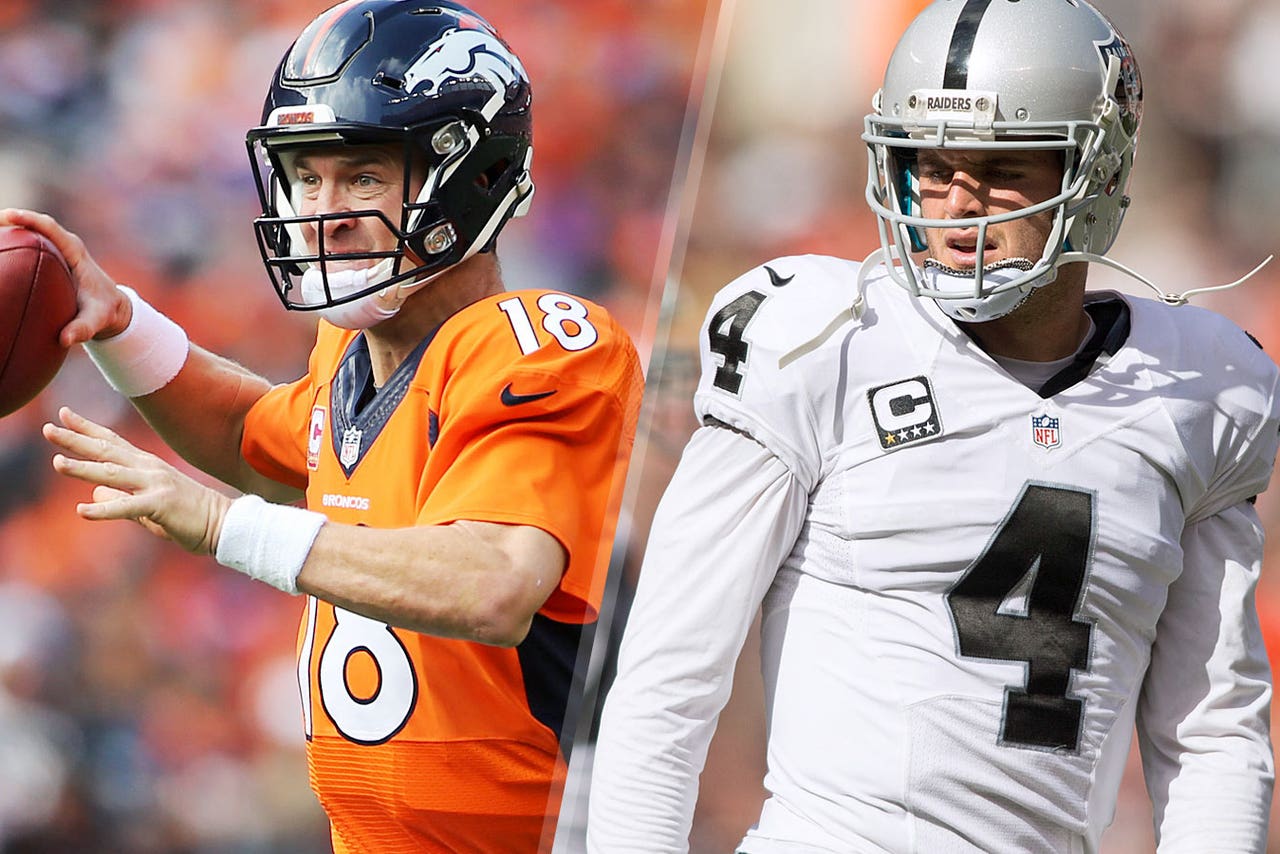 The upstart Oakland Raiders (2-2) will try to make a statement when they host the undefeated Denver Broncos (4-0) at O.Co Coliseum on Sunday.
Denver has simply been dominant in the series since Peyton Manning's arrival. They'll try to win an eighth consecutive game over their bitter AFC West rival behind a blistering defense and Manning's pistol-heavy offense.
This might be the best Raiders team Manning has faced as a Bronco, though. Quarterback Derek Carr is much-improved with rookie sensation Amari Cooper out wide. On defense, Khalil Mack and Co. will try to disrupt No. 18's rhythm and apply pressure.
Here are three keys to the game for both the Broncos and Raiders:
Can you beat the Crowd's Line? Submit your final score prediction below. Good luck!
BRONCOS:
1. Shadow Cooper with Aqib Talib all afternoon
This Raiders offense is different because of Cooper. But the Broncos' defense is ranked second in the league because of Talib; his physical press coverage has erased the likes of Calvin Johnson and Jeremy Maclin in weeks past. Expect the wily veteran to show the slick new rookie a thing or to.
2. Look for Owen Daniels and Virgil Green -- they'll be open
Oakland's defense is a much-improved unit, but they've still got some glaring holes. Manning knows it; he'll direct his tight ends to run through the heart of the Raiders defense and past slow linebackers. That's where other teams have attacked Oakland all season long.
3. Mix in a few new pass-rushers to mix Derek Carr up
Von Miller and DeMarcus Ware are proven commodities. Now, the Broncos can sprinkle in two more contributors; Shane Ray notched his first sack last weekend and Derek Wolfe returns from suspension. With even more options, Wade Phillips' defensive play calls could get even spicier on Sunday.
RAIDERS:
1. Ask Latavius Murray to forget his bad Week 4
The young Raiders running back better put a tough fourth game behind him and fast. He's just the defense-humbling option Oakland needs to keep Denver's blitz at bay. Stop No. 1? Holding on to the football with both hands after a two-turnover outing last weekend.
2. Incorporate Roy Helu Jr. in the passing game
Carr survived last season on short passes and checkdowns. He might need to revert to last season's form when Miller and Ware come around edge. Helu Jr. should be ready for hot throws when they do.
3. Hope Mack and Co. connect before Manning does
Manning watches the tape; he knows how banged-up Oakland's secondary is. So Sunday's game will be a cat-and-mouse affair between a deep-passing No. 18 and an oncoming Raiders pass rush. If pressure doesn't come, Manning might have a field day.
---
---