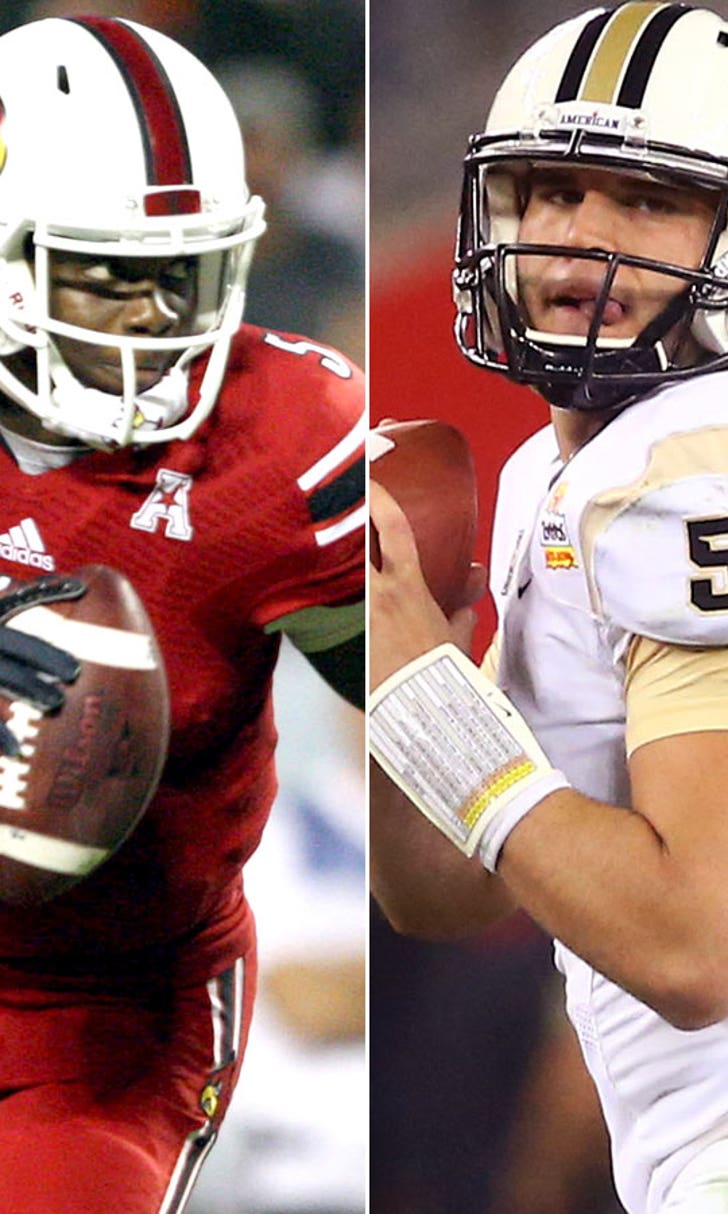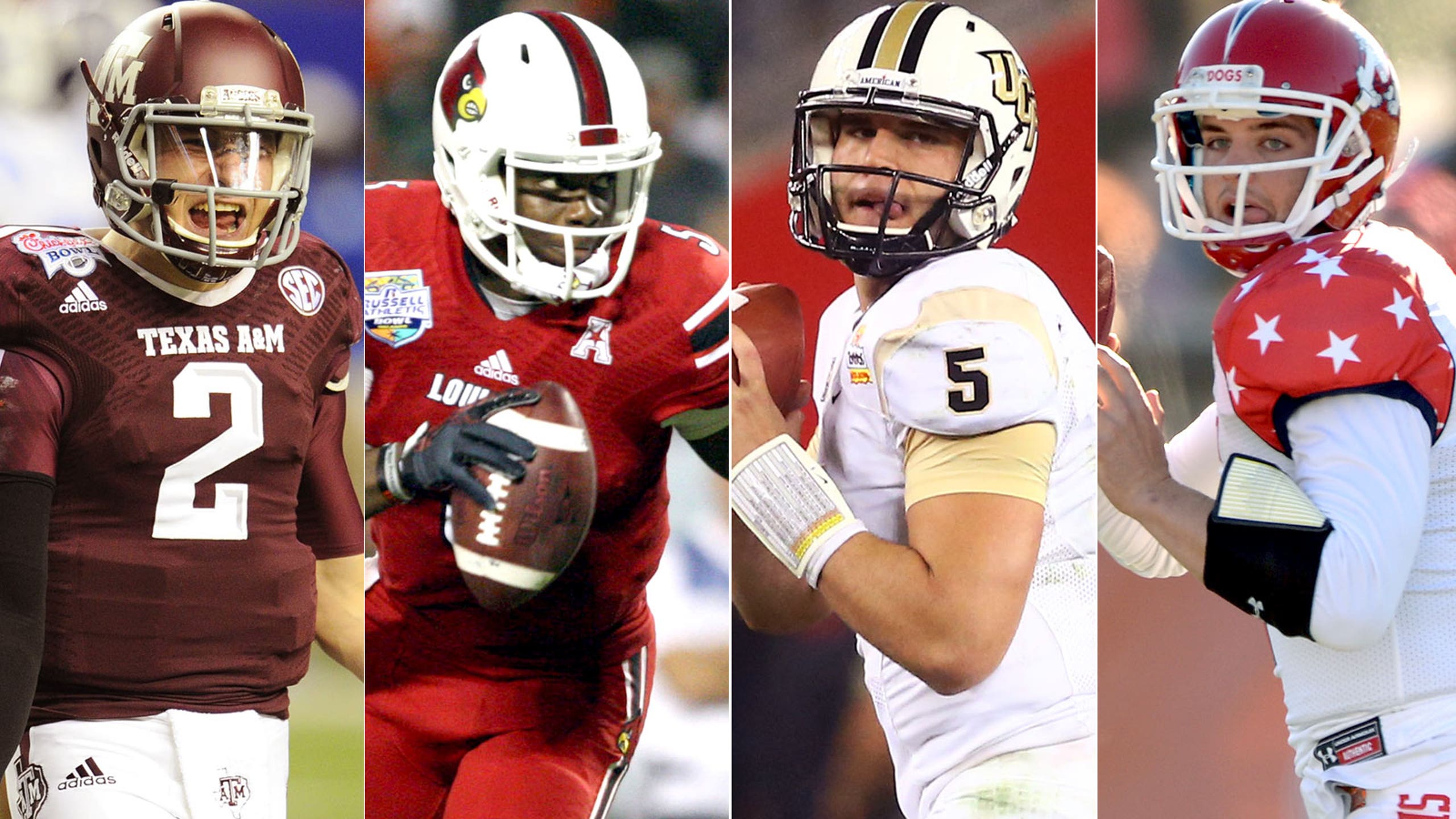 Schrager's Mock Draft 4.0: Which quarterbacks could free fall?
BY Peter Schrager • May 2, 2014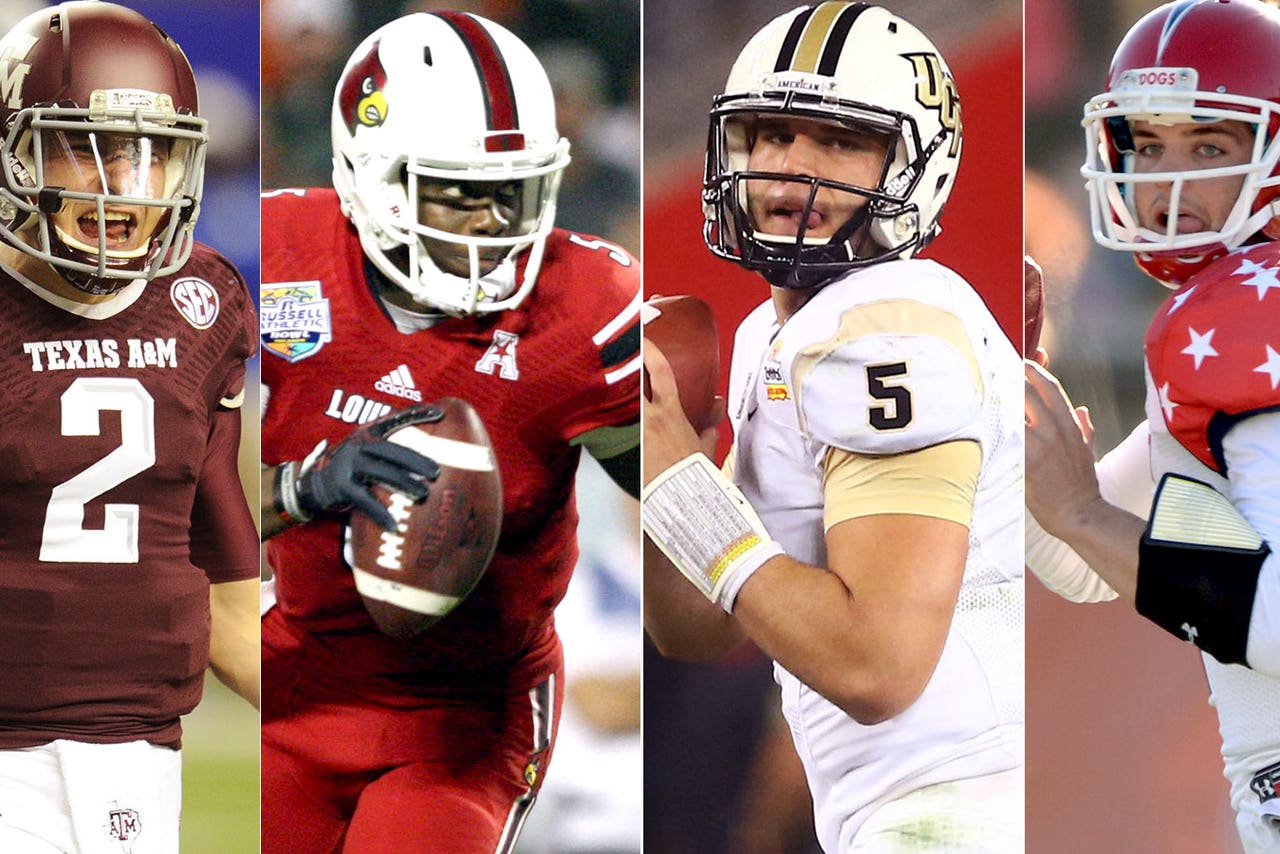 Time for another Mock Draft, with this one going two rounds. Next week, we're going the full seven, so brace yourselves. Carve out 15 minutes in your schedule to digest it when it's posted.
Some notes for this one before digging in:
1. No first-round trades are included or hypothesized, but I do expect several towards the third hour of the first round. The bottom third of the first round could be completely shuffled, with teams looking for a quarterback moving up into the 20s to grab them before the start of day 2. The new CBA, signed in 2011, allows teams to sign first-round picks to five-year deals on their rookie contracts. Second-round picks only have to sign four-year deals. Locking in a quarterback for five years on a rookie deal is far more desirable than the four-year rookie deal. 
2. I've made some slight changes to the first round based on conversations I've had with teams this week. Plenty more to come, I'm sure.
Let me know what you think by tweeting me at @Pschrags or emailing me at PeterSchrager@gmail.com.
1. Houston Texans: Jadeveon Clowney, DE, South Carolina: As one source told me a few weeks back, "Is he a risk? Maybe. Is it a bigger risk to pass on him? Yes." The comparisons to Lawrence Taylor have been scoffed at, but Clowney is as good, if not better, than Taylor coming out of college. Pair him with J.J. Watt, and suddenly Andrew Luck isn't so comfortable in the AFC South for the next 10 years.
2. St. Louis Rams: Greg Robinson, OT, Auburn: St. Louis could trade this pick. Whether they can find a suitor or not is another issue. It's worked before (they're still reaping the benefits of the RG3 trade) and they're going to be open to any and all suitors here. If they stay here, they'll go with Robinson. I think Larry Allen was arguably the greatest, most dominant offensive lineman to ever play the game of football. Multiple scouts have compared Greg Robinson to Larry Allen. How's that for high expectations? He can play tackle or guard and the potential's limitless.
3. Jacksonville Jaguars: Sammy Watkins, WR, Clemson: You'll hear a lot of talk around Khalil Mack, Johnny Manziel and Blake Bortles the next few weeks, and I know Jacksonville likes all three players a lot. But I've got them going with Watkins, a player one AFC position coach described as "a sure thing." Jacksonville's got one of the best young coaching staffs in the league and, in offensive coordinator Jedd Fisch, an innovative mind who did a lot with little to no weapons a year ago. Watkins does it all and could make an immediate impact in his first season comparable to Julio Jones or A.J. Green in 2011.
4. Cleveland Browns: Johnny Manziel, QB, Texas A&M: I've been doing my best to get a read on what the Browns will do fourth overall, and I can't stop ending up at Manziel. Browns owner Jimmy Haslam didn't buy the team for $1 billion to not have them be relevant. If there's any fan base in the NFL that needs a spark and a reason to be excited, it's that of the Browns. After another mess of a season and another coach and GM change, the Browns are in desperate need of someone and something to rally around. I've heard the same thing echoed from league personnel as former NFL quarterback Chris Simms said on my podcast last week — Manziel isn't being grouped with the other quarterbacks in this Draft on a big board. He's his own entity.
He's the biggest wildcard the NFL has seen in recent years — because of his on-field style of play; not because of the off-the-field stuff — and can't be placed on a list with more traditional quarterbacks like Bortles and Carr. Regardless of what first-year GM Ray Farmer and first-year head coach Mike Pettine feel is the wisest selection, this pick will be Manziel if the owner says it is. Plain and simple.
5. Oakland Raiders: Khalil Mack, OLB, University of Buffalo: The Raiders loaded up on household names in free agency, adding veterans up and down the roster. The biggest move, however, was the trade for Matt Schaub. The Oakland brass believes he's got some good football left in him and could lead this team back to relevancy and I know offensive coordinator Greg Olson likes him. Most mocks have Oakland going quarterback or receiver, here, but if Mack's still on the board at five — the silver and black can't pass him up.
6. Atlanta Falcons: Jake Matthews, OT, Texas A&M: The Falcons have to keep Matt Ryan upright if they stand a chance in the loaded NFC South. Matthews, the son of NFL great Bruce Matthews is a 6-foot-5, 310-pound brick wall. He's so athletic and nimble on his feet that he looks like a tight end at times. Some NFL folks like Matthews as much, if not more, than Robinson. Great fit for the Falcons if they stay put at 6th overall.
7. Tampa Bay Buccaneers: Taylor Lewan, OT, Michigan: Greg Robinson and Jake Matthews might be higher on the Bucs' wish list, but they'd be awfully happy with Lewan falling to them at 7th overall. Recent free-agent addition Anthony Collins could easily move to guard, allowing Lewan to anchor one of the tackle spots. A lot of mocks have the Bucs going quarterback or wide receiver Mike Evans here. I see them working toward building the top offensive line in football with the addition of Lewan. A dominant force at Michigan, he's got a nasty streak, too. This is the first pick of the Jason Licht Era in Tampa Bay. It'd be a home run.
8. Minnesota Vikings: Blake Bortles, QB, Central Florida: Matt Cassel just re-signed this offseason, Christian Ponder's still on the roster, and there are other needs in Minnesota. New head coach Mike Zimmer is a defensive mind. And yet, I still think the Vikings go with Bortles if he slips to 8th overall. As one coach put it to me at the NFL Meetings in March, "People scoff at the Roethlisberger comparisons, but watch the way he escapes trouble in the pocket. There's one guy who does it like [Bortles] does, and it's Roethlisberger."
9. Buffalo Bills: Mike Evans, Wide Receiver, Texas A&M:  Buffalo likes what they've got at quarterback in E.J. Manuel and features one of the top front sevens in the entire league. Robert Woods and Marquise Goodwin — two rookies from a season ago — have promise at wide receiver with Stevie Johnson. Doug Marrone and offensive coordinator Nathaniel Hackett's offense is obviously still a work in progress, but adding Evans would take it to new heights. The biggest need? Hardly. But what an addition this would be. As one position coach put it to me last week, "You can't teach 6-foot-4. The sky is the limit with Evans." There have been comparisons to Alshon Jeffery, but Brandon Marshall might be the more appropriate projection for Evans. He goes and gets the ball.
10. Detroit Lions: Justin Gilbert, Cornerback, Oklahoma State: Another year, and another draft in which I'll peg a cornerback going to the Lions. Gilbert does it at corner and offers instant impact on special teams. He'll be up against the likes of Alshon Jeffery, Jordy Nelson and Brandon Marshall in the NFC North, and should be up for the challenge. I know some NFL teams have Virginia Tech cornerback Kyle Fuller rated higher than Gilbert, but I like this fit for Detroit.
11. Tennessee Titans: Anthony Barr, OLB, UCLA:  Quarterback could be the move, here, but I like Barr if he's still on the board. A pass-rushing OLB that fits in the Ray Horton coached 3-4 defense, Barr's worked out well with teams and had a good showing at the Combine. There are some promising young defenders on that Titans D; Barr would be a wonderful addition. If Bortles or Manziel are still on the board, Ken Whisenhunt could go QB, here, too. I'm just not sure I see the Titans grabbing Bridgewater, Carr, or Savage here.
12. New York Giants: Aaron Donald, DT, Pittsburgh: The Giants were extremely active in free agency, but hated seeing up-and-coming DT Linval Joseph sign with Minnesota. Donald's somewhat undersized, but pops off film and the production at the college level was off the charts. He ran the fastest 40-yard dash for defensive tackles at the Combine and was dominant at the Senior Bowl the entire week in Mobile. He'd be a great fit with what New York's got going on.
13. St. Louis Rams: Calvin Pryor, Safety, Louisville: The Rams defense is on the cusp of being one of the league's very best, if they're not in the conversation already. Safety is a position they'd like to upgrade. Rodney McLeod and TJ McDonald are the projected starters now. Pryor, who I have rated slightly higher than Alabama prospect "Ha Ha" Clinton-Dix, is an explosive hitter with fantastic range. He fits the Rams' defensive style. He plays angry and aggressive, and can make a difference right away. If  Manziel slips around here, he could be a wild-card pick at 13, too. Jeff Fisher's a fan.
14. Chicago Bears: C.J Mosley, LB, Alabama: In a conversation at the league meetings back in March, Mosley was compared by one league personnel man to Patrick Willis and DeMeco Ryans. The Bears could use someone like that in the middle of their defense. Linebacker's a tradition in Chicago. Butkus, Singletary, Urlacher . . . big shoes to fill, but Mosley could be handed the torch. I like this fit for Chicago. Mosley could play inside or outside and should be a tackle machine at the next level.
15. Pittsburgh Steelers: Ra'Shede Hageman, DT, Minnesota: In a conversation in December, one NFL scout compared Hageman's mix of physical build and athleticism to J.J. Watt's. High praise. The Steelers struggled against the run in 2013. Corner and safety could make sense here, too, but I can seeing them go with the big man up front. The adopted son of two Dartmouth grads, Hageman has the smarts and the physicality to sneak into the Top 15.
16. Dallas Cowboys: Timmy Jernigan, DT, Florida State: Not the sexiest pick, but an area of need in Dallas. Recent free-agent signing Henry Melton will clog the middle at one DT spot, but Jernigan could be the perfect complement on Rod Marinelli's defensive line. Of course, if Johnny Manziel slips to the teens, watch out. I don't see that happening.
17. Baltimore Ravens: Odell Beckham, Jr., WR, LSU: The biggest critique my last mock draft got from folks within the league was that I vastly under-valued Beckham, who I originally had slipping to 28. "He doesn't escape the top 20," one high-ranking team official said. Another insisted the Jets would have the card in to Commissioner Goodell before they were on the clock if he fell to 18. Steve Smith, Torrey Smith and Jacoby Jones make a nice trio. Addding Beckham to the mix makes this one of the league's great units.  
18. New York Jets: Eric Ebron, Tight End, North Carolina: Jets fans in Radio City would be thrilled to see the athletic Ebron slip all the way to 18. If Buffalo passes on him at 9, as we have them doing here, I could see him falling to New York. Compared to Jimmy Graham, he's the next in a recent outpouring of big bodied athletic pass-catching tight ends. The Jets need to give their quarterback — whether it's Geno Smith or Michael Vick — a go-to security blanket. Ebron would be just that.
19. Miami Dolphins: Zack Martin, OT/OG, Notre Dame: You may have heard, but the Dolphins had some issues on their offensive line last season. Martin can play either the tackle or guard spot and can do it at a high level. Branden Albert will man the left tackle position in Miami. Slide Martin in somewhere and the unit's vastly improved from last year.
20. Arizona Cardinals: Ryan Shazier, OLB, Ohio State: The Arizona defense is one of the best in the league. Adding Shazier on the edge would only make them more dangerous. He'll play the OLB spot at the next level, an area where he excelled at Ohio State. He recorded back-to-back 115 tackle seasons and had a conference best 143 tackles in 2013. A pass-rushing talent you can't find everywhere and one of the draft gems multiple sources around the league have in their first round.
21. Green Bay Packers: "Ha Ha" Clinton-Dix, S, Alabama: This is a lot lower than I've seen Clinton-Dix going in other mock drafts, but I'm not sure he goes in the top 10 or 15 as others see it. Compared favorably to Earl Thomas, he's a rangy safety who can level the "boom" but also make plays in coverage. Watching the film, he's overly aggressive at times. Either way, a nice fit in Green Bay, where the 49ers have eliminated the Packers through the air and on the ground in the past two postseasons.
22. Philadelphia Eagles: Kyle Fuller, CB, Virginia Tech: Most mock drafts have the Eagles going with a receiver here, but with such a loaded class of wideouts, I think Chip Kelly can find a few gems in later rounds. Cornerback isn't as easy a position to fill. Fuller's rocketed up draft boards in recent weeks and could go as high as the top 15. A Virginia Tech standout, he's got good NFL size and can make an impact right off the bat. Comes from an NFL family (brothers Vincent and Corey) and can contribute on special teams.
23. Kansas City Chiefs: Marqise Lee, WR, USC: This is more about fit than anything else. Lee is a classic West Coast offense receiver and Andy Reid's offense is the West Coast offense that'd best suit him. Most teams have Oregon State's Brandin Cooks rated higher than Lee, but for Kansas City, Lee's the guy.
24. Cincinnati Bengals: Xavier Su'a-Filo, G, UCLA: I've seen Su'a Filo, the 305-pound, road-paver slotted as a third- or fourth-round pick on some lists. Nonsense. If he's not the top offensive guard in this draft, he's right up there as No. 2. The man can run block. Toss in the tape. I can't get enough.
25. San Diego Chargers: DeMarcus Lawrence, DE, Boise State: Lawrence's draft stock's been rising since the end of the college football season. A 6-foot-3, 250 pound pass-rush talent, Lawrence ran a 4.69 40-yard dash at a recent workout. He recorded 20.5 tackles for a loss in 2013 and he's compared favorably to Seahawks pass-rushing star Bruce Irvin. This could be a great fit at 25.
26. Cleveland Browns (from Indianapolis): Bradley Roby, Cornerback, Ohio State: The Browns went out and signed one former Ohio State defensive back in Donte Whitner. Look for them to scoop up Roby if he's on the board at 26. Pair him with Joe Haden and that's a tough corner duo. Roby has 4.39 speed and can match up with bigger wideouts. If Manziel and Roby are the Browns' first-round selections, I can't see Cleveland fans being too disappointed.
27. New Orleans Saints: Brandin Cooks, WR, Oregon State: Between Drew Brees, Jairus Byrd and whatever Jimmy Graham's next contract will be, the Saints' salary cap is tied up in three big names for the forseeable future. That makes them a candidate to trade out of this pick and load up on later selections. If they keep it and Cooks, the DeSean Jackson-like speedster out of Oregon State, is on the table — it's a great complement to an already high-powered offense.
28. Carolina Panthers: Jimmie Ward, S, Northern Illinois: Steve Smith, Brandon LaFell, and Ted Ginn are all gone. Jason Avant and Tiquan Underwood aren't going to replace any of those three, but with such a rich, deep draft of wideouts, I can't imagine Carolina reaching to take one here. Ward is a punishing hitter across the middle who could help alleviate the loss of Mike Mitchell in the defensive backfield. Carolina's in a tough spot, too, like New Orleans — where between Cam Newton, Greg Hardy, and Luke Kuechly — they've got three very large contracts looming. Could make them a trade-down candidate to a team looking to get a Derek Carr or Teddy Bridgewter, here, too.  
29. New England Patriots: Dee Ford, OLB/DE, Auburn: All that talk of New England's interest in a quarterback seems like a smokescreen to me. Want to get a team to trade up to 29? Talk up Tom Savage, Teddy Bridgewater, and the rest. Ford can play the edge or outside linebacker. The loss of Brandon Spikes will be felt in New England, at least somewhat, and Ford could provide some of the run stuffing Spikes provided.
30. San Francisco 49ers: Jason Verrett, Cornerback, TCU: Verrett ran a 4.38 in the 40, and he registered a 39-inch vertical -- one of the best verticals of all players at the combine. He also shows up on tape. His height could be a bit of an issue in the pros, but he's a playmaker. San Francisco's defensive backfield took a bit of a hit this offseason. Verrett's a nice addition at No. 31 overall.
31. Denver Broncos: Louis Nix, DT, Notre Dame: Nix was considered a top 10 pick at one point. An injury knocked him down some boards, but he should be fully healed and ready to go by the start of the season. Another big body to add to the defensive line who can stop the run and get to the quarterback. Again, not the sexiest selection, but one that makes sense.
32. Seattle Seahawks: Kony Ealy, DE, Missouri: Mizzou has become a bit of a defensive line factory in recent years with Aldon Smith, Ziggy Hood, and Sheldon Richardson all going in the first round. Ealy is the next in line. A 6-5, 280-pound force on the edge, he could be a sound addition to one of the league's top defenses.
ROUND TWO
33. Houston Texans: Tom Savage, QB, Pittsburgh
34. Washington Redskins: Darqueze Dennard, CB, Michigan State
35. Cleveland Browns: Allen Robinson, WR, Penn State
36. Oakland Raiders: Derek Carr, QB, Fresno State
37. Atlanta Falcons: Jeremiah Attaouchu, LB, Georgia Tech
38. Tampa Bay Buccaneers: Jace Amaro, TE, Texas Tech
39. Jacksonville Jaguars: Teddy Bridgewater, QB, Louisville
40. Minnesota Vikings: Marcus Roberson, CB, Florida
41. Buffalo Bills: David Yankey, OG, Stanford
42. Tennessee Titans: Zach Mettenberger, QB, LSU
43. New York Giants: Morgan Moses, OT, Virginia
44. St. Louis Rams: Davante Adams, WR, Fresno State
45. Detroit Lions: Will Sutton, DT, Arizona State
46. Pittsburgh Steelers: Joel Bitonio, OG, Nevada
47. Dallas Cowboys: Deone Bucannon, S, Washington State
48. Baltimore Ravens: Cyrus Kouandjio, OT, Alabama
49. New York Jets: Jordan Matthews, WR, Vanderbilt
50. Miami Dolphins: Daniel McCullers, DT, Tennessee
51. Chicago Bears: Dominique Easley, DT, Florida
52. Arizona Cardinals: AJ McCarron, QB, Alabama
53. Green Bay Packers: JuWaun James, OT, Tennessee
54. Philadelphia Eagles: Jared Abbrederis, WR, Wisconsin
55. Cincinnati Bengals: Terrence Brooks, S, Florida State
56. San Francisco 49ers: Kelvin Benjamin, WR, Florida State
57. San Diego Chargers: Jimmy Garoppolo, QB, Eastern Illinois
58. New Orleans Saints: Kyle Van Noy, OLB, BYU
59. Indianapolis Colts: Pierre Desir, CB, Lindenwood
60. Carolina Panthers: Cody Latimer, WR, Indiana
61. San Francisco 49ers: DaQuan Jones, DT, Penn State
62. New England Patriots: Chris Borland, LB, Wisconsin
63. Denver Broncos: Stanley Jean-Baptise, CB, Nebraska
64. Seattle Seahawks: Phillip Gaines, CB, Rice
---
---