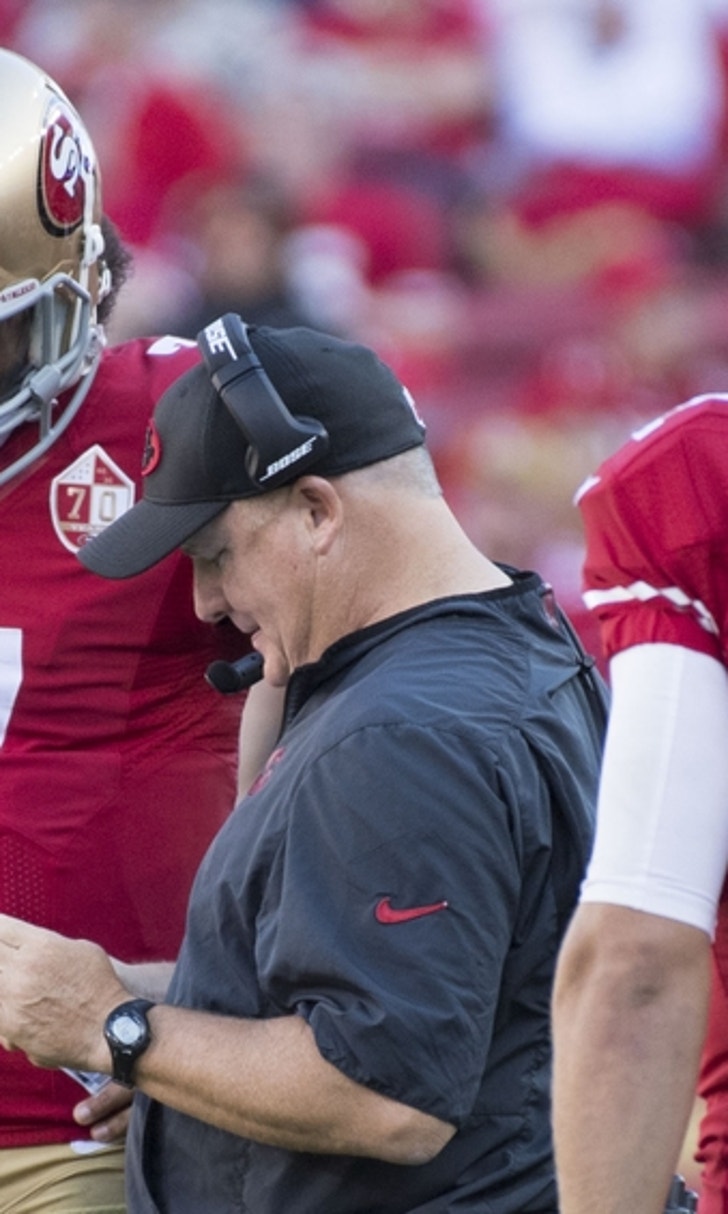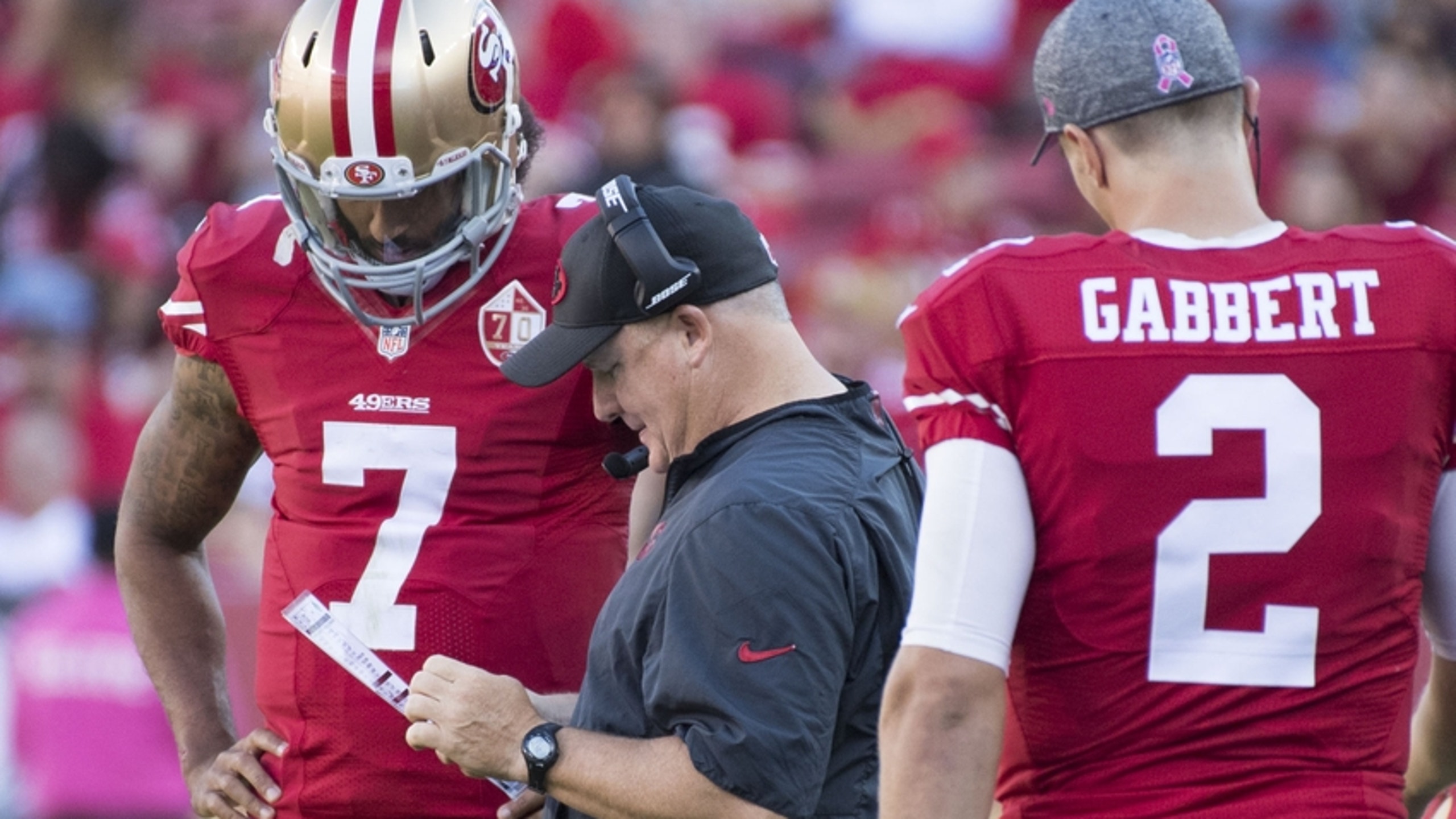 Realistic Options at Quarterback for the 49ers in 2017
BY Fansided and Peter Panacy/FanSided via Niner Noise • December 15, 2016
In all likelihood, the San Francisco 49ers are going to be on the hunt for a starting quarterback this offseason. Niner Noise takes a look at some plausible options under center in 2017.
Dec 4, 2016; Chicago, IL, USA; San Francisco 49ers quarterback Colin Kaepernick (7) and quarterback Blaine Gabbert (2) practice before the game against the Chicago Bears at Soldier Field. Mandatory Credit: Mike DiNovo-USA TODAY Sports
Unless you're banking on quarterback Colin Kaepernick and/or Blaine Gabbert returning next season, the San Francisco 49ers are going to be on the hunt for a new guy under center in 2017.
49ers
Niner Noise 1 dNFL Power Rankings: Looking at All 32 Teams Entering Week 15
More headlines around FanSided:
1 d - San Francisco 49ers three-round 2017 NFL Mock Draft1 d - Q&A with Tracy Sandler of 49ers Fangirl on 2016 Season2d - Report: 49ers Ownership to Pull Power from CEO Jed York2d - 2017 NFL Draft: 10 Teams That Need Quarterback the Most2d - 49ers Place TE Vance McDonald on Injured Reserve, Sign OL Josh AllenMore News at Niner Noise

Kaepernick can opt out of his current deal this offseason. Or the Niners could cut him and save $16.9 million in cap space. Gabbert will also be a free agent, and I see little reason why San Francisco even thinks about retaining him.
If not Kap or Gabbert, then who?
Granted, I haven't watched as much college football this season as in years prior. So I'm afraid I can't delve too deeply into the top-ranked collegiate QB prospects. That means scouting reports galore between now and the NFL Draft.
The draft, of course, is an option. But a general consensus seems to point at this quarterbacking class being pretty weak.
Maybe, but it's still an option for a talent-strapped 49ers team. But what are some others?
Let's take a look at some other quarterbacking possibilities for San Francisco in 2017, starting off with two other guys on the team's roster.
Aug 14, 2016; Santa Clara, CA, USA; San Francisco 49ers quarterback Thad Lewis (9) waits on the sidelines in the game against the Houston Texans in the third quarter at Levi's Stadium. Houston defeated San Francisco 24-13. Mandatory Credit: John Hefti-USA TODAY Sports
Quarterbacks Christian Ponder or Thad Lewis
Nobody said the 49ers' options under center next year would be ideal.
No. 3 quarterback Christian Ponder has yet to be active this season. The 28-year-old veteran was painting his house when the Niners called in the preseason to make him a one-year deal.
Ponder had some success late in the preseason, which has certainly led to calls for him to start at some point down the stretch in 2016.
Aug 20, 2016; Denver, CO, USA; San Francisco 49ers quarterback Christian Ponder (5) warms up prior to the game against the Denver Broncos at Sports Authority Field at Mile High. Mandatory Credit: Isaiah J. Downing-USA TODAY Sports
Especially considering both Colin Kaepernick and Blaine Gabbert's struggles.
Keep in mind those efforts were against second- and third-string units though. Not top-tier NFL competition.
Ponder could, feasibly, live up to his Round 1 draft stock — only having to take a few years to get there from when he was selected No. 12 overall by the Minnesota Vikings back in 2011. Or, we're simply looking at another first-round QB bust like Gabbert.
Lewis, who tore his ACL in the preseason, might be another option. If head coach Chip Kelly stays put next year, the 29-year-old Lewis would be able to fall back on his rapport with Kelly and might be an under-the-radar choice.
Both Ponder and Lewis are free agents, so that would require one — or both — to be re-signed.
But the likelihood of either actually starting seems slim at best.
Dec 10, 2016; New York, NY, USA; Clemson quarterback and Heisman finalist Deshaun Watson speaks to the media during a press conference at the New York Marriott Marquis before the 2016 Heisman Trophy awards ceremony. Mandatory Credit: Brad Penner-USA TODAY Sports
Options in the 2017 NFL Draft
The ideal way for San Francisco to find its next signal-caller would be the NFL Draft.
As noted earlier, this year's draft class might not necessarily be loaded with talent under center. But that doesn't mean the 49ers won't explore options here either.
Topping the list of QB prospects, according to Steve Palazzolo of Pro Football Focus, is Clemson's Deshaun Watson.
Watson's 2016 efforts have been up and down. And Palazzolo points out the quarterback's issues with accuracy, pocket awareness and progression reads — issues not unlike those associated with Colin Kaepernick.
Would Watson be worth a top-five pick in the draft — an area in which the Niners are likely to pick?
Perhaps not. But San Francisco could always trade down.
Other choices include North Carolina's Mitch Trubisky, Notre Dame's DeShone Kizer and Miami's Brad Kaaya.
August 23, 2015; Santa Clara, CA, USA; Dallas Cowboys quarterback Tony Romo (9) passes the football before the game against the San Francisco 49ers at Levi's Stadium. Mandatory Credit: Kyle Terada-USA TODAY Sports
Quarterback Tony Romo
Again, this isn't exactly a likable option. But it's a feasible one.
We know the story — Dallas Cowboys veteran quarterback Tony Romo gets injured and gives way to rookie QB Dak Prescott, who helps engineer Dallas' 11-2 season so far.
That makes Romo expendable, right? Just like former 49ers quarterback Alex Smith was after the 2012 season.
Not so fast. Cowboys owner Jerry Jones still feels as if Romo would be comfortable suiting up as the team's backup in 2017 behind Prescott.
It's possible. And this seems to point in the direction of Dallas keeping him on its payroll next season.
If this were the case, and the Niners had some interest, a trade would have to be involved. The only problem with it is San Francisco would be jettisoning a much-needed draft pick (or more) for an aging, oft-injured quarterbacking "Band-Aid" and nothing more.
No, the 49ers probably aren't going to be this desperate.
Oct 9, 2016; Cleveland, OH, USA; New England Patriots quarterback Jimmy Garoppolo (10) against the Cleveland Browns during the fourth quarter at FirstEnergy Stadium. The Patriots won 33-13. Mandatory Credit: Scott R. Galvin-USA TODAY Sports
Quarterback Jimmy Garoppolo
If pursuing Cowboys quarterback Tony Romo doesn't feel like the best of options, going after New England Patriots backup QB Jimmy Garoppolo might be slightly more enticing.
Garoppolo earned stripes over the first two weeks of the 2016 season, starting in place of then-suspended quarterback Tom Brady. And it's reasonable to assume he'd be worthy of a starting job on most teams needing an above-average signal-caller.
New England's backup is signed through 2017, so any trade wouldn't exactly be a risky investment. And at 25 years old, Garoppolo still has plenty of years left at the NFL level before age takes its toll.
Earlier this season, Bleacher Report's Matt Miller suggested the Niners trade off their second-round pick in the 2017 NFL Draft to the Patriots in exchange for Garoppolo's services. San Francisco would then have its upgrade under center and a plausible long-term option for its quarterbacking needs.
And we know Pats head coach Bill Belichick has a rapport with 49ers head coach Chip Kelly too, if the latter remains safe in Santa Clara this offseason.
This would certainly be a better choice for San Francisco over Romo.
Dec 11, 2016; Philadelphia, PA, USA; Washington Redskins quarterback Kirk Cousins (8) after the game against the Philadelphia Eagles at Lincoln Financial Field. Washington defeated Philadelphia 27-22. Mandatory Credit: James Lang-USA TODAY Sports
Quarterback Kirk Cousins and NFL Free Agency
The 49ers are going to have more than enough salary cap space in 2017, and there's no reason the Niners can't splurge a bit during the offseason to reload the roster.
And if quarterback is such a pressing need, why not delve into free agency?
The problem is the free-agent market is awfully thin at quarterback this offseason. Aside from Washington Redskins QB Kirk Cousins, few names jump off the table as a must-have guy.
Cousins is certainly enjoying a great season. He's completing 67.5 percent of his passes and has a 100.3 passer rating on the year, helping Washington stay in the playoff picture. But he'll be a free agent in 2017, and it's safe to say he'll receive a substantial increase from his current $19.95 base salary.
I'd expect the Redskins to re-sign him this offseason. He's one of the primary reasons Washington has returned to prominence in recent years, and letting him walk would be a major mistake.
But money talks, and the 49ers have plenty of it.
Although this raises another question — would Cousins want to leave a playoff contender for a totally rebuilding San Francisco team?
Probably not. And it's all but guaranteed Cousins would see a dramatic falloff in his numbers if he were to jump ship to the Niners.
Aug 10, 2016; San Francisco, CA, USA; San Francisco 49ers quarterback Blaine Gabbert (2) and quarterback Colin Kaepernick (7) train at Kezar Stadium. Mandatory Credit: John Hefti-USA TODAY Sports
Quarterbacks Colin Kaepernick and/or Blaine Gabbert
Eeek. Say it ain't so.
Well, it's a possibility.
Would the Niners actually fathom bringing back Colin Kaepernick or Blaine Gabbert to play quarterback in 2017? And, if so, why?
Let's paint the scenario here. First, the 49ers might not be able to lure in another quarterback via free agency or a trade for all the problems and obstacles previously discussed. Second, Kaepernick may not opt out, realizing his value across the league is likely to be pretty low this offseason.
Lastly, if the Niners don't see any collegiate prospect as a legitimate option to start in 2017 — even if they draft one — the team may be forced to settle on Kap or Gabbert for at least another season.
Yeah, that's what it's come to.
More from Niner Noise
It wouldn't be the end of the world though. True, the Niners need a quarterback badly. But if we accept the notion the 2018 quarterbacking class has a bit more talent, retaining Kaepernick and/or Gabbert would be nothing more than a stopgap option.
In the meantime, San Francisco rebuilds as much as it can elsewhere. The team needs help almost everywhere anyway.
Regardless, the 49ers' situation under center is far from perfect. And the solutions to this problem aren't exactly the most desirable either.
All of it makes for some great speculation in the weeks and months to come.
---
---