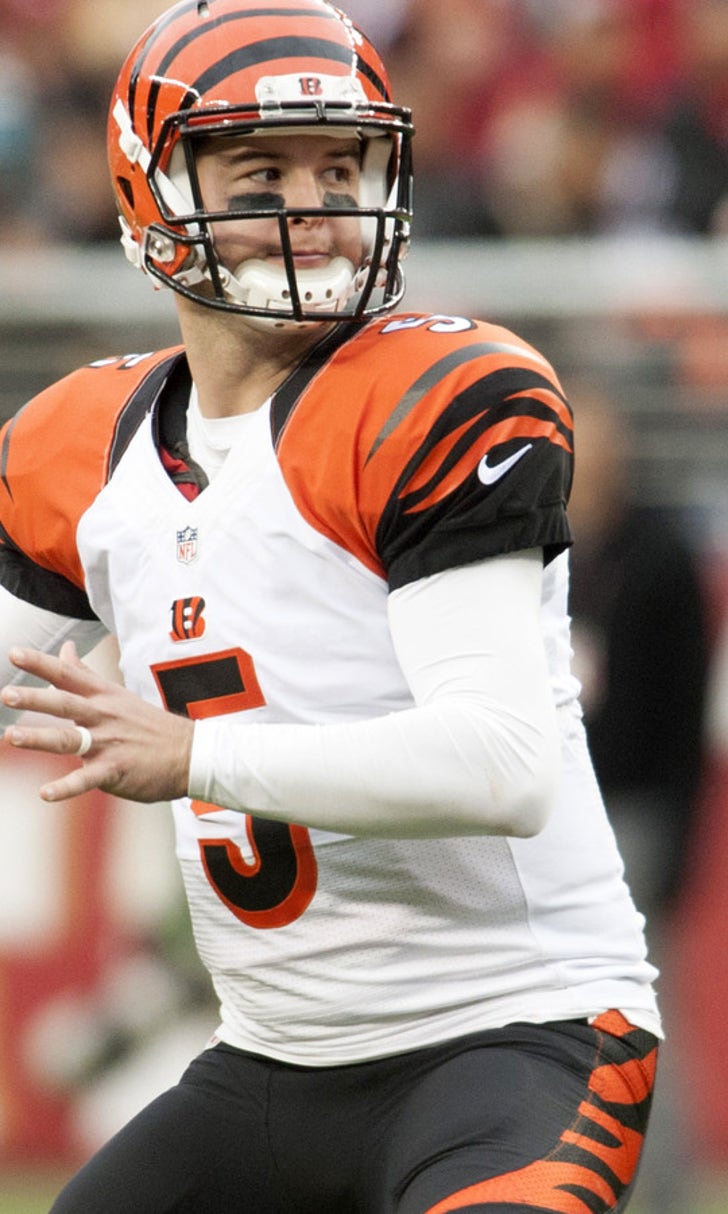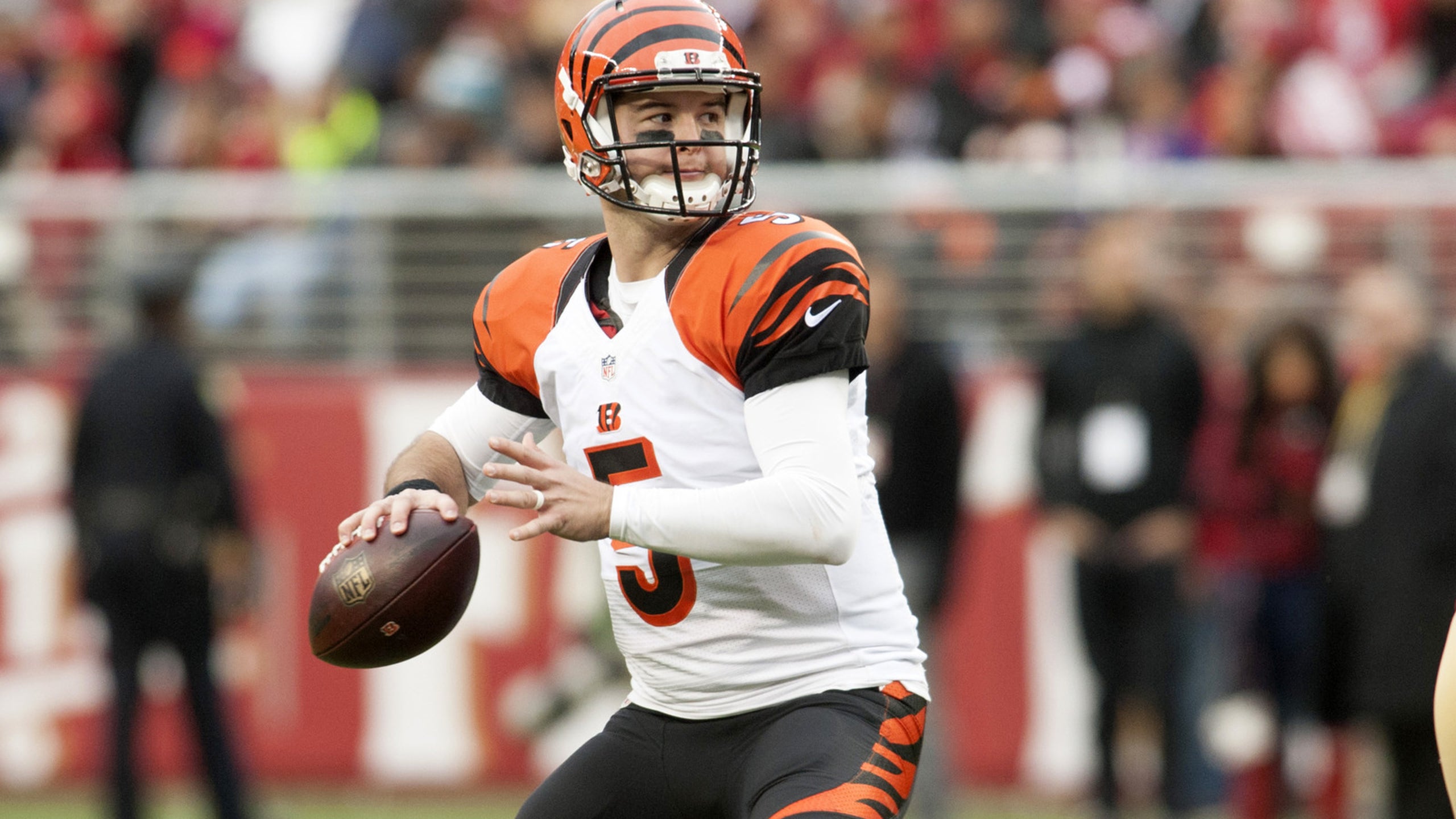 Ravens-Bengals Preview
BY foxsports • December 30, 2015
The Cincinnati Bengals held a two-touchdown lead over the team they're competing with for a bye through the wild-card round and let it slip away to an emerging quarterback.
They now need their own second-choice signal-caller to guide them to a home victory over the Baltimore Ravens on Sunday, and for Denver to lose at home to four-win San Diego for that bye to become a reality.
Past playoff failures aside, the bye is particularly relevant to the AFC North champion Bengals (11-4) with starting quarterback Andy Dalton not expected to return from a fractured right thumb for a potential wild-card date next weekend.
"It's tough," wide receiver A.J. Green said. "We have a lot of guys banged up, so we could have really used that bye. All we have to do is go out there and take care of next weekend, and hope for the best."
Doing their part would at least give the team its first 12-win season since 1988 when Cincinnati reached the Super Bowl, and the immediate results fall on the shoulders of AJ McCarron.
The second-year QB is making his third start and first at home after replacing Dalton in a 33-20 home loss to Pittsburgh on Dec. 13. He played most of that game, won at San Francisco a week later, then shared in the disappointment of Monday's 20-17 overtime road loss to the Broncos.
McCarron has completed 67.0 percent of his passes and thrown for four touchdowns and two interceptions in those three games. The picks came in the impromptu appearance against the Steelers, though a crucial turnover also happened in the latest loss.
His teammates praised his efforts, but McCarron claimed plenty of the blame after a fumble in OT ended the game following the Broncos' go-ahead field goal.
"We just didn't make enough plays when it counted," said McCarron, who injured his non-throwing wrist on the play but isn't said to be in danger of missing the regular-season finale. "We put ourselves in a position to win the ballgame and I failed the team. That is what it comes down to; you aren't always going to score touchdowns."
That's been especially true since losing Dalton. The Bengals had averaged 27.8 points and 376.3 yards of offense in the 12 games preceding the injury with particularly impressive showings in the last three at 33.0 points per game. In the three games dating to Dalton's exit, Cincinnati has averaged 20.3 points and 307.0 yards.
It looked like it had overcome that in the first half against Denver with a 14-3 lead and 204 yards, but the Bengals totaled 90 in the second half and overtime.
"This one definitely hurts, when you feel like you have a lot of momentum and doing some good things out there and kind of spit out the bit in the second half," running back Jeremy Hill said.
The Ravens (5-10) are simply trying to win two in a row for the second time in 2015 and avoid matching their second-worst season ever while again playing spoiler. They complicated things for Pittsburgh last week with a 20-17 home win that ensured they wouldn't equal their franchise-worst inaugural 4-12 season of 1996, though their 2007 mark is still matchable.
"We want to step off as high as we possibly can," coach John Harbaugh said. "Let's get as good as we can get as a football team. The goal doesn't change that way whether you're in the playoffs or not in the playoffs. We need to play the best football we can play because it's a journey. Winning those games is definitely a measuring stick of how good you are."
Baltimore's quarterback and injury issues make Cincinnati's look comparatively stable. Joe Flacco was lost for the season with a torn left ACL and MCL on Nov. 22, and the Ravens have since started Matt Schaub, Jimmy Clausen and Ryan Mallett while also dealing with key long-term injuries to players such as Terrell Suggs, Justin Forsett and Steve Smith Sr.
Mallett faced the Steelers and completed 28 of 41 for 274 yards and a touchdown in his first action since Oct. 18 with Houston, and Harbaugh praised the offense for giving the defense ideal circumstances.
"We didn't give up any points on turnovers," said Harbaugh, whose team stayed clean in the turnover category after committing 15 in its previous seven games. "That's winning football. That's the way we want to play, and to me, that's a blueprint for us going forward. Now we have to try to replicate that blueprint. We have to try to do that again on Sunday against Cincinnati."
Things could come easier for Cincinnati's offense against Baltimore as opposed to Denver's top-ranked defense. The Ravens rank 22nd in points allowed at 25.1 and 10th in total defense at 340.1 yards, though they have had some impressive performances lately, limiting an explosive Pittsburgh offense to 303 yards a week after holding Kansas City to 277.
The Bengals have won the last four meetings and the past three in Cincinnati. The last three overall have been decided by no more than a touchdown, including a 28-24 win in Baltimore on Sept. 27.
---
---