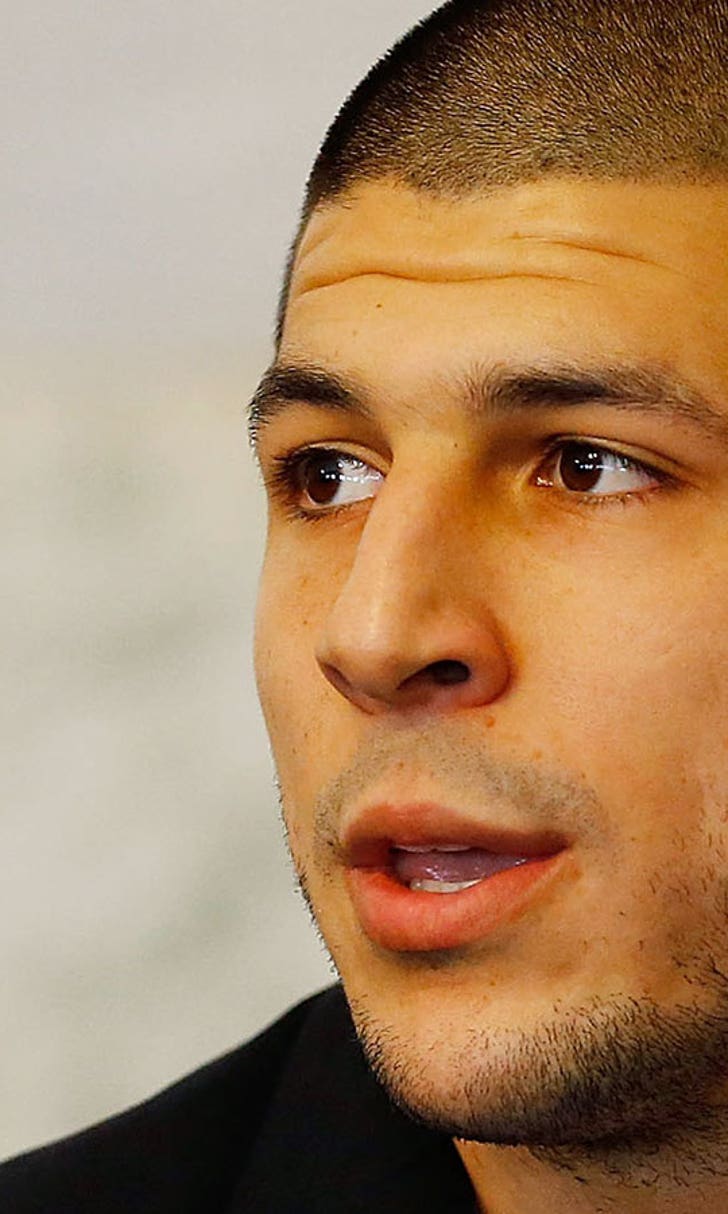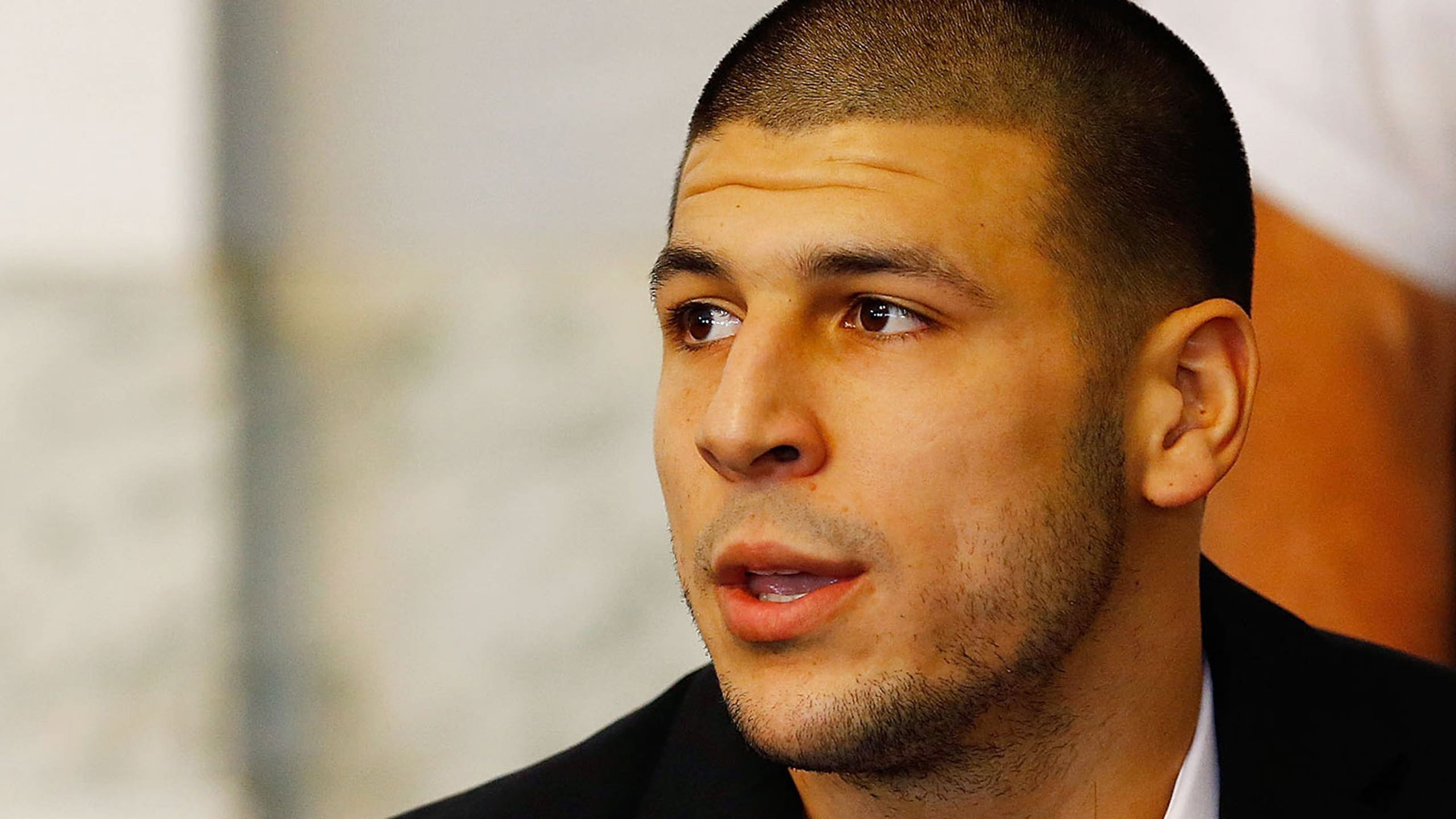 Police missed chance to investigate Aaron Hernandez after 2012 murders
BY foxsports • May 20, 2015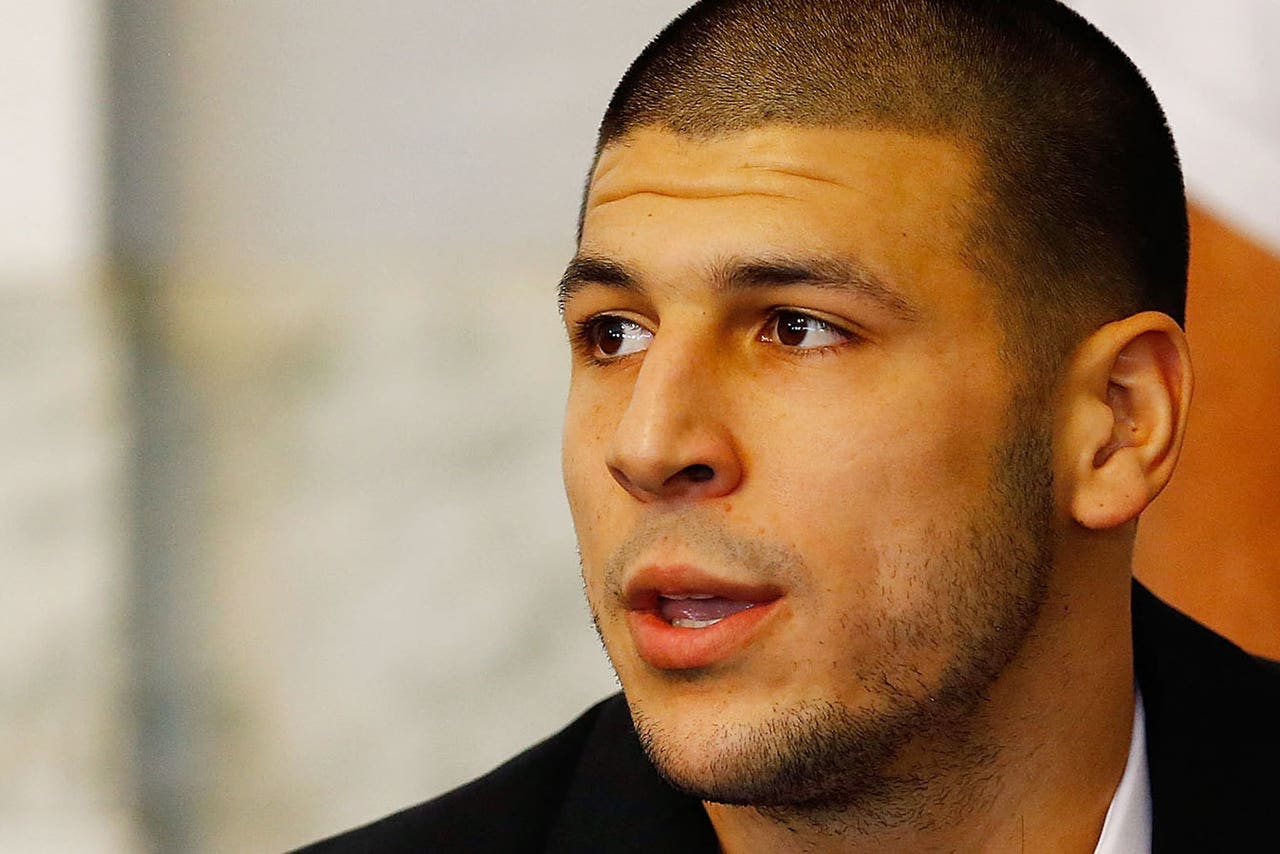 BOSTON
Police detectives working a 2012 double murder ignored critical surveillance footage in their possession for more than 11 months — a lapse that may have stymied their investigation of the inexplicable shooting now tied to former football star Aaron Hernandez, a FOX Sports investigation has learned.
That footage included images of a clearly identifiable Hernandez and a close confidante — and it showed the silver Toyota 4Runner driven by the then-NFL star with enough clarity that the numbers on its Rhode Island license plates could be easily read. At the time, the best lead detectives had came from an eyewitness who said the killer was in a silver sport-utility vehicle with Rhode Island plates — an automobile police officials appealed to the public to help find.
The critical section of footage, captured in a Boston parking garage down the street from a nightclub the victims visited, began about 2½ hours before the killings and was obtained by detectives within a week of the July 16, 2012, murders.
But it wasn't carefully examined until Hernandez was implicated nearly a year later in another murder: the June 17, 2013 slaying of Odin Lloyd. Hernandez, at the time of both shootings the tight end for the New England Patriots, was convicted of murder in that case and sentenced to life in prison.
Court documents on file in Connecticut suggest the footage was not watched until after Lloyd's killing, more than 11 months after the slayings of Daniel De Abreu, 29, and Safiro Furtado, 28, and wounding of another man.
Boston police Lt. Michael McCarthy, a department spokesman, disputed that inference.
VIDEO TIMELINE


Boston police detectives investigating the July 16, 2012, murder of two men in the city's Theater District located and obtained surveillance video from several cameras in the area of the crime. According to search warrants executed in Connecticut by police officers and quoted below, that video provided a detailed timeline of movements of the victims and former football star Aaron Hernandez, who has been indicted on multiple charges in the killings.

12:04 a.m.: Aaron Hernandez and a man later identified as Alexander Bradley arrive at a parking garage on Tremont Street in Boston's Theater District. Hernandez is driving a "silver 2006 Toyota 4Runner, with a clearly visible license plate, 635035. The license plate is white with blue lettering, consistent with a Rhode Island plate."

12:30 a.m. (approximate): Hernandez and Bradley stand in front of Cure Lounge, located just down the street from the parking garage. They enter Cure Lounge just behind Daniel De Abreu, Safiro Furtado and three of their friends. Hernandez and Bradley descend into a basement area of the club where there are no operating security cameras.

12:40 a.m. (approximate): After quickly consuming two drinks, Hernandez, along with Bradley, leave Cure Lounge.

Unknown time: Hernandez and Bradley cross Tremont Street away from Cure Lounge.

1:05 a.m.: Hernandez and Bradley come back across Tremont Street and walk toward the parking garage.

1:07 a.m.: Hernandez and Bradley enter the parking garage.

1:17 a.m.: Hernandez and Bradley leave the parking garage in the same silver Toyota 4Runner.

2:10 a.m.: De Abreu, Furtado and their three friends leave Cure Lounge, walking toward the same parking garage Hernandez had used.

2:17 a.m.: As De Abreu, Furtado and their three friends move toward the parking garage, a vehicle that "appears to be a silver Toyota 4Runner (consistent with the vehicle Hernandez was operating) can be seen traveling in the left hand lane closest to the sidewalk. The vehicle heads down the street and disappears around a corner.

2:20 a.m.: As two of the men wait on the sidewalk for De Abreu, Furtado and their friend to retrieve their car, "what appears to be the same silver Toyota 4Runner is observed again traveling on Tremont Street in the middle lane," passing the two men "at a slow rate of speed." The SUV again disappears around a corner.

Unknown time: De Abreu, Furtado and their three friends exit the parking garage and head south on Tremont Street, which turns into Shawmut Avenue. They stop at a red light after crossing Marginal Road and reaching Herald Street.

Unknown time: Two Rhode Island men driving home from work in Boston are stopped at a red light on Shawmut at Marginal when they notice a vehicle pull up next to them, then speed through the red light and pull up next to the BMW that De Abreu is driving. They later tell police at that point they heard six gunshots and that the SUV sped away. One describes the vehicle as silver and either a Nissan Pathfinder or a Toyota 4Runner with Rhode Island license plates. The other tells police he believes the vehicle is a gray Nissan Pathfinder.

2:32 a.m.: Boston police respond to a report of a shooting on Shawmut at Herald and, after responding, find De Abreu and Furtado dead and one of their friends wounded.

"All video footage was viewed repeatedly by investigators in the days after the incident," McCarthy told FOX Sports in an email Wednesday. "Based on the timeline and witness information their focus was on a vehicle seen in the footage. That focus changed to a different vehicle as a result of the investigation and the footage was viewed again by investigators."

He did not respond to phone and email requests for clarification.

During that 11-month span when the footage wasn't studied, detectives made several efforts to identify the vehicle used by the killer, which was described by an eyewitness as silver and either a Nissan Pathfinder or a Toyota 4Runner with Rhode Island license plates. The department's then-chief appealed to the public to help locate it, and detectives spent time going through Rhode Island motor vehicle registration records trying to identify the truck and its owner. They also had a car expert look at other less-detailed surveillance video in their possession, showing the 4Runner on a South Boston street, in an attempt to identify its make and model.

But they had no luck, and the investigation stalled in the slayings of De Abreu and Furtado and the wounding of another man; detectives had no suspect and no motive. All the while, they had in their possession video showing Hernandez with the exact kind of vehicle, with the exact kind of license plates, that a witness said was used by the killer.

The victims were immigrants from Cape Verde. And Hernandez, a star for the hometown Patriots, remained on the streets and was subsequently implicated in Lloyd's killing and in a Florida shooting — one that critically injured Alexander Bradley, the man prosecutors allege was with the NFL star the night De Abreu and Furtado were gunned down.

Prosecutors have alleged that the De Abreu and Furtado killings occurred after Hernandez was enraged that one of the men spilled a drink on him in the nightclub known as Cure Lounge and then failed to apologize, and he awaits a trial in those murders. A hearing in the case is scheduled Thursday in Boston, and it's likely a trial date will be set at that court session.

Sal LaBarbera, a recently retired Los Angeles homicide detective and supervisor who was involved in roughly 6,000 murder investigations, didn't mince words when asked about the failure to follow up on the information in the surveillance video investigators gathered.

"That's lazy — poor police work," he told FOX Sports.

Two Boston police detectives who handled the video evidence did not respond to messages seeking comment that were left this week at their office.

It's impossible to know how history might have been changed if detectives had followed the major clue contained on that video, but Boston criminal defense attorney Stephen Weymouth said it's easy to imagine one scenario.

"Here's what I think: Had the Boston police done their homework in July and August of 2012, Odin Lloyd might still be alive," Weymouth said. "They might have been able to arrest (Hernandez) — who knows? We'll never know."

What's more, that lapse may have not only contributed to the long delay in identifying a suspect in the case but could also help Hernandez when he goes before a jury, where his attorneys could make use of a Massachusetts court ruling that gives defendants the right to challenge the failings of police officers and raise questions about the thoroughness of an investigation.

"The way an investigation is conducted is always fair game for the defense," said Weymouth, who has handled numerous murder cases.

And Bill Kennedy, an attorney who represents the families of De Abreu and Furtado, questioned whether the case got short-shrift because the victims were immigrants with little social status.

"In truth, you do sort of think it would have been different if this was a carful of kids from Quincy that got bushwhacked as opposed to, really, all Cape Verdean immigrants, of different legal status," Kennedy said. "But they were all Cape Verdeans; I think it's a fair question to ask."

Jake Wark, spokesman for Suffolk County District Attorney Dan Conley whose office is prosecuting the Boston case, said he could not discuss the details of the investigation or the actions — or lack of them — by police.

But clues to the failure to study the video recordings are sprinkled throughout court documents on file in two states: Massachusetts, where the killings occurred, and Connecticut, where Hernandez was born and raised and still had many ties.

The shooting that left De Abreu and Furtado dead, and their friend wounded, made no sense from the beginning.

The two men and three friends had gone to the nightclub in Boston's theater district. They were there less than two hours, then left. De Abreu was driving a BMW sedan he had borrowed from his sister, Furtado was sitting in the front passenger seat, and their three buddies were in the back seat.

They had gone only a couple blocks when De Abreu stopped at a red light on an overpass above Interstate 90. It was about 2:30 a.m. As they sat there, someone pulled up next to them and opened fire with a handgun. DeAbreu and Furtado died almost immediately. The man in the middle of the back seat was wounded but recovered, and the other two escaped unharmed.

From the beginning, detectives didn't know what to think. Although there was a news report the day after the killings suggesting that the victims might have been involved in a gang, police immediately disputed that publicly.

In the early days of the case, the best hopes of investigators lay with two men who were in a car behind the BMW and saw the shooting. They described the killer as driving a silver or gray sport-utility vehicle. One of them said it had Rhode Island license plates, and he was sure — he and his companion both lived there. He also told detectives they believed the vehicle was either a Toyota 4Runner or a Nissan Pathfinder, according to a search warrant filed in Connecticut. The man riding with him told police he thought it was a Nissan Pathfinder.

[fsnewslettersubscription]

From the beginning, the search for that vehicle was a top priority for detectives.

"We are currently looking for a silver or gold SUV with Rhode Island registration that fled the scene," Daniel Linskey, then Superintendent-in-Chief of the Boston Police Department, told reporters the morning after the shootings. "If there's anyone who has any information or was in the area, saw this vehicle last night — anything they had that would help us with this case, we'd ask they come forward."

Detectives traveled to their neighboring state, where, according to court documents, they "investigated various motor vehicles listed in the Rhode Island Registry of Motor Vehicles that generally fit the description of the suspect car. None of these efforts were successful in identifying the suspect vehicle or the perpetrator(s)."

Two days after the killings, according to discovery documents filed by prosecutors in Boston, detectives undertook a "camera canvass" — checking the area between the nightclub and the murder scene looking for surveillance systems that could have captured video of the crime.

A week after the killings, on July 23, 2012, detectives conducted a "video canvass," gathering footage from multiple security cameras in the area, including from Cure Lounge, from a parking garage located just down the block from the club, and, according to court documents, "other locations that recorded digital images in relevant areas."

But initially detectives apparently focused on only a portion of the surveillance images, according to the Connecticut warrant: "A review of the video footage allowed detectives to track the victim's movements to and from Cure and captured them leaving the parking garage just prior to the shooting. However, there was no video footage that captured the shooting. Attempts to positively identify the suspect vehicle were also unsuccessful."

By the time two months had passed, the investigation was ice cold.

Court documents filed by prosecutors show very little investigative activity in the eight months following September 2012.

[linklist id="477023"]

Then came June 17, 2013, and the discovery of Lloyd's body in a secluded field in North Attleboro, Mass., a sleepy town a little more than 40 miles southwest of Boston.

Detectives in North Attleboro quickly connected Lloyd's killing to Hernandez — a check of the dead man's pockets turned up keys to a rented sport utility vehicle. An investigator called Enterprise Rent-A-Car, learning that Hernandez had signed for the Suburban at the airport in Providence, R.I.

Two days later, according to court documents filed in Connecticut, Boston detectives saw news reports that Hernandez had been implicated as a possible suspect in Lloyd's killing and "recalled that in previously viewing the video footage from Club Cure on the morning of July 16, 2012, an individual clearly recognizable as Aaron Hernandez is observed entering the club at approximately the same time as the victims."

A few days after that, a tipster told police the Boston murders and Lloyd's killing were "related," according to court documents.

It was only then, according to two Connecticut search warrants in the case, that detectives went back and carefully examined all of the video surveillance footage in their possession. Both warrants have identical language about the response to the tip: "That, as a result of this information, a detailed analysis of the video surveillance was undertaken, with specific attention to the movements of Aaron Hernandez ("Hernandez") on the morning of July 16, 2012."

The warrant details extensive footage of Hernandez: "Video surveillance from the Tufts parking garage shows Hernandez arrive at 12:04 a.m., driving a silver Toyota 4Runner, with clearly visible license plate, 635035.The license plate is white with blue lettering, consistent with a Rhode Island plate."

It goes on to note that Hernandez and another man — later identified as Bradley — could be seen outside Cure Lounge about 12:30 a.m., entering the club "immediately after the victims" before they headed to a basement area where no security cameras were working.

Hernandez left about 10 minutes later, quickly downing two drinks before walking out, and was captured on surveillance footage crossing the street. The footage captured him returning about 1:05 a.m., entering the parking garage at 1:07 a.m. and driving away in the 4Runner at 1:17 a.m.: "Aaron Hernandez is observed driving this vehicle," and Bradley "is observed in the front passenger seat."

[linklist id="398823"]

The warrant describes De Abreu, Furtado and their three friends leaving Cure Lounge at 2:10 a.m., walking to the same parking garage Hernandez had left a little more than an hour earlier.

At that point, the 4Runner reappears in the tapes, according to the affidavit: "The footage shows that as the victims are walking on the sidewalk of Tremont Street, what appears to be a silver Toyota 4Runner (consistent with the vehicle Hernandez was operating) can be seen traveling in the left hand lane closest to the sidewalk, going by the victims at 2:17:56 a.m. The Toyota 4Runner can be seen traveling on Tremont Street and taking a right hand turn onto Tremont Street at Shawmut Avenue."

As two of the men wait outside the garage for their friends to retrieve the car, "what appears to be the same silver Toyota 4Runner is observed again traveling south on Tremont Street in the middle lane at 2:20:59 a.m., passing . . . at a slow rate of speed. Other traffic is passing the Toyota 4Runner due to its decreased speed. The Toyota 4Runner appears to take the same right hand turn onto Tremont Street at Shawmut Avenue, as if looping back."

The warrant lays out footage from other cameras in the area: "The Toyota 4Runner is observed coming off Stuart Street taking a right hand turn onto Tremont Street. The two loops around the block by the Toyota 4Runner near club Cure and the parking garage are captured on two separate surveillance systems."

A short time later, De Abreu and Furtado and their friends drove away, heading south.

A couple blocks away, the two Rhode Island men were sitting at a stop light, they later told police, when the SUV pulled up next to them, stopped briefly, then sped through the signal and stopped next to the BMW, which was at another red light a block ahead.

They both described hearing six gunshots, then seeing the silver vehicle speed away.

The call for help came at 2:32 a.m., according to court documents.

After studying all of the surveillance video in June 2013, detectives, armed with the license number from the vehicle, quickly identified the owner of the 4Runner as a Providence auto dealer. When detectives questioned the dealer's owner, he told them that he had loaned the vehicle to Hernandez in exchange for some promotional work but had not seen it since May 2012 — two months before the Boston killings.

That same day, detectives searching a home in Bristol, Conn., owned by Hernandez's uncle found the 4Runner parked in the garage, where it had apparently been for nearly a year. The 4Runner was covered with "a layer of dust and cobwebs," according to court documents.

Eleven months after the killings of De Abreu and Furtado, detectives finally had a suspect: Aaron Hernandez, formerly No. 81 of the New England Patriots.

[pullquote align="right" attribution="Sal LaBarbera, retired Los Angeles police detective"]It's not pretty what we do. There are mistakes along the way. They should fess up to it because in court ultimately it's going to come out.[/pullquote]

By that time, he was being held without bail in Lloyd's killing, the Patriots had cut ties with him, and Boston detectives no longer faced a time crunch to make an arrest. Instead, they methodically presented the case to a grand jury over the ensuing months. Finally, on May 15, 2014, that grand jury indicted Hernandez on multiple charges: Two counts of first-degree murder, three counts of armed assault with intent to murder, one count of assault and battery with a dangerous weapon, one count of firearms possession.

He has subsequently been indicted on a witness intimidation charge, alleging that he shot Bradley in Florida after the man made a comment about the slayings of De Abreu and Furtado.

It'll never be known whether Hernandez could have been locked up much sooner — and, if he had, whether the shooting of Bradley and killing of Lloyd would have been prevented.

"It's not pretty what we do," said LaBarbera, the former Los Angeles homicide detective. "There are mistakes along the way. They should fess up to it because in court ultimately it's going to come out."

He said he learned his lesson as a young detective working a case in a run-down apartment complex. He came to a trash barrel full of clothing. He went through the filthy mess, but it was so grungy that his search was only cursory. After a trial, and a conviction, a juror told him that he wished the detective had taken the time to go through the barrel more carefully, even though nobody believed it would have changed the outcome of the case.

"That was an eye opener for me," LaBarbera said. "That was 20 years ago, and they were right."

Kennedy, the attorney representing the families of De Abreu and Furtado, said their loved ones were frustrated in their dealings with Boston police.

"The families felt for the longest while that this was not a matter that was being treated with sufficient seriousness, certainly early on," Kennedy said.

[linklist id="398936"]

And even with the unanswered questions about how the case was handled, one thing is certain: Hernandez's attorneys can try to turn the police lapse in the former NFL star's favor.

That's because a 1980 Massachusetts court ruling, known as Commonwealth versus Bowden, opened the door for the accused to challenge the thoroughness of work done by police investigators. In some cases, defense attorneys have successfully argued to include language in instructions given to juries that allows them to consider the credibility of police investigators based on their work.

R. Michael Cassidy, a former prosecutor who now teaches at the Boston College law school, said that while hindsight is always 20/20 he was surprised at the lapse.

"I'm sure whoever had this video and didn't watch it carefully enough is getting enough heat internally from the police department and their superiors," Cassidy said. "If the facts are as you tell me there's probably a black mark on this police officer's record. He could be opening mail somewhere, and there could be repercussions for the case."
---
---