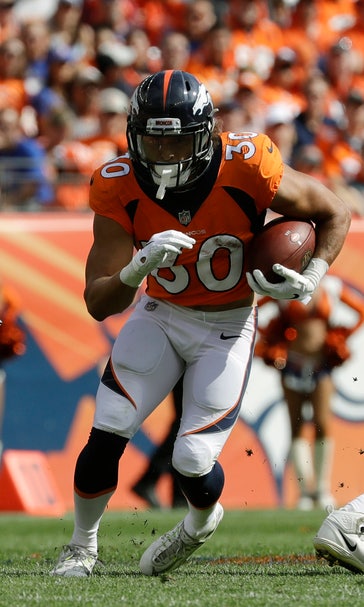 Phillip Lindsay has gone from undrafted to unforgettable
September 17, 2018
ENGLEWOOD, Colo. (AP) — Phillip Lindsay is taking the NFL by storm. He's also taking it all in stride.
"I am just playing football, that's it," the Denver Broncos running back said after becoming the first undrafted player in NFL history to eclipse 100 yards from scrimmage in each of his first two NFL games.
"I am just playing football for our team. I don't think of things like that."
Keeping his head down has always been Lindsay's style.
The 5-foot-8, 190-pound sparkplug was undeterred when he wasn't invited to the NFL combine and was bypassed by 32 teams in the draft despite piling up nearly 5,000 yards from scrimmage and scoring 39 touchdowns at the University of Colorado.
"I mean, since when have I not been the underdog?" Lindsay said after signing a $15,000 bonus this spring to try out for his hometown Broncos.
He quickly made his mark on special teams and worked his way into the first-stringer drills as a third-down back and slot receiver, and he hastily won over his teammates, too.
"Guys like that in the league, you just can't cover them," Von Miller said after getting his first glimpse of the man who earned the nickname "Tasmanian Devil" for his frenetic style. "They're just assets to the offense. You have to have a back like that and we definitely have one."
Lindsay gained 102 yards in his debut against Seattle , scoring on a 29-yard pass play. On Sunday, he topped that with a 111-yard performance in Denver's 20-19 comeback win over Oakland that included 107 yards on 14 carries.
Lindsay, who won over Hall of Famer Terrell Davis by asking his permission to don jersey No. 30 , is still awed by the opportunity to play for the team he grew up watching.
"For me, it's just a great opportunity to go out there," Lindsay said. "I am just happy we got the W. It's on to the next. We have a big game next weekend and we are going to go away."
The Broncos (2-0) visit Baltimore (1-1) next weekend, and you can bet the Ravens will spend plenty of time preparing for the rookie running back who already has 178 yards on 29 carries for a whopping 6.1-yard average — even if he won't be starting.
Coach Vance Joseph said Monday that Lindsay remains the third stringer behind starter and fellow rookie Royce Freeman and third-year pro Devontae Booker, who has five carries for 21 yards and two catches for 11 yards so far.
"Our deal with that room is more of game planning, it's what they do best, it's who has the hot hand that day," Joseph said. "So, we don't have to make a depth chart change to give him more carries or to give Royce more carries or to give Book more opportunities. It's really what we do and to have three guys who are all different, it's really tough on defenses.
"So, he can be the 3 and still get 10 touches or 12 or 14 or Book can be the 2 and still get seven or eight. So, it doesn't matter who's the starter."
Look at Sunday's game as evidence: Freeman started but only got 16 snaps, less than Booker (22) and Lindsay (28).
General manager John Elway has received plenty of kudos for his 2018 draft class but the gem so far has been the one player nobody drafted.
A Colorado alum himself, Joseph was no stranger to Lindsay's talents.
"It's hard to believe he didn't go to the combine," Joseph said recently. "Obviously he's a Buff, so I've watched Phillip for three years as a starter in a major conference. He was a great player. We were all surprised he didn't go to the combine, and obviously signing him as a free agent was tough because we drafted two backs. We pursued him heavy and he stayed home."
The Broncos selected Freeman in the third round and Arkansas' David Williams in the seventh.
While Williams toils on Denver's practice squad, Freeman has rushed for 99 yards and a touchdown on 23 carries for a solid 4.3-yard average through two games.
The Broncos started out Sunday with three three-and-outs as Freeman, who would score on a 1-yard run in the second half, ran twice for minus-1 yard and 1 yard before Lindsay broke free for a 53-yard gain.
"I am here to be our spark player," Lindsay said. "I am here to make sure I get my teammates going, whether it is on a punt, if it is on a kickoff or kickoff return, anything. I am going to do what I have to do to get our team moving."
---
---