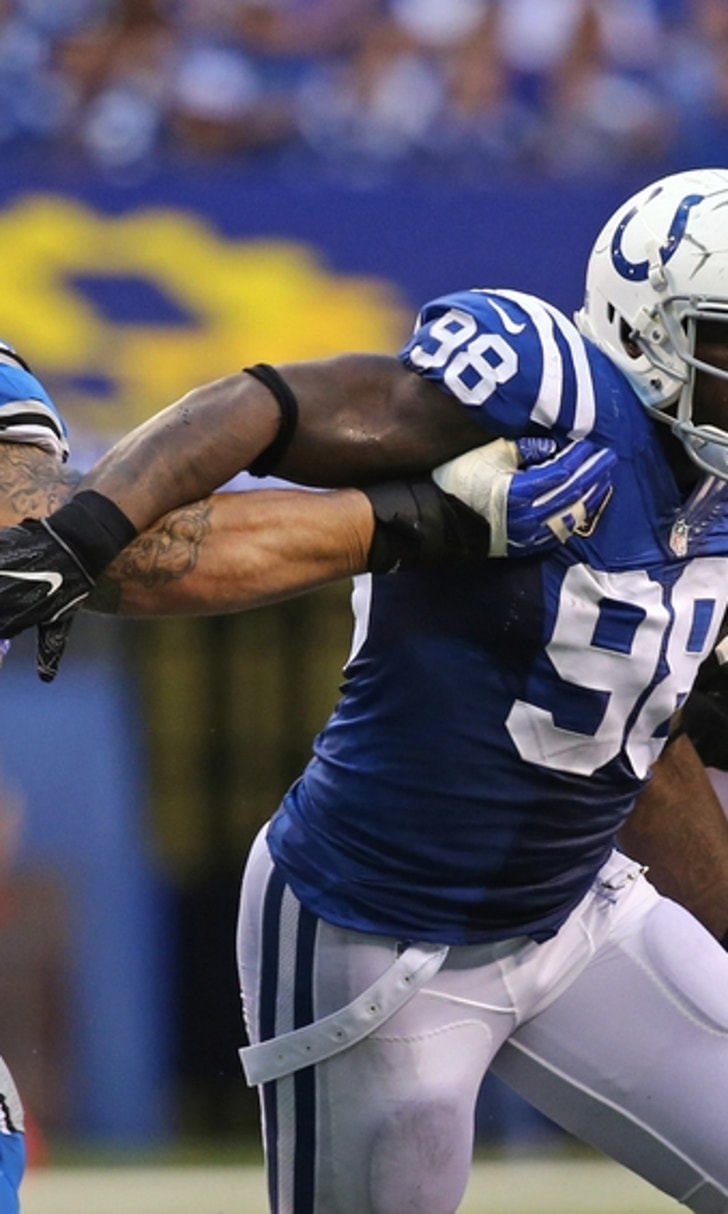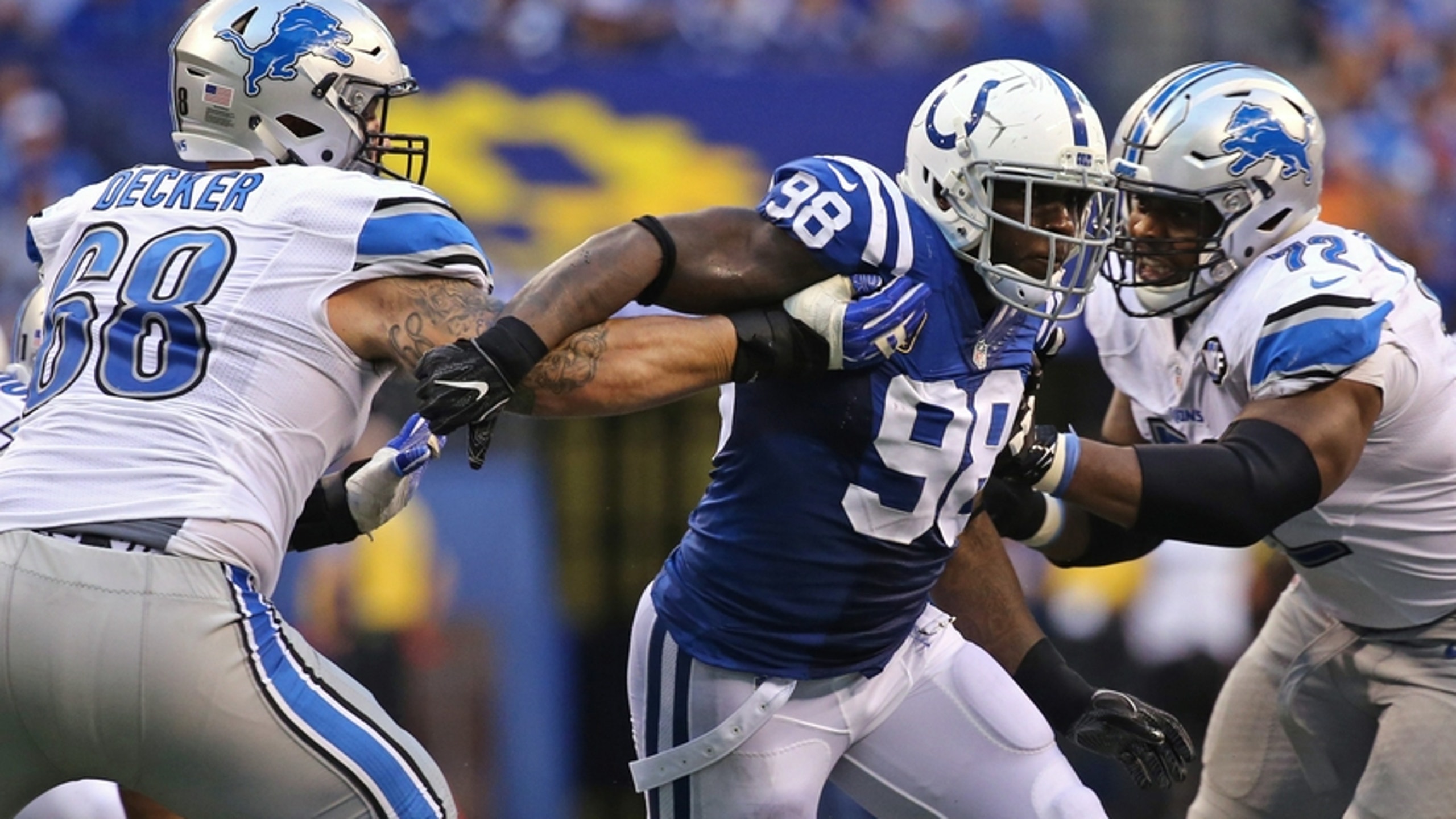 Laken Tomlinson Struggles Have No Easy Fix
BY foxsports • June 30, 2017
Sep 11, 2016; Indianapolis, IN, USA; Indianapolis Colts outside linebacker Robert Mathis (98) makes a move past Detroit Lions offensive tackle Taylor Decker (68) and offensive guard Laken Tomlinson (72) at Lucas Oil Stadium. The Lions won 39-35. Mandatory Credit: Aaron Doster-USA TODAY Sports
Detroit Lions left guard Laken Tomlinson continues to struggle as the weak point of what has otherwise been a pretty solid Lions offensive line. The second-year guard is a growing problem up front.
The 16-15 loss to Tennessee is a definite low point for Tomlinson. It was patently obvious from the press box and on the tape breakdowns…
The most glaring example came on the first of three would-be Detroit TDs nullified by penalty. Tomlinson was the guilty party and he earned the flag.
Just rewatched the Laken Tomlinson hold to nullify Boldin's touchdown. That's not an NFL starting guard. It's just not. #Lions #TapeTuesday

— Brandon Alisoglu (@BrandonAlisoglu) September 20, 2016
Here is the play in question. His first step here is more of a lunge, and it pulls his head down. It's hard to block someone when you're both overextended and can't really see them.
Perhaps the worst part here is that even while guilty of a hold, Tomlinson's incompetence still gets Matthew Stafford drilled.
Not a new development
See how his first step is shallow and tentative? Compare it with the determined and more forceful step by Larry Warford (No. 75) on the other side. Tomlinson instantly puts his feet too close together and creates options for the defender. Because his balance is suspect off that initial step, he has to reach out and lunge. Warford, by contrast, can slide his second step and easily take away the options with control and powerful balance.
This is an endemic issue with Laken Tomlinson. His first step is chronically slow and unbalanced, leaving him playing catch-up against any defender whom he cannot reach right off the bat.
Perhaps the sorriest part here is none of the following tweets from the Colts game are in reference to the above play, or even any one specific later play…
Once he reaches his mark, Tomlinson makes no effort to sustain his block. He overextends with his punch, taking him off balance and sliding off the defender, who ultimately makes the tackle.
This is not an easy block for an interior lineman, make no mistake. But guys like Kyle Long in Chicago and Weston Richburg of the Giants do sustain the contact, or at least stay balanced and controlled enough to make it. Warford is one of the best at this when he's healthy, too.
No easy fix
There is no easy remedy for what ails Tomlinson. The slow feet off the snap are what they are at this point. He had them at Duke too, but collegiate opponents weren't quick or sophisticated enough to consistently exploit it.
Coaching can help his technique, notably his weight distribution and balance out of his stance. This takes muscle memory repetition and concentrated work, something he and the Lions simply cannot get done during the season.
He's at his best when the defender is lined up right over him, where the Jamaica native doesn't have to move laterally or control multiple angles. It's on those plays where you can see why the Lions selected him in the first round. Against Tennessee, Tomlinson scored well in these circumstances. It's something to work with, but you'd better believe NFL coaches will pick up on this.
What's next?
If the left guard continues to struggle, Coach Jim Caldwell has to strongly consider inserting rookie Joe Dahl in his place. Dahl doesn't have experience at left guard, but from what we saw in the preseason his feet and balance are both superior. It's indeed scary to start two rookies on the left side of the offensive line, but desperate times call for desperate measures.
Beyond that, Tomlinson needs to take it upon himself to devoting the offseason to improving his game. I would strongly recommend joining Warford at LeCharles Bentley's OLP academy in Arizona.
One of Laken Tomlinson's best attributes is his intelligence. He's a bright man. Hopefully he's humble enough, and hungry enough, to recognize his flaws and work overtime at correcting them. If not, his time in Detroit might not last very long. The Lions cannot afford him to continue to be such a liability.
More from SideLion Report
This article originally appeared on
---
---