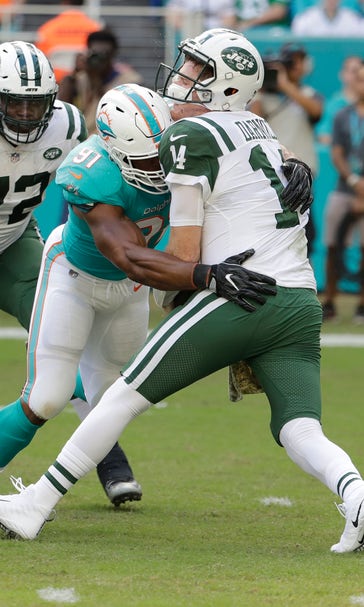 Jets' Darnold shoulders blame, played 'stupid football'
November 5, 2018
NEW YORK (AP) — Sam Darnold had a tough time sitting through film of the game. New York Jets fans certainly know the feeling.
After throwing four interceptions in an ugly 13-6 loss at Miami on Sunday , the rookie quarterback shouldered the blame and was looking for answers.
"For me, it's just not playing to the best of my ability and, quite frankly, just playing stupid," Darnold said Monday. "I thought I played stupid football yesterday and I've just got to be better. I know that, the coaches know that and everyone knows that."
Well, yeah.
But Darnold isn't alone. Not by any stretch.
Most of the venom from frustrated fans on social media and sports talk radio was directed at coach Todd Bowles, whose hold on his job has become increasingly tenuous as the Jets (3-6) head toward another year — it would be eight straight — without making the playoffs.
"I'm sick of losing," second-year safety Jamal Adams said after the game. "I'm not a loser. I want to get back on the winning track. We've lost three straight? Come on, man."
This is now a franchise staring at a crossroads.
The Jets have a home game Sunday against the bumbling Buffalo Bills (2-7), who somehow look even more inept than their AFC East counterparts.
"I think it's huge," Bowles acknowledged. "It's our next game. It's a division rivalry. ... Winning takes care of a lot problems and a lot of issues. It's important for us to win the next ballgame."
A loss at MetLife Stadium will raise the heat under Bowles' seat to scorching levels. And, it could force owner Christopher Johnson to seriously re-evaluate things — especially with the team heading into a bye-week break.
"People are obviously a little upset, a little disappointed, coming off three straight losses," defensive lineman Leonard Williams said. "We definitely needed this one. It was a division game and we talked all week about how important it was for us to get this win."
And, they still lost.
But there are enough culprits to share the blame.
"It's not just Sam, it's the team, period," Bowles said. "Yesterday, it was mainly the offense. It was tweaks here and there, but we just have to play better and execute as a whole."
Darnold, of course, had his worst game to date. Center Spencer Long had several wayward shotgun snaps because of a reinjured right middle finger before Bowles finally pulled him from the game. Jeremy Bates' offense seemed stuck in neutral, and wide receivers rarely gave Darnold a target. And, even the normally sure-handed Jermaine Kearse had a few drops and capped a bad day by forgetting where he was on the field before catching a pass late in the game while standing out of bounds.
"I'm very concerned because we didn't score a bunch of points the last three weeks," Bowles said. "We've got to find a way to execute better and get it right."
Darnold's OK with pointing the finger at himself. But it has raised the thought he might be best served sitting for a week just to clear his head while 39-year-old backup Josh McCown takes the field.
A quarterback change, however, doesn't appear to be in the plans.
"Not at this time," Bowles said, "no."
Darnold, the No. 3 overall draft pick, leads the NFL with 14 interceptions and has struggled during the last three games. He said "I thought I played bad" on Sunday and added he thought the offensive line "blocked their butts off."
Still, the Jets scored six points and have 33 in their last three games combined.
"I've just got to play smarter, play better," he said. "Yeah, I definitely feel like I forced some things (Sunday), but at the same time, I feel like there were some throws where I was second-guessing myself and I could've pulled the trigger."
The last thing the Jets want is for their still-developing franchise QB is to become increasingly gun-shy.
"I think it's just me at some moments in the game getting in my own head," Darnold said. "I've just got to stay true to my progressions, stay true to the confidence that I normally have, and just go out there and sling it."
The defense was mostly solid, allowing just 168 total yards, the second fewest under Bowles. That included 104 yards passing, the lowest under Bowles.
Yet, the Jets still came up short in a game they all acknowledged they should have won.
"I think the biggest consensus overall, for the players and for the coaches and as an organization, we all know that sticking together is what's going to help us continue the season," Williams said. "If we start dividing now, if coaches start dividing from players and players from players and coaches from coaches — any type of division in this organization — is only going to hinder us."
---
---