Teddy Bridgewater
Teddy Bridgewater
Jets' Bridgewater positive in comeback from 'scary' injury
Published
Jun. 13, 2018 2:15 a.m. ET
FLORHAM PARK, N.J. (AP) Teddy Bridgewater remembers some of his teammates crying. They were on their knees and praying.
For him.
The New York Jets quarterback was with the Minnesota Vikings in 2016 when he went down in a heap of agonizing pain. Bridgewater had twisted his left knee badly on a non-contact play, and the severity of the injury was only beginning to surface.
Bridgewater knew from the looks of his teammates' faces that the situation was dire. And somehow, he stayed calm.
''As gruesome as it may have seemed, I feel like I did a great job of remaining poised,'' Bridgewater recalled Tuesday as the Jets opened their three-day minicamp.
Coming off his first Pro Bowl appearance, Bridgewater had torn the anterior cruciate ligament and had other structural damage, including a dislocated knee joint.
''There were guys throwing helmets, guys on knees and I didn't cry and I didn't worry,'' Bridgewater said. ''I just knew that it was in God's hands. I think I was impressed with the way I kept my faith, but I got to see how much I meant to the guys - not only as a football player, but also as a person. It could've went totally south.''
His career was in jeopardy, and at one point, saving his mangled left leg was the only thing that mattered.
''It was scary,'' Bridgewater said while managing a smile. ''But at the end of the day, I was still breathing. That was my biggest takeaway from it. ... When there's someone out there whose situation is worse than yours, that's the first thing that came into my mind. Like, `Man, I don't know what just happened, but I know there's someone out there who's going through something worse than I am, so I just have to keep my faith and believe that everything's going to be all right.'"
Bridgewater gets his perseverance and never-quit attitude from his mother, Rose Murphy, who raised him and his three siblings in the Miami area. She's a breast cancer survivor who has been in remission for several years, something that is a source of pride for Bridgewater. He also counts her as his biggest supporter.
''She was a fighter, so I witnessed her fight with her battle with breast cancer,'' Bridgewater said. ''I took away those traits and attitude. Whenever she was down - well, she was never really down because she would always say, `There's someone out there whose situation is way worse than mine, so I can't be down, plus the cancer feeds off negativity, so I have to be positive.'
''So that's why I feel like I'm just this positive guy. Watching her continue to smile and stay upbeat throughout her toughest times in life had a huge impact on me.''
Bridgewater has needed every bit of that positivity during the last two years of often grueling rehabilitation. Now 25, the former Louisville star is still a youngster in NFL years. But the injury was enough to make some teams wary of giving him a chance after the Vikings allowed him to become a free agent during the offseason.
The Jets, looking for quarterback depth, signed him for $500,000 in March and drafted Sam Darnold with the No. 3 overall pick a month later. Josh McCown, who turns 39 on July 4, remains the favorite to win the starting job, but Bridgewater could have as much of a shot at winning the three-man competition as anyone - especially if he continues progressing. He won't discuss details of his health or his status, other than saying he's getting better every day.
''To be able to just stand here right now, I'm thankful for the guys who supported me through the injury,'' Bridgewater said, ''and the guys still there today.''
He's wearing a brace around the left knee, which is covered by a sleeve. But he doesn't appear to be hampered by any of it. Bridgewater has thrown some of the prettiest passes in the practice sessions open to the media, including several throws on the run.
''Having not been injured like that, I can't even relate to someone being injured like that,'' coach Todd Bowles said. ''But just knowing Teddy's personality and the drive he has, it doesn't surprise me.''
There were plenty of people who doubted he'd get to this point. Bridgewater isn't here to prove them wrong.
''Not at all,'' he insisted. ''I do it for the ones who believed in me because that small ounce of faith and belief got me over the hump.''
Bridgewater made it back onto the field late last season for a few plays, but the moment he knew the comeback was on track happened when he rejoined his teammates on the Vikings sideline again - in full uniform - in November.
It was then that he allowed his emotions get to him.
Finally.
''This game means a lot to me,'' Bridgewater said. ''I've been playing football since I was 5 years old, and it brought tears to my eyes because it showed me that you're never out of it. You're never out of the fight. There were dark days throughout my rehab process, so when you're rehabbing, the light seems so far at the end of the tunnel. But to be able to see that light, and make it to the light - which is being active and standing on that sideline with my gear on - it kind of hit me a little.
''I joked around with my agent, my adviser, told them, `Man, I'm a tough guy. I won't cry.' But reality set in. It was truly a blessing to be back out there and, you know, continue to live your dream.''
---
For more NFL coverage: http://www.pro32.ap.org and http://www.twitter.com/AP-NFL
---
---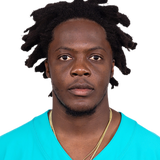 Get more from Teddy Bridgewater
Follow your favorites to get information about games, news and more
---