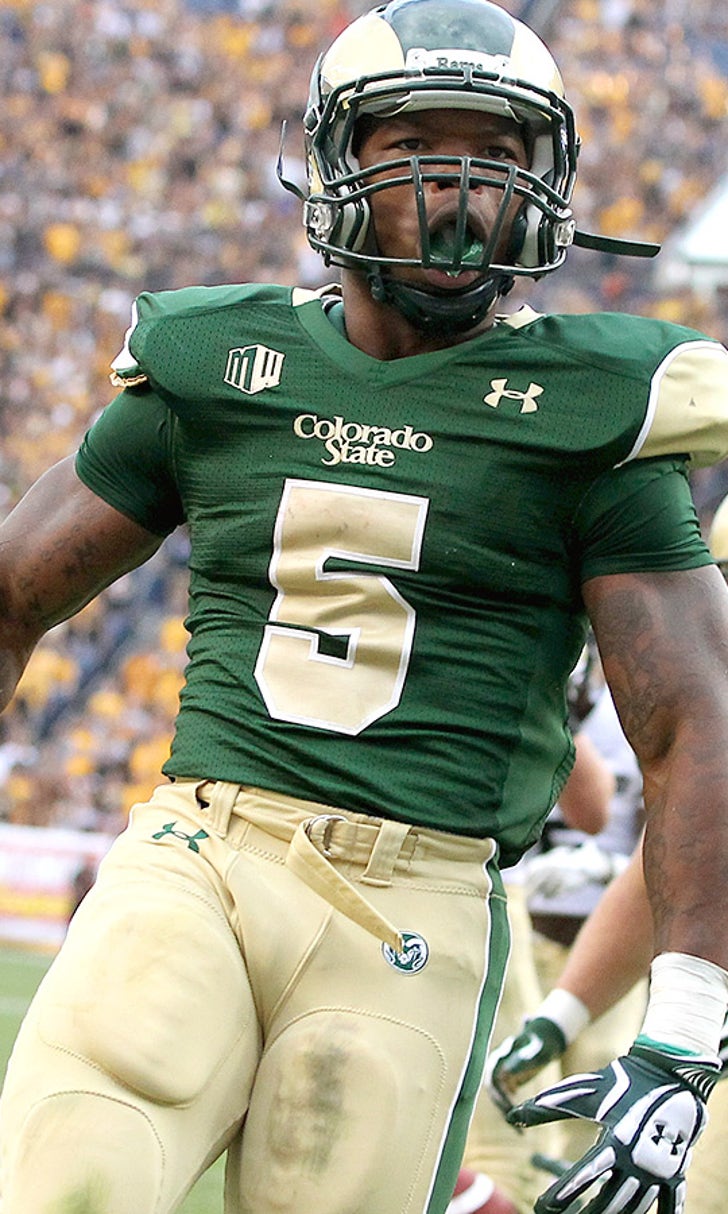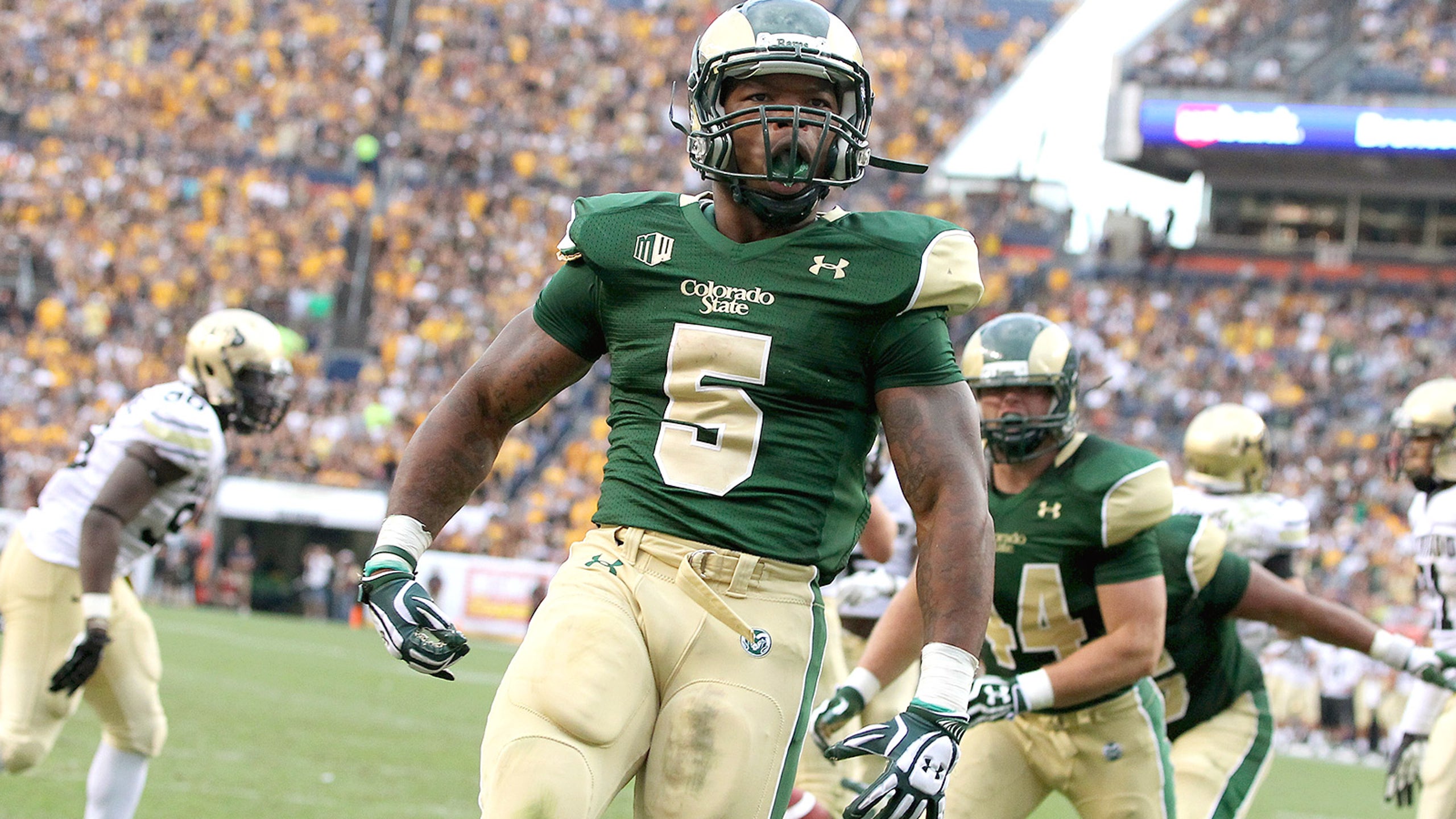 Former Colorado State RB Bibbs: If I played in SEC, I'd be a first rounder
BY Ross Jones • February 16, 2014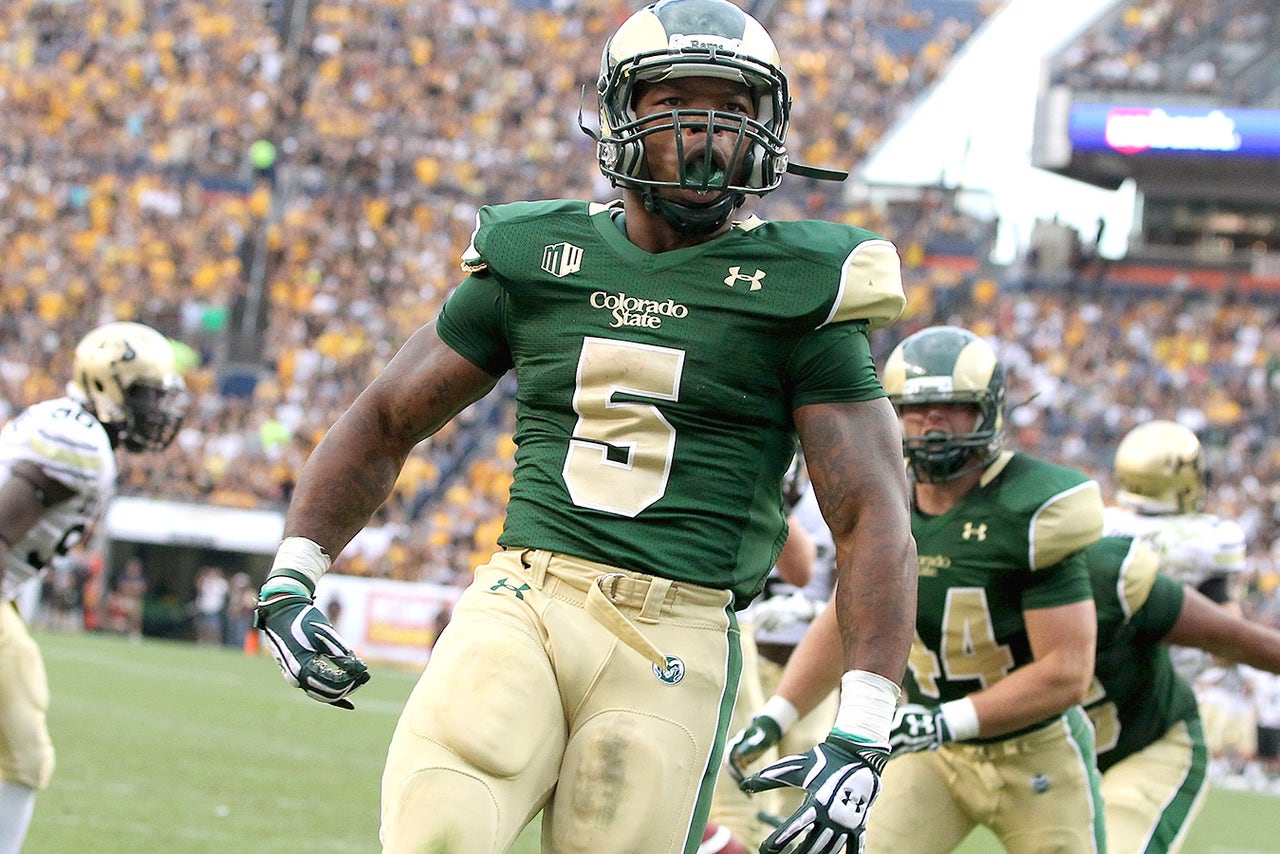 College football's version of the "one-and-done" this year is Colorado State's Kapri Bibbs.
Before arriving in Fort Collins, Bibbs played a year of JuCo ball at Snow College, where he earned his associate's degree in criminal justice.
But Bibbs' redshirt sophomore season proved that he belonged with the big boys. The 5-foot-11, 203-pound running back scorched school records and became the third player in college football history to score more than 30 touchdowns in a season. What's more, he didn't assume the full-time starting job until more than a month-and-a-half into the season.
During Colorado State's first six games, Bibbs averaged 10.8 carries for 71.5 yards. Over the final eight games of the season, he averaged 27 carries for 164 yards per game. Bibbs finished fifth in the nation among running backs with 1,741 yards and a whopping 31 touchdowns.
"I think if I was at an SEC school, I'd be first round hands down," Bibbs told FOXSports.com in a telephone interview. "I think I really didn't have any control over who I played or where I played. Those guys I played against were on scholarship, too. And they were playing to the best of their ability just like any other school would.
"You have to trust the scouts that they're making the right decision. When they're taking a guy who ran for 900 yards over a guy who ran for 1,700 yards, that's all politics."
With two years of eligibility left, Bibbs decided to skip them and enter his name into the 2014 NFL Draft. Since then, he's been training in Greensboro, N.C., at Proehlific Park with CJ Hunter. Bibbs, who played at Plainfield High School in Illinois, was offered scholarships by Colorado State, Illinois and Toledo, but had to go to junior college because he was academically ineligible. He declares that "everything happens for a reason," and he's happy with the way things turned out.
While four senior offensive linemen transition into the next chapter of their lives, Bibbs realized how short of a window running backs have in the league. He has been projected to go between the second and fourth round, according to Walter Football.
"Just knowing that the NFL stands for 'not for long,' I have to get the most I can out of my body," Bibbs said. "Also when you lose a line like that, I credit a lot of the stuff I did to them. Almost 100 percent of my production is because of them."
Bibbs, 21, has drawn comparisons to Ravens running back Ray Rice because he is built low to the ground. The comparison he likes most is to a two-time Super Bowl champion.
"Terrell Davis pops out a lot to me when I watch my film," Bibbs said. "I feel like I see a lot of myself in Terrell Davis and Bo Jackson a little bit."
The defining moment of Bibbs' career as a Ram was in this year's New Mexico Bowl. Battling a turf toe injury, which would sideline most, Bibbs ripped off a 75-yard touchdown run in the third quarter to narrow Washington State's lead. Colorado State would go on to claw itself back from a 22-point deficit for the win.
"In that bowl game, the turf toe speaks for itself," Bibbs said. "It was very painful, but I wasn't going to let that stop me from producing for my team.
"Toughness has never been a problem for me. I've never missed a game due to injury. As a football player, that's the stuff that you have to play through."
---
---