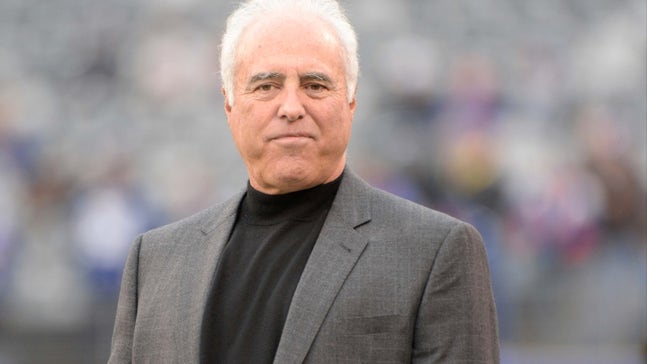 Eagles owner reveals why he gave Chip Kelly so much power in Philly
Published
Mar. 22, 2016 7:31 p.m. ET

The Chip Kelly era initially appeared to be a longstanding one in Philly after going 10-6 in his first season with the Eagles. He duplicated that record in 2014, but the Eagles failed to make the playoffs.
It all went downhill from there. Kelly, who was given power to make roster changes, made a number of questionable offseason moves in 2015, further inciting the fan base. Then the Eagles started slowly and Kelly was fired after Week 16, with the Eagles sitting at 6-9.
With Kelly now in San Francisco with the 49ers, Eagles owner Jeffrey Lurie decided to talk about why he gave Kelly so much power during his brief tenure in Philly.
"I think it was a necessary way to go to find out if Chip was the right guy," Lurie told CSN Philly. "Let him be responsible for all the decisions that he wanted to inject and make. No question I have that it was the right way to dissect if Chip was going to be the right guy going forward or not."
Lurie has now decided to go with a more traditional hierarchy, returning roster power to Howie Roseman and hiring Doug Pederson as head coach. Lurie says he learned from the Kelly era.
"The expense of the lesson is just time, it's not money," Lurie said. "We're all about wanting to win big. No amount of money will ever prevent us. We're all in, as you know. It's all about winning championships for Philadelphia. So we lost some time, we didn't lose in the classic way of expense. It was a time expense."
---
---