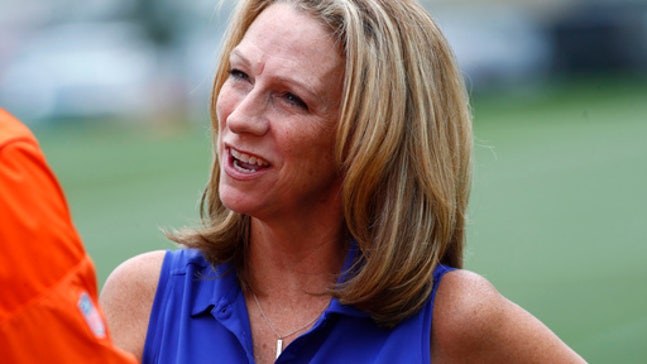 Different approach by ESPN for Monday night season opener
Updated
Mar. 4, 2020 9:15 p.m. EST
ESPN is going with a fresh approach for its first 2018 regular-season broadcast of ''Monday Night Football.''
Two announcers with plenty of NFL credentials but far more entrenched in the college game these days will be handling the Jets-Lions game from Detroit: Beth Mowins and Brian Griese.
''We are pretty excited to bring the franchise on the air, and hoping some pretty good story lines will play out,'' says Mowins, who did last year's second half of the opening doubleheader with analyst Rex Ryan. Mowins also does a few CBS telecasts of NFL games during the season, as well as Oakland Raiders preseason contests, but her main gig is college sports.
Griese is one of the top analysts of the college game, an insightful and often critical but fair voice.
''Guys who can shoot from the hip are always fun to work with,'' Mowins says.
Of course, he also played 11 pro seasons, starting 83 games. So his knowledge of both levels of football is expansive.
''I think the pro game in a lot of ways is more familiar to me than the college game,'' Griese notes. ''I have had to learn the college game as it has grown. I spent 11 years in the NFL playing quarterback and it's more similar to what I know.''
What both Mowins and Griese know is that the fan bases of both teams will be stoked for the game, even though Jets-Lions isn't quite the marquee matchup. Indeed, the NFL gave ESPN what appears to be a better game in the nightcap, Jon Gruden's return as the Raiders host the Rams. The regular and new Monday night crew of Joe Tessitore and Jason Witten will be in the booth, Booger McFarland at field level for that one.
''No question both these teams have reasons for optimism, for different reasons,'' Griese says. ''Jets fans should be excited about Sam Darnold, who can be a game changer and a franchise quarterback in the making. For Detroit, it's a whole new ballgame for the fans with Matt Patricia hired as coach, a new way of doing things. I'm eager to see how he will impact the franchise. And they have their bellwether in Matthew Stafford at quarterback.''
Adds Mowins: ''You tell the truth with a heavier emphasis on the hope, and that is what all of these fan bases are having. The history is part of the story heading into the season and something we absolutely talk about graphically. The nice thing about the opener is everyone has hope again, and we can also focus on the changes these teams have made to improve.''
To its credit, ESPN is willing to make changes or go outside the box for its Monday night showcase. One area of expertise that Mowins and Griese - and sideline reporter Laura Rutledge - bring to the telecast is an advanced awareness of NFL newcomers.
That could be particularly enlightening for Jets-Lions with the likes of Darnold - even if he doesn't play and Josh McCown starts - and Lions rookie running back Kerryon Johnson on hand.
''One of the things I have noticed over the last several years and doing the Raiders games in preseason, you have a head start on rookies coming into the league,'' Mowins says. ''I sort of have that background of who they were and relationships they might have with other players and coaches. That provides a nice jumping-off point, especially early in the season. Some of the rookies the NFL fans may not have seen in college, but I have had a chance to call their games in college, and so has Brian.''
Mowins and Griese have not done game broadcasts together, but have had many conversations and learning sessions. Last year, when the Broncos played in the opener Mowins and Ryan announced, she reached out to Griese, who does Denver's preseason games.
''I've talked with Beth quite a bit through the years, we are in the same college football realm, so we see quite a bit of each other's work,'' Griese says. ''I'm very familiar with her work in college football.
''The approach for me will be a little bit different because I will probably go to both teams' training camps to familiarize myself with the teams. I don't ever do a game where I have not seen a team live or in person (at practice or in a game). That will be the only difference for you in preparation.''
---
For more NFL coverage: http://www.pro32.ap.org and http://www.twitter.com/AP-NFL
---
---