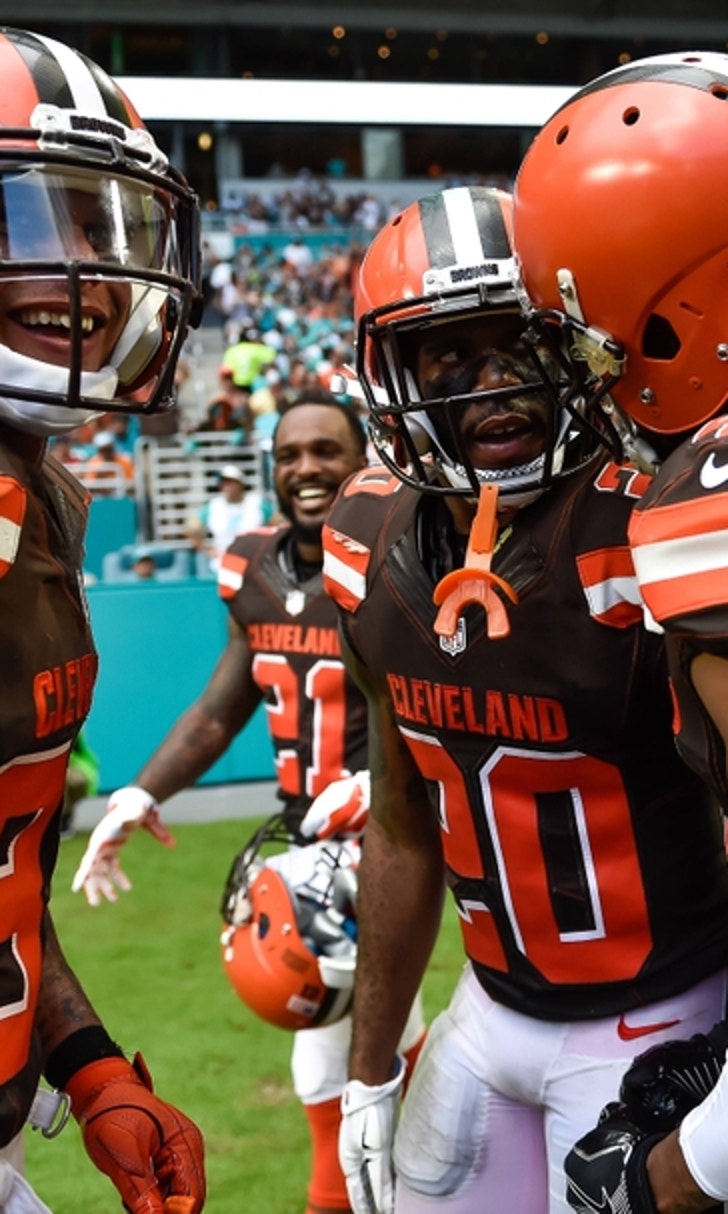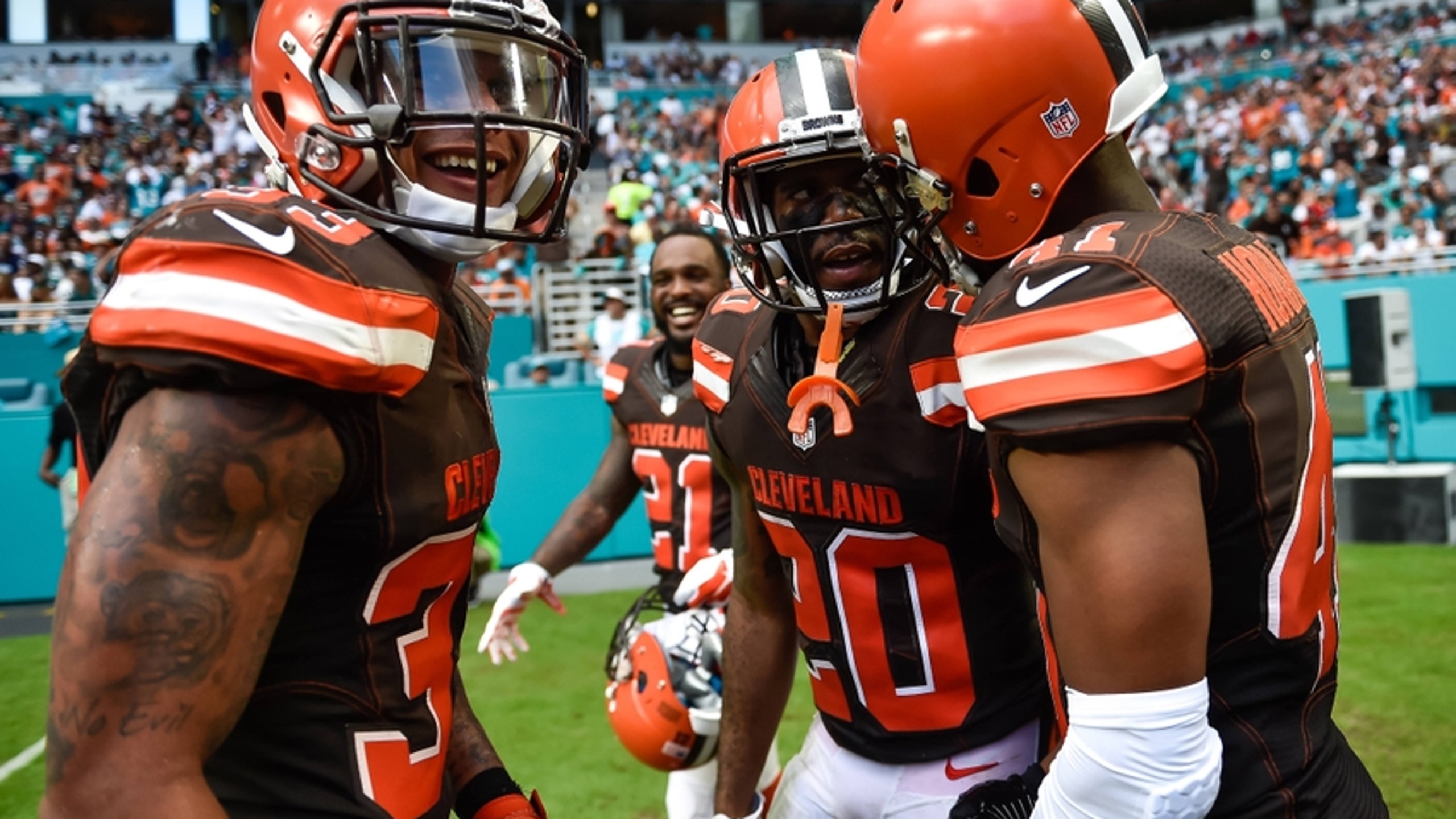 Cleveland Browns: Front Office Effectively Working Fringes
BY Fansided and Peter Smith/FanSided via NFL Spin Zone • December 15, 2016
The Cleveland Browns front office has done an excellent job taking advantages to improve the roster during this season.
Most of the focus for this season is on the 14 players the Cleveland Browns selected in the 2016 NFL Draft. 12 of those players are on the current roster with Trey Caldwell on the practice squad and Scooby Wright signed off of their practice squad to the active roster of the Arizona Cardinals. The front office has done an excellent job of manipulating their roster to essentially add extra draft picks and talent in general as other teams got pinched by roster constraints.
The most recent example is Darius Jackson, formerly of the Dallas Cowboys. A sixth-round pick, Jackson was waived to make room for the recently activated Darren McFadden. The Cowboys also selected Ezekiel Elliot with the fourth-overall pick of the draft and have Alfred Morris and Lance Dunbar on their active roster. They likely released Jackson in the hope that they could get him to their practice squad.
The Browns didn't select a running back in the 2016 draft and now end up with the most athletically gifted one in the entire class.
Aug 13, 2016; Los Angeles, CA, USA; Los Angeles Rams linebacker Cameron Lynch (50) misses a tackle on Dallas Cowboys running back Darius Jackson (34) in the second half of the game at the Los Angeles Memorial Coliseum. Rams won 28-14. Mandatory Credit: Jayne Kamin-Oncea-USA TODAY Sports
Darius Jackson 
Height: 6-0
Weight: 220 lbs
40-yard Dash: 4.40s
3-cone Drill: 6.87s
20-yard Shuttle: 4.29s
Vertical Jump: 41″
Broad Jump: 11-1
Bench Press: 20 reps
It's incredible for anyone to put up these type of numbers, let alone someone Jackson's size. In Jackson's senior year at Eastern Michigan, he rushed for 1,078 yards on 208 attempts with 14 touchdowns. He also caught 21 passes for 201 yards and two more touchdowns.
If Jackson doesn't play a down for the remaining three games, it's a great move. The Browns would have Jackson in their offseason program and have him for training camp. This allows Jackson to learn the team's playbook and get coached by Kirby Wilson, who is an excellent running backs coach.
Assuming the Browns sign restricted free agent Isaiah Crowell (they should), they would have a talented stable of backs with Crowell, Duke Johnson and Jackson. And while Crowell and Johnson are good athletes, Jackson is substantially better than both.
For context, take a look at Crowell's and Johnson's testing numbers.
Isaiah Crowell 
More from NFL Spin Zone
Height: 5-11
Weight: 224 lbs
40-yard Dash: 4.57s
3-cone Drill: 7.28s
20-yard Shuttle: 4.56s
Vertical Jump: 38″
Broad Jump: 9-9
Bench Press: 23 reps
Duke Johnson 
Height: 5-9.125
Weight: 208 lbs
40-yard Dash: 4.51s
3-cone Drill: 6.88s
20-yard Shuttle: 4.16s
Vertical Jump: 35″
Broad Jump: 10-1
Bench Press: 18 reps
Crowell and Johnson are both good athletes. It just goes to show how extraordinary Jackson is and why this is such an obvious move for the Browns. If can play anywhere near his physical talent, he's a steal. Jackson is the latest example of this type of roster manipulation, but he's certainly not the only one from this year.
Nov 20, 2016; Cleveland, OH, USA; Cleveland Browns defensive end Tyrone Holmes (91) before the game against the Pittsburgh Steelers at FirstEnergy Stadium. Mandatory Credit: Scott R. Galvin-USA TODAY Sports
Tyrone Holmes 
Height: 6-2.25
Weight: 253 lbs.
40-yard Dash: 4.59s
3-cone Drill: 7.00s
20-yard Shuttle: 4.30s
Vertical Jump: 37.5″
Broad Jump: 9-5
Bench Press: 28 reps
Tyrone Holmes was selected in the sixth round of this past year's draft by the Jacksonville Jaguars. They opted to let him go on the final cut down day and Browns scooped up the athletic pass rusher out of Montana. In 2015, Holmes recorded 32 tackles, 18 sacks, 24 tackles for loss, and forced three fumbles.
It didn't cost the Browns a pick, only a roster spot. Holmes has actually played, albeit in a limited role for the Browns. He has played in 10 games, recording a pair of tackles and a sack.
Holmes gives the Browns another athletic edge rusher to look at and develop over the course of the offseason. If he can just become a nice role player that can come in and get after the passer, that would be a valuable pick up and it comes with no risk.
Dan Vitale 
Height: 6-0.875
Weight: 239 lbs
40-yard Dash: 4.60s
3-cone Drill: 7.12s
20-yard Shuttle: 4.12s
Vertical Jump: 38.5″
Broad Jump: 10-3
Bench Press: 30 reps
The "super back" from Northwestern, Vitale was a sixth-round pick by the Tampa Bay Buccaneers. After he was released by the Bucs, the Bills claimed him, but failed him on their physical over a concern with his shoulder. The Browns opted to scoop him up and dropped Malcolm Johnson, a sixth-round pick from 2015, and the team's starting fullback at that time, was released.
Vitale is a terrific athlete. He's largely a tight end in a fullback's body. The issue with Vitale at Northwestern was that he was not committed as a blocker and was just ineffective in that part of his game. If he can learn and embrace it, he's a nice weapon for this offense.
Much to former Browns head coach Sam Rutigliano's chagrin, the play call that had Robert Griffin III pass to Vitale near the goal line that didn't work is exactly where Vitale has excelled in his career. In his final year for Northwestern, Vitale caught 33 passes for 355 yards and four touchdowns. He was a featured part of their offense for that exact reason.
Unfortunately for Vitale, he dropped the ball Sunday thereby missing a huge opportunity, but that is one of the roles they want him to be able to perform. He is a potential matchup problem and can create separation against linebackers. The hope is that Vitale's upside will allow him to become a true dual threat fullback.
Anthony Fabiano
Height: 6-3.75
Weight: 303 lbs.
40-yard Dash: 5.04s
3-cone Drill: 7.41s
20-yard Shuttle: 4.42s
Vertical Jump: 32.5″
Broad Jump: 9-0
Bench Press: 25 reps
Fabiano was a terrific guard at Harvard. He was supposed to attend the Senior Bowl, but could not attend because of an injury. His line mate, Cole Toner, attended the Senior Bowl and was drafted by the Arizona Cardinals in the fifth round. Ben Braunecker, a tight end from Harvard, was signed as an undrafted free agent by the Chicago Bears. He also tested incredibly well, but a shoulder injury ultimately kept him from being drafted.
Of the three, Fabiano was considered to have the most talent by many who follow the Ivy League. And his athletic testing results are outstanding. He actually compares quite well to Joel Bitonio, who is a terrific athlete in his own right. Fabiano was been up and down between the practice squad and the active roster. He's currently on the active roster and the hope is he'll stay there, so like the others, they'll have control of him in the offseason.
Fabiano, who has also taken reps at center, gives the Browns a nice developmental lineman with versatility and upside. Along with Shon Coleman, the team's third round pick, who hasn't seen much of the field this year, Fabiano could have a terrific offseason and go from a fringe roster guy to a role player with the upside to eventually start.
Sep 25, 2016; Miami Gardens, FL, USA; Miami Dolphins quarterback Ryan Tannehill (17) tries to tackle Cleveland Browns cornerback Briean Boddy-Calhoun (20) in the end zone after Boddy-Calhoun intercepted a pass for touchdown during the first half at Hard Rock Stadium. Mandatory Credit: Steve Mitchell-USA TODAY Sports
Briean Boddy-Calhoun 
Height: 5-9.5
Weight: 193 lbs.
40-yard Dash: 4.47s
3-cone Drill: 7.16s
20-yard Shuttle: 4.22s
Vertical Jump: 35″
Broad Jump: 10-4
Bench Press: 10 reps
Calhoun is the most well-known example of how the Browns have attacked the fringes to add talent. Calhoun was an undrafted free agent that signed with the Jaguars and like Tyrone Holmes, was released on the final cut down day. The Browns scooped him up and while he has struggled at times, he's had moments where he's shined.
In nine games for the Browns, Calhoun has recorded 32 tackles, a sack, two interceptions—one of which that went for a touchdown—and nine pass deflections. For a secondary that has obvious holes to fill, Calhoun has been a pleasant surprise. Along with the recently extended Jamar Taylor, they have a couple young corners with a good amount of reps under their belt heading into 2017.
Trae Elston
Height: 5-11.25
Weight: 193 lbs
40-yard Dash: 4.50s
3-cone Drill: 7.34s
20-yard Shuttle: 4.50s
Vertical Jump: 34.5″
Broad Jump: 9-11
Bench Press: DNP
After Derrick Kindred went down for the season with an ankle injury, the Browns opted to add free safety in Elston. In his senior year at Ole Miss, Elston recorded 44 tackles, five tackles for loss, four interceptions with two touchdowns and 14 pass deflections.
Elston originally signed as an undrafted free agent with the New Orleans Saints. After being released there, he was on the Buccaneers practice squad for five weeks.
Elston is a pretty explosive athlete going forward, which is a trait the Browns favor. His agility is a major concern, so he has to be right about his reads to reduce the amount of time he needs to change direction. The other issue which works against Elston is his lack of size.
It's not realistic to expect Elston to suddenly put on ten pounds in the offseason, but he can get stronger and work on some of his other flaws. His explosion and production make him someone the Browns might want to see in training camp next year.
Now, here's the scary part for many who follow and in many cases cover the Browns. This is the organization utilizing analytics. It's not some inexplicable form of magic.  It's simply taking data and picking up on trends and characteristics they believe lead to success and working to add players with them. Imagine using data and numbers to confirm what they are seeing on tape to help them improve their scouting process and get the entire organization on the same page. It might be worth a shot.
Whether it was the vast majority of the players the team selected in the draft or adding Jamie Collins, these players bring many of the same attributes to the table – Production, explosion, and character.
The Browns seem to like SPARQ or at least have used it as a reference point. They have cited it when explaining picks and the team's media often cites it. SPARQ is a tool that can measure certain athletic traits with the goal of predicting potential, giving one number to sum up a player.
Going deeper into it, the traits they favor are explosive traits. Specifically, the vertical and broad jump as well as the 40-yard dash. Corey Coleman, Emmanuel Ogbah, Ricardo Louis, Seth DeValve all performed well in these areas. Jamie Collins, who was added during the season, was fantastic in these areas. It shouldn't be surprising that these players have as well.
The Browns have added players with significant production. Of the players discussed here, Jackson has the lowest amount of it and he recorded 1,299 yards and 16 touchdowns.
Last but not least, the Browns have avoided players with issues off the field. Not a single player the Browns drafted had been arrested or anything along those lines. Neither has Collins. Of these six players, Elston is the only one that has run afoul of the law. On January 23rd of 2015, Elston was arrested along with Ole Miss teammate Damore'ea Stringfellow for disorderly conduct. He apologized for the incident.
There's minimal risk with Elston. The investment is nothing and if he does something stupid, they can simply cut him. If they are going to take a risk, this is the way to do it and Elston's offense is not some vicious offense.
An area the team is not likely to receive much credit, the Cleveland Browns front office has been proactive during the season to continue to add talent. There's plenty of reason to be optimisitc about what they've added as well, given their upside. In all, the team has added three extra sixth round picks and three undrafted rookies, all of which will be part of the team through the offseason and training camp as long as they stay on the roster through the final three games. It's up to the coaching staff to make these players work, but the front office is doing everything they can to give the team players that can be successful.
---
---