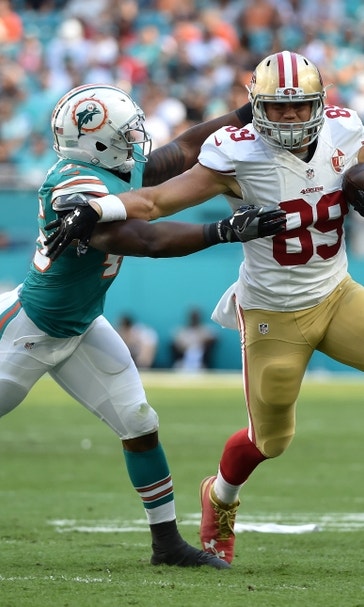 Breaking Down Vance McDonald's new Contract
December 14, 2016

Fansided, Douglas Totten/FanSided via Niner Noise
The San Francisco 49ers signed Vance McDonald to a five-year "$35 million" extension last week, right before he landed on injured reserve. Since NFL contracts are never about the total figure, here are the details.
The San Francisco 49ers locked up Vance McDonald with a five-year contract extension last week. The tight end received his payday just in time. It's hard to imagine throwing $35 million at a player on injured reserve.
If you have paid any attention to NFL contracts, however, you will be aware that they are not like the guaranteed deals in Major League Baseball or the NBA. Rather, the big sum that first gets reported is but a number that has little to do with the actual compensation and more to do with bragging rights about getting strong paydays.
With that in mind, let's take a look at the details of McDonald's monster contract.
Per CSN Bay Area and the NFL Players Association, McDonald's deal boils down to a three-year $19.7 million contract. This means that, for the first three seasons, McDonald will actually be making slightly less than the $7 million reported. The remaining two seasons of the contract are team options for $5.5 million each year.
This brings us up to $30.7 million in total. Are you still with me? Good.
More from Niner Noise
The remaining money comes in the form of roster, offseason workout, and performance bonuses, pushing his contract's total value to $32.5 million, a bit less than the initially reported value.
As far as his first three seasons — i.e., the "real contract" — are concerned, $7 million comes in the form of a signing bonus. Next year's base salary of $2.1 million is also fully guaranteed, as will his 2018 salary if he is on the roster on April 1 of that year. Most of his 2019 salary ($3.2 of $4.2 million) will become guaranteed if he is on the roster as of April 1, 2019.
---
---