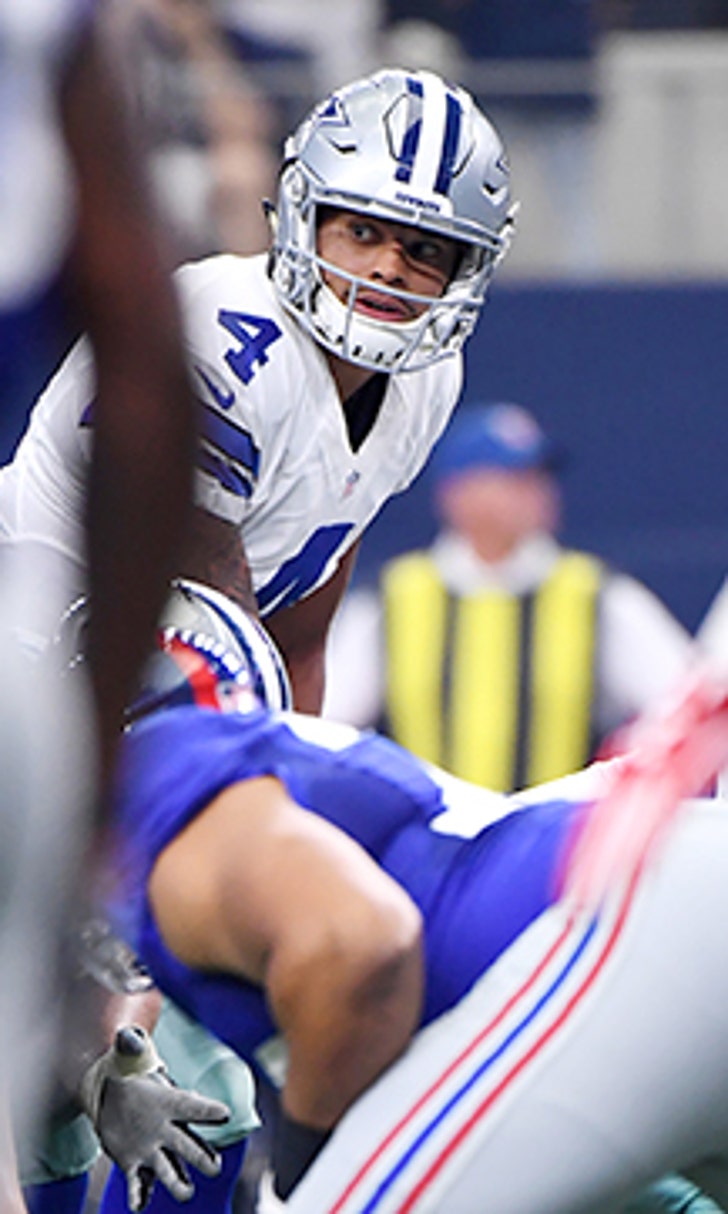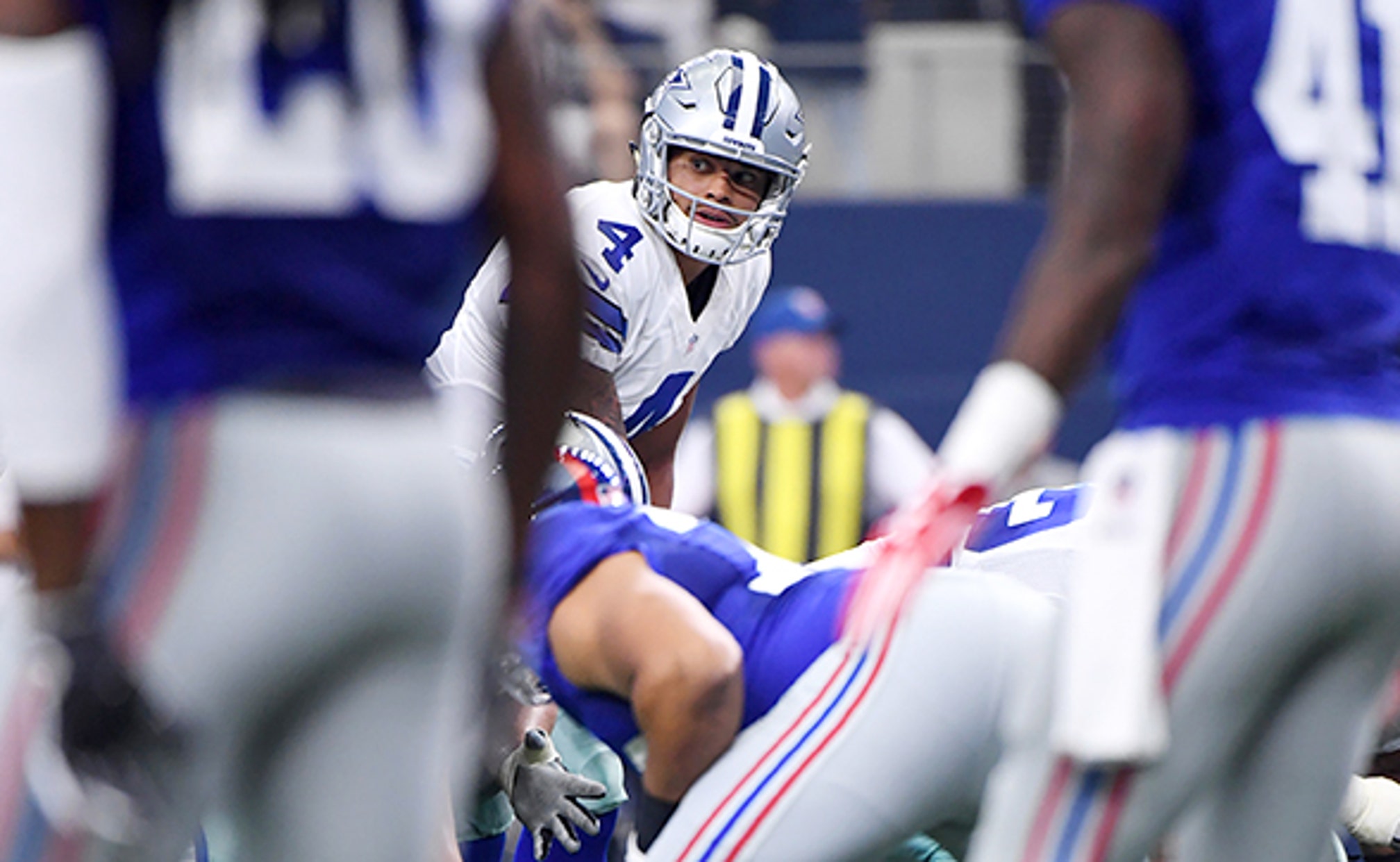 A Lack of 'O' in Big D
BY foxsports • June 30, 2017
Sunday featured the latest installment of the annual Week 1 Giants-Cowboys showdown. This time it was the Cowboys who made the costly clock blunder late in the fourth quarter. Wide receiver Terrance Williams's decision to turn upfield rather than get out of bounds at the 48-yard-line with under 10 seconds remaining ended up expiring the clock and clinching New York's first Week-1 win since 2010.
But while Williams's blunder sealed the Cowboys' fate, it didn't create it. If anything, a fleckless ground game did. Ballyhooed rookie Ezekiel Elliott registered just 51 yards on 20 carries, many of which were stuffed at the line of scrimmage. Alfred Morris ran livelier than he did last season in Washington, picking up 35 yards on seven attempts, but that was in an ancillary capacity. Both running backs should receive only a portion of any ground game criticism, though. Dallas's stockpiled O-line failing to get consistent movement against a very gap-sound Giants front seven was the difference.
Headlining that front seven was Olivier Vernon, who, just like he so often did in Miami, bordered on unstoppable as a play-side run-defender, justifying every penny from his NFL-high $52.5 million guaranteed free agent contract this spring. In the fourth quarter, Vernon's pass rush, along with Jason Pierre-Paul's, finally arose. It was by no means dynamic, but it at least became noticeable, which it hadn't been in the first half, when Dallas had scoring drives of 15 plays, 15 plays and 11 plays.
On those early drives, operating from a pocket that couldn't have been cleaner if doused in lemon pledge, Dak Prescott looked like a bona fide field general. Unfortunately, those drives all stalled in scoring position, yielding just nine points.
After that, it was a choppy day for the Cowboys offense. A closer look at Prescott revealed all the limitations you'd expect from a fourth-round rookie. Rarely was the 23-year-old asked to drop back and make a multi-progression, full-field read. The majority of his passes were thrown on first down and/or at the shallow levels—both signs of a quarterback on a leash.
This was a smart approach by Dallas. You must play this way when your quarterback has never seen a true NFL defense—and especially if the one he is seeing is as changeable and blitz-happy as New York has been under coordinator Steve Spagnuolo. But Week 1 was a reminder that it was unrealistic to expect the Dak Prescott who defeated safeties downfield in the preseason. When actual offensive and defensive game-planning is involved, Prescott must be managed by the designs. And so until Tony Romo returns, expect more play-action and first-down passing from the Cowboys, plus the short moving pocket tactics that make Prescott more comfortable. Because of this approach, it's more imperative than ever that Dallas's rushing attack recapture its form of 2014. On Sunday, it looked too much like the underachieving rushing attack of 2015.
Though he'll be used as a complementary player, it's on Prescott to make more plays—particularly at the deep-intermediate levels. His ball placement was inconsistent here on Sunday; he was just 2 of 10 on balls that traveled 15 yards through the air.
One concern with Prescott, and a reason the Cowboys will have to continue employing slower-developing passes like play-action and moving pockets, is he has a somewhat elongated delivery. He's not Byron Leftwich, but he's also not the tight-flicking Romo.
Almost antithetical to the rookie Prescott is 13-year veteran Eli Manning. It's now his third season in Ben McAdoo's system. On Sunday, Manning showed a masterful feel for where receivers would be and when they would be there. The Giants got almost everything they want from their offense. There was Odell Beckham beating Orlando Scandrick outside and downfield for 45 yards. Beckham also found a few zone voids in the fourth quarter. There were Victor Cruz and second-round rookie Sterling Shepard scoring touchdowns in the tight red zone on well-executed pick concepts to beat man coverage. In the fourth quarter, New York's running game, which takes place almost exclusively inside with Rashad Jennings and, at least on this day, pass-catching back Shane Vereen, was able to dictate the terms of engagement late in the fourth quarter, rushing for 61 yards on 10 carries over the final nine minutes. (Granted, this was against an understaffed Cowboys defensive line.)
It's just one close game involving only half the division, so it's much too early to fully forecast the next (sorry) 9-or 10-win NFC East champion. But Sunday at least confirmed something: Right now, one team in the division has a QB it must hide and work around, while another one it can lean on in every way.
This article originally appeared on
---
---