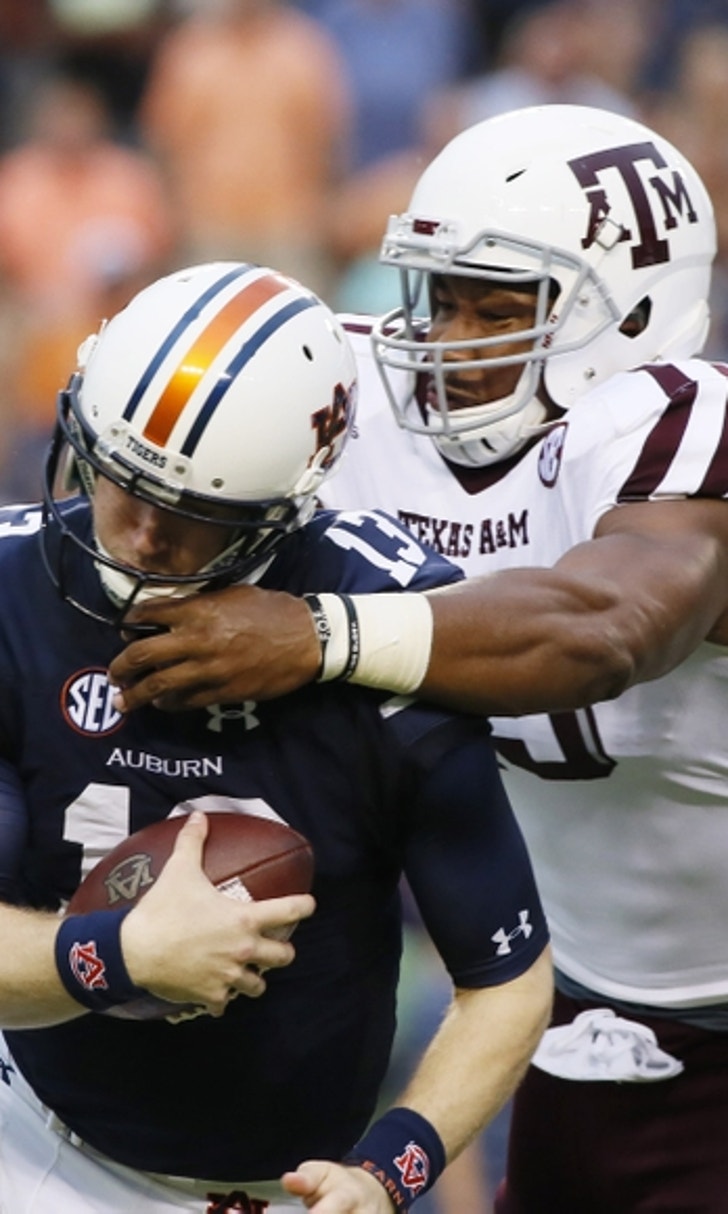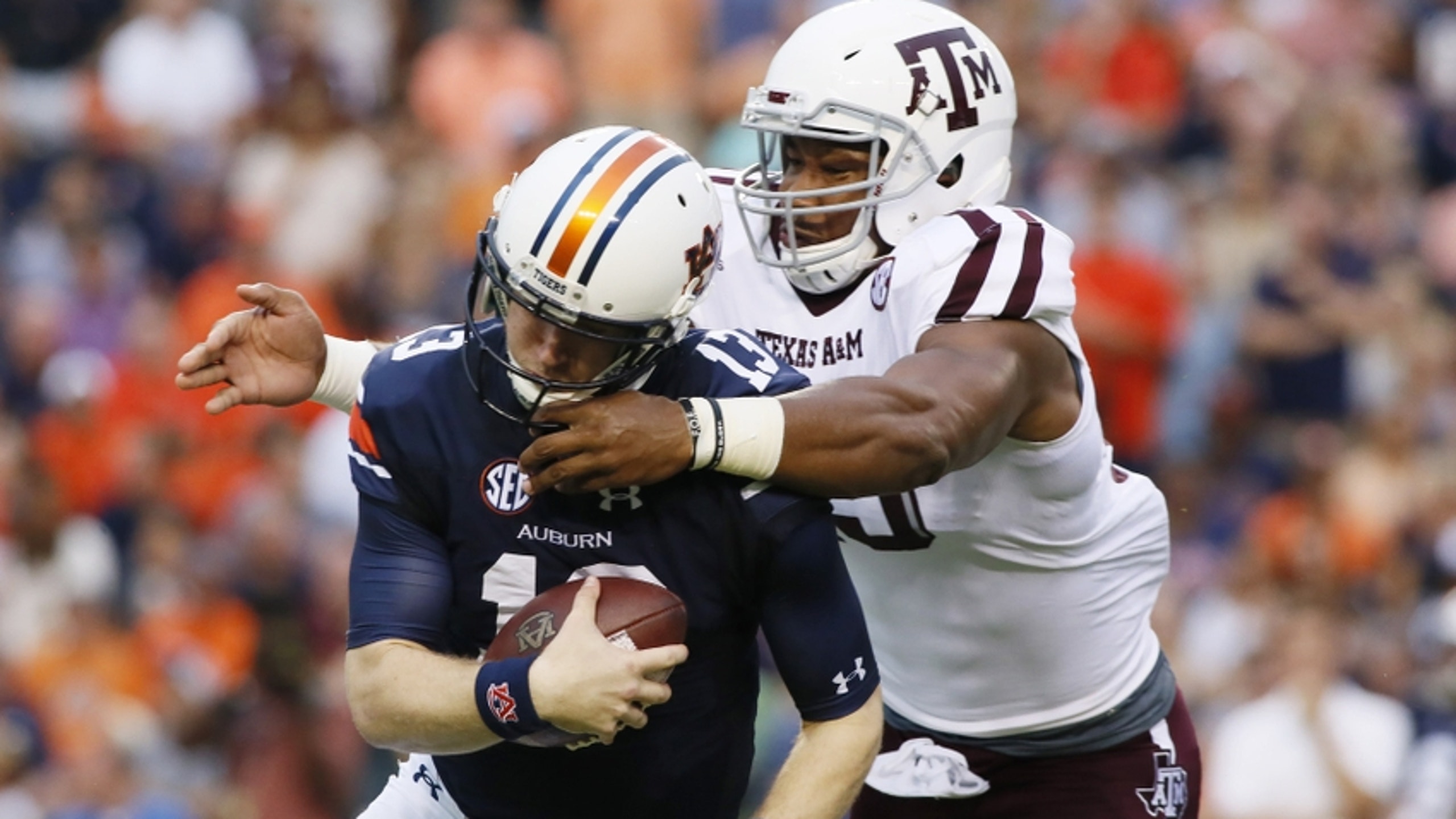 2017 NFL Mock Draft: Bold Trade Puts Cleveland All In
BY Fansided and Erik Lambert/FanSided via NFL Mocks • December 15, 2016
Sep 17, 2016; Auburn, AL, USA; Texas A&M Aggies lineman Myles Garrett (15) tackles Auburn Tigers quarterback Sean White (13) during the first quarter at Jordan Hare Stadium. Mandatory Credit: John Reed-USA TODAY Sports
This 2017 NFL mock draft shows that the race for the top five picks may be just as compelling as the playoff race, which is amazing to think about.
Indeed it's still not set in stone who will be holding those coveted slots next April. Barring a massive change, the Cleveland Browns will go #1 overall and San Francisco remains the favorite for #2. The real action is with the final three spots and how the subtle changes in order to drastically alter which players might be going early.
1. Cleveland Browns
1
Myles Garrett
DE, Texas A&M
Besides that the Browns are pining for a pass rush. It's one of the reasons their defense can't shut the door on teams when they've held a lead late in games. They have some young pieces that could make solid rotational guys, but no singular stud to bring it all together. In fact the Browns have never had anybody like that. Their all-time sack leader in history was Clay Matthews who had 62. It's time they found somebody who could aim higher.
Dec 3, 2016; Atlanta, GA, USA; Florida Gators quarterback Austin Appleby (12) is brought down by Alabama Crimson Tide defensive lineman Jonathan Allen (93) during the fourth quarter of the SEC Championship college football game at Georgia Dome. Alabama defeated Florida 54-16. Mandatory Credit: John David Mercer-USA TODAY Sports
2. Tennessee Titans (via SF)
Titans get #2 pick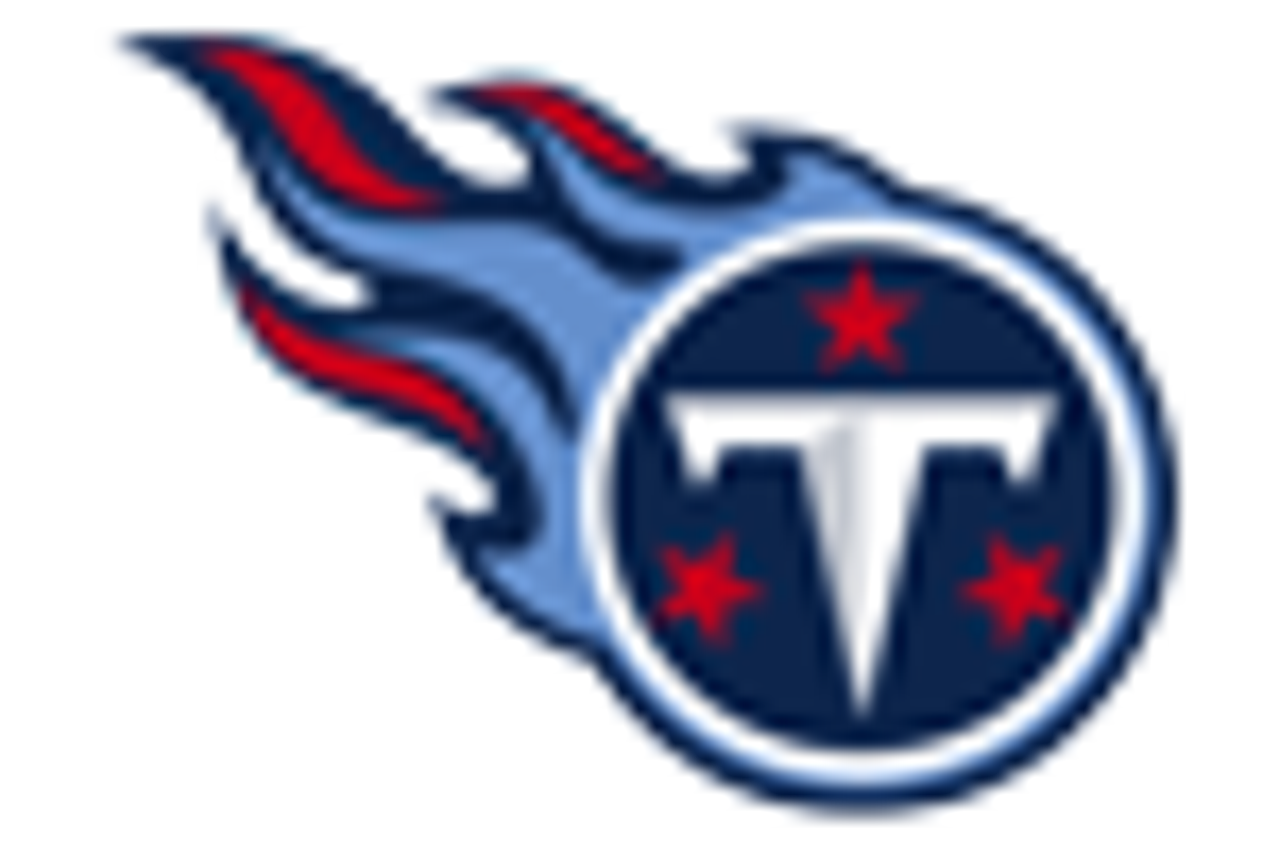 49ers get #5 pick, 3rd in 2017, 2nd in 2018, 4th in 20182
Jonathan Allen
DE, Alabama
That is what Jonathan Allen has done at Alabama. There might no be a player who is more consistent at doing his job than the defensive end. He's tough against the run, shows plenty of quickness as a pass rusher and makes few mental mistakes. He leads by example and has done nothing but win since he became a primary starter in that front seven. This is everything the Titans could want in a defensive cornerstone.
Nov 12, 2016; Fayetteville, AR, USA; LSU Tigers running back Leonard Fournette (7) runs for a large gain after a reception during the first quarter of the game against the Arkansas Razorbacks at Donald W. Reynolds Razorback Stadium. Mandatory Credit: Brett Rojo-USA TODAY Sports
3. Jacksonville Jaguars
3
Leonard Fournette
RB, LSU
Right now the tandem of Chris Ivory and T.J. Yeldon aren't getting it done. So why not go for the home run in the draft? Leonard Fournette is the most talented running back prospect to come out of college since Adrian Peterson. He's not quite the freak of nature AP is but he's close. Defenses have to load the box to have any hope of stopping him. He's got size, power, vision and good wiggle to slip through the holes. Get him to the second level and he's gone.
Nov 5, 2016; Chapel Hill, NC, USA; North Carolina Tar Heels quarterback Mitch Trubisky (10) scores a touchdown on his forth quarter run against the Georgia Tech Yellow Jackets at Kenan Memorial Stadium. The North Carolina Tar Heels defeated the Georgia Tech Yellow Jackets 48-20. Mandatory Credit: James Guillory-USA TODAY Sports
4. Cleveland Browns (via CHI)
Browns get #4 pick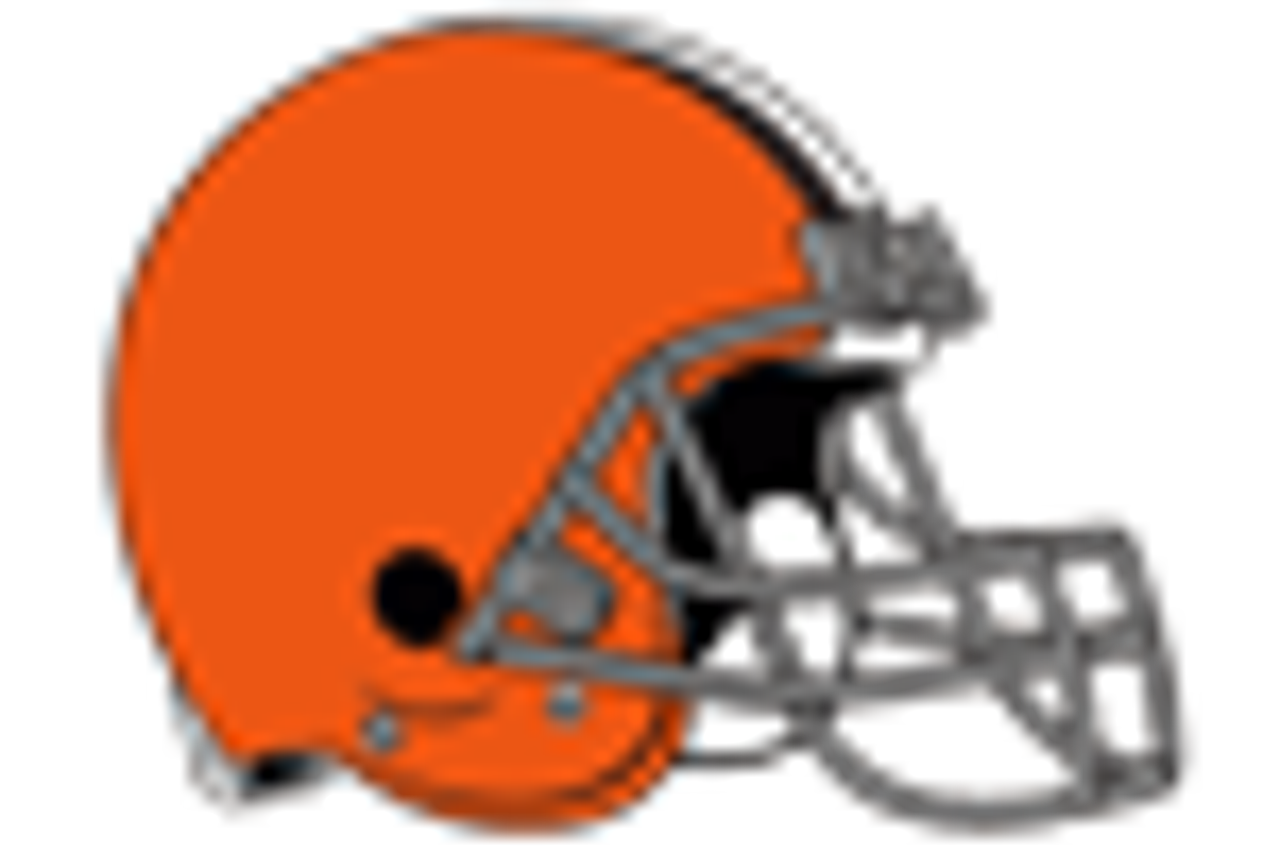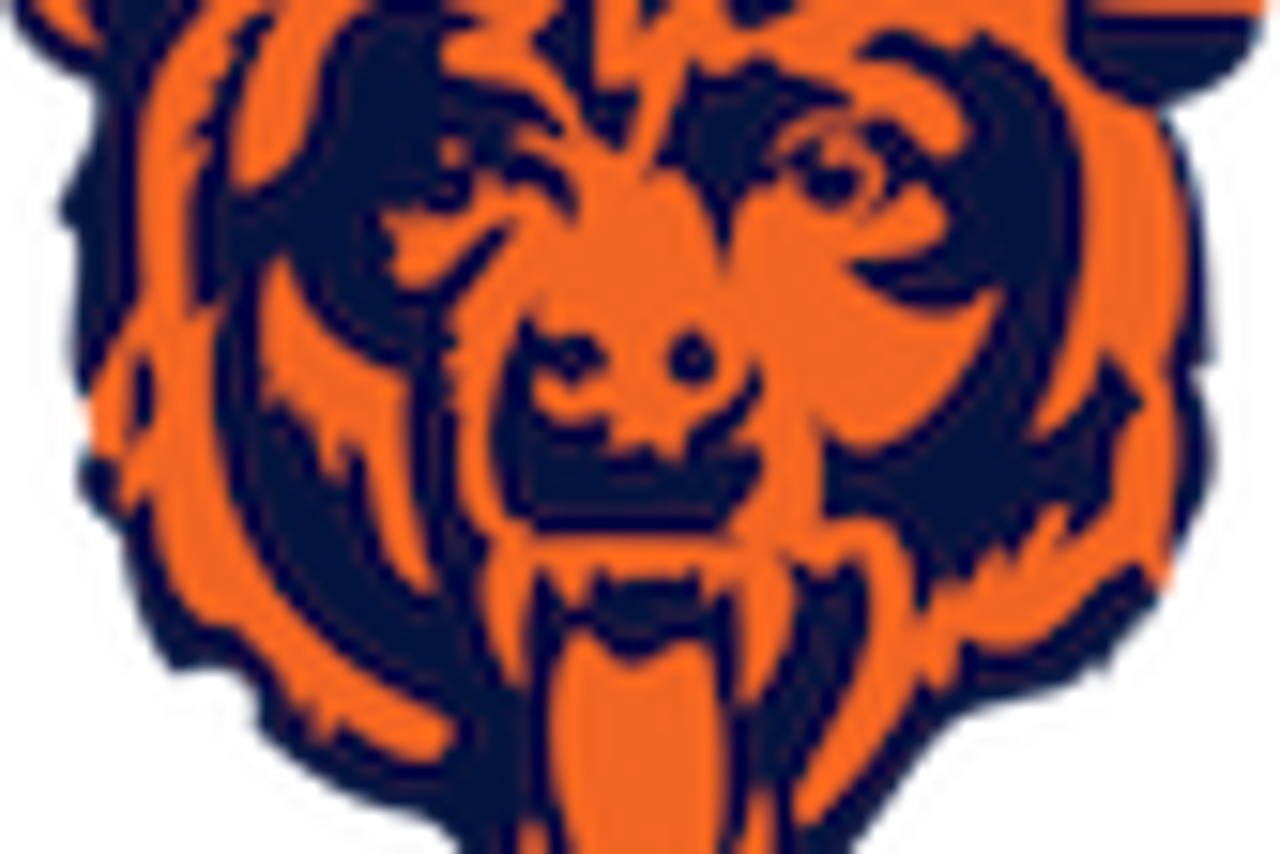 Bears get #10 pick, 2nd in 2017, 5th in 2017, and 1st in 20184
Mitch Trubisky
QB, North Carolina
Trubisky has exciting qualities. He's big and mobile. Picking up first downs with his legs is a regularity. He sports a compact delivery that puts the ball where he wants it to go almost every time. Arm strength isn't a big problem and he seems to have solid poise within the pocket. Great teams are often built around a quarterback and a pass rusher. With this bold move to grab Trubisky, the Browns have set themselves up for a bright future.
Sep 10, 2016; Tuscaloosa, AL, USA; Western Kentucky Hilltoppers wide receiver Taywan Taylor (2) is tackled by Alabama Crimson Tide linebacker Reuben Foster (10) at Bryant-Denny Stadium. Mandatory Credit: Marvin Gentry-USA TODAY Sports
5. San Francisco 49ers (via TEN)
5
Reuben Foster
ILB, Alabama
Alabama is the honey hole for defense in this class and Reuben Foster is among the top names. He doesn't get the hype like others but nobody is fooled. They can see his ability every week. Like most Saban-type linebackers he excels against the run, shooting gapes and making tackles. Where he separates from others is the instinct to read where plays go and the athleticism to move sideline-to-sideline. Keep him clean and he'll feast on ball carriers.
Jan 1, 2016; Tampa, FL, USA; Northwestern Wildcats running back Justin Jackson (21) runs the ball against Tennessee Volunteers defensive back Derek Barnett (9) in the second half at the 2016 Outback Bowl at Raymond James Stadium. Tennessee defeated Northwestern 45-6. Mandatory Credit: Mark Zerof-USA TODAY Sports
6. New York Jets
6
Derek Barnett
DE, Tennessee
Thankfully this draft class is fairly rich in pass rushers. New York has really needed a presence at outside linebacker and Derek Barnett could be the guy they've waited for. His 32 sacks in college are proof he can not only rush the passer, but do it at a consistent level against top competition. He's got enough size, good strength, bends well around the edge and shows the explosive quickness to finish. Put him and Williams together? Fireworks.
Sep 24, 2016; East Lansing, MI, USA; Wisconsin offensive lineman Ryan Ramczyk (65) blocks Michigan State defensive end Evan Jones (85) during the second quarter of their game at Spartan Stadium. Mandatory Credit: Mark Hoffman/Milwaukee Journal Sentinel via USA TODAY Sports
7. Carolina Panthers
7
Ryan Ramczyk
OT, Wisconsin
His name is gaining momentum in scouting circle and will likely pick up even further during the predraft process. Wisconsin left tackle Ryan Ramczyk fits the bill better than anybody else in the class. He's big and strong like they all must be. What sets him apart though is the athleticism. His movement skills stand out a lot. Pass protection is where he thrives, which is exactly what the Panthers are looking for.
Dec 3, 2016; Orlando, FL, USA; Clemson Tigers wide receiver Mike Williams (7) during the second half of the ACC Championship college football game at Camping World Stadium. Clemson Tigers defeated the Virginia Tech Hokies 42-35. Mandatory Credit: Kim Klement-USA TODAY Sports
8. San Diego Chargers
8
Mike Williams
WR, Clemson
Thus all they can do is continue to invest. Rivers needs a receiver he can lean on and Mike Williams is the best available in this draft. He's got the full list of tools: size, strong hands, quickness, decent speed and leaping ability to go up and get the football. Look for him on third downs or in the red zone and he's going to find a way to bring the ball in. That is what the Chargers have been missing. Williams gives them extra insurance with Keenan Allen and the others.
Sep 10, 2016; Gainesville, FL, USA; Florida Gators defensive back Quincy Wilson (6) during the second half at Ben Hill Griffin Stadium. Florida Gators defeated the Kentucky Wildcats 45-7. Mandatory Credit: Kim Klement-USA TODAY Sports
9. New Orleans Saints
9
Quincy Wilson
CB, Florida
This team needs answers. They've been hunting for cornerback help. Quincy Wilson is what they are looking for. He's an ideal fit for their system. They want tall, long cornerbacks who can match up on the outside with anybody. Wilson is a solid athlete who can move well in space, not losing speed in his backpedal. If he's intially beaten he's shown the ability to recover and still make a play on the ball. It's no problem leaving him on an island.
Oct 15, 2016; Baton Rouge, LA, USA; LSU Tigers safety Jamal Adams (33) celebrates after picking up a fumble during the third quarter of a game against the Southern Miss Golden Eagles at Tiger Stadium. Mandatory Credit: Derick E. Hingle-USA TODAY Sports
10. Chicago Bears (via CLE from PHI)
10
Jamal Adams
S, LSU
Adrian Amos, Harold Jones-Quartey, Chris Prosinski and Deon Bush have all taken their turns underachieving this year. The lack of playmaking has been apparent every week. Jamal Adams would be a significant upgrade over any of them. He's got the size and well-proportioned frame teams look for. He thrives in the box both as a run defender and tackler in space. This in turn masks his above average range and athleticism that allows him to play good coverage.
Dec 2, 2016; Detroit, MI, USA; Western Michigan Broncos wide receiver Corey Davis (84) runs the ball for a td in the first half against the Ohio Bobcats at Ford Field. Mandatory Credit: Rick Osentoski-USA TODAY Sports
11. Arizona Cardinals
11
Corey Davis
WR, Western Michigan
Playing at Western Michigan has made it easy for fans to overlook Corey Davis. Such is the common issue with smaller school prospect. They have to play outstanding just to get noticed. Well that's exactly what Davis has done. The 6'3″ receiver has dominated his competition almost all year. He uses his size to full advantage, makes strong catches, and runs an advanced route tree to help get himself open. Arizona needs somebody they can count on. He's the guy.
Nov 12, 2016; Columbia, MO, USA; Missouri Tigers running back Damarea Crockett (16) runs the ball and is tackled by Vanderbilt Commodores linebacker Zach Cunningham (41) during the second half at Faurot Field. Missouri won 26-17. Mandatory Credit: Denny Medley-USA TODAY Sports
12. Cincinnati Bengals
12
Zach Cunningham
MLB, Vanderbilt
A big reason for that is their lack of consistency at linebacker. Vontaze Burfict remains their principle playmaker but nobody else has stepped out besides him. That's why they decide to take Zach Cunningham. He is the rangy, roving and instinctive middle linebacker this team needs. His skill set revolves around reading the offense and flying to the football to make the tackle. He's a good athlete with size as well. Everything a team can ask for.
Nov 26, 2016; Los Angeles, CA, USA; Notre Dame Fighting Irish quarterback DeShone Kizer (14) throws a pass against the Southern California Trojans during a NCAA football game at Los Angeles Memorial Coliseum. Mandatory Credit: Kirby Lee-USA TODAY Sports
13. Buffalo Bills
13
Deshone Kizer
OT, Notre Dame
Deshone Kizer was considered a lock for the #1 pick going into the 2016 season. He played outstanding at Texas, showcasing the vast array of skills he has. Unfortunately his numbers never truly took off. Much of that was a combination of poor coaching and having limited resources around him. Kizer made the best of what he had but couldn't work miracle. Put in a more favorable situation, most believe he has higher potential than any QB in this draft.
October 1, 2016; Pasadena, CA, USA; UCLA Bruins defensive lineman Takkarist McKinley (98) brings down Arizona Wildcats quarterback Khalil Tate (14) during the second half at Rose Bowl. Mandatory Credit: Gary A. Vasquez-USA TODAY Sports
14. Indianapolis Colts
14
Takkarist McKinley
OLB, UCLA
Nowhere is that clearer than at outside linebacker, a position the team has routinely been unable to address since Ryan Grigson took over as GM. So the time has come to change the script. Takkarist McKinley is a little late to the draft hype party but he's picking up steam nonetheless. His mixture of size and ability to move in space are huge assets. The explosion off the snap allows him to make plays in the opposing backfield both for sacks and tackles for loss. This is something the Colts don't have.
Oct 29, 2016; Jacksonville, FL, USA; Florida Gators defensive back Teez Tabor (31) against the Georgia Bulldogs during the second half at EverBank Field. Florida Gators defeated the Georgia Bulldogs 24-10. Mandatory Credit: Kim Klement-USA TODAY Sports
15. Tennessee Titans
15
Teez Tabor
CB, Florida
Teez Tabor is the other member of the Florida tandem that has scouts excited. He might not quite be the long type Wilson is but he's still a fluid athlete who has the size to match up with any receiver. His ball skill also might be a sliver better than Wilson and he tends to carry himself with that swagger corners need to have. He'll be able to follow any receiver the Titans need him to all over the field. Quarterbacks will learn throwing at him is risky at best.
Dec 3, 2016; Atlanta, GA, USA; Florida Gators quarterback Austin Appleby (12) and Alabama Crimson Tide linebacker Tim Williams (56) walk past each other during the first quarter of the SEC Championship college football game at Georgia Dome. Mandatory Credit: Jason Getz-USA TODAY Sports
16. Baltimore Ravens
16
Tim Williams
OLB, Alabama
Terrell Suggs can't carry the load himself anymore. He's getting too old. Tim Williams has been part of one of the best front sevens in college football at Alabama. He's one of their principle outside rushers. Just watching how he plays from the athleticism to the burst, bend and body type he looks like a classic 3-4 outside linebacker. Everything about his disposition and style says he's a perfect fit for how Baltimore wants their defenders to play.
Oct 29, 2016; Tallahassee, FL, USA; Florida State Seminoles running back Dalvin Cook (4) outruns Clemson linebacker Korrin Wiggins (15) at Doak Campbell Stadium. Clemson won 37-34. Mandatory Credit: Glenn Beil-USA TODAY Sports
17. Philadelphia Eagles (via MIN)
17
Dalvin Cook
RB, Florida State
Dalvin Cook was nothing but those things at Florida State. Every time the Seminoles got into trouble, it seemed like Cook was the one pulling them out of the fire. He would deliver a first down or more often than not a long touchdown to flip momentum. He is a true versatile weapon in that he strong and tough enough to run 20-30 times a game but also has the speed and hands to catch passes out of the backfield.
Oct 22, 2016; Tuscaloosa, AL, USA; Alabama Crimson Tide tight end O.J. Howard (88) carries the ball for a touchdown against the Texas A&M Aggies during the second quarter at Bryant-Denny Stadium. Mandatory Credit: John David Mercer-USA TODAY Sports
18. Green Bay Packers
18
O.J. Howard
TE, Alabama
This draft class could be full of such talents at tight end. O.J. Howard ranks right at the top. He's another of those Jimmy Graham, Tony Gonzalez types. A basketball player body in pads. He runs the floor with more speed than expected, has good vision to find the open lane and strong hands to bring in the contested rebound. There is no telling how deadly he could become with Jordy Nelson, Randall Cobb and Davante Adams on the outside.
Sep 2, 2016; East Lansing, MI, USA; Michigan State Spartans defensive lineman Malik McDowell (4) hits Furman Paladins quarterback P.J. Blazejowski (7) during the first quarter at Spartan Stadium. Mandatory Credit: Mike Carter-USA TODAY Sports
19. Washington Redskins
19
Malik McDowell
DE, Michigan State
Even amidst a tough year at Michigan State, the tape is piling up for Malik McDowell. Scouts are smitten for the Spartans defensive lineman. He showcases that rare mix of pure size with quickness and explosion. It looks like he could play in just about any scheme and have success. His biggest trademark is getting up the field and applying pressure on the quarterback. Given this is what the Redskins seek, it's a match made in heaven.
Sep 17, 2016; Columbia, MO, USA; Missouri Tigers defensive end Charles Harris (91) celebrates after a sack against the Georgia Bulldogs in the first half at Faurot Field. Mandatory Credit: John Rieger-USA TODAY Sports
20. Miami Dolphins
20
Charles Harris
DE, Missouri
Charles Harris of Missouri doesn't get the same attention as other names on the board. Much of that is due to the ongoing struggles of his program. When watching him on tape it's easy to see Harris has natural pass rush skills. He's built like a defensive end, can hold the edge against the run and unleashes one of the most devastating spin moves seen since Dwight Freeney. He could do really good work alongside Ndamukong Suh.
Nov 12, 2016; Iowa City, IA, USA; Michigan Wolverines linebacker Jabrill Peppers (5) carries the football against the Iowa Hawkeyes at Kinnick Stadium. Iowa beat Michigan 14 to 13. Mandatory Credit: Reese Strickland-USA TODAY Sports
21. Tampa Bay Buccaneers
21
Jabrill Peppers
S, Michigan
Jabrill Peppers being available this late in the 1st round will shock a lot of people but sometimes that happens. He may be one of the best athletes in the draft class with size, strength and speed but he also doesn't have any position mastered. Some see him as a safety, others a linebackers and still more as a running back. Odds are the former is his best position, but he hasn't yet developed the instincts for it. If he does, he'll be a perennial Pro Bowler.
Nov 26, 2016; Los Angeles, CA, USA; Notre Dame Fighting Irish offensive lineman Mike McGlinchey (68) reacts as quarterback DeShone Kizer (not shown) scores a touchdown in the first quarter against the USC Trojans at the Los Angeles Memorial Coliseum. Mandatory Credit: Matt Cashore-USA TODAY Sports
22. Houston Texans
22
Mike McGlinchey
OT, Notre Dame
The offensive line is certainly an area the Texans won't be able to ignore much longer. Injuries and age have become a factor at both tackle spots and their guard situation isn't much better. Mike McGlinchey is the type of solution they need. He's a big, versatile blocker who is well-schooled in offensive line play. Athletic enough for tackle but smart and tough enough for guard as well. He can be plugged in wherever the Texans feel he's needed most.
Jan 11, 2016; Glendale, AZ, USA; Alabama Crimson Tide offensive lineman Cam Robinson (74) against the Clemson Tigers in the 2016 CFP National Championship at University of Phoenix Stadium. Mandatory Credit: Mark J. Rebilas-USA TODAY Sports
23. Seattle Seahawks
23
Cam Robinson
OT, Alabama
They already spent one 1st round pick up front this year. Odds are they'll have to do it again in 2017. Cam Robinson is viewed as probably the best overall tackle prospect in the draft. He's big, strong, and physical as a run blocker. He'll remind a lot of Seattle fans of Okung. Similar body type and demeanor. He's not a premier athlete but he's mobile enough to hold his own on the edge against top pass rushers.
Sep 4, 2016; Austin, TX, USA; Notre Dame Fighting Irish offensive lineman Sam Mustipher (53) and offensive lineman Quenton Nelson (56) and offensive lineman Mike McGlinchey (68) during the game against the Texas Longhorns at Darrell K Royal-Texas Memorial Stadium. Mandatory Credit: Kevin Jairaj-USA TODAY Sports
24. Denver Broncos
24
Quenton Nelson
OG, Notre Dame
Quenton Nelson comes from a program at Notre Dame that is a factory for top offensive linemen in recent years. Ask Zack Martin and Ronnie Stanley. Though the offense as a whole hasn't performed consistently well, Nelson showed his prowess every week as a blocker. He's strong in the running game, often the one opening holes and holds his own in pass protection. Most believe he'll be a starter right away with a Pro Bowl ceiling.
Nov 26, 2016; Columbus, OH, USA; Ohio State Buckeyes cornerback Gareon Conley (8) gets the crowd into the game during the second quarter against the Michigan Wolverines at Ohio Stadium. Ohio State won 30-27. Mandatory Credit: Joe Maiorana-USA TODAY Sports
25. Atlanta Falcons
25
Gareon Conley
CB, Ohio State
Gareon Conley has seen his stock steadily rise over the past month or so. Much of that due to his dependable play on the field. He's got size, tackles well, shows his athleticism in coverage and doesn't make a ton of mistakes. A big part of the teams' success in 2016 is because of his coverage prowess. He'll fit well with what the Falcons are doing and a combination of him and Trufant could be a step in the right direction.
Nov 12, 2016; Athens, GA, USA; Auburn Tigers defensive tackle Montravius Adams (1) and defensive lineman Carl Lawson (55) sack Georgia Bulldogs quarterback Jacob Eason (10) during the second quarter at Sanford Stadium. Mandatory Credit: Dale Zanine-USA TODAY Sports
26. Pittsburgh Steelers
26
Carl Lawson
OLB, Auburn
Carl Lawson took a little while to get on track this year due to lingering injury problems but once he got healthy he was one of the most dynamic edge rushers in college football. He's quick, explosive and packs a lot of punch in his slightly undersized frame. Getting into the backfield and finding the football is where he will make his money. That is exactly where the Steelers will want him. Together with Bud Dupree that could be a productive combination.
Oct 22, 2016; Evanston, IL, USA; Indiana Hoosiers running back Devonte Williams (2) is tackled by Northwestern Wildcats linebacker Anthony Walker Jr. (1) in the second half at Ryan Field. Mandatory Credit: Jerry Lai-USA TODAY Sports
27. Detroit Lions
27
Anthony Walker
OLB, Northwestern
That is basically what Anthony Walker has done for Alabama since he became a starter. In many ways he's the classic 4-3 outside linebacker: fast, athletic, aggressive, a good tackler and able to drop into coverage. However, he's shown prowess as an attacker at the line of scrimmage, making tackles for losses and having two sacks in 2016. Under the proper direction of somebody like Teryl Austin, he could be a welcome addition.
Oct 1, 2016; Columbus, OH, USA; Ohio State Buckeyes cornerback Marshon Lattimore (2) knocks the ball out of the hands of Rutgers Scarlet Knights wide receiver Andre Patton (88) at Ohio Stadium. Mandatory Credit: Greg Bartram-USA TODAY Sports
28. Oakland Raiders
28
Marshon Lattimore
CB, Ohio State
Often the quickest solutions involve getting productive players from top programs in the draft. Marshon Lattimore fits that description. He's been a sturdy, dependable starter on some really good Ohio State defenses. He brings size, toughness and athleticism to the table. Not to mention a winning pedigree under Urban Meyer. He understands how to track the football and make a play on it. Something Raiders corners have struggled with.
Nov 19, 2016; Berkeley, CA, USA; Stanford Cardinal running back Christian McCaffrey (5) points to the sky in celebration after a touchdown against the California Golden Bears during the fourth quarter at Memorial Stadium. Stanford defeated California 45-31. Mandatory Credit: Kelley L Cox-USA TODAY Sports
29. New York Giants
29
Christian McCaffrey
RB, Stanford
Christian McCaffrey has carried the Stanford offense for two years running. He's an explosive runner with good size, vision and strength to shrug off tacklers. He also has returner capability. Many are biased against him in part because he's white. Recent history has not been favorable to white running backs, which is somewhat ridiculous but true nonetheless. The bottom line is McCaffrey has game. His versatility could be what finally balances that Giants offense.
Oct 15, 2016; Gainesville, FL, USA; Florida Gators linebacker Jarrad Davis (40) against the Missouri Tigers during the first quarter at Ben Hill Griffin Stadium. Mandatory Credit: Kim Klement-USA TODAY Sports
30. Kansas City Chiefs
30
Jarrad Davis
ILB, Florida
What better way to solve the issue than early in the draft? It's tried. It's true and it's cheap. Jarrad Davis saw his stock dip this year due to some injury problems but he did eventually return healthy. Last year he was highly effective in the Florida defense, showcasing versatility as a tackler and blitzer. He has range to handle himself in space and plays an aggressive style that doesn't let the opponent dictate the action. Much like Johnson.
Nov 26, 2016; Tallahassee, FL, USA; Florida State Seminoles defensive end Demarcus Walker (44) chases down Florida Gators quarterback Austin Appleby (12) during the second half of the game at Doak Campbell Stadium. Mandatory Credit: Melina Vastola-USA TODAY Sports
31. Dallas Cowboys
32
Demarcus Walker
DE, Florida State
Demarcus Walker should be their guy. Not only because he has a first name they seem to covet but also because of his playing style. Walker is a strong, tough defensive end who plays with fire and relentlessness. It doesn't matter how many people try to block him, he always seems to find a way to put heat on the quarterback. For some guys it's not about freakish athleticism. It's about know-how. Walker knows how.
Dec 3, 2016; Orlando, FL, USA; Clemson Tigers quarterback Deshaun Watson (4) throws the ball in the second half against the Virginia Tech Hokies during the ACC Championship college football game at Camping World Stadium. Clemson Tigers won 42-35. Mandatory Credit: Logan Bowles-USA TODAY Sports
32. San Francisco 49ers (via NE)
31
Deshaun Watson
QB, Clemson
Deshaun Watson suffered with accuracy problems during much of the season at Clemson, but he finished strong to once again put his team in contention for a national title. He might be the most athletic in this class, able to run for first downs when forced out of the pocket. His release is quick and compact and when in a rhythm he can throw strikes. He's also a competitor who doesn't like to lose. If a team can get him over his ball placement issues, he'll be a good one.
More from NFL Mocks
This article originally appeared on
---
---