National Basketball Association
National Basketball Association
Warriors-Trail Blazers Preview
Updated
Mar. 4, 2020 7:02 p.m. ET

(AP) - Losing streaks don't happen to the Warriors.
Golden State is 10-0 in games that immediately follow losses this season, winning those by an average of 15.8 points. Put another way, when the Warriors are annoyed, they respond - and usually emphatically.
They haven't lost consecutive games since last year's NBA Finals. For that trend to continue, they'll likely have to win Game 4 on Monday night in Portland without Stephen Curry, who is considered doubtful.
The reigning MVP has missed six of Golden State's eight postseason games, including the last four after suffering a sprained knee ligament in Game 4 of the Warriors' first-round series with Houston.
Draymond Green finished with 37 points, nine rebounds and eight assists while Klay Thompson had 35 points in Game 3 on Saturday, but Leandro Barbosa was the only other Warrior in double figures in a 120-108 defeat.
Only Green and Thompson attempted more than eight shots.
"We don't have the luxury of staying with a set rotation," coach Steve Kerr said. "We have to read what's going on and play different people based on what we see and what we need, but that's all right. We've got a lot of players who can play and they've been ready to perform all year."
If the Warriors do get Curry back, the emotional lift would be seismic. Plus, Golden State knows that taking a 3-1 lead back home would present them with a chance for not just a closeout opportunity in Game 5, but perhaps a nice bit of rest before facing either San Antonio or Oklahoma City in the Western Conference finals.
"Now they're feeling like they can do it," Green said about the Trail Blazers. "We know otherwise. You can expect Game 4 to be a battle."
Portland took control in the second quarter of Game 3 and didn't look back to make this a series. Damian Lillard finished with 40 points and 10 assists and is averaging 31.7 points in the series.
The Blazers won just two of the seven meetings this season with the Warriors - including this series - but that lack of success isn't because of Lillard, who's averaging 34.4 points in those matchups.
"I did think it was my job to come out and be aggressive from the start (Saturday)," Lillard said. "A lot of times the team will go as I go. That goes for more than just scoring the ball. That means how focused I am, how accountable I'm holding myself. I just wanted to come out and be aggressive.
"You don't want to be down 0-3. Period."
They're not, and Lillard got some help to prevent that. Al-Farouq Aminu finished with 23 points and 10 boards, while C.J. McCollum added 22 points. Heading back to Oakland with the series tied would be ideal, but coach Terry Stotts knows the Warriors are going to come out ready for a battle.
"All it means is that we won a home court game," Stotts said. "It was important to win it and it's going to be a tough game on Monday."
Portland easily could have the edge in the series, but it was outscored 34-12 in the fourth quarter of Game 2 and fell 110-99. Lillard was impressed with how the Blazers quickly moved on from that disappointment.
"I think we played a lot smarter down the stretch than we did the last game, and we challenged them," Lillard said. "Last game, I think, we played good and then we let up a little bit, and they turned it on - like championship teams do."
Portland wasn't even supposed to be here after losing LaMarcus Aldridge and multiple other contributors from last season's 54-win team. It won only three fewer games this season and shocked the Los Angeles Clippers in the first round.
The reigning champs have taken notice.
"I just admire what they're doing," Kerr said. "They're one of my favorite teams to watch."
---
---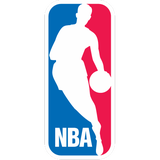 Get more from National Basketball Association
Follow your favorites to get information about games, news and more
---