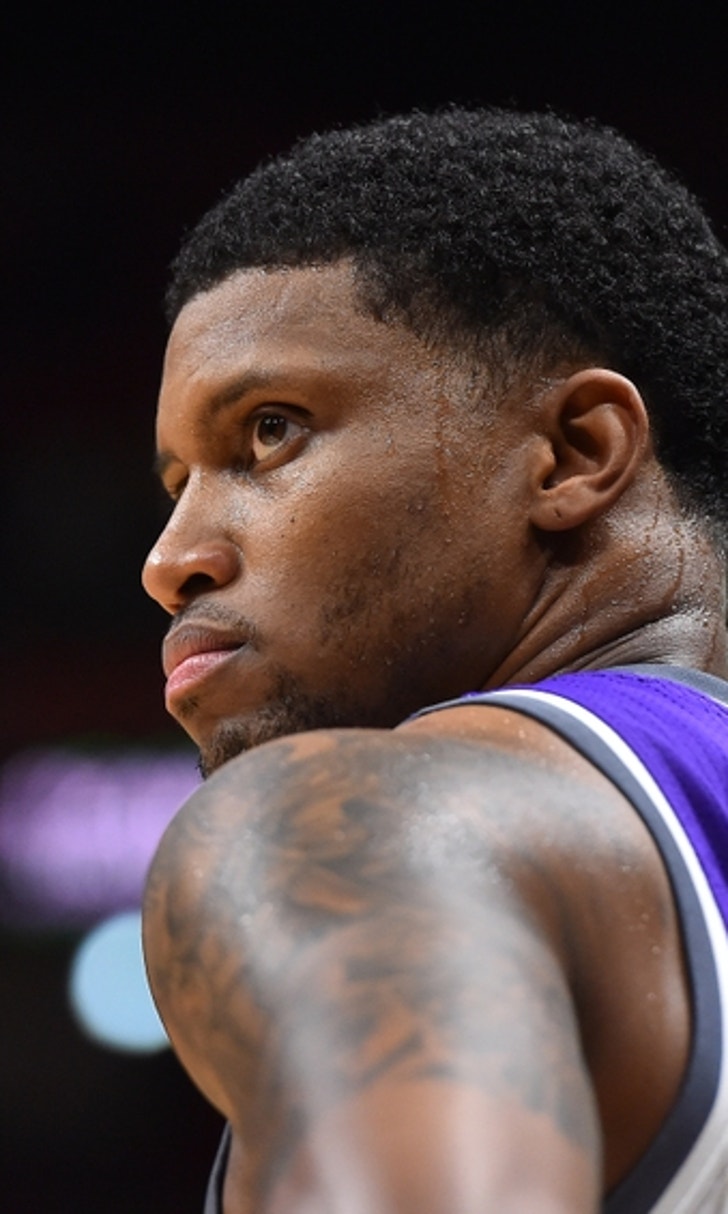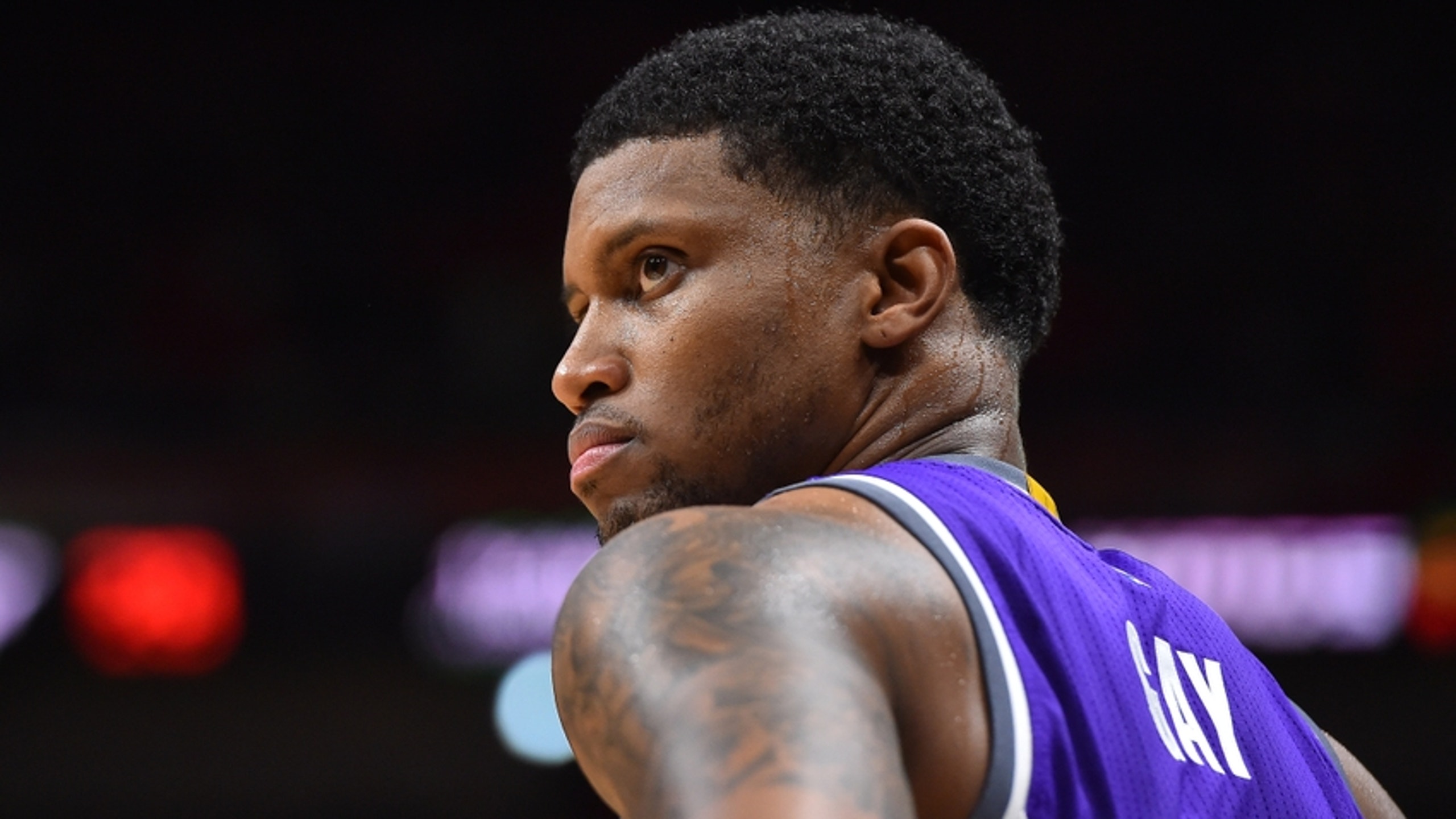 Three Potential Trade Targets for Rudy Gay
BY Fansided and Kyle Robert/FanSided via A Royal Pain • June 30, 2017
This article will showcase three potential trade targets for Rudy Gay, and explain why it would make sense for both teams.
There is a ton of speculation surrounding Rudy Gay and his future with the Sacramento Kings. While Gay technically has another year on his contract beyond the 2016-2017 season, he has a player option that he will almost assuredly exercise.
The Kings have been playing without him as of late and have been able to get along just fine. The Kings would likely want a point guard upgrade or a piece that helps them make a playoff push this season. But looking a little further down the road isn't the worst idea either, especially with the recent performance of the team. They could have their cake and eat it too.
Nov 1, 2016; Miami, FL, USA; Miami Heat guard Goran Dragic (7) dribbles the ball around Sacramento Kings center Kosta Koufos (41) during the second half at American Airlines Arena. The Miami Heat defeat the Sacramento Kings 108-96 in overtime. Mandatory Credit: Jasen Vinlove-USA TODAY Sports
Goran Dragic | PG | Miami Heat
Goran Dragic fits the bill of a point guard the Sacramento Kings could build around going forward, and be an immediate upgrade. The 30-year-old guard has shown a ton of ability in past seasons, including a 2014 3rd All-NBA team or one of the six best guards in all of the NBA.
Dragic is a fantastic weapon with the ball in his hand and would be a fantastic pick and roll partner with DeMarcus Cousins. Not only is he creative when making passes and finding teammates in optimal positions, but he has the ability to score as well. With Darren Collison's ability to play off the ball, Dragic could easily step into the starting lineup.
The Miami Heat are a team struggling this season and have visions of being buyers in the 2017 free agency market. With Dragic having 3 years and about 54 million dollars left on his deal after this season, Miami would be very happy to get his contract off the books. With the exploding salary cap numbers, Gay will still likely opt out after this season in hopes for one last decent sized contract.
Moving Gay would open more consistent minutes for Omri Casspi, Anthony Tolliver and Matt Barnes on the wing. It would also help create more minutes for Garrett Temple which would be great. The Kings could have more flexible lineups as well, going small and playing some of these guys at power forward.
Jan 2, 2017; New York, NY, USA; Orlando Magic guard Elfrid Payton (4) looks to pass being defended by New York Knicks guard Brandon Jennings (3) during the second quarter at Madison Square Garden. Mandatory Credit: Adam Hunger-USA TODAY Sports
Elfrid Payton | PG | Orlando Magic
If the Kings are looking to build a young core that can grow together around DeMarcus Cousins, Elfrid Payton could fit the bill. The 24-year-old point guard is still developing and has become quite the skilled distributor. He has averaged over six assists in his first two full seasons in the NBA and seems to be on his way to a third. He has good size at 6'4" and could defend the opposing team's bigger guard when sharing the floor with Darren Collison. Jeff Green would have to be included to make the salaries work and would be a free agent come season's end.
For Orlando, this move could make sense as well. They are a team that is seemingly getting frustrated with their current situation and could look to move on from some of its young pieces. Gay would give them a "veteran" presence as they look to secure a playoff spot and be the team swept by the Cleveland Cavaliers in the first round. They would also get Ben McLemore in the deal giving him a fresh start as he looks to get his career headed in the right direction.
For what it's worth, this trade could include Mario Hezonja in Payton's place. He is buried on Orlando's bench getting just 8.8 minutes per game. He was a favorite of Kangz twitter throughout the draft process in 2015. Hezonja will need time to display his shooting ability but there is a ton of potential with him. For a team that is desperate for outside shooting, it would be a gamble worth taking. He would also be under contract through 2020 and the Kings would be able to match any offer he gets in free agency.
Dec 20, 2016; Memphis, TN, USA; Boston Celtics guard Terry Rozier (12) dribble sin the second quarter against the Memphis Grizzlies at FedExForum. Mandatory Credit: Nelson Chenault-USA TODAY Sports
Terry Rozier | PG | Boston Celtics
You may be saying Terry who? But this is a deal that could make sense for both teams. The Kings would acquire a point guard who was taken 16th overall a season ago. He seems to be the odd man out on a team full of point guards. He can be productive with the ball in his hands both to score and facilitate. It's hard to gather much from his numbers thus far in the NBA, but he has shown an ability to get to the line and make them once he is there. The consistent run would bring out the best in him.
The Celtics are a team looking for depth as they make a run at the top of the Eastern Conference. Gay would provide help on the wing and could also play the four next to Al Horford if they want to go small. This trade would also reunite him with ex-Sacramento King Isaiah Thomas.
This deal would likely hinge on whether or not Boston can make other moves. They are reportedly trying to lure bigger fish including Paul Milsap. If they were to make a deal where they moved Marcus Smart, for example, they may look to keep Rozier to handle point guard minutes off the bench.
Unfortunately for the Kings, it seems the Rudy Gay era has run its course in Sacramento. If we know it, so does the rest of the NBA. While it may not seem like they are getting enough in return, if the Kings can get something useful in return for a player that will surely leave in free agency, they should pull the trigger.
More from A Royal Pain
This article originally appeared on
---
---