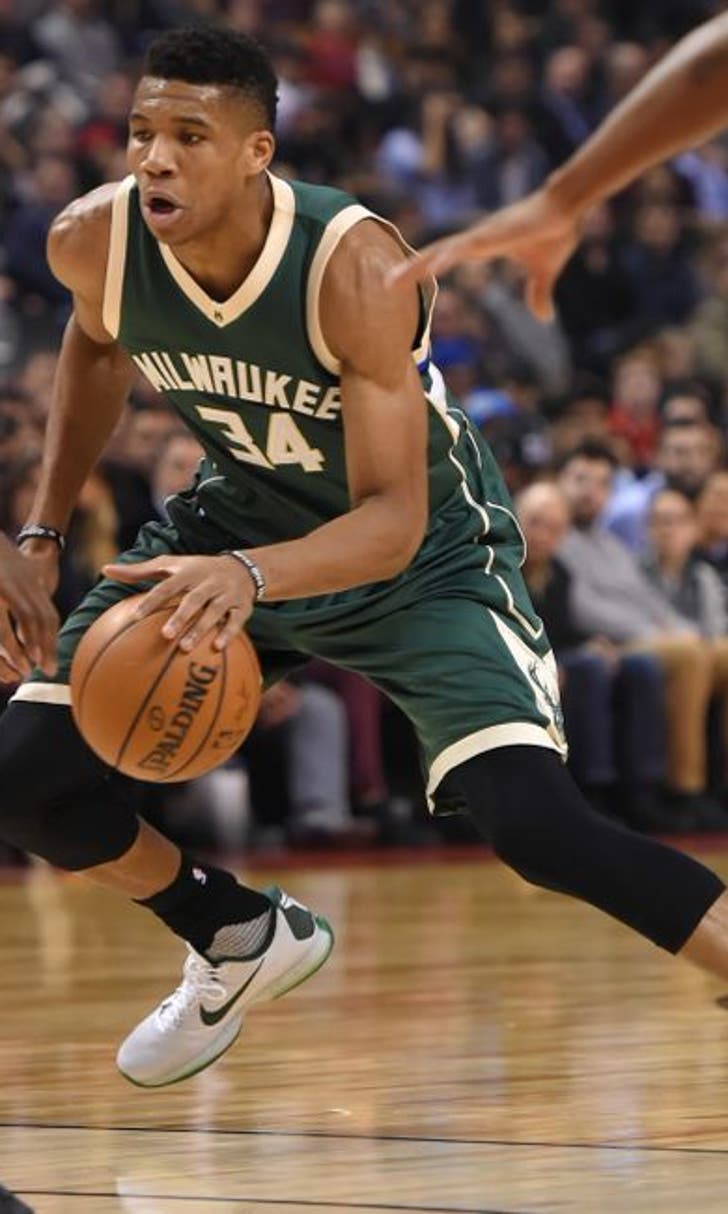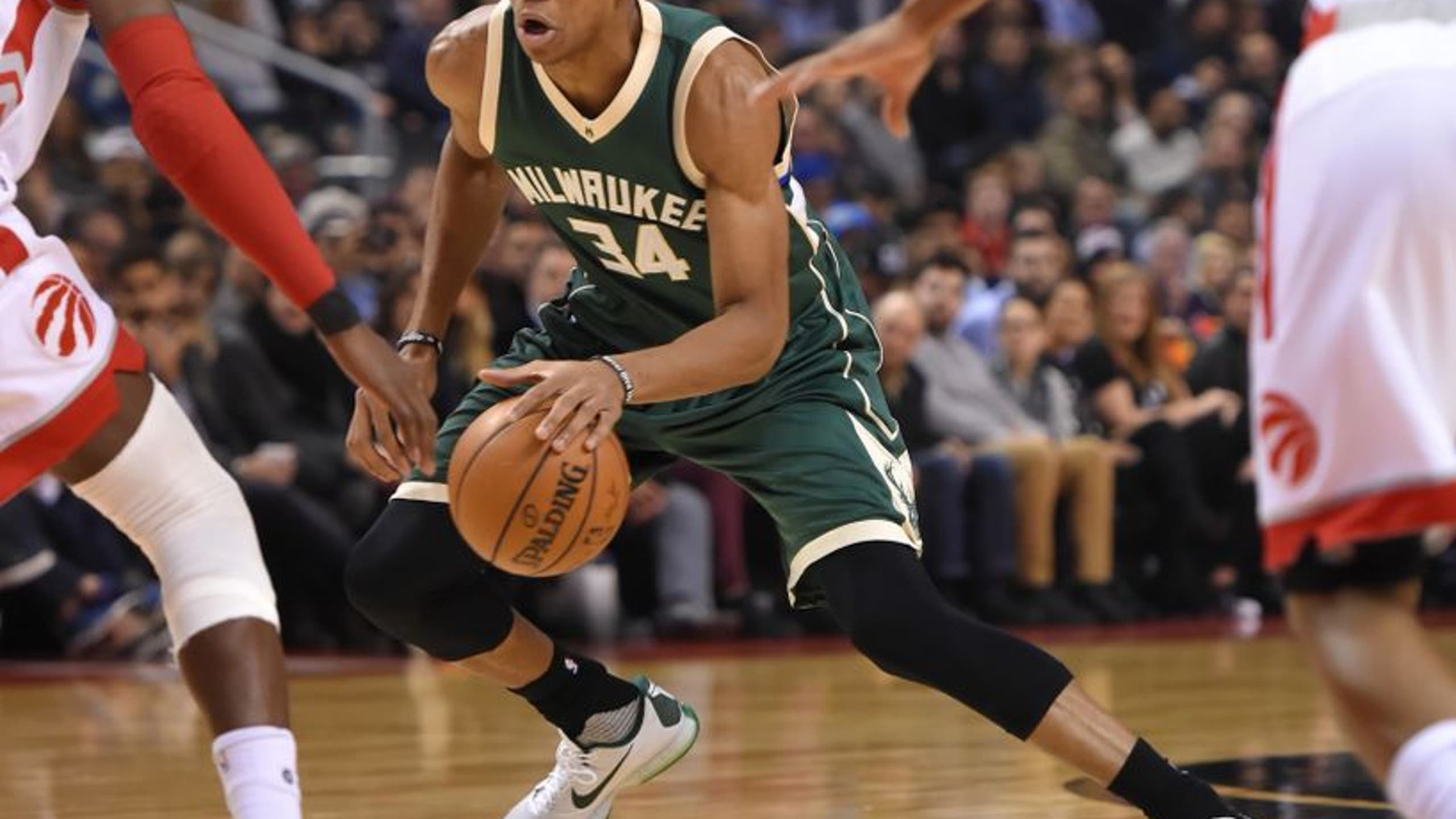 The Buck Stops Here Roundtable #8: Is Giannis an All-Star Lock?
BY Fansided and Tim Wray/FanSided via Behind the Buck Pass • December 15, 2016
In the latest edition of our staff roundtable series, we discuss whether Giannis is an All-Star lock, if Jabari's defensive analytics are concerning, the current state of the center rotation and much more Milwaukee Bucks debate.
Mandatory Credit: Dan Hamilton-USA TODAY Sports
We're already eight weeks into the NBA season and the Milwaukee Bucks sit 10th in the Eastern Conference with an 11-12 record, just half a game outside of a potential playoff berth. Tonight, the Bucks will look to get back to .500 as they host the Chicago Bulls in the BMO Harris Bradley Center at 7PM Central on TNT.
But before Giannis Antetokounmpo and Jabari Parker light up national television for the first time this season, there's no better way to review the first two months than getting the team at Behind The Buck Pass together to discuss all things Milwaukee Bucks basketball.
So that's exactly what we did. This week I was lucky enough to be joined by site experts Adam McGee and Ti Windisch, and also by regular staff writers Lukas Harkins, Tom Pheister and Jordan Treske for the eighth instalment of 'The Buck Stops Here' roundtable.
Specifically, we assessed Giannis Antetokounmpo's chances of earning his first All-Star nomination (Which would make him the first Bucks All-Star game representative since Michael Redd in 2004) and whether he deserves to be voted as an Eastern Conference starter.
The focus then shifted to Jabari Parker's performance this season, where we reflected on the heavily debated concerns about his poor defensive analytics and if this should affect his future with the Bucks.
Subsequently, we attempted to breakdown Milwaukee's $42 million problem at the center position, identifying the good, the bad and the ugly of the situation moving forward. Looking at the rest of the Bucks roster, we then named our most impressive/disappointing players through the first eight weeks of the season.
Following up from the previous roundtable, we finished with the opportunity to re-evaluate any of our pre-season expectations for the Bucks, given their 11-12 start.
Read on to hear all of our answers!
Mandatory Credit: Brad Mills-USA TODAY Sports
Giannis Antetokounmpo's start to the season has been nothing short of exceptional. Could the Greek Freak be considered an All-Star lock, and does he deserve to be a starter?
Tom Pheister (@BucksPhanTom): If NBA Twitter is any indication (and if it isn't it should be) Giannis is absolutely a lock for the All-Star Game. Not only should he be there, but he should be starting. Whether enough of the public at large has caught on to just how incredible Giannis is will be the question. Once he makes it for the first time, I expect he will be a fixture for at least a decade thanks to his athletic gifts, skills and likability.
Ti Windisch (@TiWindisch): It's hard to say he's a lock, because the All-Star team tends to be a club made up of former All-Stars. Still, new talent breaks in every once in a while, and the NBA is taking notice of how damn good Giannis has been. I think he should be a starter for sure–we'll see if that ends up happening or not, though.
Adam McGee (@AdamMcGee11): He's a lock. Unless he gets injured, I just can't see a way he doesn't make it. I'm growing more and more confident that fans of the wider NBA are recognizing just how good Giannis is; it helps that Vine hasn't shut down just yet. Even if that doesn't prove enough for him to crack a (deserved) starting spot just yet, you only have to listen to the way in which coaches around the league talk about him to feel pretty confident that he'll be a reserve at least.
Jordan Treske (@JordanTreske): I certainly think he can be considered a lock and although I don't like framing it this way personally, the argument can be made if he deserves to be a starter. Like Adam said, I think he's certainly got an increased awareness in people's minds through the help of Vine, but now we're seeing that he's morphed into this high impact-difference maker on both ends of the floor, which has led to the recognition he's practically getting on a daily basis (and rightfully so).
As Ti mentioned, I do think how the fan vote is often treated could be a bigger issue than all of us are letting on and I think we'll get a clearer sense of that when we go through the stages of voting. But no matter the way he'd potentially get into the game, it's looking more likely than it arguably ever has that the team's All-Star-less streak is coming to an end.
Lukas Harkins (@HardwiredSports): I think there's a lot of time left before calling anyone a "lock," especially for a first-time player in the All-Star Game, but I also think Giannis is very close. He has been absolutely outstanding for the team so far and there are no signs of slowing down. As for being a starter, I think he belongs with that group as well.
Tim Wray (@TRW24): Punch Giannis' 2016-17 numbers into Basketball Reference: 22.3 points, 8.9 rebounds, 5.9 assists, 2.0 blocks and 2.0 steals per game.
Your query returned ONE result. That's right, no player in NBA history has done what he is doing this season. If that doesn't make him a lock for the All-Star game, not to mention his ridiculous 26.5 Player Efficiency Rating or how much better he makes the Bucks with a 13.3 Net Rating, I don't know what does.
For me, there's almost no question that he deserves to be an All-Star starter based solely on the merit of being one of the five best players in the Eastern Conference so far this season. However, as Ti said, fan voting can be very temperamental and it seems likely that guys such as Carmelo Anthony and Dwyane Wade are just too popular in big markets not to be voted in year after year, regardless of their level of play.
Can the last few months of outrageous euro-step dunks captured on Vine (RIP) get Giannis over the line?
When All-Star voting begins, don't forget to spam your Twitter followers with: "Giannis Antetokounmpo #NBAVOTE"
Mandatory Credit: Benny Sieu-USA TODAY Sports
Advanced metrics haven't agreed with Jabari Parker so far this season. How would you grade his performance to date? Are you concerned about his defensive analytics?
Tom: We all knew Jabari had a long way to go defensively when he was drafted. That really hasn't changed much. His awareness on that end of the court leaves much to be desired, and I still cringed a little bit every time I saw him matched up on DeMar DeRozan on the perimeter. With that said, I like the effort and energy he continues to bring on defense, and the progress that he has made gives me hope that he can continue to progress. If there were no evidence that he cared I would be much more concerned.
Ti: I'm still not very worried. He's young, and since last season the only expectation I had for Jabari was being healthy I'm still not placing him on any pedestals yet. I do think he'll get a bit better defensively, but even if he doesn't there are ways to better mask a bad defender. The Bucks haven't been using them because I think the team wants to force Jabari to play defense, so they're going to throw him into the fire and see what happens. It's a dangerous yet fun experiment, and I'm all for it.
Adam: Jabari is not a good defender. The best we can likely hope for him to be is somewhere within reach of being average on that end of the floor. That means there will likely always be the opportunity to pick out ugly defensive numbers or nitpick with clips where he looks even more lost than usual. On the other hand, Jabari is an incredible offensive player. He's the best player on the team on that end and it's not even close. If you don't believe me, look at how Giannis has struggled in late game situations with the ball in his hands. Jabari is an instinctive offensive talent that won't necessarily be found all that easily again for the Bucks.
For context, if Jabari was to hold or improve his scoring average through to the end of the season, he'd become only the second player (Marques Johnson) in Milwaukee Bucks history to average 19 points per game aged 21 or younger. You don't just give up on that, particularly when with everybody fully healthy, Giannis Antetokounmpo and Khris Middleton can be elite defenders alongside him.
With that in mind, he's better than he was last year, he's expanding his game and I've been really impressed with him so far.
Jordan: It's very easy to focus on the holes of his game, with defense being chief among them.  If you've tuned into all of the games this year or basically since Jabari's been with the team (and healthy), it's certainly hard to ignore the mistakes like a lack of awareness or the stop and start activity he shows regularly on that side of the ball.
However, what a lot of people have either not done or choose not to look at are the ways he's gradually improved his game. His scoring is on par with his post All-Star break numbers last year and we're seeing a more willing and effective outside shooter this year. I still think his playmaking/creativity with the ball will only follow with that and seeing how he's handled late game situations has been incredibly encouraging to see.
I know the topic of how he fits in the team's grand scheme or how he plays next to Giannis will never go away as long as he remains with the team, but I really find it hard to come to any conclusions regarding Jabari with only a year and a half of NBA experience under his belt as well as his recent play coming under a team without a key piece in Khris Middleton for this season.
Lukas: I'm not worried about Jabari. He's still young, and although that's not an excuse, analytics aren't everything. Jabari is clearly a part of our core moving forward and there is no sense worrying about anything this season unless something happens between him and Giannis, which seems highly unlikely.
Jabari is an extremely likable athlete and definitely has the offensive tools to score. As for how he does with certain players or on the defensive end, he has time.
Tim: It's no secret that Jabari isn't a great defender. You don't need advanced metrics to tell you that. Whilst criticism is warranted at times, I feel as though it has steadily blown out of proportion to the point where his proficiency on the offensive end is often ignored in the shadows of Giannis' outlandish feats.
Currently, Jabari is on track to join only 36 other players in NBA history, aged 21 or younger, to average more than 19 points per game for a season. As Adam mentioned, the Bucks would be foolish to give up on developing this kind of young talent because defensive analytics are in the negative, 124 NBA games into a 21-year-old's career.
Mandatory Credit: Brad Mills-USA TODAY Sports
A major talking point over the Summer was how the Bucks were going to manage their clogged center rotation. After 23 games, John Henson has the most starts, Greg Monroe has been the most productive and Miles Plumlee has been relegated to garbage minutes. What do you make of the situation going forward?
Tom: I think that the way the center rotation has shaken out is just about right. It was a mistake to sign Plumlee, at least at the price point that they did. I assume that the front office was pretty sure Moose would be gone by now, otherwise the amount of money invested in the Plumlee makes no sense at all. But thank goodness Monroe is still around, right? He has been great off the bench on both ends of the floor. He may not be a rim protector, but his increased activity level and busy hands have helped to make that somewhat irrelevant, especially when Giannis is on the floor to fill that role. Henson has also been good, at least since he was put into the starting lineup, but generally not as good as Moose.
Ti: I'm not sure there's a better way to handle it than what Jason Kidd has done so far. Until one of the three gets moved, there's no way to give them all minutes every night and have them all be effective. That means one man has to be out, and since Henson and Monroe have been better they've deservedly gotten all of the minutes.
Adam: The one thing I do know for sure is that I wish we didn't have to keep talking about centers!
I'm happy with what I've seen from Henson as a starter, Moose has been exceptional this season, but ultimately the biggest point I'd make on the center rotation is that it's not sustainable to neither give Plumlee a chance to play his way back into some kind of form, or play his way into some kind of surprising trade value. Something has to give on that, and I'm not entirely sure what the answer is right now. It's easy to say that playing the three centers isn't sustainable, but they did it at the start of the season and it didn't really hurt the results in a way that's different to what we've seen lately.
For example, if Thon's going to get second quarter minutes in Toronto, it makes no sense that Plumlee continues to rack up DNPs.
Jordan: I certainly think we all expected it wouldn't be easy to sort out, but I honestly never thought it would unfold like it has lately. As everyone has mentioned, we're seeing a more consistent Henson for the first time ever really and it's hard not to be surprised with how Monroe has played, primarily on the defensive end.
All of that obviously puts Plumlee exactly where he sits right now. Like his dream shake attempt on Anthony Davis, Plumlee's season has only confirmed the fears almost everyone had of what a nightmare his contract could end up being over time. Well, I guess we didn't need to hit, say the 2019-2020 season for that to happen. You'd have to think something has to give, whether it's an injury (knock on wood) or someone's production falling off, but the two center rotation Kidd has enacted has stuck long enough for me to think nothing will change anytime soon.
Lukas: From an on-court stand-point, I think that this rotation looks good. Henson has been solid in the starting role and is providing relatively efficient numbers on both sides of the floor. Once a per-36 minute monster, Henson seems to be developing into a serviceable starter this year. As for Monroe, he is a beast in the second unit and is playing with definite increased fervor on the defensive end of the floor. Plumlee has definitely been disappointing, but what else can you say?
Tim: It's a slightly-positive functioning, $42 million mess.
I must say, at least consistency in the rotation has been a pleasant change over the past 10 games. Henson has been very solid in the starting role, averaging 1.7 blocks, shooting over 70% from the stripe and boasting a 8.3 net rating. Likewise, Monroe has been excellent off the bench matching up against second string centers, racking up a ridiculous amount of steals and somehow posting a better net rating than Giannis at 13.4 (WHAT). Then there's Plumlee, who although has been poor in the minutes he has played, just hasn't had enough court time recently to make any sort of redemptive and positive contribution.
One needs to go, but the better Henson and Monroe play, the more you want to move Plumlee, except you can't, because he earns $12.5 million and doesn't play…bah!
Mandatory Credit: Jeff Hanisch-USA TODAY Sports
Looking at the rest of the Bucks roster, who has impressed/disappointed you the most through the first eight weeks of the season?
Tom: I'll take Shocking Stats for $200, Alex. The answer is points, rebounds, assists, steals, blocks. What are categories that Giannis leads the team in?
It is impossible not to be impressed by Giannis and his start to the season. Though his performance was certainly foreshadowed by his work after the All-Star last season, I don't think we really anticipated just how good he would be this year.
Ti: Giannis is the easy answer for most impressive, but I'll go with Greg Monroe. His defense has been fantastic, and he leads all rotation players in both offensive and defensive rating. Moose has brought it this season, and it's impressed me thoroughly.
As far as most disappointing, it's got to be Plumlee. He hasn't been able to play much after signing a $50 million contract. Is there much more than needs to be said?
Adam: I'm with Ti on this one. Considering how the team played with both of these guys on the court last season, I'm shocked (in both positive and negative ways) about what we've seen from Moose and Plumlee so far.
I had virtually written Monroe off from his play last year, and I wasn't feeling exactly inspired by what he had said about coming off the bench on media day, but his attitude has been exemplary and he's playing some of the best basketball of his career on both ends. The Plumlee case on the other hand is just a little sad.
Jordan: For me, there's only one player I can go with for who has impressed me the most this year. That man is named Michael Paul Beasley Jr.
If you're a dedicated reader of our site and/or listener of our podcast, Win in 6, I think it's fair to say my reaction to the Beasley trade was not a pleasant one. But now, here I am, eating a daily helping of crow, and boy, I've eaten so much of it that feathers are on or by my pillow when I wake up in the morning.
My 180 on Beasley aside, it's fairly remarkable how effective he's been, more so on a team level.  I mean, the fact that he has a positive net rating alone and is playing engaged defense somewhat regularly is honestly cause for celebration this far into the year. We know he's capable of filling it up in his own cool, laid back way, but I never expected everything else that came along with it. And the fact that he knows his role and appears to be a great guy to have in the locker room is a big added bonus.
I think there's one thing left to do and that's to max him out this summer.
Lukas: On the whole, I think I have been much more impressed with the team than disappointed, even with being under .500. Giannis is looking like an All-Star and there are a lot of players who look like key pieces for the next few years. I was really high on Brogdon out of college, and he looks to be proving me right as of now, so I feel a little bit of pride every time one of his threes goes through. To sum up, though, this is what I have:
Impressed: Giannis, Brogdon, Beasley, Monroe
Disappointed: Plumlee, Terry, Plumlee
Tim: Excluding Giannis, Brogdon has easily been the most impressive to me so far this season. After his struggles during Summer League to find his range from behind the arc, he's now shooting a ridiculous 45.1 percent on triples to go with an outstanding 92.6 percent from the line. Add to this 2.33 assists for every turnover, a steal per game and solid perimeter defense and it's not hard to think he looks like a five-year NBA veteran out on the floor. As I wrote the other day, I certainly don't think it's too much of a stretch to say that he's been the best player we've seen to this point from the 2016 NBA Draft, which is incredible considering that he was selected in the second round with the 36th pick. Honorable mentions also have to go out to Beasley and Monroe, who have both been much better than I expected heading into the season.
I don't think it's much of a surprise that Plumlee is my most disappointing player thus far. Despite the fact that he hasn't played too many minutes this season, he's looked nothing like the player he was post-All-Star break last season. Unfortunately, the $52 million contract continues to look worse every DNP-CD he logs.
Mandatory Credit: Steve Mitchell-USA TODAY Sports
The Bucks currently sit 10th in the Eastern Conference with an 11-12 record after sliding from as high as 5th before their most recent three-game losing streak. Has this start made you re-evaluate any of your pre-season expectations for the team?
Tom: I expected the Bucks to end the year right around .500, and not much has changed. Of course, the crazy swings in performance weren't really what I had in mind, but probably should have been anticipated. It is so easy to get swept up or dragged down based on the most recent efforts, but it is important to remember that, like global temperatures, the overall trend is upward. A bad few games won't change the former, just like snow and sub-freezing weather don't change the latter.
Ti: I figured they'd struggle to win more than 35 games, so this is pretty much right in line with my expectation. Still, the early surge makes me think there's a chance they finish better than that. It's feeling like this will be a season of runs for the Bucks, and the team's success will depend on if they can sustain the good ones while limiting the bad stretches.
Adam: I was higher on them than most (40-42 was my prediction if I remember correctly), but the only thing I really cared about before the year was them finding a way to be competitive on a nightly basis. Somehow, without Khris Middleton, they've done that. They'll get blown out by the Raptors 100 times out of 100, but it seems like against everyone else they'll find a way to hang around. That's a big deal in my eyes, and if they continue to do that then they'll be there or thereabouts when it matters.
As I said in the summer, even if they do miss the Playoffs again, I just want to see them have something to play for down the stretch. I expected internal growth to bring them to that point, and so far it seems as if we can continue to expect that as the season progresses.
Jordan: Per usual to my normal, fence sitting stance on most Bucks things and in life, yes and no.
The fact that we're seeing a competitive team that's capable of going toe-to-toe with the best team in the league in the Golden State Warriors and blowing out the defending champion Cleveland Cavaliers has surprised me greatly. And certainly, Giannis' play has been at the center of why the Bucks are where they're at right now. On the other hand, seeing a couple of ugly losses and late collapses recently falls in line with how I thought a lot of the season would be frankly, especially without Khris Middleton.
Being somewhere in the middle is not glamorous by any means, but it's gone better than anyone would have expected so far and living and dying with every game shouldn't get in the way of that.
Lukas: So far, the Bucks have been right around my expectations. I expected to see a lot of improvement out of the cornerstones, Giannis and Jabari, and a vastly improved bench, and I think we have seen that to this point. Missing Khris shows up from time to time, but the fact that we are normally competitive without him seems like a good thing for when he finally returns.
I believe my preseason prediction was somewhere around 34 wins, and I think that still seems about right.
Tim: Giannis is playing better than I ever expected, but I'm still going to stick with my pre-season prediction of 36-46. Despite a competitive, middle of the road start to the season which included quality wins over the Cavs, Grizzlies and Blazers, it's come during a very friendly, home-heavy schedule and hasn't been without extremely disappointing losses to the Hawks, Heat, Mavs and Pelicans. The Bucks will spend more of the next month on the road against tougher opposition and I think their performances in these games will say a lot about exactly where this team is at, for better or worse.
As always, lets us hear your thoughts and feedback. Drop a comment below or shoot us a tweet at @BehindTheBucks.
More from Behind the Buck Pass
This article originally appeared on
---
---