Phoenix Suns
Phoenix Suns
Suns try for second straight as they host Nets
Published
Nov. 6, 2018 12:02 a.m. ET
PHOENIX -- The Suns' chances of winning increase exponentially when Devin Booker plays.
Booker made two contested jump shots in the final half-minute of a 102-100 victory over Memphis on Sunday, including the game-winner with 1.7 seconds remaining as the Suns broke a seven-game losing streak. Three of those losses came when Booker was out with a strained left hamstring.
The Suns (2-7) will attempt to win two in a row for the first time this season against Brooklyn (4-6) on Tuesday.
D'Angelo Russell and Rondae Hollis-Jefferson scored 21 points apiece and leading scorer Caris LeVert had 20 for the Nets in a 122-97 blowout of Philadelphia on Sunday, when they converted 28 turnovers into 39 points. They had lost four of five.
"It just feels good to win," Booker said, a sentiment both teams could share. "We've been stressing that if we get a win, it will change the energy around here. Hopefully this win will give us some new life going into the Brooklyn game and we can build on it."
Booker was tightly guarded on a tie-breaking jumper from the right side of the key with 29.8 seconds remaining, and again was well covered on his game-winner from the left elbow after Memphis' Mike Conley tied the game.
"Ever since I was a kid I wanted to be in that moment," Booker said. "I've been on the other side, too, missing shots a lot in my life where it is hard to deal with the consequences. You just have to have confidence in yourself and remain humble."
The Suns ended the game on a 21-7 run and won for the first time since Booker scored 35 points, 19 in the fourth quarter, in a 121-100 victory over Dallas on opening night.
Booker, who had 14 points in the fourth quarter Sunday, may have found a new running mate in rookie small forward Mikal Bridges, the 10th player taken in the June draft.
Bridges scored 14 points and made 4-of-5 three-point attempts, all on drive-and-dish assists from Booker, and had two steals.
Veteran forward Ryan Anderson returned to the starting lineup Sunday when TJ Warren (back) was held out, but Bridges played the entire fourth quarter as Anderson and starter Trevor Ariza alternated. Warren is considered questionable for Brooklyn.
The Suns reached a buyout with backup center Tyson Chandler and used Richaun Holmes in that spot Sunday.
The Nets have used the same starting five -- LeVert, Russell, Joe Harris, Jarrett Allen and two-time former Sun Jared Dudley -- in each of their first 10 games.
Russell seemed re-energized against the 76ers on Sunday, the final game of a three-game homestand. The Nets, 1-4 on the road, open a four-game swing in Phoenix and will finish with stops in Denver, Golden State and Minnesota.
Russell had nine points and three assists in the third quarter, when the Nets had 41 points as part of a 71-50 second half burst that enabled coach Kenny Atkinson to rest some of his starters.
Hollis-Jefferson had a season-high 21 points, six rebounds and five assists in a season-high 30 minutes. He missed the first three games of the season after suffering an adductor strain in a charity event in China in early August.
"I think having Rondae back in the lineup helps a little bit," Atkinson said of his defense. "Getting more active players. I think generally, we went from a low-activity game against the Rockets (a 119-111 loss on Friday) to we were just much more active."
Russell made 10-of-21 field goal attempts in 25 minutes Sunday and played the final 7 1/2 minutes, a change from recent usage. He sat out the fourth quarter of the Houston loss and did not play in the final five minutes of regulation or overtime in a 120-119 victory over Detroit on Wednesday. He was 3-of-16 from the field against the Pistons.
"To be honest, just making shots, getting to my spots and making them," Russell said when asked what changed over the last several games. "I was just focusing on defense. I think that was my main priority. I knew the shots would fall sooner or later but focusing on defense, my coverage, my position, whatever it may be."
---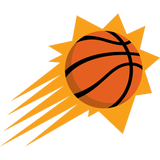 Get more from Phoenix Suns
Follow your favorites to get information about games, news and more
---