Detroit Pistons
Detroit Pistons
Reinvigorated Jazz welcome Pistons to Utah (Jan 13, 2017)
Published
Jan. 13, 2017 3:34 a.m. ET

SALT LAKE CITY -- Now armed with a fully healthy roster, the Utah Jazz are quickly showing they can be a dangerous opponent for even the most elite NBA teams.
The Jazz shared that message loud and clear while taking down the defending NBA champions on Tuesday night. Cleveland offered token resistance over the final three quarters in a 100-92 loss to Utah.
The next club to challenge the Jazz will be the Detroit Pistons, who visit Utah on Friday night.
The Cavaliers scored a season-low 12 points in the second quarter Tuesday, and after LeBron James sparked a brief rally to open the third quarter, faded away behind a 16-0 Jazz run.
Six different players scored in double figures for Utah (24-16) -- including all five starters. Gordon Hayward led the way with one of his best performances of the season. Hayward finished with 28 points on 10-of-12 shooting and made several baskets that keyed the decisive third-quarter run.
"When he is playing like that, he is a real leader, and that's what we need," Utah center Rudy Gobert said.
Hayward and Gobert both continue to make strong cases for All-Star consideration. Hayward is averaging a career-best 22.2 points per game this season on 45.9 percent shooting. Gobert is just as imposing on the defensive end. He has accumulated 10-plus rebounds in 25 straight games and has notched 27 double-doubles this season. Gobert is also averaging career highs in points (12.3 per game), rebounds (12.3) and blocks (2.5).
For his part, Hayward is playing it cool about potentially getting an All-Star nod in February. Continued success, he says, will settle the question sooner or later.
"I feel like we got to move up a little higher in the standings," Hayward said. "I'm worrying about wins more than anything. That stuff usually comes when your team is winning."
Detroit now draws the task of figuring out new ways to deal with Hayward, Gobert and the rest of the Jazz. The Pistons (18-23) have struggled to slow opponents since enduring a five-game losing skid in mid-December. In a 3-3 start to January, they are allowing 114 points per game, having held just one opponent under 100.
Golden State became the latest team to torch Detroit. The Pistons allowed the Warriors to shoot 51.7 percent (15 of 29) from 3-point range in Golden State's 127-107 win Thursday at Oakland, Calif. Five different Warriors hit a 3-pointer during a decisive 33-12 third-quarter run, led by Klay Thompson and Andre Iguodala with a pair each.
"We made too many defensive game plan mistakes where we weren't doing what we were supposed to be doing," Pistons coach Stan Van Gundy said. "We didn't get back in transition, we didn't get matched up, and we turned the ball over. When you don't do those three things against a team like that, you have no chance."
Detroit sustained a blow when shooting guard Kentavious Caldwell-Pope was knocked out of Thursday's game with a shoulder injury. Caldwell-Pope ran into a pick early in the first quarter and ran off the floor clutching his left shoulder. X-rays were negative, but he did not return.
Caldwell-Pope could be questionable for the Friday game, but Detroit is expected to welcome back forward Reggie Bullock. He was away from the team Thursday for personal reasons.
---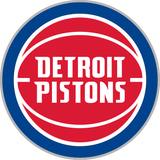 Get more from Detroit Pistons
Follow your favorites to get information about games, news and more
---