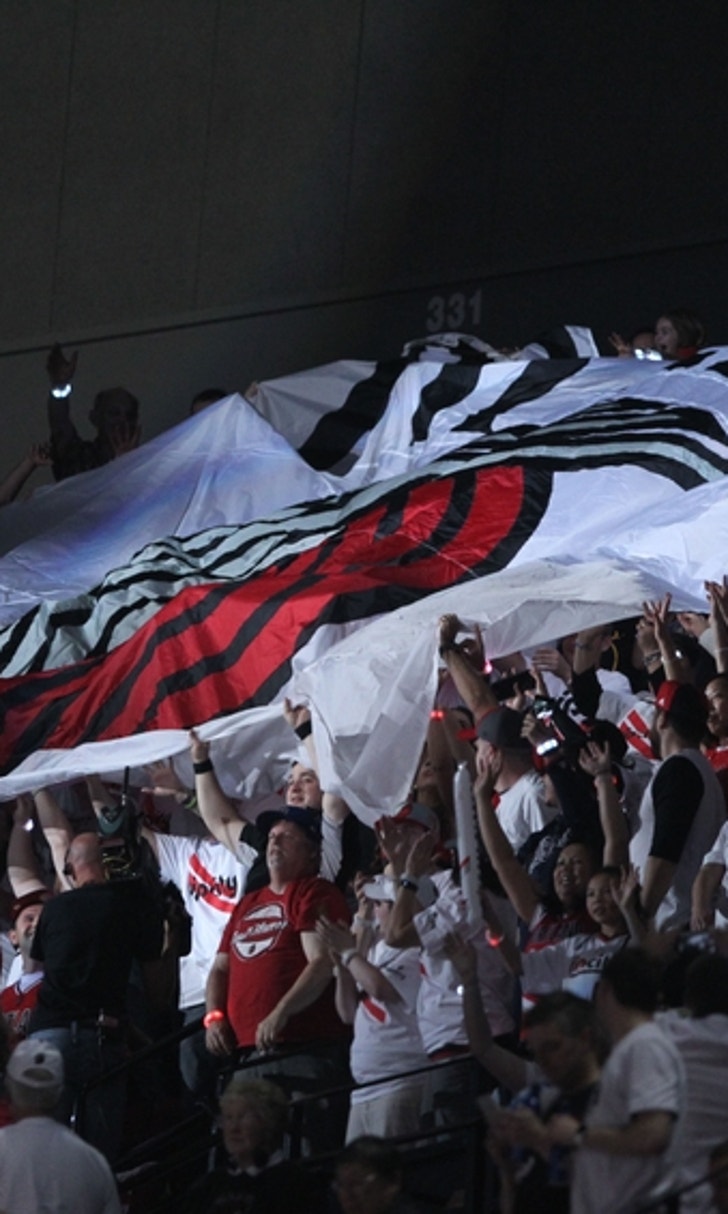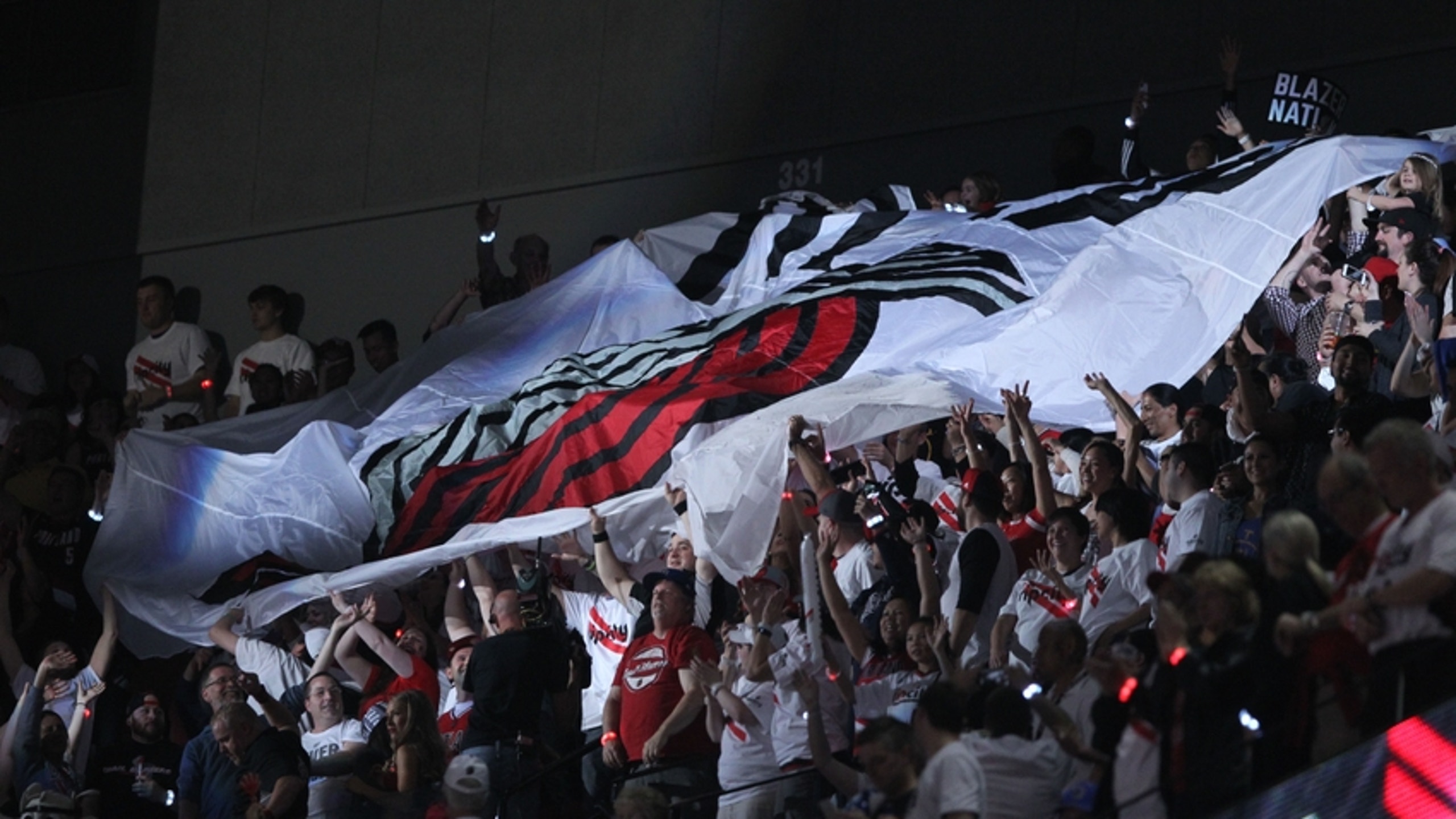 Portland Trail Blazers: Trade targets
BY Fansided and Ty Delbridge/FanSided via Rip City Project • December 27, 2016
Oct 25, 2016; Portland, OR, USA; Fans take part in providing color from their lighted bracelets during the opening ceremonies before a game between the Portland Trail Blazers and the Utah Jazz at Moda Center at the Rose Quarter. Mandatory Credit: Jaime Valdez-USA TODAY Sports
The Portland Trail Blazers are entering the new year on a disastrous slide. Who are the trade options that can improve this team before it's too late?
After a 6th straight loss to the Toronto Raptors at the Moda center Friday night, the Portland Trail Blazers need help after starting the season 13-20. Even though it sounds like a broken record, the Blazers defense has been dreadful. So far through 32 games they rank 30th (last) in the NBA in defense rating (110.7), they rank 18th in allowing points in the pant(16.3), also the Blazers foul a lot, ranking 28th in the league  for personal fouls (22.9).  Something has been wrong with the Blazers all year, and with the New Year coming up, it might be time for some new faces in Rip City.
Feb 23, 2016; Philadelphia, PA, USA; Orlando Magic center Nikola Vucevic (9). Mandatory Credit: Bill Streicher-USA TODAY Sports
Here are 5 players the Blazers should trade for:
#1: Nikola Vucevic
Nikola Vucevic is a 7ft center and would fill some holes. He would instantly become the team's best rebounder (10.9 a game) and would be another decent scoring option (12.9 a game). The Magic have a lot of big man and there is no way they plan to keep them all. The Magic need some young talent on the wing. The Blazers could offer Allen Crabbe and the first round pick from Cleveland for Nikola Vucevic. The Blazers like to run the pick and roll with Dame and CJ. Vucevic has a good touch on his shoot and his presence on the court would open up the floor. If the shots aren't falling for the Blazers, you can throw the ball down low to him for a bucket.  There is a lack of skilled post players on this team and Vucevic would be a nice add.
Jan 18, 2016; Washington, DC, USA; Washington Wizards center Marcin Gortat (13) . Mandatory Credit: Geoff Burke-USA TODAY Sports
#2: Marcin Gortat
Gortat is averaging 11.5 points a game and 11.9 rebounds a game. Gortat is a big body down low and would  bring some much needed defensive help. He has some go to post moves, and doesn't need the ball that much. Gortat is 6'11 and would bring experience to this team (9 seasons). His current team the Wizards are not living up to expectations and may be looking to rebuild with some young talent. Gortat could be on the market for a pretty good value deal. Maybe a Meyers Leonard or a Noah Vonleh packaged up with Jake Layman for Gortat.
Feb 23, 2016; Portland, OR, USA; Brooklyn Nets center Brook Lopez (11). Mandatory Credit: Godofredo Vasquez-USA TODAY Sports
#3: Brook Lopez
Brook Lopez  is in his 8th season and could find new life with this young Portland team.  The Nets attempted to sign Allen Crabbe to a 75 million deal this summer. The Nets could look to trade for him now and send Brook Lopez back in return. Brook is scoring 20.3 points a game and grabbing 5.4 rebounds. He is being asked to score and is the go to player on that team. Lopez would be playing with an all-star point guard in Damian Lillard and a capable 2 guard with CJ McCollum. He wouldn't have to focus on scoring as much and could look to grab more rebounds, be a good screen setter in the pick and roll, and be a strong defense player. He is a good passer as well and would a perfect fit in Stotts' offense with a big being a facilitator at the elbow.
Dec 5, 2015; Minneapolis, MN, USA; Minnesota Timberwolves center Gorgui Dieng (5) . Mandatory Credit: Brace Hemmelgarn-USA TODAY Sports
#4: Gorgui Dieng
Gorgui Dieng is scoring 10.8 points a game, grabbing 8 boards a game, and he is blocking 1.3 shots. Through 28 games this season he is shooting 28% from the 3pt line, but he is showing he has the ability to step out and hit shots. He would be a nice fit for Stott's system. He's a 6″11 center who blocks shots, runs the floor, passes well, and can score all around the floor. Imagine Dieng and Lillard or CJ  running the pick and roll, as well as Dieng making up for the weaknesses that Dame and CJ have on the defensive side.  This season, Dieng has been playing a larger role in Minnesota, but if they can find the right deal I'm sure the Blazers could snag him.
Mar 3, 2016; Miami, FL, USA; Miami Heat center Hassan Whiteside (21). Mandatory Credit: Steve Mitchell-USA TODAY Sports
#5: Hassan Whiteside
Hassan Whiteside told Erik Gunderson of the Miami Herald "Portland was my seconded option… I would have come here (Portland)". This summer when Whiteside chose to resign with the Heat, I doubt that he would have been okay with being a part of a rebuild. The heat are 10-20. Hassan Whiteside is averaging 18.1 points and grabbing 14.8 rebounds. He scores off pick and rolls,and lob passes. He is a defensive anchor . The Blazers are lacking in all the aspects that Whiteside would bring. I know he signed a large deal with the Heat, but It appears the Heat are blowing this team up and Whiteside probably won't want to be a part of it. The Blazers could look to trade Plumlee with his expiring deal, Noah Vonleh, Crabbe/Harkless and a first round pick for Hassan Whiteside and Wayne Ellington.
In conclusion
May 9, 2016; Portland, OR, USA; Portland Trail Blazers forward Maurice Harkless (4) congratulates guard Damian Lillard (0). Mandatory Credit: Jaime Valdez-USA TODAY Sports
The season is still young and management will probably wait until the trade deadline to make any deals. They put a lot of money into this team and I'm sure they want to be patient with it. Currently ,the season right now is going in the wrong direction, but this squad has shown they have the ability to turn a season around, hopefully it's just not too late this time.
(All stats  from http://www.nba.com & http://www.basketball-reference.com/)
More from Rip City Project
This article originally appeared on
---
---