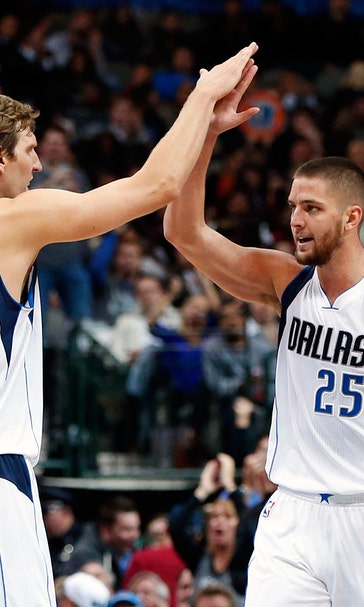 Parsons defends Dirk after hearing Abdul-Jabbar's unfair criticism
BY foxsports • February 4, 2016
Earlier this week, NBA legend Kareem Abdul-Jabbar had some harsh words for Dallas Mavericks icon Dirk Nowitzki. The six-time MVP referred to the one-time MVP as a "one-trick pony," which is patently ridiculous. 
Nowitzki is one of the greatest players ever, and widely regarded as the most devastating frontcourt shooter in league history. He won a championship in 2011 and an MVP in 2007. He'll go down as the best player in Mavericks history and could be the most important and accomplished international athlete to ever compete in the NBA. 
And his teammate, Chandler Parsons, isn't having any of it:
It's a perfect response to a blatantly incorrect assessment. Abdul-Jabbar is notoriously thorny, but ripping Nowitzki like he did was very strange and an awful look no matter how you spin it. Maybe he's jealous of how many players admire and have tried to emulate Nowitzki's patented one-legged fadeaway, while Abdul-Jabbar's sky hook turned into a relic. (A revered relic, but still, a relic.)
It doesn't matter. He's wrong. Dirk is amazing, tough and one of the best basketball players anyone's ever seen. Just ask Parsons.
---
---