Cleveland Cavaliers
Cleveland Cavaliers
No longer NBA champions, Cavaliers are now chasing Warriors
Published
Jun. 13, 2017 4:53 p.m. ET

CLEVELAND (AP) Once he congratulated Kevin Durant and Stephen Curry, LeBron James left the floor following Game 5 and found Kyrie Irving waiting for him.
Cleveland's two stars embraced, and as they headed toward the locker room and Queen's ''We Are the Champions'' played inside thundering Oakland's Oracle Arena, James delivered a message to his teammate and the world.
''We'll be back,'' he said. ''We'll be back.''
They were fabulous and flawed defending NBA champs, their deficiencies in depth and defense exposed by a superior team in the Finals.
One year after their historic comeback, James and the Cavaliers couldn't catch the Golden State Warriors.
Unable to defend their title despite the league's highest payroll, rampaging through the Eastern Conference playoffs and James' brilliance against the free-wheeling Warriors for five games, the Cavs are no longer the team to beat. They're still championship caliber, but a step or two behind a glittering Golden State team that went 81-18 in Durant's first season and built for the long haul.
At 32, and playing as well as ever in 14 seasons, James has a possible dynasty blocking his path.
''I need to sit down and figure this thing out,'' said James, who averaged 33.6 points, 12 rebounds and 10 assists in his seventh consecutive Finals. ''They're going to be around for a while. Pretty much all their guys are in their 20s. Pretty much all their big-name guys are in their 20s, and they don't show any signs of slowing down. ... From my eyes, they're built to last a few years.''
The Cavaliers aren't constructed for the same longevity.
James is under contract for one more season, and there's no guarantee the three-time champion and five-time Finals loser will sign a long-term deal in 2018 with Cleveland despite his deep devotion to Northeast Ohio. Last week, James said he didn't know how many years he has left. It's possible that his outside business interests, which include a desire to one day own an NBA team, could push him into retirement.
That's down the road. A more pressing concern for the team is the status of general manager David Griffin, whose contract expires on June 30.
Aided by having James to build around and owner Dan Gilbert's willingness to spend, Griffin has assembled and overseen a roster that has made three straight Finals and is positioned to stay atop the East.
Griffin has been with the club since 2010, taking over as GM when Chris Grant was fired in 2014. He's the one who persuaded Irving to sign a long-term deal with Cleveland before it was known that James was coming back and Griffin pulled off the trade for Kevin Love. He acquired veterans J.R. Smith and Iman Shumpert in 2015, fired coach David Blatt and promoted Tyronn Lue midway through the '16 season and added Kyle Korver, Deron Williams and Andrew Bogut this year.
Gilbert and Griffin are expected to meet again this week. Griffin has been linked to past openings in Orlando, Atlanta and Milwaukee, but his preference is to stay with Cleveland as he and his wife, Meredith, have immersed themselves in the community.
Once the front office situation is settled, the next priorities are addressing Cleveland's weaknesses: defense, an aging bench and backup point guard.
The Cavaliers couldn't stop the Warriors during critical stretches in the Finals, and there were warning signs long before Durant got free for dunks, Curry drained wide-open 3-pointers or Golden State averaged 121.6 points.
Cleveland's defense was suspect all season, ranking among the worst in statistical efficiency. The Cavs often outscored their mistakes, but the lack of a rim protector (Bogut was injured in his first minute on the floor) and a defensive commitment proved costly. Both areas must be fixed.
Korver, Channing Frye, Richard Jefferson and Deron Williams contributed during the regular season and earlier rounds against Indiana, Toronto and Boston, but with the exception of Jefferson, the seasoned vets were overmatched against the younger, quicker Warriors. Cleveland needs an infusion of young blood to fix a second unit that struggled from the opener.
Then there's Love, who went just 2 of 8 in Game 5 and had 1-of-9 and 4-of-13 shooting performances earlier in the Finals. The All-Star forward has been the subject of trade rumblings in the past and his name is certain to surface this summer as contending teams look for that missing piece to close the gap on Golden State.
For James, second place is no consolation, not when success is measured by championship rings. There was no shame in falling for the second time in three years to the Warriors, a 73-win team that needed Durant to dethrone James.
His new challenge is to get back on top.
''Teams and franchises are going to be trying to figure out ways that they can put personnel together, the right group of guys together to be able to hopefully compete against this team,'' he said. ''They're assembled as good as you can assemble, and I played against some really, really good teams that was assembled perfectly, and they're right up there.''
---
More AP NBA: www.apnews.com/tag/NBAbasketball
---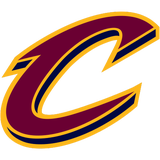 Get more from Cleveland Cavaliers
Follow your favorites to get information about games, news and more
---