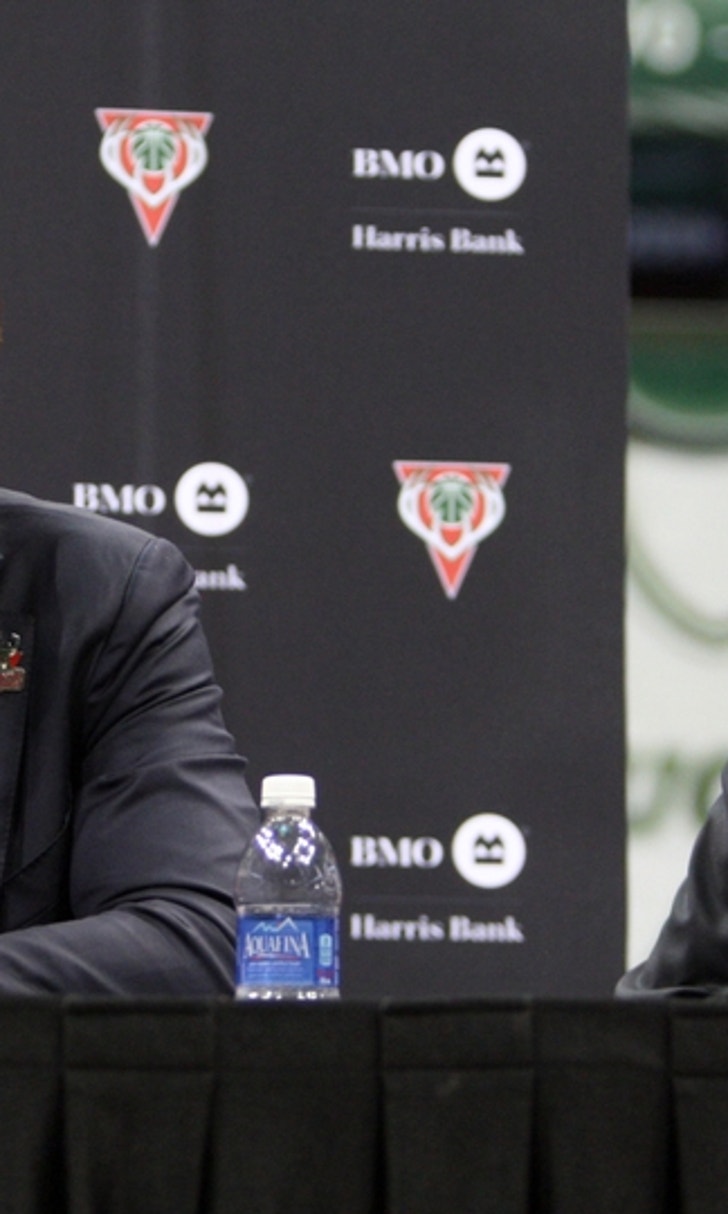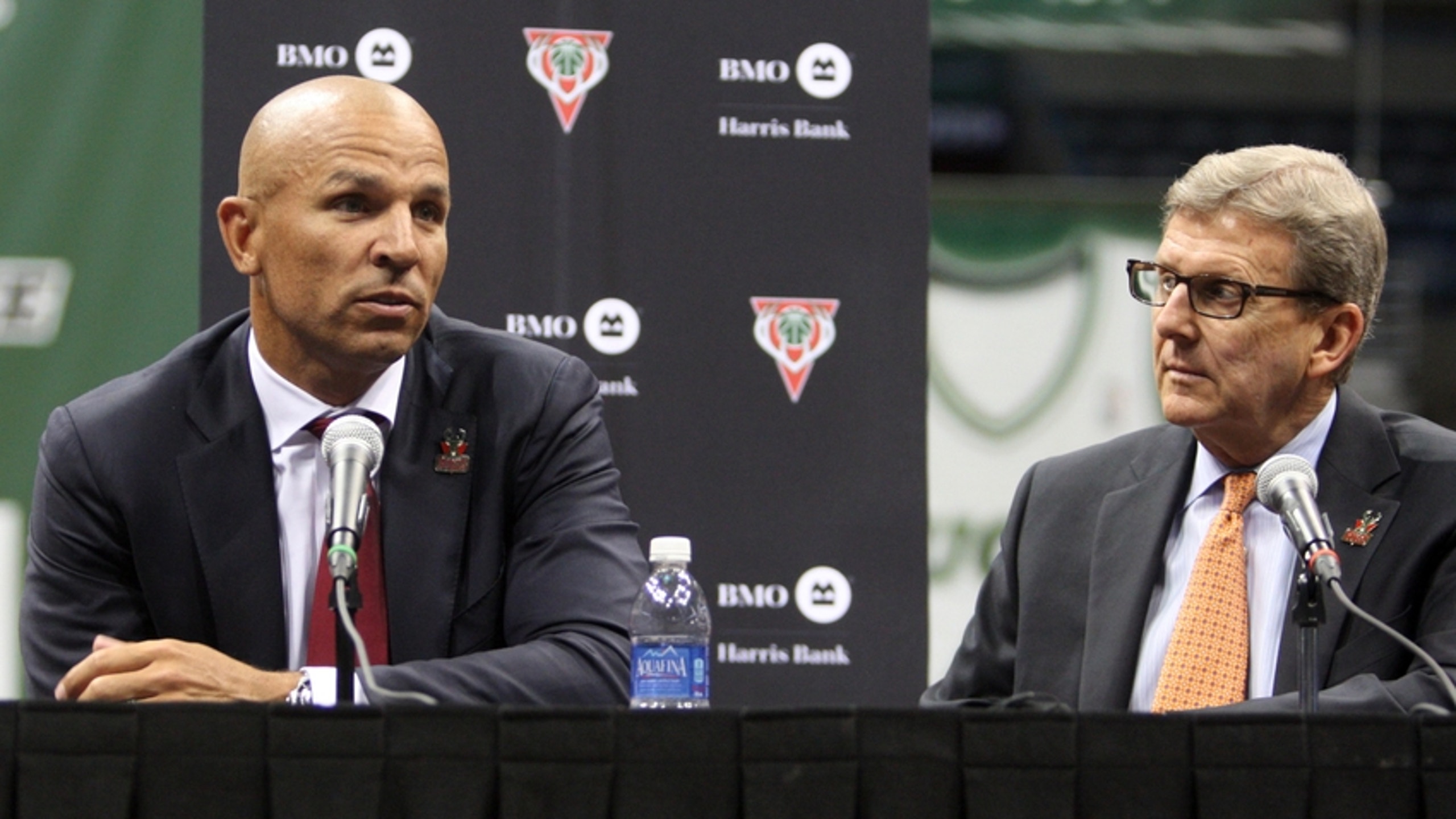 Milwaukee Bucks: Player Trade Value Rankings
BY Fansided and Ti Windisch/FanSided via Behind the Buck Pass • December 14, 2016
The Milwaukee Bucks could use a trade or two to shake things up, but what are the current Bucks worth in a potential trade?
Jul 2, 2014; Milwaukee, WI, USA; Milwaukee Bucks new head coach Jason Kidd speaks to the press as general manager John Hammond listens during a news conference at the BMO Harris Bradley Center. Mandatory Credit: Mary Langenfeld-USA TODAY Sports
Thursday, December 15th is an important day on the NBA calendar. It's when most free agents signed over the summer become eligible to be traded to other NBA teams. Every member of the Milwaukee Bucks–except Miles Plumlee–will be eligible for trades on that day.
Now that trade season is approaching and most Bucks are able to be traded, the rumors will begin to intensify. It's important to have a general sense of what is and isn't possible in terms of an NBA trade.
To that end, this piece will serve as a very general guide to how much players on the Milwaukee Bucks should be worth in a trade. Something's worth whatever someone will pay for it, so there's no way to definitively say what a certain player should be worth in a deal, but there are general parameters that can be laid down.
The players on the Bucks will be sorted into four categories: untouchable, good value, meh value and no value.
Untouchable players are ones who the Bucks will simply refuse to deal, good value players should bring in another good player or a draft pick, meh value players will only be throw-ins/salary dumps/swapped for another meh value piece, and no value players are as likely to be released as they are traded.
Sep 29, 2014; Milwaukee, WI, USA; Milwaukee Bucks players Jabari Parker (left) and Giannis Antetokounmpo pose for a picture during media day at the Cousins Center. Mandatory Credit: Benny Sieu-USA TODAY Sports
Untouchable
This section was always going to be obvious. It could be argued that Khris Middleton might be available in the right trade, but that's a moot point since he isn't playing at the moment anyway.
Even so, I don't think he'd be available. The Bucks, even with having more shooters around, really do need Middleton to reach their next level as a team. Any trade that sends him away would have to include insane value on the other end.
Giannis clearly isn't going anywhere. He's already making a case to start the All-Star game, and he's 22 years old. No trade package is getting the Greek Freak out of Milwaukee anytime soon, or likely ever.
Jabari Parker has been doubted by portions of the Bucks fanbase, but it doesn't seem like the organization would have much interest in dealing him. He's even younger than Giannis–it'd be foolish to trade him now, just to watch Jabari become a true star on another team.
Nov 5, 2016; Milwaukee, WI, USA; Milwaukee Bucks center Greg Monroe (15) looks for a shot against Sacramento Kings center Willie Cauley-Stein (00) in the fourth quarter at BMO Harris Bradley Center. Mandatory Credit: Benny Sieu-USA TODAY Sports
Good Value
Ironically, now that Greg Monroe is playing great basketball it's more likely than ever that he'll finally be traded. He's been so useful to the Bucks it would be difficult to live without him, but damn if Moose isn't skyrocketing his own trade value through his play this season.
The same goes for John Henson, who is proving he has what it takes to be a full-time starter. Henson's contract is incredibly team-friendly, and he's a great fit on most teams as a modern, low-usage center who can be disruptive on the defensive end.
Thon Maker is still a huge question mark, but he's young and looks good in his very, very limited minutes this season. Thon has the look of a futuristic stretch five, and even if teams laughed at the Bucks for taking him at 10th overall in the 2016 NBA Draft I would expect him to have value right now.
Malcolm Brogdon was the forgotten part of the Bucks' most recent draft, but he's not letting anybody forget him right now. He's old for a rookie but still young in NBA terms, and what team couldn't use a combo guard who can defend and shoot at a high level?
The Bucks likely won't trade either of their rookies, but they did a good job in this draft. Both of them should have value, even if Thon might be too raw still to make sense as a part of any trades.
Mirza Teletovic and Matthew Dellavedova are both at the lower end of this tier. They're both capable players and good shooters, but they've got salary cap-adjusted contracts. If Delly or Telly were on previous deals, making half of what they made now, they'd have tons of value to contenders.
Right now though, they don't. They have lots of years left and make around eight figures per season, meaning they're not value contracts anymore, they're just fair deals. Even though both Dellavedova and Teletovic have played well, they make too much to be great trade chips.
Apr 5, 2016; Milwaukee, WI, USA; Milwaukee Bucks guard Rashad Vaughn (20) catches a pass during the fourth quarter against the Cleveland Cavaliers at BMO Harris Bradley Center. Mandatory Credit: Jeff Hanisch-USA TODAY Sports
Meh Value
Michael Beasley is working really hard to move himself out of this tier, but his long reputation of being unreliable and having a generally negative impact on teams keeps him here. Beasley is important to the Bucks and unimportant to everyone else, so he likely won't get moved, but who knows.
More from Behind the Buck Pass
Rashad Vaughn had one of the worst rookie seasons in NBA history, but he looked better early on and plus he's still very young. He's not worth a whole lot, but he could retrieve another young player who isn't getting minutes or something like that in a deal.
Tony Snell was worth exactly one Michael Carter-Williams in a trade early in the season. MCW also would've likely found himself in this tier–he's not bad, but he just isn't valuable considering his inefficient playstyle.
All of these players have some talent, but they don't have much value around the NBA right now. That means trades involving them are unlikely, but certainly not impossible.
Feb 27, 2016; Milwaukee, WI, USA; Detroit Pistons center Aron Baynes (12) takes a shot against Milwaukee Bucks forward Steve Novak (6) in the second quarter at BMO Harris Bradley Center. Mandatory Credit: Benny Sieu-USA TODAY Sports
No Value
Jason Terry and Steve Novak are great teammates and chemistry guys, and both of them are–or at least have been–talented shooters throughout their NBA careers. But at this point in their respective careers, they just won't fetch anything in a trade.
If the Bucks needed to deal one of these guys to open up a roster spot, they might just get released instead. The best chance for Terry or Novak getting dealt would be an old team willing to give them another shot, but even then it's doubtful said team would give up real assets for them.
If the past few seasons are any indication, the only thing to expect in terms of Milwaukee Bucks trades is the unexpected. This team has continued to zig where fans expect the Bucks to zag, which makes it fun, if not exhausting, to follow the team!
---
---