LeBron James
LeBron James
LeBron doesn't understand why he doesn't get more flagrant foul calls
Published
May. 18, 2016 6:18 p.m. ET

At 6-8, 250 pounds, it must not be easy to officiate Cleveland Cavaliers superstar LeBron James. He's the got the size of a power forward but the mobility of a wing player, a mixture that has become a gift and a curse for James.
A day after the Cavaliers trounced the Toronto Raptors 115-84 in Game 1 of the Eastern Conference finals, LeBron was wondering why he was not getting the benefit of flagrant foul calls despite receiving contact above his shoulders.
"I have no idea what it is," James said after practice Tuesday, via ESPN. "I know what it is when it happens to someone else, but I don't know when it involves me. I have no idea what a common foul and flagrant foul is."
LeBron was involved in a number of plays in Game 1 that could have been called a flagrant foul. Two incidents involved Raptors big man Bismack Biyombo, who hit James with an elbow to the back of his head in the first half and connected with James' face in the second half. The latter play came after LeBron was called for an offensive foul while he drove to the rim, negating any foul on Biyombo.
DeMarre Carroll also roughed up LeBron, grabbing him around his shoulders while he drove to the rim in the second half. None of those plays was ruled a flagrant foul.
But LeBron wasn't just concerned about his own safety. He pointed out a foul committed by Biyombo against Tristan Thomson, who was airborne when contact was made. Thompson fell to the floor, but officials ruled the play a common foul.
"I thought Tristan's throwdown last night was a little excessive, but he went up there and made two free throws and that's all that matters," James said. "I've pretty much chalked it up to common fouls [being called] with me [getting hit]."
---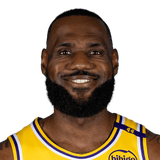 Get more from LeBron James
Follow your favorites to get information about games, news and more
---