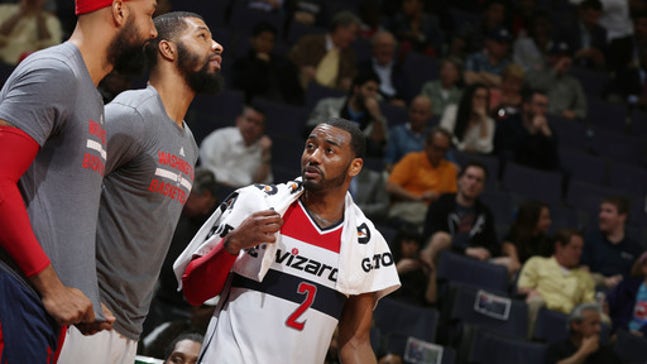 John Wall's second straight triple-double leads Wizards
Updated
Mar. 4, 2020 1:09 p.m. EST

PHILADELPHIA — The Washington Wizards took their foot off the gas, and it almost cost them.
John Wall had 16 points, 14 assists and 13 rebounds for his fourth triple-double of the season and Washington held on for a 99-94 victory over the Philadelphia 76ers on Thursday night.
Wall made eight free throws in the final 14.6 seconds to help the Wizards win their third straight following a five-game losing streak that put their playoff hopes in peril. Washington, which began Thursday 1 1/2 games behind Detroit for the final playoff spot in the Eastern Conference, followed resounding victories this week over current playoff teams Detroit and Chicago with a win over the last-place 76ers.
It was harder than it should've been.
The Wizards nearly blew a 24-point second-half lead.
"Most teams quit, fold," Wall said. "Their team, they keep fighting."
Philadelphia twice tied the game in the final 5 1/2 minutes and had a chance to go in front with 26.7 seconds left, but Jerami Grant missed a pair of free throws. Washington scored its final nine points from the line to hold on for the win.
"Until we understand in this league that no game is safe at halftime, we're going to have inconsistencies we've had this year," Wizards coach Randy Wittman said. "(The 76ers) play, they play and they keep playing. If you want to reach the next levels, you have to be more professional in finishing off a game."
Marcin Gortat had 16 points and 13 rebounds and Marcus Thornton chipped in 18 points. Markieff Morris scored 14 points before being ejected with 6 minutes remaining.
Ish Smith scored 20 points and Nerlens Noel had 14 points, 16 rebounds and seven steals for Philadelphia, which has lost 16 of 17.
"I'm proud of their fight," Philadelphia coach Brett Brown said. "We did fight back. It turned into a game we could have stolen."
Philadelphia kept alive the possibility of matching the 1972-73 76ers, who finished 9-73, for the NBA's worst-ever record. The 76ers (9-59) will have to find a win without rookie of the year candidate Jahlil Okafor, who is out for the season with a knee injury.
And they almost did it in an unlikely fashion.
The Wizards were up 73-61 entering the fourth quarter but seemed to be on cruise control, and that allowed Philadelphia to make it a game.
"These are lessons that need to be learned," Wittman said.
The 76ers, helped by Morris' ejection, scored 13 straight at one point to tie the game at 82 with 5:18 remaining. Morris was sent off for a flagrant 2 foul on Isaiah Canaan after hitting the 76ers guard in the face as he was driving to the basket. The Philadelphia native drew loud boos from his hometown crowd.
Canaan made both free throws and then, after Philadelphia kept possession, Grant connected on a pair from the foul line to make it 82-80. And Hollis Thompson's tip-in on the 76ers' next possession tied the game at 82.
Philadelphia kept it close from that point, but Washington's free throws down the stretch proved the difference.
MORE ON MORRIS
Wittman said Morris' ejection was warranted, but both the coach and player said the intent wasn't vicious.
"He got up higher than what I thought he would," Morris said. "I was trying to go for the ball. It happens."
Said Wittman: "He just couldn't get there. He was going to try to catch him up top. I don't think his intention was to take the guy out."
FREE TV
One of the biggest cheers from the announced crowd of 10,521 came during a break in the third quarter when a fan won a 50-inch television by making a shot. The first attempt from beyond the arc by a 76ers player after that was a shot by Kendall Marshall that didn't even hit the rim.
TIP-INS
Wizards: Wall had eight turnovers. His 12 first-half assists were an arena record for assists in a half. ... G Bradley Beal (pelvic sprain) and guard/forward Alan Anderson (left ankle) didn't play. Beal has missed four of the last six games due to the injury. Anderson missed the first 55 games of the season due to left ankle surgery and has sat out five more times since returning.
76ers: Okafor, who last played Feb. 28, still hasn't had surgery for a torn meniscus in his right knee. ... Forwards Robert Covington (concussion) and Richaun Holmes (Achilles') each missed their third straight game. ... Noel (stomach flu) left late in the first half but returned.
UP NEXT
Wizards: Host the Knicks on Saturday night.
76ers: Host Oklahoma City on Friday night.
---
---