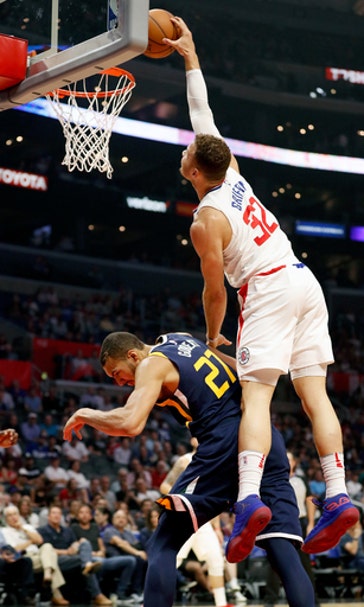 Griffin, Beverley lead Clippers past Jazz, 102-84 (Oct 24, 2017)
October 25, 2017

LOS ANGELES (AP) The last time Utah ventured to Los Angeles, the Jazz stunned the Clippers in Game 7 of their first-round playoff series.
A rematch was hardly foremost on either team's minds when they met back at Staples Center, since both have nine new players this season.
This time the Clippers came out on top, remaining unbeaten with a 102-84 victory on Tuesday.
''They beat us in the playoffs. For the guys that were here tonight, that was something that was in the back of our minds,'' said Clippers center DeAndre Jordan. ''For the guys that weren't here, we wanted to come out and see the tone against a really good defensive team that makes you guard them the whole shot clock.''
All five starters scored in double figures for the Clippers, led by Blake Griffin's 22 points. Patrick Beverley added 19 points, but turned the ball over seven times.
The Jazz (2-2) got 19 points from rookie guard Donovan Mitchell, but no one else scored more than 12.
The Clippers went on a 19-2 run to seemingly take command, pushing their lead to as many as 21 points.
But sparked by Mitchell and reserves, Utah cut the lead to 82-80 with 4:28 to play.
''We dug ourselves a hole, but I thought we did a good job of fighting back in the game,'' said Utah coach Quin Snyder.
The Clippers answered the Utah challenge, picking off three steals down the stretch and getting key baskets from throughout their lineup.
''I loved how we executed for a team that really hasn't been in a fourth-quarter tight game,'' said Clippers coach Doc Rivers. ''That was probably the most impressive thing that we did. The ball swung, moved, moved and we got shots.
''Because we don't know us yet. And for us to do that is nice.''
Austin Rivers added 16 points and Danilo Gallinari 14, while Jordan had 11 points and 18 rebounds.
TIP-INS
Jazz: With so many teams now wanting to run and play at a fast pace, Utah is something of an anomaly in its generally more deliberate style. Said Snyder: ''You have to be who you are. In the end it's all about what style you play that fits your team.''
Clippers: Rivers said G Milos Teodosic did not actually tear his plantar fascia on Sunday. ''But whatever he did, he did it well. That's why we're calling it indefinite,'' Rivers said. Austin Rivers started Tuesday in place of Teodosic. Doc Rivers said rookies Sindarius Thornwell or Jawun Evans will pick up the bulk of the extra guard time. Said Rivers: ''I think Sindarius has a chance to be an elite defender in our league.''
TEAM PLAY
For a team that lost three starters from last season - and three of its top five scorers - the Clippers are finding ways to share the scoring load early this season.
Griffin is again leading the team in scoring, but he's getting plenty of help.
''It's versatility,'' he said. ''I think that's our calling card this year. We're going to do a lot of things by committee. Defensively we can get stops and offensively we have a lot of guys who can make plays and finish.''
OFF SHOOTING
The Jazz entered Tuesday shooting 49.4 in their first three games, but the Clippers held them to 43 percent shooting Tuesday. Center Rudy Gobert was shooting 66.7 percent but was only able to get off five shots Tuesday (he made them all).
''We got some good open looks, shots that we make every day,'' he said. ''I think we should keep doing what we do. Keep taking those shots, keep making the right play, and that's what we did and came back.''
UP NEXT
Jazz: Head to Phoenix on Wednesday to play the Suns.
Clippers: Travel to Portland on Thursday to meet the Trail Blazers.
---
---