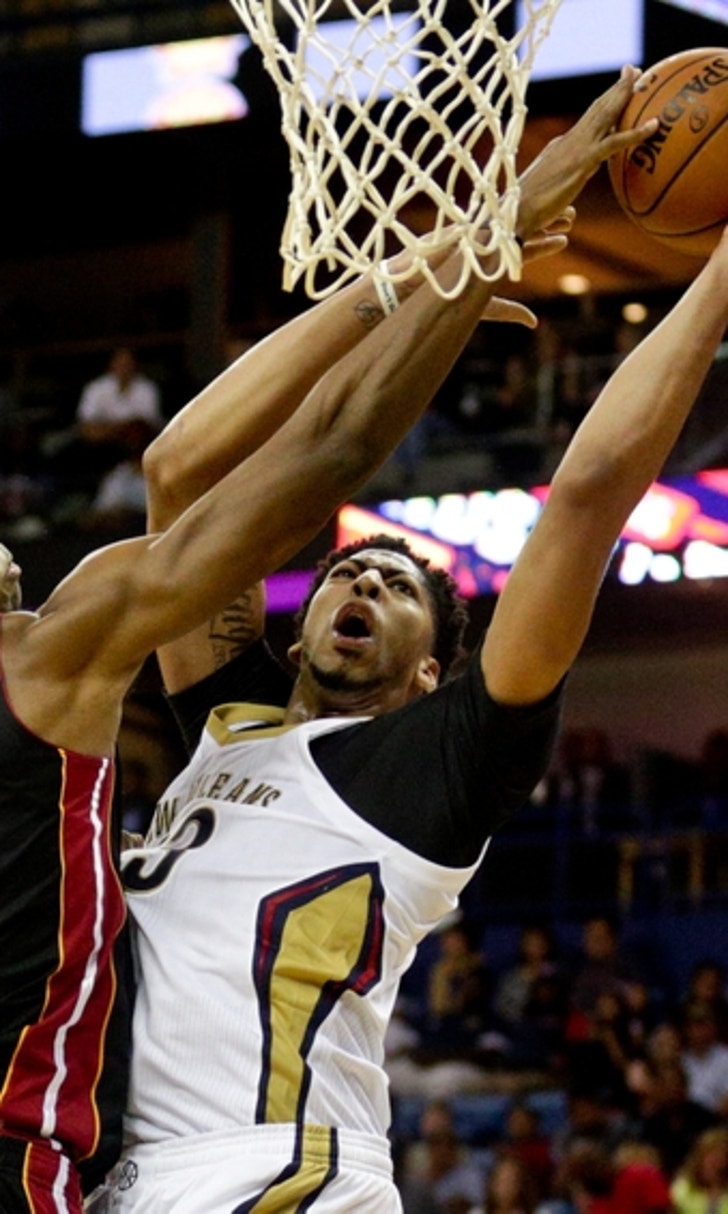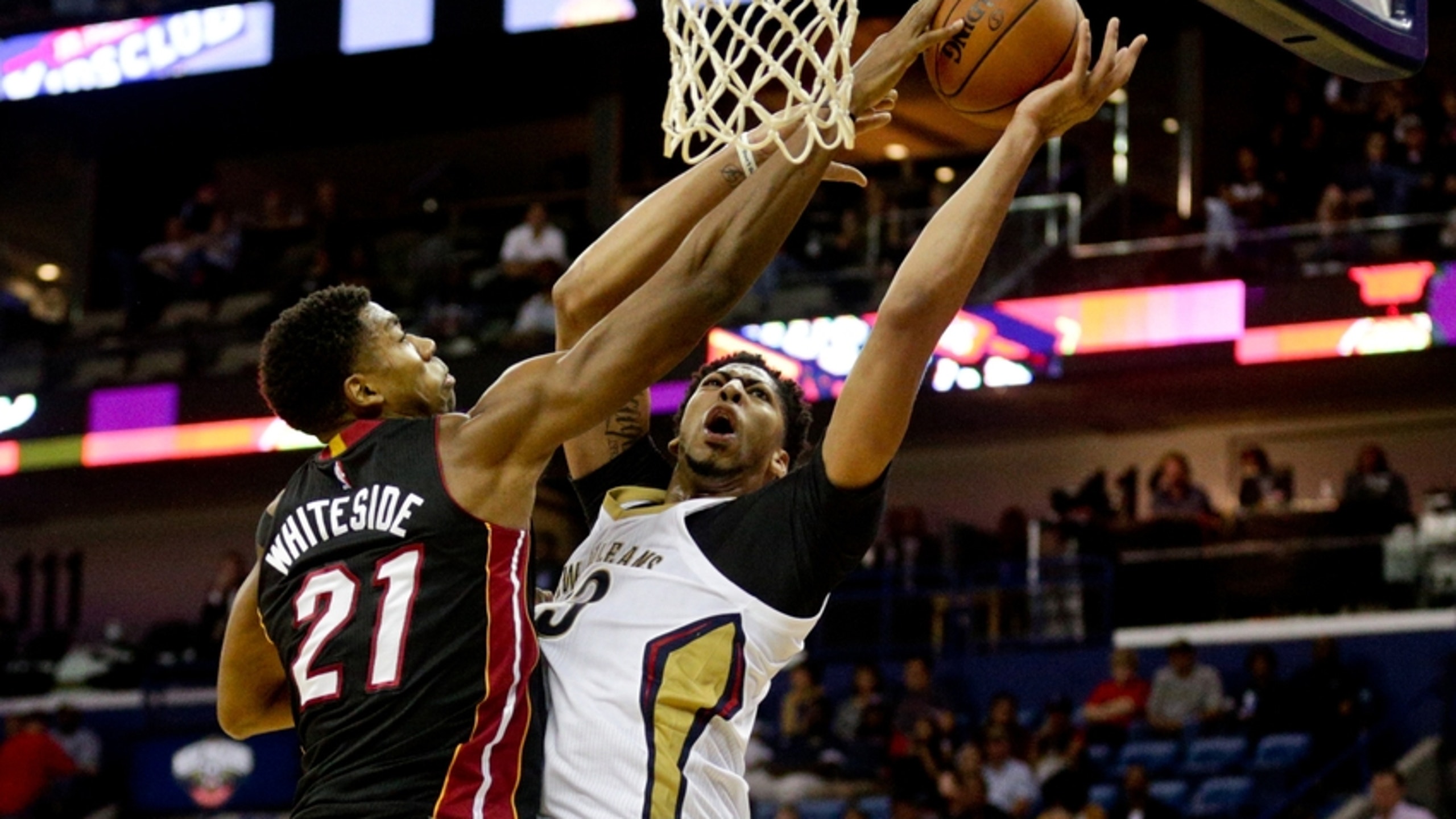 Game Preview: New Orleans Pelicans seek win against depleted Miami Heat
BY Fansided and Brendon Kleen/FanSided via Pelican Debrief • December 23, 2016
Oct 23, 2015; New Orleans, LA, USA; New Orleans Pelicans forward Anthony Davis (23) shoots the ball over Miami Heat center Hassan Whiteside (21) during the second half at the Smoothie King Center. The Pelicans won 93-90. Mandatory Credit: Derick E. Hingle-USA TODAY Sports
The New Orleans Pelicans (10-21) will see the Miami Heat (10-20) for the first time this season on Friday night, needing a win badly.
The first month or so of an NBA season is about mixing in the ingredients added over the summer by a team's front office to the group left over from the year before. Sometimes, it's a new star to put a team over the top; other times, merely a couple role players brought in for marginal improvement. So to hear men up and down the New Orleans Pelicans organization discussing the need to "find out who [they] are" 31 games into the season is troubling.
More from Pelican Debrief
Though tonight's contest at home against the Miami Heat is indeed winnable, as is a home tilt versus the Dallas Mavericks on Monday, the Pelicans will soon face a cluster of teams who will leave them no margin for error. The six games after Monday's Dallas dance: home for the Clippers, home for the Knicks, at the Cavaliers, home for the Hawks, at the Celtics, at the Knicks. Not a lot of wiggle room.
By mid-December, you should be past the point of knowing who you are as a team. E'Twaun Moore, Solomon Hill, Langston Galloway, and Terrence Jones, the team's primary pick-ups this year, have combined to miss only eight total games. They have had plenty of time, including now 16 games with both Anthony Davis and Jrue Holiday, to find comfort. They have not.
Looking at the Pelicans' schedule in October, it was clear that December (and January, for that matter) would be the defining stretch for this team's 2016-17 legacy. What wasn't clear was that the season might already be losing hope by the time those games came around. Unless the Pelicans start winning the games they "should" against inferior teams, January might not matter.
The Miami Heat represent one such team; though there is talent here, from Goran Dragic to Hassan Whiteside to Tyler Johnson, there is no player to challenge Anthony Davis. No offensive player capable of threatening the Pels' solid team defense. No reason New Orleans shouldn't be able to push the pace and be effective in transition (For reference: the Pels now sit in 12th in fast-break points per game, compared to Miami's 24th-place ranking).
Bookend the Christmas festivities with two victories, and you're in business at 13-21 heading into your defining stretch. Easier said than done, sure, but hope is fanciful.
Dec 25, 2015; Miami, FL, USA; New Orleans Pelicans guard Jrue Holiday (11) shoots against Miami Heat forward Justise Winslow (20) in the first half of a NBA basketball game on Christmas at American Airlines Arena. Mandatory Credit: Steve Mitchell-USA TODAY Sports
Who, When, Where and How to Watch
When and Where: The game will be played at 7:00 p.m. CT in New Orleans.
How To Watch: The game will be broadcast on Fox Sports New Orleans and NBA League Pass.
Injuries: 
New Orleans: Tyreke Evans (Right Knee/Rest) is questionable. Quincy Pondexter (Left Knee) is out.
Miami: Rodney MacGruder (Ankle) and Wayne Ellington (Hamstring) are questionable. Dion Waiters (Groin) is out.
Probable Starting Lineups:
New Orleans: PG Jrue Holiday, SG Buddy Hield , SF Solomon Hill, PF Anthony Davis, C Alexis Ajinca
Miami: PG Goran Dragic, SG Josh Richardson, SF Justise Winslow, PF Josh McRoberts, C Hassan Whiteside
Other Players to Watch: 
New Orleans: G E'Twaun Moore, F/C Terrence Jones, C Omer Asik, F Dante Cunningham, and G Langston Galloway
Miami: F James Johnson, F Luke Babbit, C Willie Reed, and G Tyler Johnson
What's Next for the Pelicans?
The New Orleans Pelicans get the weekend off for Christmas before returning to the Smoothie King Center on Monday in another winnable game against the Dallas Mavericks. Tip is scheduled for 7:00 p.m. CT.
Nov 1, 2015; Miami, FL, USA; Miami Heat center Hassan Whiteside (right) celebrates with Miami Heat forward Justise Winslow (left) after Winslow made a three point basket during the second half at American Airlines Arena. The Heat won 109-89. Mandatory Credit: Steve Mitchell-USA TODAY Sports
Can the Pelicans stop the Heat's variety of big men?
If there's been one weakness of this year's New Orleans Pelicans team, it's been the lack of playable, effective big men. Though Terrence Jones has been playing a tremendous role over the past two weeks, rebounding and scoring around the rim at an above-average level, the poor play of Alexis Ajinca and Omer Asik has left the Pelicans scrambling to find lineups that work.
Against the Heat, they'll have no such opportunity. Hassan Whiteside has established himself as one of the league's best modern bigs; he leads the league in rebounding at 14.8 per game, is 4th in blocks per game at 2.4, and adds 18.2 points for good measure. Next to him, a rotating cast of players with varying skillsets fills out the rotation: the impressive sophomore Justise Winslow, who played center in the playoffs last season; the sweet-passing and shooting power forward Josh McRoberts; offseason acquisition and hustle man Willie Reed.
The Pelicans would give anything for such a versatile crop of big men.
Further, with the Heat finally getting healthy, they are able to rely more heavily on the spaced-out lineups they dreamt up over the summer. Luke Babbitt and James Johnson are around to act as serviceable play-makers on the perimeter, at either forward position. The Heat have done a good job of putting pieces around the core Dragic-Whiteside pick-and-roll that they use as the centerpiece of their offense.
Ajinca will struggle; that's almost a given against a team that sets motion around a pick-and-roll. Asik had success against Timofey Mosgov, a similar type of player to Whiteside, though clearly less imposing. He may see more time tonight. But as it always does, most of the burden will fall onto the shoulders of Davis.
I hate to keep beating the same drum, but as Davis goes, so go the Pelicans. Tonight, though, he alone could be enough.
---
---