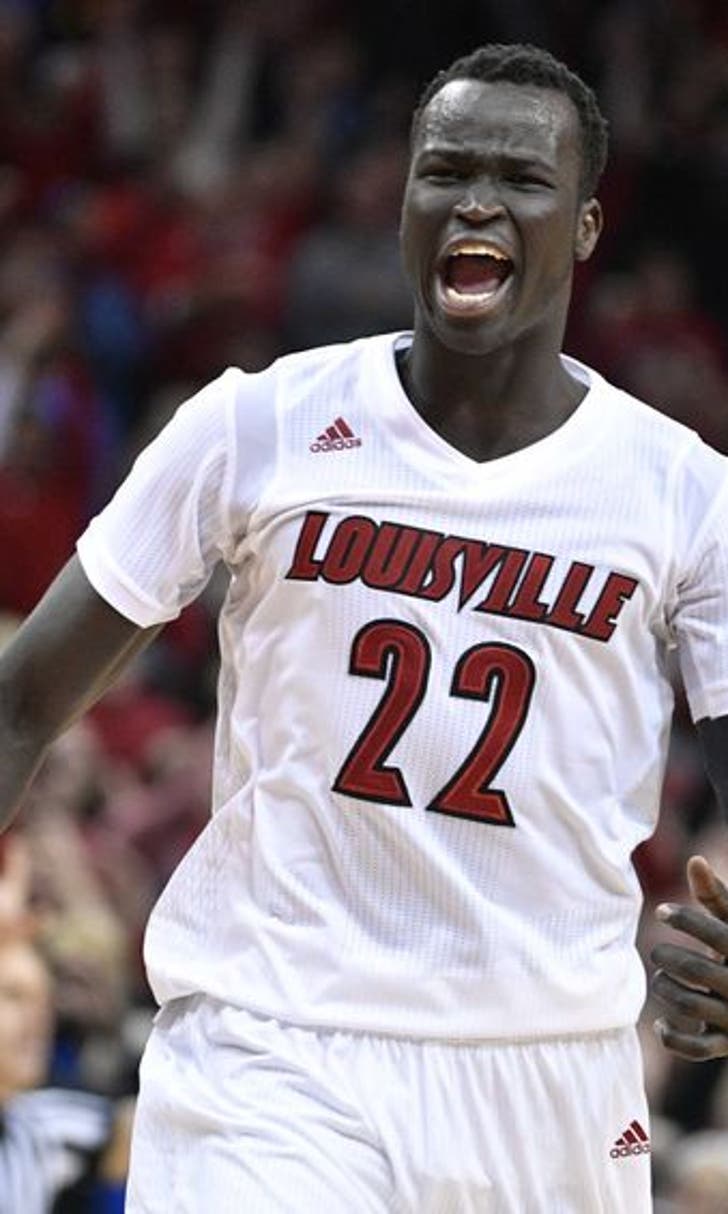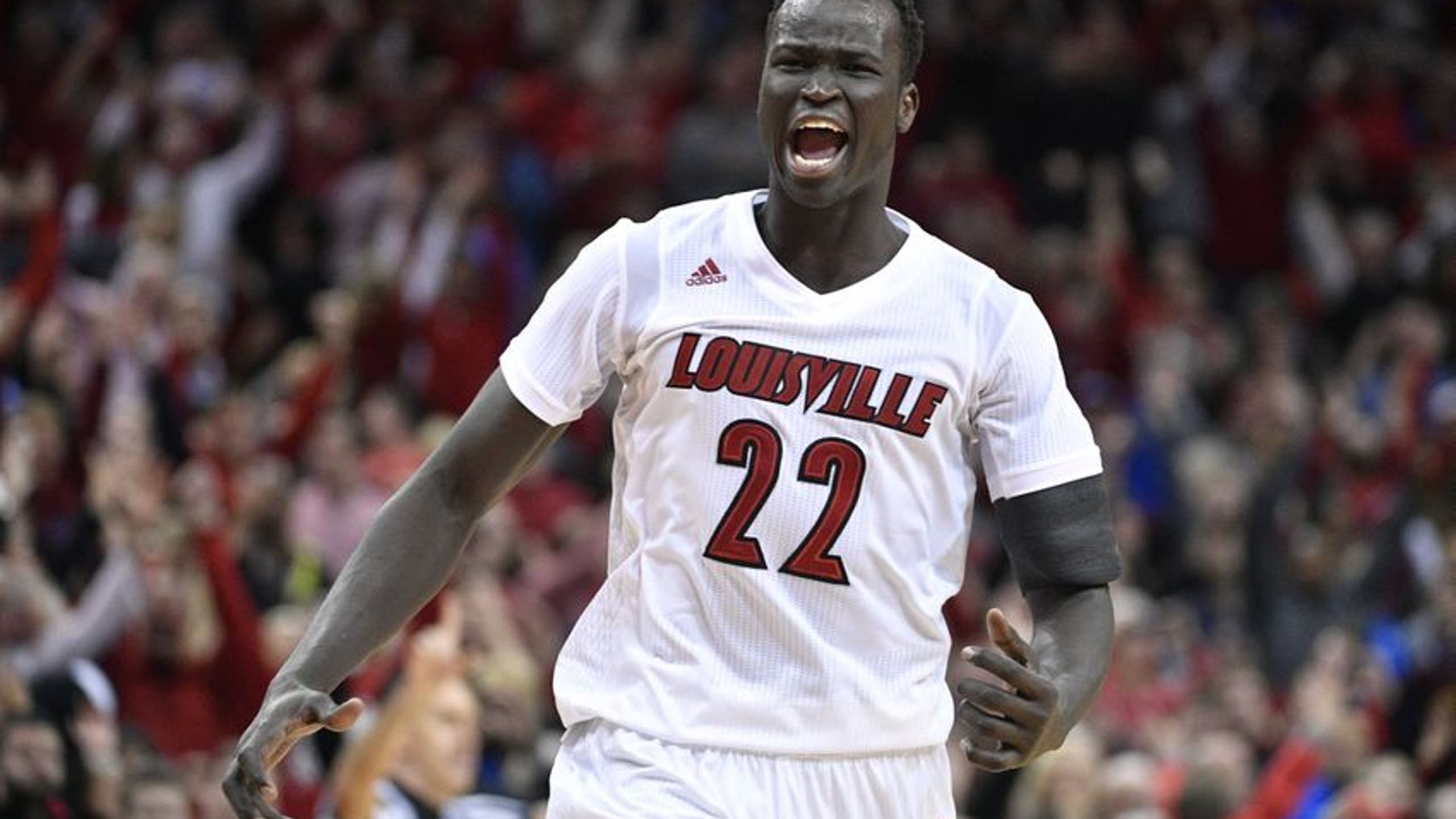 College Basketball Power 10: Louisville Cardinals Get Statement Win
BY Fansided and Jeremy Karll/FanSided via Hoops Habit • December 27, 2016
Mandatory Credit: Jamie Rhodes-USA TODAY Sports
Despite being a light week in college basketball due to the holidays, a lot of big wins and key suspensions took place.
With NBA Christmas games on, college basketball had a light week, with only three ranked teams playing on Dec. 23 and none over the holiday weekend. The lack of games last weekend sums up the week as a whole.
Clemson beating South Carolina was the only upset of the week and West Virginia was the only team in last week's College Basketball Power 10 to play multiple games.
The college basketball schedule will pick back up Wednesday with the start of conference play. The blowouts against poor mid-majors have come to an end for most teams this year and we'll finally get to learn more about the top teams in the nation.
The six remaining undefeated teams in the nation will be tested every night against teams and coaches who know them extremely well. It's especially true in the Big East since Villanova and Creighton are both undefeated and Butler is 11-1.
Here's a look at the top 10 teams in college basketball this week.
Mandatory Credit: Ben Queen-USA TODAY Sports
10. West Virginia (11-1)
West Virginia continued to roll last week with wins over Radford and UMKC by a combined 58 points. It gives them seven straight wins since their only loss of the season thus far and a fifth straight win by more than 20 points.
The Big 12 has a lot of good teams this year, but West Virginia might have the most depth in the conference. Everyone on their roster has played in at least nine games, which also is telling of how many blowout wins they've had, and nine players average at least 11 minutes per game.
It's led to West Virginia being arguably the best statistical team in the country. They score the fifth-most points per game, allow the seventh-fewest points per game, own the third-best offensive rating in the nation and best defensive rating.
The biggest knock on them is that they lost to a good, but not great, Temple team and their only impressive win is against Virginia. Illinois is West Virginia's only other Power Five opponent this year, and the Illini are a mediocre team in the Big Ten.
West Virginia could be a legitimate top-five team in the nation or barely in the top 20, but, either way, they've played as well as any team against mid-majors this year.
West Virginia will start Big 12 play with a tough game on the road in Stillwater, Oklahoma, against Oklahoma State.
Mandatory Credit: Rob Kinnan-USA TODAY Sports
9. North Carolina (11-2)
After only leading 35-30 with 18:57 left in the game against Northern Iowa, North Carolina went on an 18-2 run to put Northern Iowa away and improve to 11-2. The Tar Heels outscored Northern Iowa an astounding 52-16 in the second half.
Kennedy Meeks had a bounce-back game as he led the Tar Heels with 18 points and eight rebounds. Also, North Carolina's struggling defense got a confidence booster by holding a struggling Northern Iowa offense to 42 points.
They still rank just 90th in points allowed per game, but their struggles on offense have been the root of their problems in recent weeks. North Carolina has only topped 90 points twice in the past seven games compared to five times in their first six games.
They still rank 12th in points per game and four players are averaging at least 12 points per contest, but the Tar Heels will only go as far as their offense takes them.
They look like a completely different team than the one who beat Wisconsin while playing at their pace. Right now, North Carolina barely beat Tennessee in the 70s a couple of weeks ago and lost to Kentucky in a high-scoring game.
North Carolina is lacking confidence right now and are extremely susceptible to being upset. A 33-point win over Northern Iowa should give them some confidence, but they need to play well against a good team to regain it all.
North Carolina plays Monmouth before traveling to Georgia Tech to start ACC play this week.
Mandatory Credit: Jamie Rhodes-USA TODAY Sports
8. Kentucky (10-2)
Just as everyone thought the Kentucky Wildcats figured it out, they followed an impressive win over North Carolina with a loss to Louisville.
The Cardinals are a top-10 caliber team and Kentucky was on the road, but it was the first time the Wildcats have been tested in a low-scoring game this season and they lost.
Kentucky's first two ranked opponents — UCLA and North Carolina — scored 97 and 100 points, respectively. It plays into how Kentucky thrives the most. The Wildcats are probably the most athletic team in the nation and thrive on getting dunks and easy baskets in transition.
Sure, they got out in transition a few times, but for the most part, a stingy Louisville defense held them in check.
Malik Monk and De'Aaron Fox combined to shoot 13-of-32 from the field and 2-of-12 from three. Monk hit his only three with 11 seconds left to bring Kentucky within one point, but for the most part he had problems finding open looks all night.
Despite shooting 39.7 percent from the field and 22.7 percent from three, the Wildcats hung around. They never trailed by more than six and even led by four at one point.
In the end, the better defensive team won and Kentucky continues to wonder if a team full of freshmen can win a championship.
Kentucky can score as well as any team and throw highlight reel alley-oops, but ranking 183rd in the nation in points allowed per game is why many wonder if this team can win in close, physical games.
Kentucky travels to Ole Miss to start SEC play this week.
Mandatory Credit: James Snook-USA TODAY Sports
7. Gonzaga (12-0)
Gonzaga continued their perfect season with a 102-65 win over South Dakota. The Bulldogs continue to look unbeatable and have arguably the best chance to run the table this year considering the West Coast Conference's lack of great teams.
That said, their three most impressive wins so far are against teams outside the top 15 in the latest Associated Press Top 25. Iowa State is no longer ranked, Florida is barely holding on at No. 25 and Arizona is still finding its identity and is ranked 18th.
Gonzaga doesn't have a bad resume, but it's not as strong as it was a month ago.
Still, Gonzaga ranks in the top 50 of points per game and points allowed per game and have multiple All-WCC players on their team. In fact, the Bulldogs hold teams to the fourth worst field-goal percentage at 36.1 percent and the worst three-point percentage at 26.7 percent.
All of that is a second thought to Mark Few, though. He knows that the goal is to finally break through and make their first Final Four in school history.
Just like the Los Angeles Clippers in the NBA, Gonzaga basketball will be judged by how they perform in the NCAA Tournament because of their consistent success in the regular season but lack of success in the postseason.
Gonzaga will try to stay perfect with games against Pepperdine and Pacific to start WCC play.
Mandatory Credit: Jamie Rhodes-USA TODAY Sports
6. Louisville (11-1)
Louisville is one of the best defensive teams in the nation, but offense has been their pitfall this year. Despite only scoring 74 points against Southern Illinois a couple of weeks earlier, Louisville found a way to barely score more than Kentucky and win 73-70.
They forced a team that loves to run to play slow, as well as containing their fast-break attempts after a made basket. It showed the coaching brilliance of Rick Pitino and the veteran leadership the Cardinals have.
Four starters scored at least 14 points, four grabbed at least five rebounds and all had three or four fouls. Donovan Mitchell only shot 3-of-12 from the field, but Quentin Snider scored 22 points on 10-of-19 shooting to make up for Mitchell's poor shooting night.
Louisville's offensive problems and lack of bench scoring — six bench points against Kentucky — are still there. That said, the Cardinals forced all three of their ranked opponents this year to play at their pace and keep the score in the 60s or 70s.
Only time will tell about how Louisville's poor offense will actually hurt them. They won't score 100 points against a ranked team, but they're also a team of upperclassmen who know their games and force teams to play their brand of basketball.
Besides, Louisville is a three-point loss to the magical Baylor Bears from being undefeated.
Louisville will have two huge games this week. They host Virginia to start ACC play and then travel to Indianapolis to play Indiana.
Mandatory Credit: Jeremy Brevard-USA TODAY Sports
5. Duke (12-1)
Duke's 72-61 win over Elon was overshadowed by Grayson Allen's antics.
Allen, the preseason All-American and Player of the Year favorite, only had three points on 1-of-8 shooting against Elon. He became the focal point of college basketball, however, when he purposely tripped an Elon player going up for a layup after fouling him.
It's the third time Allen has been caught tripping an opposing player and it led to him being suspended indefinitely by Duke. To make matters worse, Allen threw a tantrum on the bench as Duke's assistant coaches tried to calm him down.
Besides the poor perception of Duke basketball Allen's tantrum and tripping creates, it's also a huge loss on the court. Allen is averaging 16.0 points, 4.7 rebounds and 3.4 assists per game this season. That is a huge loss for a Duke team who was finally starting to get healthy.
Harry Giles is still getting back into game shape, as he's played a combined 10 minutes in his first two games. Plus, Frank Jackson is the only wing player on Duke's bench that has had a significant role this season. There simply aren't a lot of options on Duke's bench right now to replace Allen.
Duke is loaded with talent but their inability to have it all on the floor at once is keeping them from reaching their potential.
Duke will start ACC play with an away game at Virginia Tech this week. It will be interesting to see how long Allen is suspended and how Duke handles losing another key player.
Mandatory Credit: Stephen R. Sylvanie-USA TODAY Sports
4. Kansas (11-1)
Kansas is now on an 11-game winning streak after beating UNLV 71-53. It also marked their sixth straight win by at least 15 points.
The Jayhawks got Carlton Bragg Jr. back from a short suspension, but immediately lost big man Udoka Azubuike for the season after he tore ligaments in his left wrist.
Azubuike only averages 12.9 minutes per game, but he leads the team with 1.6 blocks per game and shoots 62.9 percent from the field.
Kansas now has to find a new rim protector, as Josh Jackson is their only other player averaging more than one block per game. Teams have only shot 40.5 percent from two-point range against Kansas this season, but their whole dynamic on defense changes with Azubuike.
The good new is Kansas has about a month until their next ranked opponent in West Virginia. Even though they haven't had any tough competition since opening the season with Indiana and Duke in back-to-back games, the Jayhawks have been able to refine their game and rotation.
The Jayhawks will try to extend their winning streak to 12 games this week on the road against TCU.
Mandatory Credit: Ray Carlin-USA TODAY Sports
3. Baylor (12-0)
Baylor continues to get first-place votes in the AP Top 25. The Bears are 12-0 after a 26-point win over Texas Southern last week. Their win over Texas Southern marks the end of their easy three-week stretch.
Baylor's biggest challenge these next few weeks could be refocusing against good teams. Their schedule completely flipped over the past few weeks compared to the first month of their season when they played a ranked team almost every week.
Now, they start Big 12 play and can't afford a bad performance without it costing them their perfect season.
On the court, Baylor's biggest issue is scoring. They still only rank 72nd in the nation with 79.6 points per game. The Bears did top 80 points in each of their past four games, but they only reached that feat once in their first eight games.
Baylor isn't a three-point shooting team, which contributes to their lack of scoring. They rank 273rd in threes taken this season and only Manu Lecomte and Allerik Freeman take more than 2.5 threes per game — 4.8 and 4.3 per game, respectively.
Baylor will eventually have to score in the 80s to win a game, but so far their stifling defense has been good enough to hold four ranked teams to fewer than 65 points.
The Baylor Bears will travel to Norman, Oklahoma, to take on the Oklahoma Sooners this week.
Mandatory Credit: Richard Mackson-USA TODAY Sports
2. UCLA (13-0)
UCLA only scoring 82 points in a 14-point win over Western Michigan might be the biggest surprise of the season so far.
It shows how good and well-balanced their offense is. Despite shooting 27.3 percent from three, the Bruins found a way to shoot 50 percent from the field.
UCLA pounded the ball inside to T.J. Leaf, who shot 6-of-11 from the field, and it led to UCLA shooting 61.4 percent from two-point range.
Even though UCLA won by 13 and 14 points in their past two games, they've failed to score 90 points in back-to-back games for just the second time this season.
UCLA followed it up with four straight games of at least 97 points last time. Therefore, it's not a huge concern but it does raise some questions since Pac-12 play is about to begin.
The Bruins shot 50 percent or worse for just the third and fourth time this season and have shot under 32.5 percent for three straight games after only doing so twice in the first 10 games.
UCLA still scores the second-most points in the country, but this could be their rough patch this season and when they're most susceptible to losing.
Everyone will soon know if UCLA's poor offensive production in recent weeks is anything to worry about. The Bruins travel to Oregon and Oregon State this week.
Mandatory Credit: Bill Streicher-USA TODAY Sports
1. Villanova (12-0)
Watching Villanova play is a thing of beauty. They share the ball as well as any team in the country and are well-coached. Josh Hart might the best player in the nation, but their game plan doesn't circulate around him, rather Villanova's offense just flows and whoever is open gets the shot.
Villanova's 42-point win over American was the perfect way to end their non-conference schedule. The Wildcats have blown out almost every unranked opponent so far and beat Purdue and Notre Dame in close games that exemplifies their veteran leadership.
Even though Villanova looks like the favorite to win another national championship, they'll finally have their first string of tough games in Big East play.
So far, Villanova has followed up games against ranked opponents with easy wins, but the Big East has a lot of talented teams that will male Villanova work every night.
That said, the only way to beat Villanova is if they have a bad game. Their extremely efficient on offense, are a great defensive team and almost never foul. In fact, only three teams in the nation foul less than Villanova and no teams allows fewer free-throws than them.
Villanova starts Big East play by hosting DePaul before traveling to Creighton on New Year's Eve.
More from Hoops Habit
This article originally appeared on
---
---