Marco Belinelli
Marco Belinelli
Chris Bosh leads Heat past Kings, 116-109
Published
Nov. 19, 2015 11:44 p.m. ET

MIAMI (AP) Dwyane Wade got back to doing what he does best - scoring.
Wade scored 24 points and the Miami Heat beat Sacramento 116-109 on Thursday night, taking advantage of Kings star DeMarcus Cousins' one-game suspension.
''The biggest thing for me was my first four shots of the game were right at the rim and I like those odds a lot better,'' Wade said. ''The rest just came within the flow. I was just being very aggressive tonight.''
Wade was averaging 10.8 points on 32.7-percent shooting over his past four games after beginning the season with five 20-plus scoring games.
''I just felt that I needed to be more aggressive offensively,'' Wade said. ''Sometimes I got into the mode of too much playmaking and maybe my shot became second nature and today I just tried to flip it.''
Chris Bosh had 23 points and 11 rebounds, and Tyler Johnson had 19 points to help Miami win for the fourth time in five games.
''It was not one of our better defensive performances of the season, but there was some better execution of some of the things we've been working on offensively,'' Heat coach Erik Spoelstra said.
Cousins, averaging 30.8 points in his last five games, was suspended for hitting Atlanta's Al Horford in the head with a forearm Wednesday night in the Kings' loss to the Hawks.
''He's one of the best bigs in the NBA so I'd have liked to take that challenge on and really compete against him,'' said Heat center Hassan Whiteside, who played 18 games with Cousins as teammates with the Kings in parts of two seasons in 2010-12.
The Kings are 0-5 without Cousins this season and 11-38 since he joined the team in 2010.
''Obviously, they were missing a major piece of what they do,'' Spoelstra said.
Sacramento's Rajon Rondo had a season-high 18 assists, 14 points and nine rebounds after having three triple-doubles in his previous four games.
''I think his play is very encouraging and positive for everybody,'' Kings coach George Karl said. ''He makes everybody better. He makes the game happen.''
Rondo is averaging 14.2 points, 14.2 assists and 9.8 rebounds in his past five games.
''He's playing like Rondo,'' Wade said. ''As a fan of the game, I'm just happy to see him healthy and when he's healthy he's one of the top point guards in this league. He's back to proving that.''
Marco Belinelli led the Kings with 23 points.
The Heat had a 10-point advantage at halftime and an 82-76 edge at end of the third quarter. Unlike their 103-91 loss Tuesday night to Minnesota, which outscored Miami 41-22 in the final quarter, the Heat pulled away from the Kings in the fourth.
''It's always important to bounce back after tough losses especially bad ones,'' Bosh said.
Gerald Green and Goran Dragic hit back-to-back 3-pointers and Justise Winslow slammed home a dunk for a quick 8-0 burst and a 97-81 lead. The Kings would get as close as five with a minute left.
Kings forward Rudy Gay strained his left shoulder in the third quarter and did not return. Gay was hurt driving to the basket when Winslow took a swipe at the ball.
''Our two superstars were out but guys stepped up when needed,'' Rondo said. ''We were able to make a run at it but we weren't able to continue to get enough stops.''
Amare Stoudemire sparked the Heat with 10 points off the bench in the first quarter. Stoudemire had not played in the last eight games due to soreness in his knees, but the 33-year-old forward showed flashes of his days when he was a six-time All-Star with a dunk and jumper on back-to-back possessions.
''I had no clue my number was going to get called,'' Stoudemire said. ''But I always keep myself prepared and ready for those moments.''
Spoelstra said: ''He was like a point-per-second type guy.''
TIP-INS
Kings: Sacramento is 3-25 at Miami. The Kings' last win in Miami was Nov. 10, 2001.
Heat: When Wade plays, Miami is 11-0 in home games against the Kings and 18-1 overall against them.
BUTLER'S UNIFORMS
Kings forward Caron Butler's last five trips to Miami have come with five teams. He was with Dallas when the Mavericks beat the Heat for the 2011 NBA title, and his next four times in Miami, in order, have been with the Los Angeles Clippers, Milwaukee Bucks, Detroit Pistons and the Kings. He's also worn the uniforms of the Los Angeles Lakers and Washington Wizards in past games at Miami - and started his career with the Heat in 2002.
ANDERSEN OUT
Heat forward Chris Andersen was excused to deal with an undisclosed personal situation, but is expected to be available Saturday against Philadelphia.
UP NEXT:
Kings: Visit Orlando on Saturday night.
Heat: Host Philadelphia on Saturday night.
---
---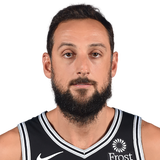 Get more from Marco Belinelli
Follow your favorites to get information about games, news and more
---