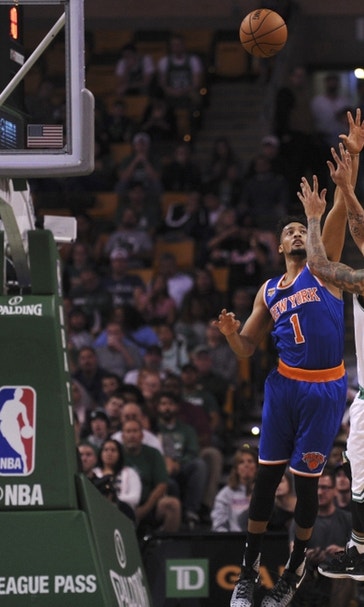 All Gerald Green Wanted for Christmas Was Some Playing Time
December 27, 2016

Fansided, Ty Russell/FanSided via Hardwood Houdini
Gerald Green finally got some minutes for the Celtics on Christmas Day and, even more surprisingly, he looked good.
After receiving a few minutes in the first ten games when the Boston Celtics were enduring injuries to Marcus Smart, Jae Crowder and Al Horford, Gerald Green's minutes have dropped dramatically. Now when I say dramatically, I mean off a cliff and into an abyss with no escape. In fact, over the last two months, if Green started eating stadium hotdogs and popcorn, I'm pretty confident no one would have noticed.
But with the holiday season upon us, Brad Stevens was clearly in the spirit of giving as he put him into the game against the Knicks. Maybe Stevens picked him in secret Santa and this reminded him that Green still played for him. Whatever the reason the only thing more surprising than seeing Green on the court was seeing him succeed. Green was excellent on Sunday and really invigorated the second unit, scoring some key baskets.
In 12 minutes of playing time he scored 8 points, going 3-6, including two three pointers, grabbed four boards and also chipped in with a steal, a block and an assist. Now even though these stats are impressive in limited minutes they alone do not tell the story. The second unit for the Celtics has struggled to score all season. If Jonas Jerebko and Kelly Olynyk are not hitting threes they often going minutes without scoring and Stevens has to throw Isaiah Thomas back into the game much earlier than he would like just to get a bucket. Enter Gerald Green.
More from Hardwood Houdini
Green takes a lot of pressure off the ball handler in the second unit, be it Marcus Smart or Terry Rozier. In almost every set he is on the court he flies around the perimeter and then cuts toward the rim. Now even though he didn't get an alley oop pass against the Knicks, he consistently put pressure on the Knick defenders and had them leaking off the ball handler to help out. Green came into the league as a leaper and ferocious dunker and even though he is on the wrong side of 30 he has not lost that mentality.  
He also is a decent three point shooter and can open the floor for Smart and Rozier to drive or, alternatively, for Smart to post up where he is at his best. The player he is fighting for playing time with, however, third pick in the draft Jaylen Brown, is inconsistent with his jumper and despite his freakish athleticism is too raw to play important minutes for the Celtics.
I think many casual fans forget that even though Green has been around the league, playing for eight teams already in his NBA career not to mention his time in Russia, that last year he was a real contributor for the Heat. In Miami in 2015, Green played 69 games, starting 14 of them and also averaged nine points per game in about 20 minutes,
With all this in mind, I wholeheartedly believe that it is in the Celtics best interest to send Brown back to the D-League and to give his minutes to Green. Due to the one and done rule players are coming out of college so young and they are simply not ready for the professional game. Brown is a perfect example of this, he has mental lapses in defence and has to foul way too often, he makes careless turnovers and struggles to finish in traffic.
Brown should not be blamed for this, however, as in limited minutes in such a deep team he realizes that if he doesn't shine when he's on the court that he may not get off the bench. For someone so young this is not a good position to be in. He should go down to the D-League, play 30 minutes a game and when he comes back up possibly later in the year he will be a force to be reckoned with.
Green has been a good team mate, he has bided his time on the pine, he has spent hours braiding that shamrock in his hair, he has given out thousands of high fives and he deserves a chance. Maybe he will prove that there's a reason why he hasn't stuck with a franchise but for right now he gives the Celtics the best chance to win and in an extremely crowded East, every win is precious.
---
---