NASCAR Cup Series
NASCAR Cup Series
Lewis Hamilton says sorry to stewards after rant
Published
May. 29, 2011 5:10 p.m. ET

Lewis Hamilton apologized to stewards at the Monaco Grand Prix on Sunday after jokingly suggesting he was penalized because he is black.
The McLaren driver was given two drive-through penalties following incidents with Ferrari's Felipe Massa and Williams' Pastor Maldonado during Sunday's race, won by Red Bull's Sebastian Vettel.
''It's an absolute ... joke,'' Hamilton told the BBC. ''I've been to see the stewards five times out of six this season.
''Maybe it's because I'm black. That's what Ali G says,'' Hamilton added, referring to the television character made famous by comedian Sacha Baron Cohen.
Hamilton later said he visited the stewards to ''make peace.''
''What I said was a bit of a joke, which wasn't funny at the time,'' Hamilton told Britain's Press Association. ''I made them aware that when emotions are high, and it's very intense at the end of those kind of races, you don't always say the right thing, and the joke didn't come at the most appropriate time.''
Motorsport's governing body, FIA, did not immediately react to Hamilton's comment. But the 26-year-old Englishman said the stewards assured him they would ''clarify'' the situation with FIA and the matter ''won't go any further than the meeting room.''
Hamilton drew his first drive-through penalty for the collision with Massa. The second was for coming in contact with Maldonado late in the race. He received a 20-second penalty, but it did not affect his race position of sixth, as Force India's Adrian Sutil was a lap behind him in seventh.
Hamilton, who was demoted from seventh to ninth on the start grid for cutting a curve in qualifying Saturday, felt Massa was to blame in the first instance.
''He turned into me (during the race),'' he said. ''I got the penalty. These drivers are ridiculous. It's stupid.''
Hamilton is the only driver to have beaten Vettel in six races this season, defeating the German in China, but he is 58 points behind Vettel in the championship standings.
''I'll just try and keep my mouth shut and try to enjoy the rest of the season,'' Hamilton said.
---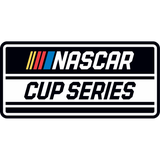 Get more from NASCAR Cup Series
Follow your favorites to get information about games, news and more
---