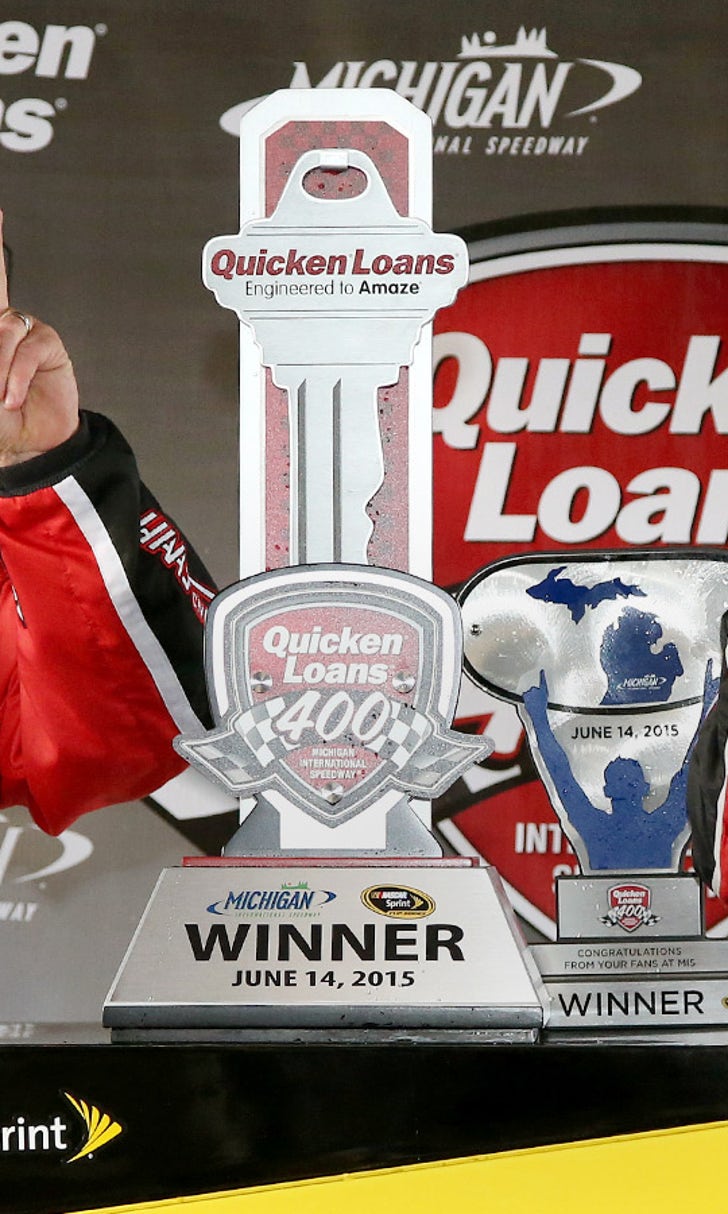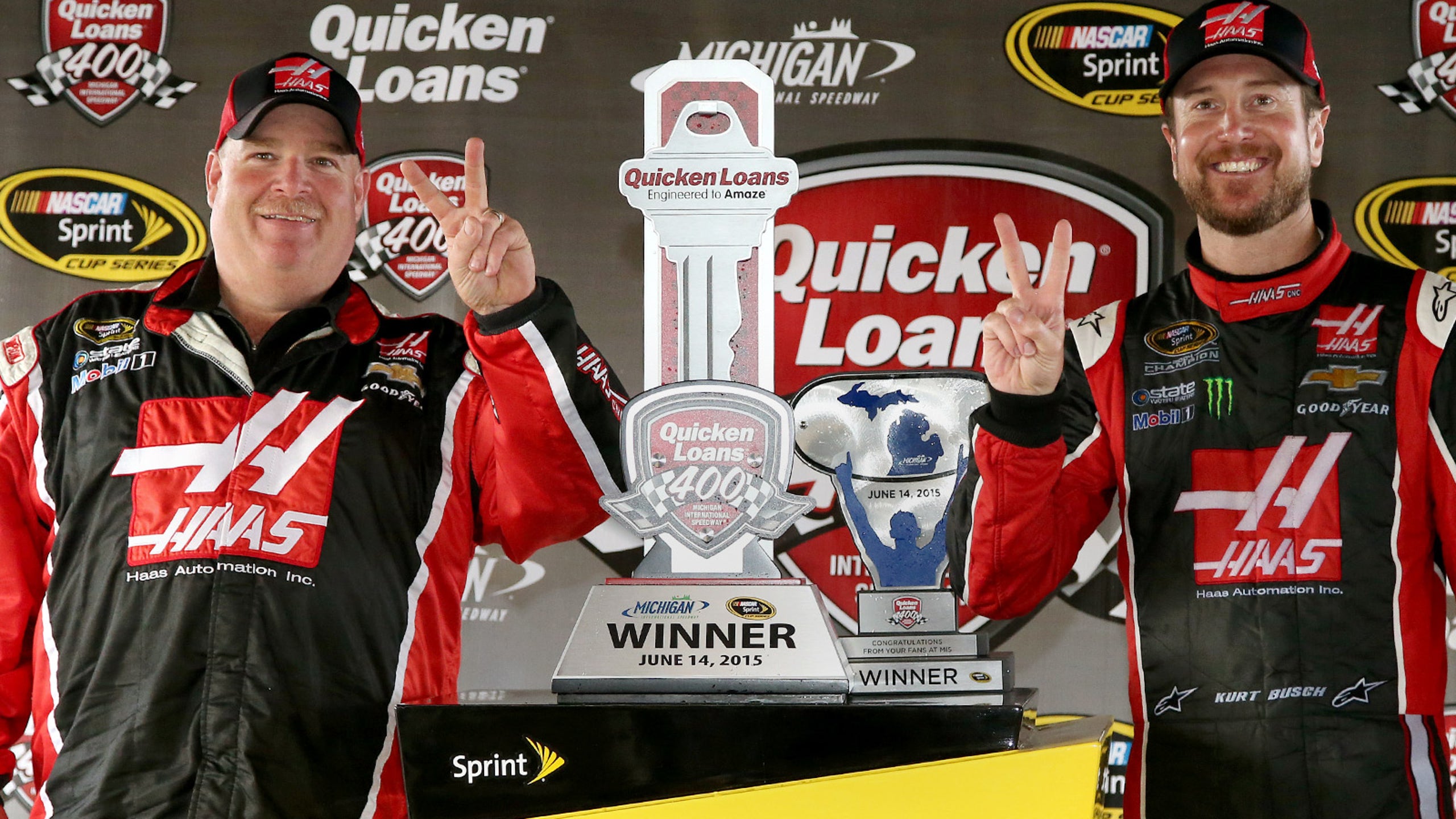 Kurt Busch, crew chief Tony Gibson prove to be winning combination
BY Tom Jensen • June 14, 2015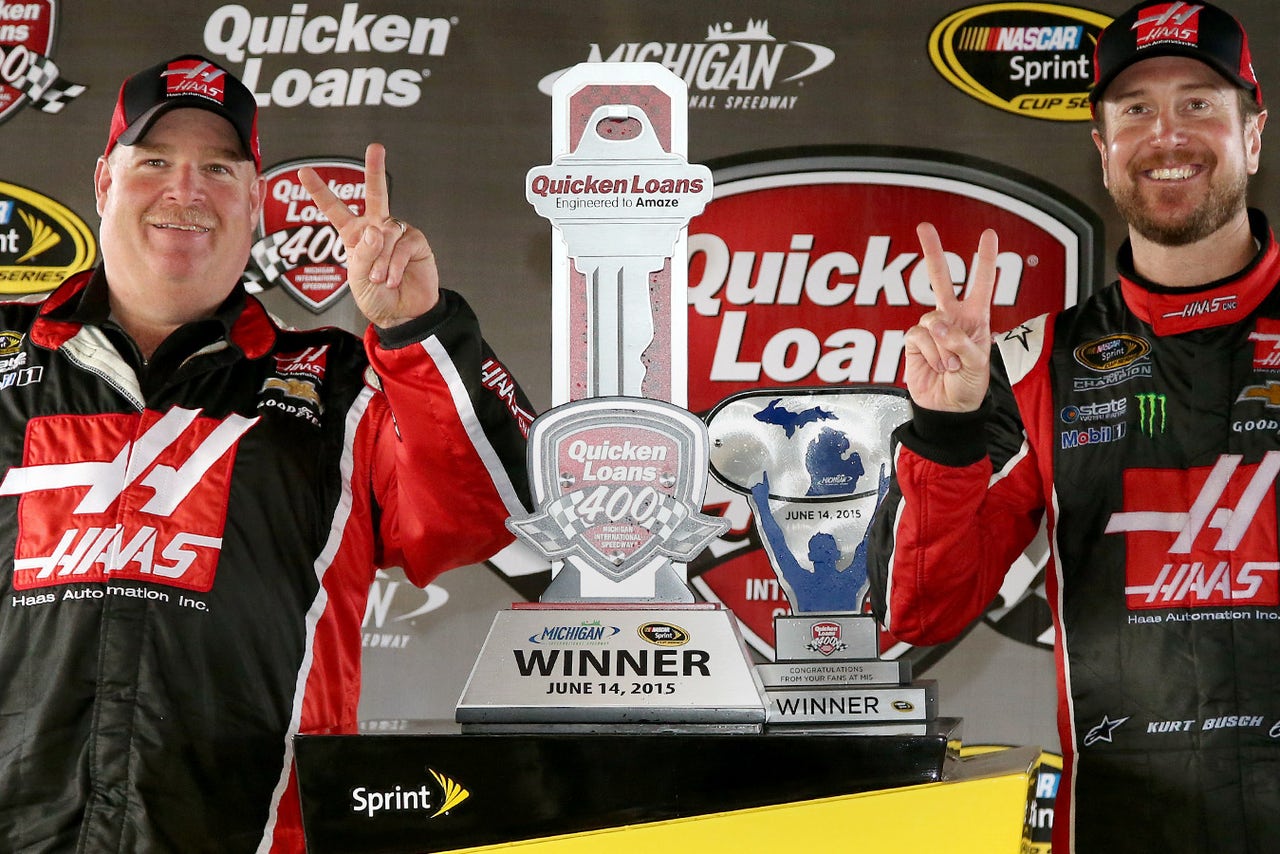 There are a million ways to lose a NASCAR Sprint Cup Series race and we saw plenty of them in Sunday's Quicken Loans 400 at Michigan International Speedway.
Kevin Harvick had the fastest car but lost because of a valve stem failure in his right-front tire.
Carl Edwards and Kyle Larson gambled that the final rain storm that ended the race on Lap 138 of a scheduled 200 laps would come earlier than it did. They gambled on strategy and lost.
Dale Earnhardt Jr., who finished second, said his car wasn't very good on restarts, while all three of his high-profile Hendrick Motorsports teammates got mired back in traffic with a variety of issues.
But this is much is certain: In every NASCAR Sprint Cup Series race, 42 drivers lose but somebody always wins.
And on this crazy Sunday, which saw no less than four red flags for rain, it was Kurt Busch who wound up in Victory Lane, after passing Larson for his one and only lead of the race on Lap 133 of 138.
Busch overcame wrecking his primary car in practice Friday and starting way back in 24th to join his Stewart-Haas Racing teammate Harvick and Hendrick's Jimmie Johnson as the only drivers to win more than once this season.
Without question, Busch was in the right place at the right time to capitalize when Larson had to pit for fuel. And there's no question the timing of the rain worked in his favor as well.
That said, the victory was far from a fluke or a lucky break.
Stewart-Haas has won two of the last four championships and four races this year, Busch is one of the very best wheelmen in the sport and crew chief Tony Gibson is a seasoned vet and pretty much unflappable, too. Put it all together, and it's a winning combination, figuratively and literally.
"It was a fantastic group effort," said Busch. "To be able to pull the backup car out and to have it as prepared as it was and then to have the extra work that went into it, all the crew members that Tony Gibson leads rolled up their sleeves, jumped right on in it, and we made it a race-winning backup car.  That shows you the depth of Stewart-Haas Racing. It gives every crew member that much more confidence to know that we're doing things right."
That was only half the battle, though. The other half was turning a good car into a race-winning car.
"Today the way the race unfolded for us, to come up from 24th and work our way through and have those restarts, everything unfolded perfectly for us with changes to the car, the restarts, to not break momentum, to end up on the outside lane most of the time, and then to have a shot up front," said Busch. "Our car just kept getting better and better the closer we put it to the front, and that's what you set up for. You set up for the wins, and you don't set up for the dirty air, you set up for running out front, and that's what Tony Gibson did. I believed in it, and I just took my time but also had to keep working on each of those restarts to get the car towards the front."
That he did.
Gibson played a key part, too, in masterminding strategy on a day when the weather was awful.
"It's stressful when it rains like that, when it's off and on and off and on," said Gibson. "You're looking at a radar screen but you don't know exactly when it's going to hit. It was pretty stressful for everybody but everybody stayed calm and cool. Rick Carelli did a great job in the spotting stand keeping Kurt informed. I would keep him informed on the weather and he would tell Kurt. Everyone just worked good as a team today, and it kind of paid off."
The timing couldn't have been better, either.
"The best part about winning on a day like today, there's an off week next week, so everybody will take this win and enjoy it for an extra week, recharge, and that will give us the gas we're going to need because we're going to try to go all the way to Homestead," said Busch.
And they just might get there.
VIDEO: Highlights from Kurt Busch's big win at Michigan International Speedway
---
---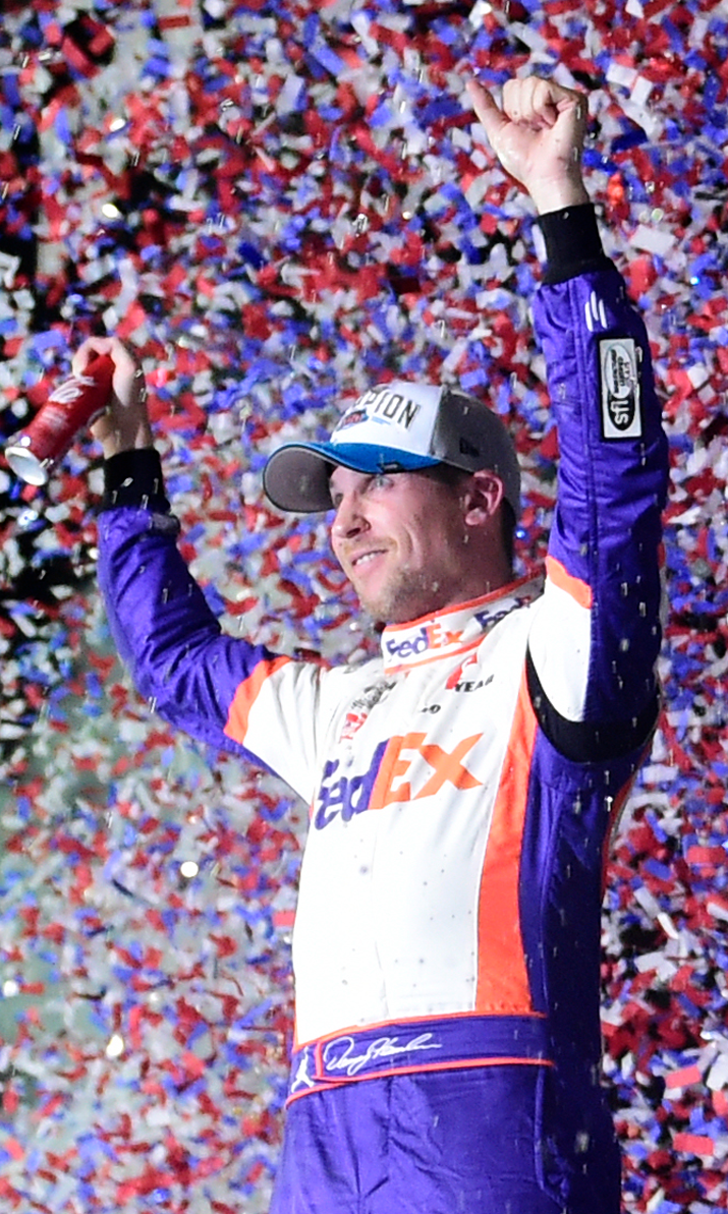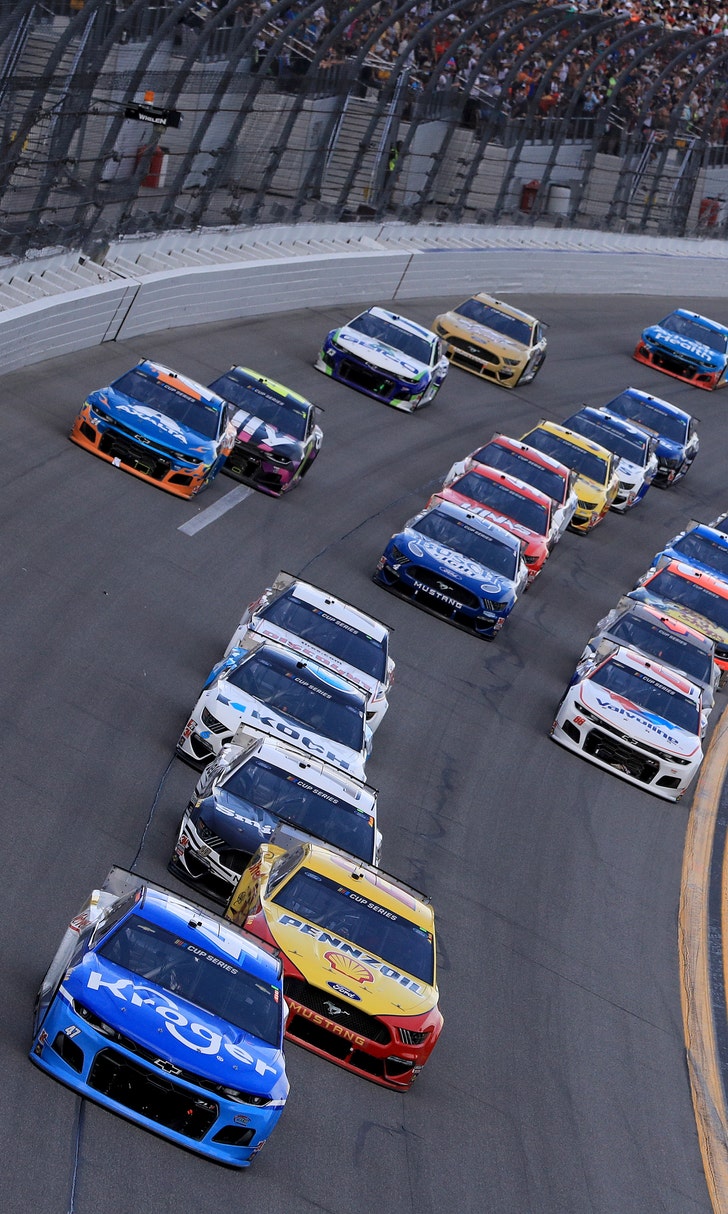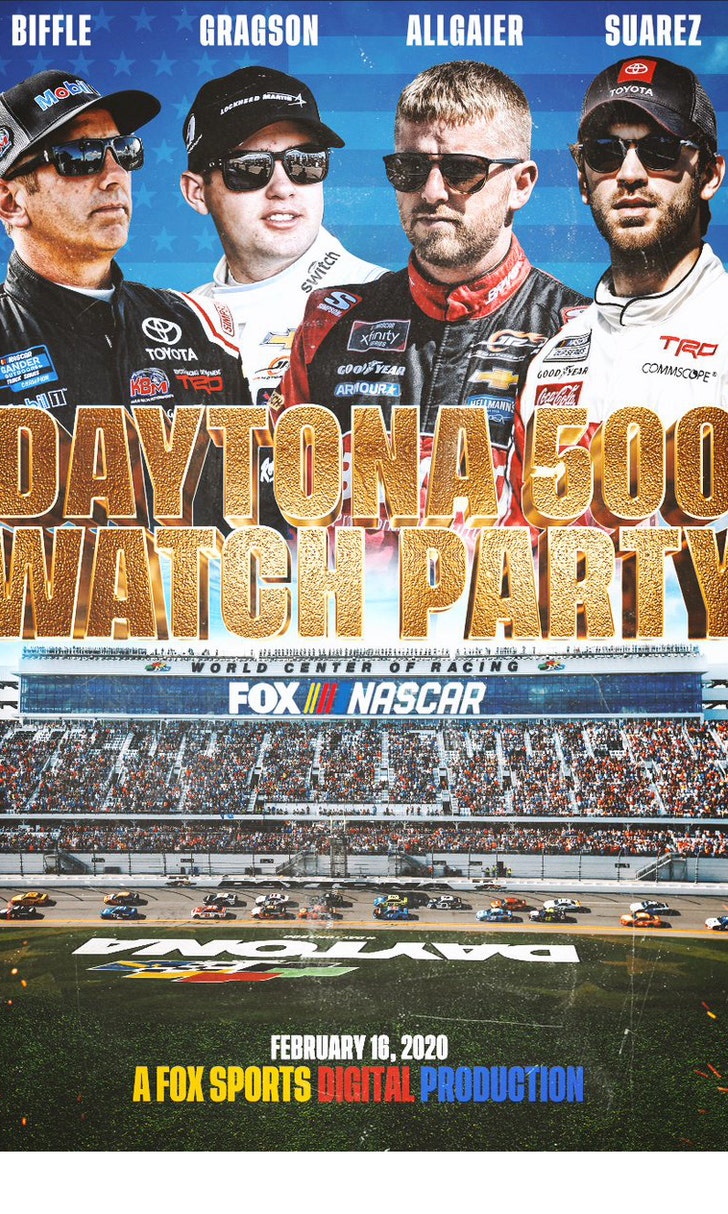 The Daytona 500 Watch Party!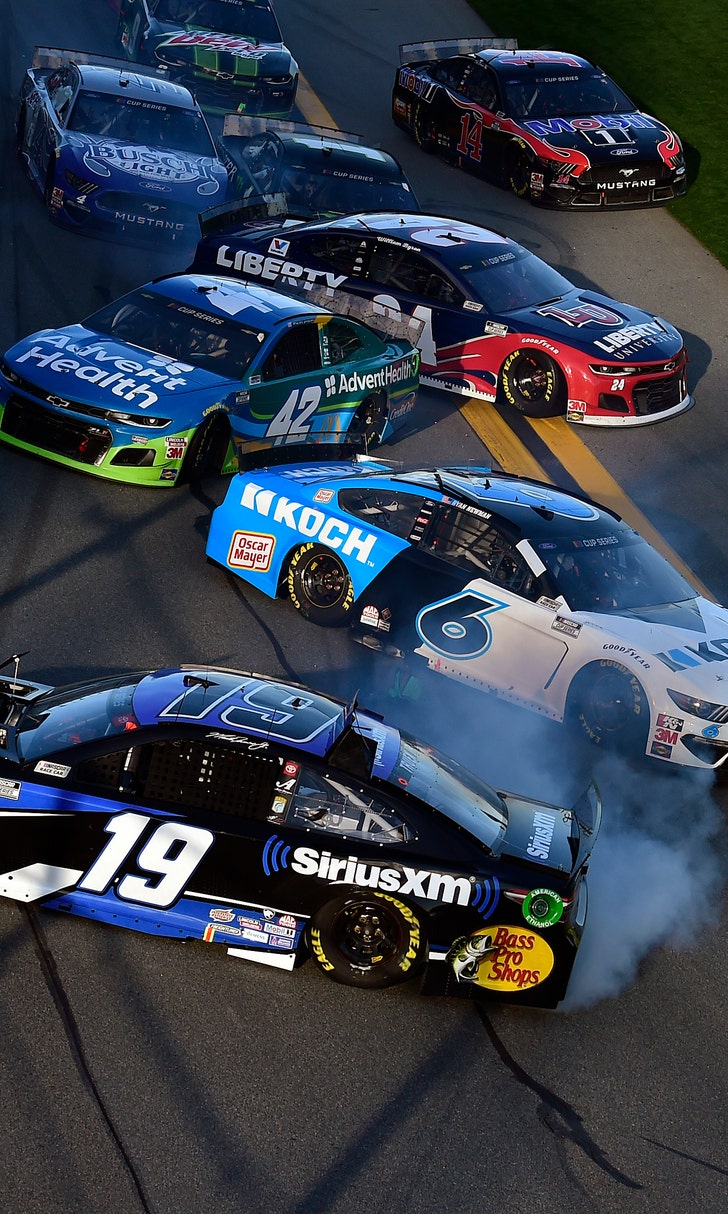 The Numbers Game At Daytona