NASCAR Cup Series
NASCAR Cup Series
Johnson wins thriller at Talladega
Published
Apr. 17, 2011 1:00 a.m. ET

Jimmie Johnson is baaaack.
Pushed by teammate Dale Earnhardt Jr. on the last lap of the Aaron's 499, Johnson tied a record for the closest win in NASCAR history at Talladega Superspeedway on Sunday.
"Can't thank Junior enough," said Johnson, who credited Earnhardt and his team for his first victory of the season. "They are responsible for this win today."
Johnson was so grateful he grabbed the checkered flag and presented it to a reluctant Junior.
"He's got the checkered flag over there," Johnson said, "and I can't wait to tilt a cold one back with him and thank him for a good job done today."
Johnson finished .002 seconds ahead of Clint Bowyer. Jeff Gordon took third, and Earnhardt and Kevin Harvick rounded out the top five.
The victory broke a 15-race winless streak for Johnson; the longest of his career is 19. As far as Johnson's teammate, Earnhardt's run of futility now stands at 101 races.
"If I couldn't win the race I wanted Jimmie to win the race because I had worked with him all day and he's my teammate and I'm proud to be driving for Hendrick Motorsports," Junior said.
"I discovered, in my opinion, we were a faster team if he was leading the two of us."
Talladega saw a low number of cautions — a paltry six — which isn't what the race is known for. And, though the day featured some big wrecks, none was as spectacular as the past few years had been. It was calm, by Talladega standards, but the last lap made up for the mostly green-flag racing.
"That was crazy. With maybe 1½, two to go, I thought we were in trouble and it wasn't going to work out," Johnson said.
For Bowyer, it was a heartbreaking loss after looking like he was the driver to beat as the laps wound down. Paired with Harvick, Bowyer led several times late but couldn't hold on. The driver of the No. 33 car reached Victory Lane last fall at Talladega, but he hasn't won since.
"We did everything we could do," Bowyer said. "Circumstances, man. I saw them coming in the mirror through Kevin, and I knew.
"It's a good finish for us. Very frustrated that we didn't get the win."
Harvick agreed.
"Just pushed him as hard as I could and we came up a little bit short."
With about 50 laps left, the intensity of the race really picked up. Jeff Burton was tapped by a drafting Paul Menard but made a great save below the apron at about 190 mph.
Harvick dumped his dance partner, Dave Blaney, and took the lead, but Blaney took it back with 33 laps left. Big names like Gordon and Tony Stewart were not factors in the middle part of the race, but Gordon ended up coming on strong late.
"We took the lead coming to the white flag and it was just a little bit too early," Gordon said.
Debris on the track caused the fifth caution of the day with 25 laps to go. On the restart, Bowyer got ahead of the pack fast and paired up with Burton.
With 18 laps to go, Ryan Newman made one of his two great saves of the day — he got turned all the way around with Denny Hamlin pushing him and got into Juan Pablo Montoya. No caution was called, but a lot of damage was visible on the right front of Montoya's Chevrolet.
"I got three Hail Marys when that thing turned around on the backstretch before it got all the way backwards," Newman said. "I was just hoping it was going to stay on the ground."
A few laps later, Newman was again turned while Hamlin was pushing him, but while Newman did save the car from hitting anyone or thing, he cut his tires and the sixth caution was called with 15 laps left.
"If there were a category for saves of the day, I think we'd be the only one that had two," Newman quipped.
"The first was pretty big; the second one was really big. Just luck."
Debris on the track caused a third caution on Lap 128. Seven drivers on the lead lap, including Carl Edwards and Greg Biffle, did not pit under the yellow caution.
The race featured 62 lead changes at the 57-laps-to-go mark. While everyone paired up, a lot of cars were also strung out.
One of the lighter moments came when Harvick pushed Blaney to the lead. Blaney's car, sponsored by Golden Corral, had a "Kids Eat for Free" promotion on its rear bumper. Harvick, who had pushed Blaney a lot during the race, was overhead on his radio saying, "I'm going to have nightmares about kids eating free."
On Lap 139, another wreck pulled a yellow caution. Joey Logano got into the back of Kyle Busch, who spun out and hit Matt Kenseth hard. AJ Allmendinger appeared to have done a masterful job escaping the carnage — at one point he was racing backward — but during his pit there appeared to be damage to his car. Kyle Busch took his car to the garage for some repairs for a reported radiator problem.
Lap 90 saw a five-car wreck and the second caution of the race — and, as in the first caution, Kurt Busch was involved in a wreck while pushing a car.
Busch appeared to tap teammate Brad Keselowski, sending the latter high up and into the wall and into Marcos Ambrose's car.
Three other drivers — Trevor Bayne, David Ragan and Kasey Kahne — were also affected by the wreck, but Kahne's situation was unusual. His car suddenly erupted into flames with black smoke pouring out. Ragan's engine also appeared to have blown just as the wreck began. All three drivers were evaluated and released from the infield care center.
"I'm fine. I actually didn't really even get in that bad of a wreck," Kahne said. " I sucked up a little bit of black smoke, but that was it. I stink, too."
It was another disappointing — and early — end to a race for Bayne, the Daytona 500 winner.
"That was one of the harder hits I've taken, just because it was so much of a frontal impact across the track, off the apron, all the way to the wall," Bayne said.
The strategy at the track was fairly straightforward — two-pack racing. Several drivers — most notably Earnhardt Jr. — aren't wild about this type of racing simply because the drafting car's driver can't see anything but the car in front of him.
Earnhardt was fairly open about his feelings Saturday, saying, "I don't really like the two-car stuff. It's — I don't know — just silly."
Despite Earnhardt's dislike of having a dance partner, he and the other drivers were doing the tango, cheek-to-cheek, as soon as the green flag dropped Sunday.
Gordon's grill collected some debris early in the race, but because he was the polesitter, he had no one to draft behind and, possibly, have had the change of downdraft blow off the debris. By the 11th lap, Gordon had to drift toward the rear to cool down his engine.
Surprisingly, there was green flag racing for a full 30 minutes. The first caution came on Lap 27, when Kurt Busch hooked Landon Cassill's car, which then turned down and clipped Brian Vickers' ride. Vickers ended up turning into the wall, with several cars squeezing by him to avoid being involved.
 
---
---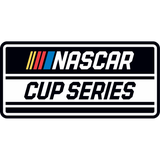 Get more from NASCAR Cup Series
Follow your favorites to get information about games, news and more
---