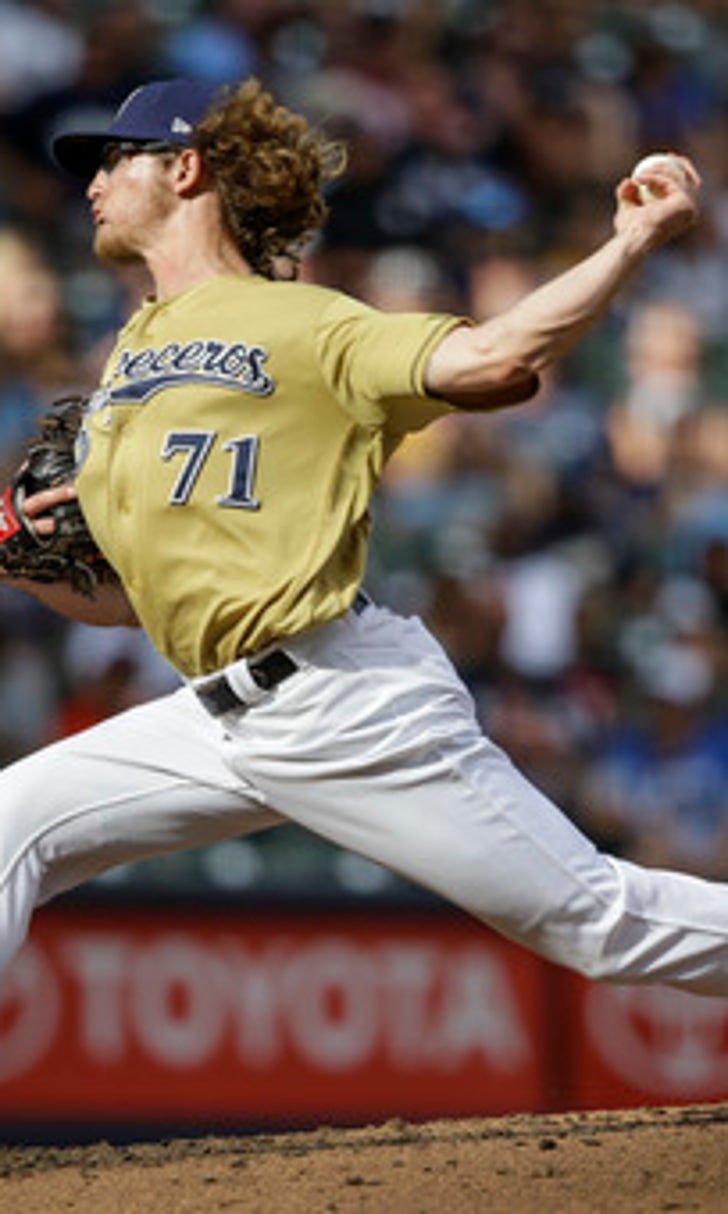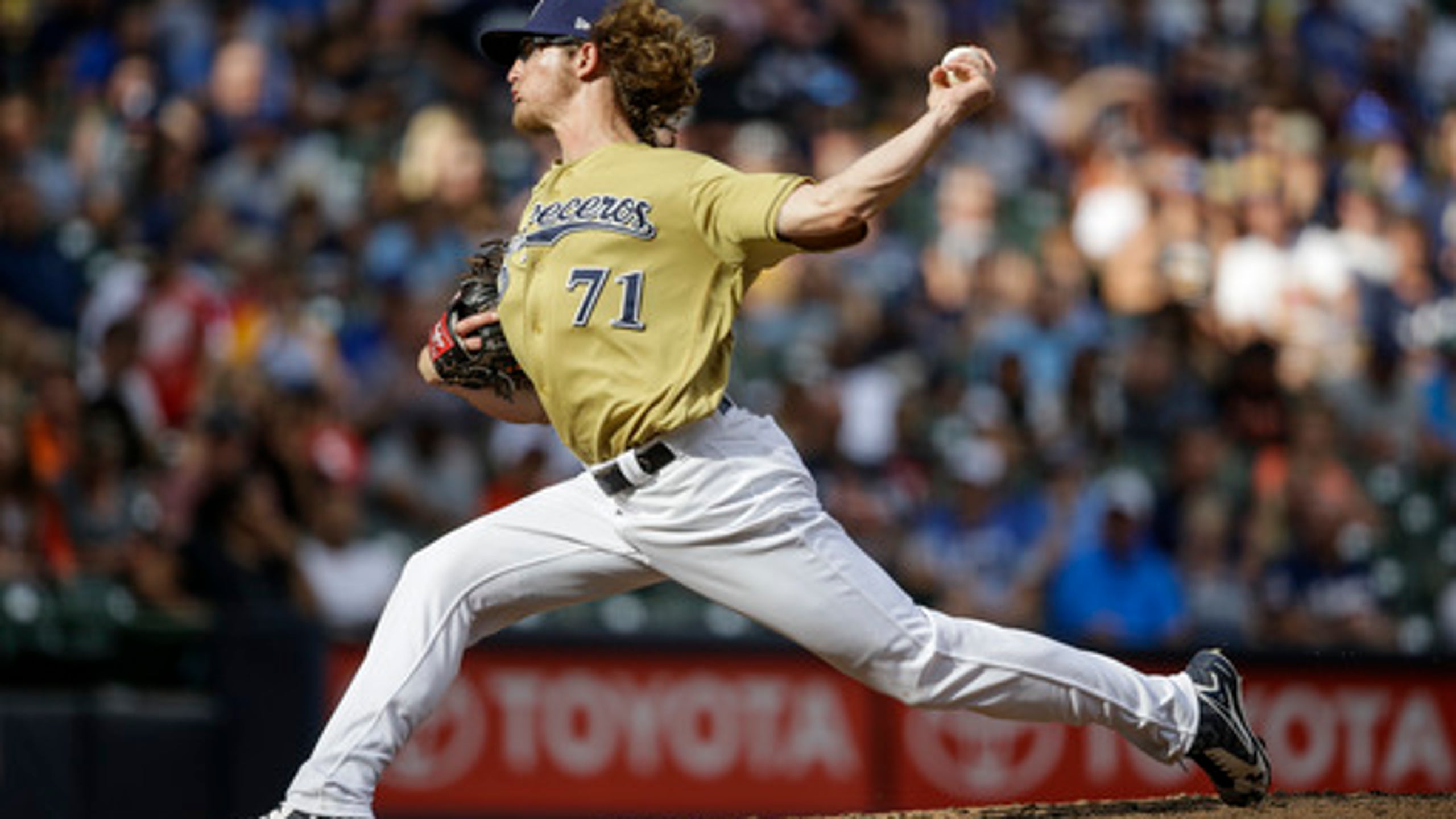 Santana homers off Stanton's glove, Brewers beat Marlins 8-4 (Jul 01, 2017)
BY AP • July 1, 2017
MILWAUKEE (AP) Giancarlo Stanton was inches away from robbing the Brewers' Domingo Santana of a home run in the second inning.
The ball slipped from his glove and over the fence for a tying two-run homer, though, and Milwaukee added five more runs in the inning to jumpstart an 8-4 win over the Miami Marlins on Saturday.
''If I catch it, the game is completely different, and we can probably have a chance to win,'' Stanton said. ''I had it. Then I didn't have it. Then the fans had it.''
Santana's drive came off Tom Koehler (1-3). Stanton jumped and got his mitt on the ball, but it bounced off and fell into the seats. Stanton put his hands on his head as Santana circled the bases.
''I was just hoping he'd drop it,'' Santana said.
The seven-run inning marked Milwaukee's second-best output for an inning this season, trailing only an eight-run outburst against the New York Mets on May 13.
Travis Shaw had a two-run single later in the barrage. Brewers starter Zach Davies drove in a run on a fielder's choice, Stephen Vogt drew a bases-load walk and Jonathan Villar added a run-scoring single as Milwaukee sent 13 batters to the plate in the inning.
''If (Stanton) catches that ball, you just don't know what happens,'' Marlins manager Don Mattingly said. ''Then it snowballs.''
Davies (9-4) struggled a bit with his control early but retired his last 10 batters. He gave up four runs and five hits over six innings. He pitched seven shutout innings in his previous start Sunday at Atlanta.
''The last two innings, I thought they may have been his best two innings of the season,'' Brewers manager Craig Counsell said. ''The command was as good as we've seen it.''
Koehler, making his first start since May 16, lasted just 1 2/3 innings. He gave up six hits and seven runs (three earned).
Miami jumped ahead in the first on Justin Bour's two-run double. The Marlins added two more runs in the third off Davies to make it 7-4.
Orlando Arcia homered leading off the fifth for the Brewers.
COOL TREAT
Arcia helped himself to a fan's dessert in the fourth inning. The 22-year-old shortstop gave chase to a foul ball that ended up a few rows out of play, and while a man in the front row watched the ball land, Arcia stole his spoon and scooped himself a bite of ice cream. The fan laughed as Arcia nonchalantly jogged back to his position.
NO WORSE FOR WEAR
Joe West served as home plate umpire a day after being struck in the back of the head by a baseball thrown from the stands at Miller Park. The incident occurred in the fourth inning of Friday night's game with West umpiring at first base. West remained in the game but play was halted for about seven minutes as security personnel searched for the culprit.
''You want people to have fun and a great time and everything else, but you don't want to see it cross the line,'' Mattingly said.
A golf ball also was thrown from the stands into the bullpen during the game, Mattingly said.
PRACTICE POWER
How competitive would 43-year-old Miami outfielder Ichiro Suzuki be in the All-Star Home Run Derby at Marlins Park? Mattingly thinks Suzuki could go deep a few times after watching his batting practices over the past two seasons. The Japanese outfielder has two home runs this season and 116 in a 17-year major league career.
''He hasn't hit as many this year, but he was hitting a ton last year,'' Mattingly said. ''He might be like the guy who hits 30 into the second row.''
When asked to assess his prowess as a power hitter during his career with the New York Yankees, Mattingly said: ''I was a first-row guy.''
TRAINER'S ROOM
Marlins: 2B Dee Gordon fouled a ball off his right foot in the fifth and hopped halfway down the third-base line in pain. He slowly walked back to the plate, stopping to crouch at one point, before making his way back into the batter's box.
Brewers: RHP Chase Anderson is expected to miss ''substantial time,'' likely four to six weeks, after straining a left oblique muscle while striking out swinging in a game Wednesday against Cincinnati, Counsell said. Anderson met with team doctors Friday after undergoing an MRI. ... Slumping 1B Eric Thames returned to the lineup after sitting out back-to-back games. He was 1 for 4 with a walk. ... OF Ryan Braun also returned to the lineup after being given the night off Friday to rest.
UP NEXT
Marlins: Dan Straily (5-4) will take the mound in the finale of the three-game set. Straily is 3-0 with a 1.67 ERA in four career starts against the Brewers.
Brewers: Junior Guerra (1-2) will try to rebound after allowing a career-high eight runs Tuesday at Cincinnati. Guerra has never faced the Marlins.
---
More AP baseball: https://apnews.com/tag/MLBbaseball
---
---