Tampa Bay Rays
Tampa Bay Rays
Rays' Eovaldi set for first start since 2016 vs. A's (May 30, 2018)
Published
May. 30, 2018 2:51 a.m. ET
OAKLAND, Calif. -- The Tampa Bay Rays will look for yet another unique way to win a ballgame Wednesday night when they go for a third straight against the Oakland Athletics.
A team that has gotten a reputation for its unusual means of employing relievers, the Rays have watched former closers Jonny Venters and Sergio Romo end long personal droughts with saves in their 1-0 and 4-3 triumphs in the first two games of the series.
Venters stole the spotlight among many great pitching performances Monday when he was called upon with two outs and the potential tying run on base in the last of the 13th inning.
The left-hander had recorded two holds and a win, but no saves, in his 10 previous appearances for the Rays this season, after not having pitched since the 2012 National League wild-card playoff game for Atlanta against St. Louis.
He underwent three arm surgeries while out of baseball from 2013-17.
But Monday, when he got the A's Matt Olson to strike out to end the 1-0 win, he not only was getting his first save opportunity since before the surgeries, but in turn recorded his first save since 2011.
"It's been a while, but there's always a certain level of excitement when you get that last out," the 33-year-old gushed afterward. "I was glad I was able to get it done."
Romo hadn't waited nearly as long -- just since October of 2016 -- for his next save, and he nearly blew the opportunity in Tuesday's win.
Called upon to protect a 4-1 lead in the ninth, he allowed an inning-opening single and double before retiring the next three hitters, with both of the baserunners scoring to narrow the final score to 4-3.
Romo had blown three previous save opportunities this season, so his story was a good one. But at the end of a wild two-day adventure, probably not as good as ones turned in by fellow reliever Jaime Schultz, who struck out the side in the seventh inning in his major-league debut, and the Tampa Bay offense, which for just the fourth time in franchise history recorded back-to-back-to-back home runs.
The Rays will call upon Nathan Eovaldi to get the ball rolling on Wednesday.
Consistent with the storybook tales in the first two games of the series, the 28-year-old right-hander is scheduled to make his first start since 2016, having missed all of last season following elbow surgery and the start of this year with a follow-up procedure.
Eovaldi (0-0, 0.00) has never beaten the A's in his career, going 0-2 with a 4.97 ERA in five starts. He's 0-1 with a 5.06 ERA in two starts in Oakland.
The A's, who have struggled offensively on their current homestand, will look to left-hander Sean Manaea to stop their two-game slide.
Manaea (5-5, 3.34) has pitched well in both of his previous career starts against the Rays, going 1-0 with a 1.20 ERA.
The A's have lost five of eight on their current 10-game homestand, having scored a total of 15 runs in the first eight games.
"We were better tonight," A's manager Bob Melvin told the East Bay Times after Tuesday's loss. "(Blake) Snell's tough. He's throwing 98 and he's got four pitches. We rallied at the end and got some really good at-bats. I was encouraged by what I saw at the end."
---
---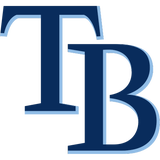 Get more from Tampa Bay Rays
Follow your favorites to get information about games, news and more
---