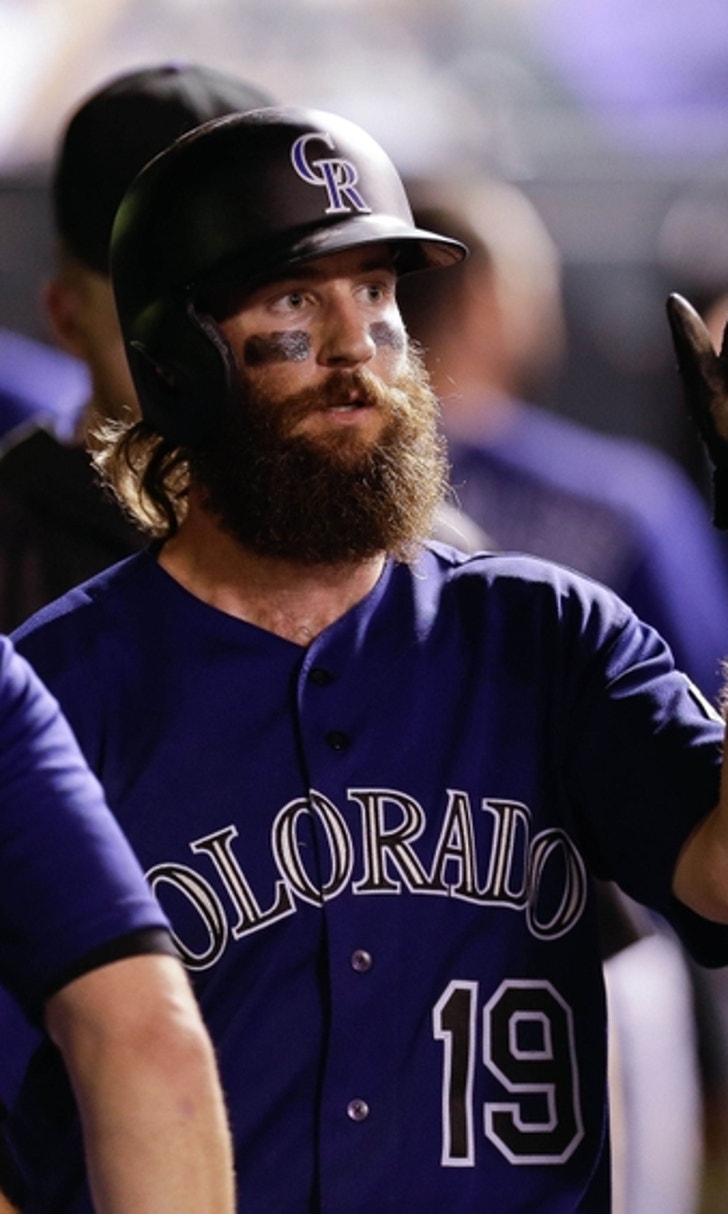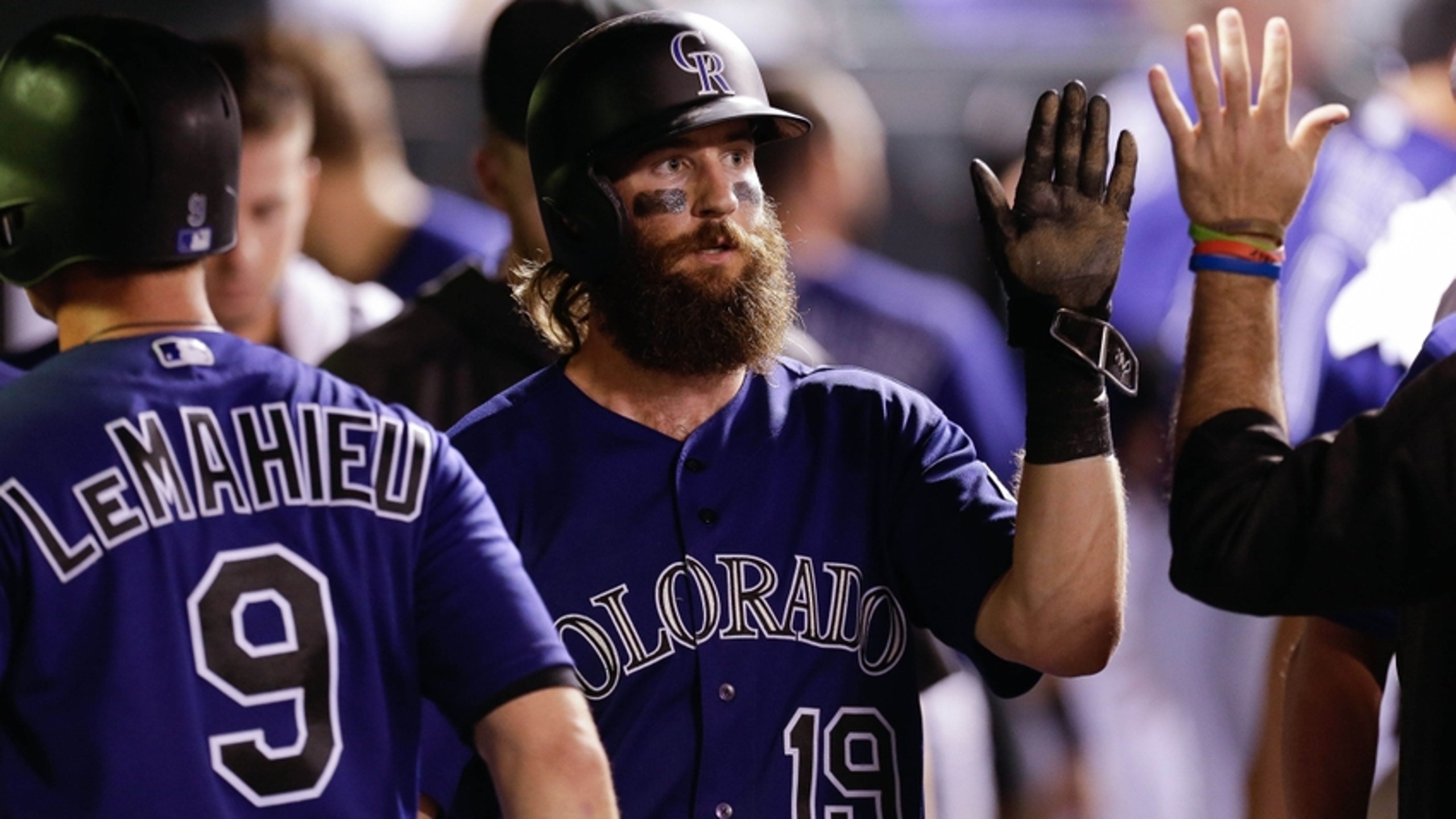 Philadelphia Phillies: Trading for Charlie Blackmon
BY Fansided and Tal Venada/FanSided via Call to the Pen • December 16, 2016
Blackmon Would Be an Excellent Acquisition but Is a Long Shot to Wear Phillies Red. Photo by Ron Chenoy – USA TODAY Sports.
Acquiring a left-handed hitter with power is an undeniable need for the Philadelphia Phillies, but a move for an outfielder to bat fifth involves the contract's length and amount, the asking price regarding talent, competing franchises for a coveted player and the timing of the deal.
The Other Extreme:
The higher one's aim is; the harder the task is to achieve that goal.
While Jay Bruce is a more attainable target, Charlie Blackmon is on the opposite end: a long shot. He's easily affordable and controllable. 2017 is his second round of arbitration for an estimated $9 million, and the outfielder can provide a solid left-side bat for two summers. But keep in mind, until right fielder Dylan Cozens is ready by – maybe – 2018's trading deadline, general manager Matt Klentak would not deal Blackmon.
According to Steve Adams of MLB Trade Rumors, the price tag for Blackmon is exorbitant; ergo, he probably won't be changing his employment address anytime soon. However, my article presents only the cost of a player fans hope for instead of a viable alternative like Bruce.
At the Winter Meetings in early December, Klentak and skipper Pete Mackanin discussed the fit of Blackmon. He's a .300 hitter who can blast 25 homers and drive in 90 runs, but just the thought of his acquisition lit up Mackanin's face. Obviously, the grinning manager can slot him between Maikel Franco and Tommy Joseph: Franco would see better pitches, and Joseph could protect Blackmon.
IN OTHER WORDS: 

"In 1961, when Maris broke Babe Ruth's record, he wasn't intentionally walked once. Mickey batted after Roger, and nobody was going to put a man on base with Mantle coming up to the plate." – Mel Allen
Preferring a solid starter and/or an eighth-inning setup arm, the Colorado Rockies are selling high, but other organizations are balking. At what? The asking price. Colorado wanted Kevin Gausman from the Baltimore Orioles or Marcus Stroman from the Toronto Blue Jays, and both 25-year-old hurlers have four campaigns of club control. Meanwhile, the Rockies' stance on Blackmon hasn't changed despite the Michael Dunn signing. Are they posturing?
Blackmon's stats:
If the Phillies Pick Up Another Outfielder, Quinn Will Probably Open the Season at Triple-A. Photo by Eric Hartline – USA TODAY Sports.
Considering other interested franchises for Blackmon's services, the Philadelphia Phillies are monitoring the roster moves of the Cleveland Indians, the Seattle Mariners and the Texas Rangers. And while these teams are seeking an outfielder, they'll need the pitching they have to compete for a divisional title. In other words, they'll go in a different direction because most GMs must finalize their rosters long before Spring Training.
FOOD FOR THOUGHT:

 "We live by the Golden Rule. Those who have the gold make the rules."

– Buzzie Bavasi
On December 7, Klentak powwowed with president Andy MacPhail regarding Blackmon, Bruce and Michael Saunders. And the junior executive pointed out the cost, the competition and the drawbacks of a deal with Colorado. One minus would be Roman Quinn spending three months with the Triple-A Lehigh Valley IronPigs. The Rockies, the general manager noted, might settle for Hector Neris and a starter because they currently have Jake McGee, Jason Motte, Chad Qualls and Dunn as their late-frame options. So what is Klentak's only strategic option? Wait them out.
Being in a good position is important in this case because the Phillies could be willing to offer more than the Orioles. Baltimore is only trying to score a rare bargain. And if the locals are willing to trade a young starter with Neris, they can make a move in late March. That said, Joaquin Benoit would be the new closer and Pat Neshek could work the eighth inning. But an overpay would be Neris and one of these hurlers: Jeremy Hellickson, Jerad Eickhoff, Vince Velasquez or Aaron Nola. On the other hand, if Zach Eflin proves he's healthy in camp, would the Rockies have interest in Neris and Eflin for Blackmon? A big maybe.
Even Though Trading Neris to the Rockies Is Unlikely, He Could Be Dialing Up His Four-Seam Fastballs Elsewhere Next Year. Photo by Bill Streicher – USA TODAY Sports.
The Numerical Bible:
This review is not a sabermetrics article, which means no heavy statistical analysis. But because some readers rely on stats, this is only a reference: no reason to articulate the importance of these numbers.
These numbers do not include any postseason activity. * Left-handed pitcher.
Hitting:
Pitching:
Next: Storyline: Trades and Consequences for the Phillies
More from Call to the Pen
This article originally appeared on
---
---