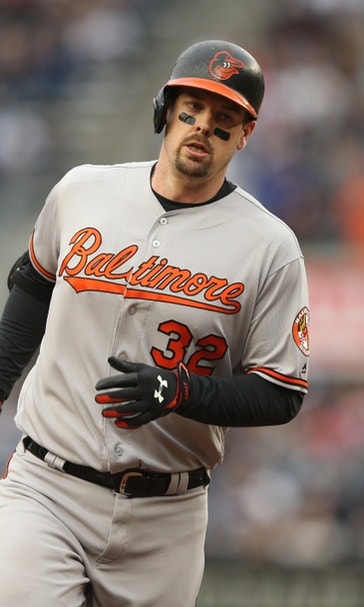 MLB Free Agency: What Team Is the Best Fit for Matt Wieters?
December 26, 2016

Fansided, Greg Goldstein/FanSided via Call to the Pen
After Wilson Ramos signed a short-term deal with the Tampa Bay Rays, Matt Wieters became the best backstop available in MLB free agency. However, with his market not too clear at the moment, what team represents on the best option for the multi-time All-Star?
Having known nothing else since being drafted by the Baltimore Orioles in 2007, Matt Wieters now looks sure to be suiting up for a new ball club in 2017. In fact, O's manger Buck Showalter said after the team signed former Arizona Diamondback Welington Castillo that he wanted to "wish him (Wieters) well."
So what's next for the four-time All-Star catcher? Once a "can't miss" prospect, Wieters has not really flopped, but has not come even close to the type of player many expected when he made his major league debut in 2009.
Through eight years in MLB, Wieters has hit for a career batting average of .256 and posted a .318 on-base percentage. He's amassed a total of three 20 home run seasons and has had good numbers throwing out base runners (33 percent), even though he does not rate highly as a pitch framer, according to StatCorner.
He's also dealt with injuries in recent seasons. Wieters was healthy in 2016, having appeared in 124 games. But this was the first time in three years that the Orioles catcher suited up in more than 75 contests.
Still, Wieters is a good offensive option behind the plate because of the overall lack of offensive production that comes from the position nowadays in MLB. The longtime Oriole will be 31 years old when Opening Day comes around, so there should be some concern with how long he can hold up behind the plate.
All of these factors, in addition to a lack of open starting catching spots in MLB, have kept Wieters a free agent past Christmas. It's been a rough go for a player that took a qualifying offer last offseason to re-enter the market. However, there are still some clubs that could use what Wieters brings to the table, while also giving him a reasonable contract.
The Colorado Rockies have been thrown around as a suitor because they are seemingly going for it with the signings of Ian Desmond and Mike Dunn this winter. But they have two young catchers in Tony Wolters and Tom Murphy that should be able to get the job done for much less of a price.
In Chicago, the White Sox have a clear need behind the plate with Omar Narvaez in place to start. But general manager Rick Hahn has opted to trade key pieces like Chris Sale and Adam Eaton this offseason, which makes them unlikely to be interested in an expensive veteran catcher. The Angels have a similar need as well, but after already making a move on the catching front by trading Jett Bandy for Martin Maldonado earlier in the offseason, they look to be out on Wieters as well.
We know that San Francisco would like to eventually move Buster Posey to first base. Could signing Wieters prompt that type of long-term move a little earlier than Bruce Bochy may have expected? Probably not, especially considering that signing Wieters and moving Posey would shift Brandon Belt to left field, which is not ideal. They also don't seem willing to spend much more money after agreeing to bring in Mark Melancon to what was briefly a record-setting contract for a closer.
This brings us to the two most likely destinations, who coincidentally both reside in the NL East.
More from Call to the Pen
Wieters is from Georgia and has been frequently connected with the Atlanta Braves throughout the winter. However, it seemed like the Braves moved on because they have three major league caliber catchers already available to them in Tyler Flowers, Tuffy Gosewich and Anthony Recker. But with Wieters' price tag probably dropping, Atlanta may jump back into the fray. In fact, according to Jim Bowden of ESPN, the Braves remain "in the mix" for Wieters' services.
The 30-year-old would certainly be an upgrade to a team that is looking to start competing in the near future. He may be a good first move to start this process being that the Braves have the funds available with many of the core players being years away from taking up a sizable amount of the payroll. Many of the Braves' financial commitments are investing on the one-year starting pitching contracts of Bartolo Colon, Jaime Garcia and R.A. Dickey.
Washington is always looking for ways to improve and even though Mike Rizzo already dealt for Derek Norris earlier this offseason, it has been reported that he may be willing to flip Norris again if it means that the club could add Wieters.
Like with Atlanta, Wieters offers a clear upgrade over what the Nats currently have. Washington is known to make shrewd moves, and for a team that has missed out on the likes of Chris Sale, Andrew McCutchen, Kenley Jansen and Aroldis Chapman, this is where Washington may want to upgrade.
There are really no surefire fits out there for Wieters, but the Braves and Nationals offer the best situations and should be able to meet his contract demands as well. MLB is shifting away from giving catchers big money and Matt Wieters is feeling the effect this winter.
Where do you think Wieters ends up? Share your thoughts in the comments below.
---
---