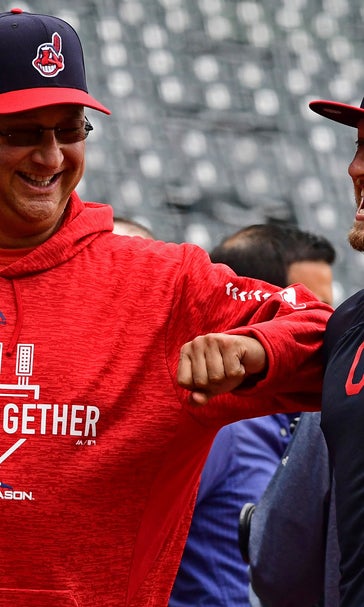 Indians debating final roster spot for ALDS vs Astros
October 3, 2018
CLEVELAND (AP) — Rajai Davis has his name cemented in October baseball lore.
But it might not be on Cleveland's playoff roster this year.
Indians manager Terry Francona has one spot left on his 25-man roster for the AL Division Series against the Houston Astros and it will go to either Davis or utility infielder Erik Gonzalez.
"We're debating the last spot," Francona said Wednesday. "We're going back and forth."
The Indians will open the ALDS in Houston on Friday and Francona must submit his roster to Major League Baseball by 10 a.m. that morning for the best-of-five series.
Many of the other tough decisions were made days ago, and now Francona and his coaching staff have to decide whether to keep Davis as the club's sixth outfielder or go with Gonzalez, who can play anywhere in the infield.
"Gonzie gives you a little bit of a safety net if something happens to somebody," Francona said. "Raj gives you the ability to maybe influence the game with his legs, as we've seen. So, we're all just trying to figure out what's the right thing to do."
Davis has also shown he can influence a game — and maybe a season — with his bat.
The veteran is best known for hitting a tying, two-run home run in the eighth inning of Game 7 of the 2016 World Series against the Chicago Cubs. Davis' dramatic, line-drive homer off closer Aroldis Chapman pulled the Indians even before they eventually lost in 10 innings as the Cubs ended their 106-year Series title drought.
Davis spent last season with Oakland and Boston before re-signing with Cleveland as a free agent in February. He batted .224 with 21 stolen bases in a reserve role.
Gonzalez has been cleared from concussion protocol after he was struck in the helmet with a pitch last week in Chicago. The 27-year-old played in 81 games for the Indians and batted .265 with one homer and 16 RBIs.
Francona's decision could come down to whether it's more important to have an extra infielder if either All-Star Francisco Lindor or Jose Ramirez gets hurt. Gonzalez can play shortstop or second base.
"If Frankie went down and he didn't go down enough to be a DL, it's kind of an issue," Francona said. "But do we gamble a little bit and think that Raj might be able to change a game with his legs?"
Francona will carry 11 pitchers — three left-handers — as the Indians try to dethrone the defending World Series champions, who went 4-3 this season against Cleveland.
He'll use a three-man rotation of Corey Kluber, Carlos Carrasco and Mike Clevinger, who will start Game 3 in Cleveland. Starters Trevor Bauer and Shane Bieber will be in the bullpen for Games 1 and 2 in Houston, and depending on if they are used in the first two games, one will start Game 4 — if the series goes that long.
Cleveland's other relievers: Cody Allen, Dan Otero, Adam Cimber, Andrew Miller, Oliver Perez and Brad Hand.
Francona said one of the toughest decisions was to leave off veteran right-hander Josh Tomlin, the club's longest-tenured player.
"He's one of the best teammates I've ever seen in my whole career, and that doesn't change," Francona said. "But we tell the guys day one that we're going to do what is best for our team. Some conversations are harder than others, and that one was definitely hard, but we also don't claim to be right 100 percent of the time. What we try to do is be respectful, do our homework and be honest.
"Sometimes that's the best you can do because some of the conversations are hard."
---
---