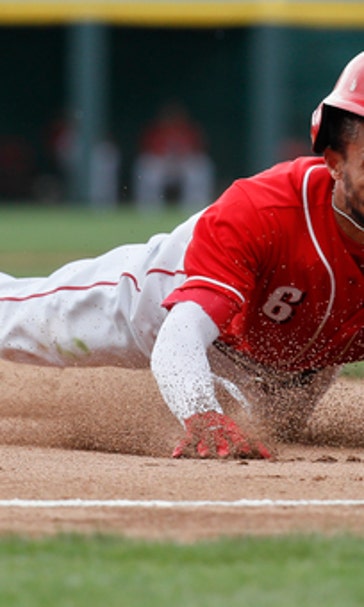 Hamilton, Reds end 13-game losing skid vs Cards with 6-3 win
June 10, 2018
CINCINNATI (AP) Legs, glove and bat - center fielder Billy Hamilton used them all to almost single-handedly stop the Cincinnati Reds' historic losing streak to the St. Louis Cardinals.
Hamilton made a bunch of key defensive plays and the Reds ended their 13-game skid against St. Louis, beating the Cardinals 6-3 Sunday.
Hamilton threw out two runners, then made outstanding catches against the wall in the eighth and ninth innings. He also tripled and scored twice.
''It's all about me catching the balls if I get a chance to,'' Hamilton said. ''Like I tell the pitchers, if it's anywhere inside the park, if I can get to it, I'm going to make an effort to get to it.''
The Cardinals' overall winning streak against Cincinnati was their longest since the 1930-1931 seasons. The Reds had lost 11 straight home games to St. Louis.
''Honestly, the losing streak to the Cardinals was the last thing on my mind,'' Reds manager Jim Riggleman said. ''It was all about today.''
Scooter Gennett drove in two runs and the Reds capitalized on the Cardinals' season-high 11 walks.
''Any win is always good for us,'' Hamilton said. ''We've been struggling up and down this year. For us to get this win, it gets some confidence back in us. I feel it's a big win.''
The Cardinals piled up 10 hits in five-plus innings against Anthony DeSclafani (1-1), who was making his second start since Sept. 28, 2016.
Hamilton threw out Jose Martinez trying to stretch a single into a double to end the first inning. Martinez originally was ruled safe, but the call was overturned after a replay review.
Hamilton also threw out pitcher Carlos Martinez trying to score from first on Matt Carpenter's single to end the fourth. Hamilton tried for a diving catch, knocked the ball away, but recovered to throw home.
Amir Garrett allowed an unearned run in the sixth and Michael Lorenzen pitched a perfect seventh before Jared Hughes pitched the eighth and ninth for his fourth save.
''Billy made some insane plays,'' Hughes said. ''I gave him the game ball and a big hug. It was unbelievable. I'm so happy he's on my team.''.
The Reds scored five runs on just four hits in 3 2/3 innings against Martinez (3-3), who was making his second start since coming off the disabled list with a strained back muscle. He issued a season-high seven walks, one short of tying his career high, while hitting a batter and uncorking a wild pitch on ball four that allowed Hamilton to go from first to third. Martinez has 12 walks in 7 2/3 innings over his last two starts.
''I couldn't find the strike zone with my breaking ball or my cutter,'' Martinez said. ''I was missing a lot. It was a little bit frustrating. I was really close. I never lost my focus. I was trying to compete.''
SECOND LIFE
Jose Martinez's third-inning RBI single originally was ruled the first out of an inning-ending double play after left fielder Jesse Winker made what looked like a spectacular leaping catch at the wall and Tommy Pham was doubled off second base. Replays showed the ball caromed off the wall first, leaving Martinez with his sixth RBI of the series.
BALL MAGNETS
Carlos Martinez went into the game with a league-leading nine hit batsmen and reached double figures by grazing Eugenio Suarez in the third.
BUSY MAN
The Cardinals got a gift run when RF Scott Schebler's throw on a short flyout skipped off C Tucker Barnhart's glove and the 6-foot-5 Garrett, a former college basketball player at St. John's who was backing up the play, couldn't make a leaping stab. The ball went into the Cardinals' dugout and out of play, but Garrett jumped down the dugout steps in pursuit. Garrett picked up an assist and putout during a rundown on the next play.
OUTSIDE THE (STRIKE) BOX
Cardinals pitchers combined to walk 11 batters, including Joey Votto four times for the sixth time in his career. The 11 walks were Cincinnati's season high.
BACKWARDS LINE
St. Louis outhit Cincinnati 11-5 in the loss - Cincinnati's seventh consecutive game in which the loser outhit the winner.
TRAINER'S ROOM
Cardinals: C Yadier Molina took a foul tip from Suarez off his right inner thigh in the first inning. Molina paused briefly but stayed in the game.
Reds: Votto, the star first baseman who leads the Reds with 63 starts in 66 games, will be Cincinnati's designated hitter in the two-game series at Kansas City on Tuesday and Wednesday.
UP NEXT
Cardinals: RHP Jack Flaherty (2-2), Monday's starter against San Diego, allowed a career-high eight hits and six runs in his last start on June 6 against Miami.
Reds: RHP Sal Romano (3-7) makes his first career appearance against the Royals on Tuesday at Kansas City.
---
---