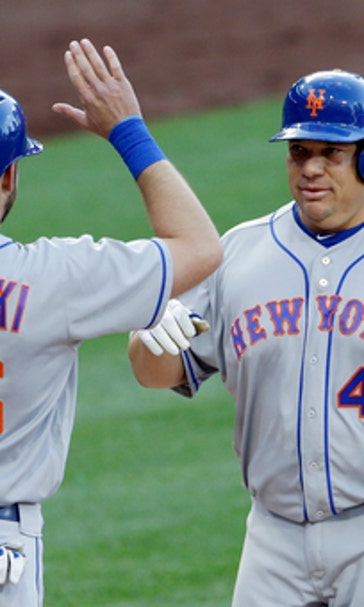 Colon hits 1st career homer in Mets' 6-3 win over Padres
May 8, 2016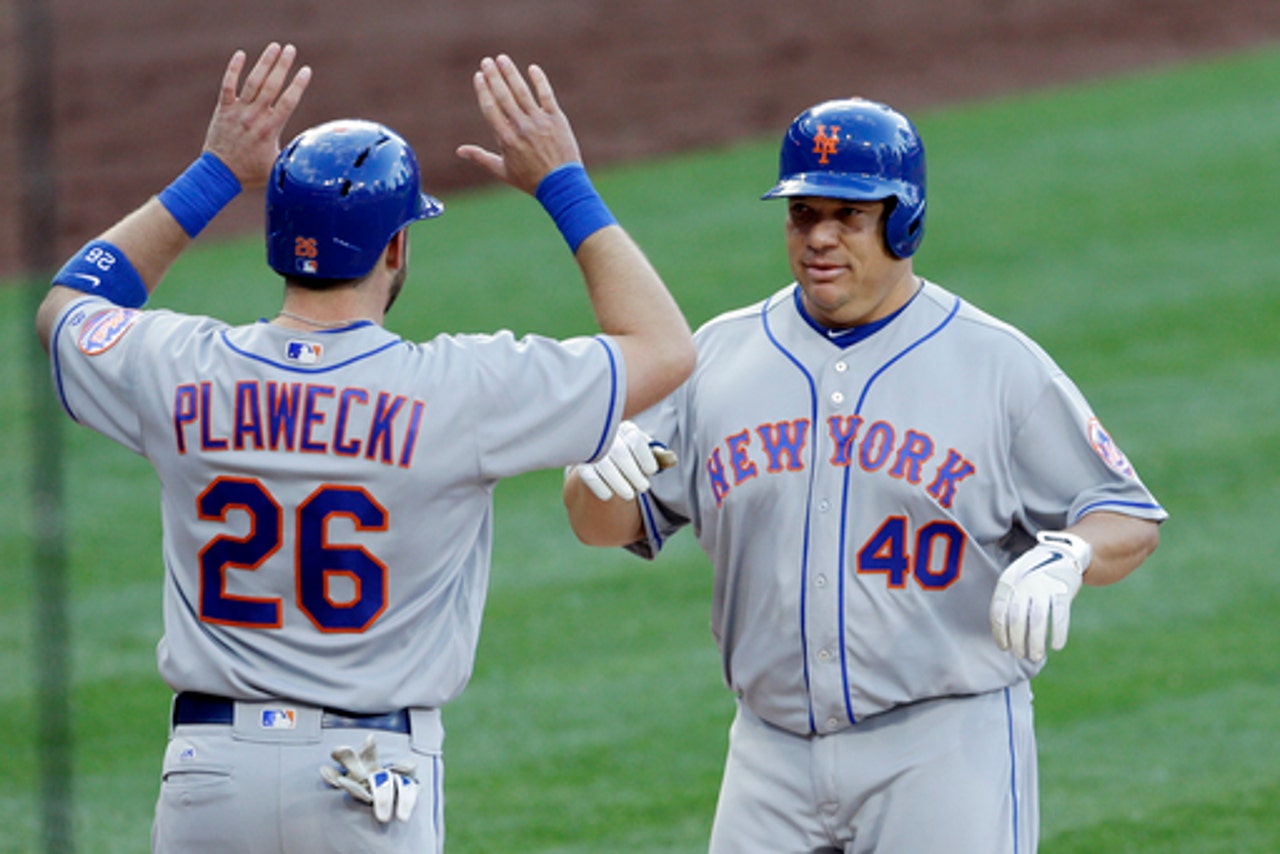 SAN DIEGO (AP) Bartolo Colon turned on an inside fastball from James Shields, launching a home run that was as improbable as it was historic.
Colon became the oldest player to hit his first major league home run, connecting Saturday night less than three weeks before his 43rd birthday, to help the New York Mets to a 6-3 victory over the San Diego Padres.
As the Mets' dugout went wild, Colon watched the ball all the way to its landing spot in the seats in the left-field corner. He didn't toss his bat until he was well more than halfway to first base. The portly pitcher's trot around the bases after hitting the impressive two-run shot took about 30 seconds.
When he returned to the dugout, his teammates were hiding in the tunnel before coming out to mob him.
''I don't even know how to explain it,'' Colon said. ''I'm very thankful. I thank God for this amazing moment, and I wasn't expecting it. Once I hit it I knew it was gone. The ball in San Diego travels well.
''Anytime I see a fastball I swing hard because I'm not a curveball hitter,'' he added.
''I don't really know what to say about that,'' Padres manager Andy Green said. ''Certain things leave you speechless.
''I don't know what the odds were of the Kentucky Derby for the trifecta today,'' added Green, a Kentucky native, `'but I figure the swing was probably a lot longer odds than that. It's one of those things that you just don't expect to see. Good swing.''
Shields said only that it was a fastball in.
Asked if he were surprised with Colon's swing, Shields said, ''Next question, man.''
Colon's teammates were amazed.
''You just shake your head,'' David Wright said. ''You watch him take BP and he's got very good hand-eye coordination and you see him hit some home runs in BP and you think to yourself, `What would happen if he ever did it in a game?' And to do it here with as many Mets fans as here, the 7 Line out there, I mean the place just went nuts, and it's one of those things where you come to the ballpark never knowing what you're going to see, and you saw it.''
Kevin Plawecki was aboard on a double for Colon's homer.
''I almost missed third base I was so excited,'' Plawecki said. ''Just kind of in awe about the whole thing. It was really cool.''
Yoenis Cespedes hit a two-run homer for the Mets, who scored only three runs and had seven hits in losing the first two games of this four-game series.
Randy Johnson hit his only homer shortly after turning 40 in 2003. He was the oldest to finally hit a home run before Colon.
Colon hasn't had to worry about his hitting. He won the 2005 AL Cy Young Award while with the Los Angeles Angels, and is a three-time All-Star.
Nonetheless, his at-bats are always a highlight. He usually swings hard and his helmet often falls off in the process, frequently drawing cheers and laughs from fans at home and on the road.
Before his home run, he was a career .089 hitter in 225 at-bats, striking out 119 times.
At 42 years, 349 days, Colon is the second-oldest Mets player to homer. Julio Franco homered on May 4, 2007, when he was 48 years, 254 days old.
Colon's major league debut was April 4, 1997, in a no-decision for Cleveland against the Angels. Franco was his teammate. The opposing manager was Terry Collins, now in his sixth season as the Mets manager.
Colon (3-1) pitched 6 2-3 innings, allowing three runs and six hits while striking out five and walking one. Jeurys Familia pitched the ninth for his ninth save in as many chances.
Cespedes hit his 10th homer with two outs in the first. Wright was aboard on a walk.
Wright and Michael Conforto hit consecutive homers off Carlos Villanueva with one out in the ninth. It was Wright's fourth and Conforto's fifth.
Jon Jay hit a three-run homer to right-center off Colon with one out in the third, his first with the Padres. Shields and Derek Norris were aboard on singles.
Shields (1-5), who singled twice, allowed four runs and five hits in six innings, struck out eight and walked five.
TRAINER'S ROOM
Padres: 2B Jemile Weeks strained his right hamstring running out a sacrifice bunt in the seventh and collapsed in the base path well short of first. He had to be helped off the field.
UP NEXT
Mets: RHP Matt Harvey (2-4, 4.76) is scheduled to start the finale of the four-game series.
Padres: RHP Andrew Cashner (2-2, 4.85) is scheduled to start for the Padres.
---
---