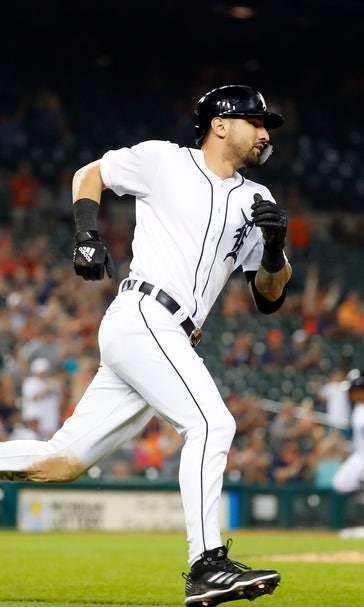 Castellanos has 5 hits, 5 RBIs in Tigers' win over White Sox
August 14, 2018
DETROIT (AP) — Detroit Tigers manager Ron Gardenhire wasn't going to accept the accolades for a move that made him look like a genius.
Gardenhire gave Nicholas Castellanos a rare day off Sunday, and his best hitter rewarded him with the game of his life on Monday night.
Castellanos had a career-high five hits, including a go-ahead homer in the seventh inning, and drove in five runs as the Tigers beat the Chicago White Sox 9-5.
"I'm not sure how much credit I can take for not playing Nicky when he couldn't walk yesterday," Gardenhire said. "I think most managers could figure that one out on their own."
Castellanos had played in 113 of Detroit's first 118 games, but a bruised foot earned him the rare rest. He hit .216 in his previous 32 games.
"I think it was good for me," Castellanos said. "It had been a minute since I had just watched a baseball game from the bench, and it gave me a chance to see a few things from a different angle."
Castellanos singled in the first, doubled and scored in the fourth, hit an RBI double in the fifth and hit a two-run home run off Jeanmar Gomez (0-1) in the seventh.
He came up again in the eighth with the bases loaded and two outs, needing a triple for the cycle, but settled for a two-run single that put the Tigers ahead 9-5.
"That was a great night," he said. "There are times when I put extra pressure on myself, because I know this is a young offense, so it is fun to have a game like this one."
It was the sixth five-RBI game of his career, including one against the White Sox on June 16. He's hitting .419 with four homers and 14 RBIs in 43 at-bats against Chicago this season.
"He started doing this to us last season," White Sox manager Rick Renteria said. "We come to town and it seems like he comes to life."
Louis Coleman (4-1) got the win with a scoreless inning of relief. The Tigers are 9-1 against the White Sox this season.
Detroit is 3-1 since returning from a winless six-game road trip. Chicago has lost six of seven.
Detroit starter Artie Lewicki allowed three runs on six hits and three walks in 4 2/3 innings. Chicago's Reynaldo Lopez gave up four runs on seven hits and a walk in five innings.
It was 4-4 when Castellanos lined his 17th homer into the Tigers bullpen with one out in the seventh.
Adam Engel made it 6-5 with a homer off Alex Wilson in the eighth, but Victor Reyes restored the two-run lead with an RBI single in the bottom of the inning before Castellanos' fifth hit.
Chicago took a 3-0 lead in the third.
Engel led off the inning with a double, Lewicki hit Nicky Delmonico and Yolmer Sanchez put down a bunt single to load the bases with no one out. Jose Abreu made it 1-0 with a sacrifice fly, and Daniel Palka followed with an RBI single. Avisail Garcia drove home the third run with another sacrifice fly.
The White Sox were outscored 9-2 from there.
"We had more opportunities to add on runs, but we left them out there," Renteria said.
Jeimer Candelario's sacrifice fly made it 3-1 in the bottom of the third, and Victor Martinez's RBI double in the fourth scored Castellanos. The Tigers took the lead with two runs in the fifth. After loading the bases with no one out, Jose Iglesias hit into a double play to make it 3-3, and Castellanos followed with an RBI double.
"Nick is the heart of our offense, though, and when he starts hitting, it is contagious," said James McCann, who had three hits and scored three runs.
Omar Navarez led off the sixth with a homer off Drew VerHagen to make it 4-4, and the White Sox started the seventh with back-to-back singles, but Coleman got out of the jam with a shallow fly ball and a double play.
TRAINER'S ROOM
Tigers: CF JaCoby Jones was placed on the 10-day disabled list with a strained right hamstring, and OF Mikie Mahtook was recalled from Triple-A Toledo. Mahtook started in left field. ... RHP Michael Fulmer, who has been sidelined since July 20 with an oblique strain, will make a rehab start for Single-A Toledo on Tuesday or Wednesday.
THOUGHTS FOR LEONYS MARTIN
The Tigers have been closely following the news about Cleveland Indians outfielder Leonys Martin, who was hospitalized last week with a life-threatening bacterial infection. Martin was Detroit's starting center fielder until he was traded to Cleveland on July 31.
"Everyone here knew it was a very serious situation, and Leonys is obviously someone we care a lot about," Gardenhire said. "It has been great to hear the updates that he's doing better, moving around and he's got the tubes out. It has been a scary few days."
UP NEXT
The teams play the second game of their three-game series on Tuesday, with Detroit's Blaine Hardy (4-4, 3.83) facing Chicago's Lucas Giolito (7-9, 6.23).
---
---