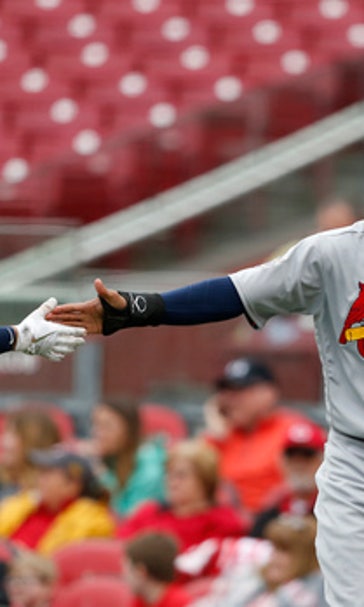 Cardinals sweep 4-game series from Reds with 3-2 victory
April 15, 2018
CINCINNATI (AP) Carlos Martinez's changeup was too much for the reeling Reds.
The St. Louis right-hander struck out a season-high 11 in seven shutout innings and Harrison Bader's two-run home run helped the Cardinals complete their first four-game sweep in Cincinnati since 1949 with a 3-2 win on Sunday.
After waiting through a rain delay of 2 hours, 36 minutes, Martinez allowed two hits and four walks while helping send the Reds to their eighth consecutive loss, one short of matching their longest losing streak of last season.
''I just told myself to stay calm and not worry about it,'' said Martinez (2-1), who described his changeup as ''nasty'' and said he could move it to both sides of the plate.
''He was great,'' St. Louis manager Mike Matheny said. ''He had electric stuff. He had great execution when he needed it. He was smooth and had a good plan.''
The Reds scored 10 runs in the series while being swept in four games at home by St. Louis for the first time since July 8-10, 1949.
The Reds haven't enjoyed a lead in 32 innings, going back to the fourth inning on Thursday. They are 2-13 overall this season for the first time since the 1931 Reds won two of their first 19 games.
Bud Norris allowed Adam Duvall's ninth-inning leadoff homer and the Reds got a runner to second with nobody out. Norris struck out Alex Blandino and Phillip Ervin and got Billy Hamilton to line out to clinch his third save.
The Cardinals have won five of their past six games.
The Cardinals swept the Reds in a four-game series in St. Louis on Aug. 13-16, 2001.
Bader drove Homer Bailey's 1-0 pitch into the right field seats for an opposite-field homer with two outs in the second inning. The opposite-field shot was his first in four big league homers. He credited the experience he gained in 32 games with St. Louis last season.
''That was the biggest thing from my little stint last year,'' he said. ''They really worked the outside half of the plate to me.''
The Cardinals added a run with one out in the seventh on Jose Martinez's one-out double and Yadier Molina's RBI single, his second hit of the game.
Hamilton homered off reliever Tyler Lyons in the eighth inning for his 500th hit.
Bailey (0-3) allowed four hits and three runs with four strikeouts and two walks in a season-high seven innings.
''Homer was very, very good,'' manager Bryan Price said. ''He was really acute with his location. He didn't give them much, but they did get the hit, they were able to handle and score a few runs, enough to win.''
The Reds have scored a total of five runs in Bailey's four starts, but he was aware of his team's struggles overall.
''We're 2-12,'' said Bailey, accidentally subtracting a loss. ''That's not very good at all, regardless of my numbers. My numbers alone don't count. It's what we're doing as a team, man.''
A MAN ON BASE
The Cardinals' first seven home runs in the series were solo shots before Bader's two-run shot in the second.
JACKIE'S DAY
Everybody in uniform on both teams wore No. 42 as part of Major League Baseball's annual Jackie Robinson Day festivities. Sunday was the 71st anniversary of Robinson's debut with the Brooklyn Dodgers.
SABO'S DAY
Former Reds 3B Chris Sabo celebrated the 30th anniversary of his Rookie of the Year season by throwing out a ceremonial first pitch.
PERAZA WALK
Cincinnati shortstop Jose Peraza's third-inning walk was his first in 53 plate appearances this season.
TRAINER'S ROOM
Cardinals: 1B Marcell Ozuna was scheduled to get Sunday off after playing every inning of St. Louis' first 15 games.
Reds: OF Scott Schebler made a rehab start for Triple-A Louisville at Lehigh Valley on Sunday. He's been out since April 9 with a bruised nerve in his right elbow after being hit by a pitch on April 8.
UP NEXT
Cardinals: RHP Adam Wainwright (0-2), who is 10-2 in 23 games at Wrigley Field, was scheduled to start the opener of a three-game series against the Cubs in Chicago on Monday.
Reds: RHP Luis Castillo (0-2), who went 2-0 with a 1.98 ERA in two games against the Brewers last season, was Cincinnati's scheduled starter in the opener of a three-game series in Milwaukee on Monday.
---
More AP baseball: https://apnews.com/tag/MLBbaseball
---
---