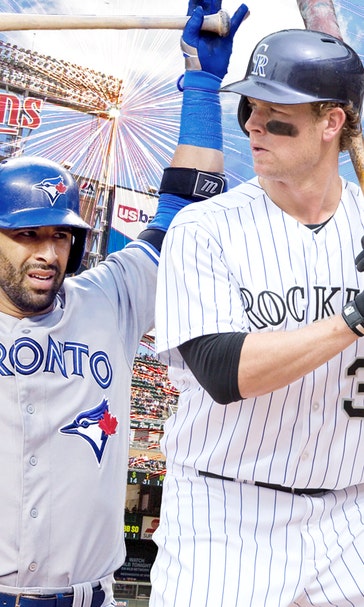 2014 Home Run Derby tracker
BY foxsports • July 14, 2014
It's the night before the All-Star Game (Tuesday, 7:30 ET, FOX), which means it's time for the Home Run Derby — only this year, it looks a lot different.
Several changes to the previous format should give fans a new experience for this year's edition at Target Field. Here are the key points to note:
* There will be 10 competitors, five for each league, instead of the eight from previous years;
* The competition will be set up bracket style, with one champion in each league facing off for the title;
* Each batter will receive seven outs instead of 10 in each round;
* Home run totals will NOT carry over to successive rounds;
* The first round will eliminate the bottom two performers from each league, then seed the others one to three, with the top seed in each league receiving a bye to the semifinals and the Nos. 2 and 3 seeds squaring off in the second round;
* The winners of those second-round matchups face off against the No. 1 seed from their respective league in the semis;
* The winners of the two semis face off in an American League vs. National League final.
Got it? Good. Follow along with all the long balls right here.
FIRST ROUND
American League
National League
Player
Home runs
Player
Home runs
Brian Dozier
2
Todd Frazier
2
Jose Bautista
10
Troy Tulowitzki
4
Adam Jones
4
Yasiel Puig
0
Josh Donaldson
3
Giancarlo Stanton
6
Yoenis Cespedes
3
Justin Morneau
2
Frazier defeated Morneau 1-0 in an NL tiebreaker to advance to the second round, while defending champion Cespedes beat Donaldson 2-1 in to move on in the AL.
SECOND ROUND
American League
National League
Player
Home runs
Player
Home runs
Yoenis Cespedes
9
Todd Frazier
6
Adam Jones
3
Troy Tulowitzki
2
SEMIFINALS
American League
National League
Player
Home runs
Player
Home runs
Yoenis Cespedes
7
Todd Frazier
1
Jose Bautista
4
Giancarlo Stanton
0
FINAL
| | |
| --- | --- |
| Player | Home runs |
| AL champion: Yoenis Cespedes | 9 |
| NL champion: Todd Frazier | 1 |
---
---